Rodrik, Dani
Most widely held works about Dani Rodrik
Most widely held works by Dani Rodrik
Has globalization gone too far?
by
Dani Rodrik
( )
25 editions published between
1997
and 2013 in 4 languages and held by 1,889 WorldCat member libraries worldwide
Globalization is exposing social fissures between those with the education, skills, and mobility to flourish in an unfettered world market-the apparent "winners"-and those without. These apparent "losers" are increasingly anxious about their standards of living and their precarious place in an integrated world economy. The result is severe tension between the market and broad sectors of society, with governments caught in the middle.Compounding the very real problems that need to be addressed by all involved, the kneejerk rhetoric of both sides threatens to crowd out rational debate. From the United States to Europe to Asia, positions are hardening. Author Dani Rodrik brings a clear and reasoned voice to these questions. Has Globalization Gone Too Far? takes an unblinking and objective look at the benefits-and risks-of international economic integration, and criticizes mainstream economists for downplaying its dangers. It also makes a unique and persuasive case that the "winners" have as much at stake from the possible consequences of social instability as the "losers." As Rodrik points out, ." . . social disintegration is not a spectator sport-those on the sidelines also get splashed with mud from the field. Ultimately, the deepening of social fissures can harm all." President Clinton has read the book and it provided the conceptual basis for the trade/IMF portions of the State of the Union message in January 1998
In search of prosperity : analytic narratives on economic growth
by
Dani Rodrik
( )
24 editions published between
2003
and 2012 in
English
and held by 1,623 WorldCat member libraries worldwide
This is a series of country studies by leading economists. It helps to shed light on some of the most important growth puzzles of our time. What emerges is a deeper understanding of the centrality of institutions. Economies that have performed well over the long term owe their success not to geography or trade, but to institutions that have generated market-oriented incentives, protected property rights, and enabled stability. However, these narratives warn against a cookie-cutter approach to institution building
One economics, many recipes : globalization, institutions, and economic growth
by
Dani Rodrik
( Book )
21 editions published between
2007
and 2009 in
English
and held by 1,107 WorldCat member libraries worldwide
"In One Economics, Many Recipes, leading economist Dani Rodrik argues that neither globalizers nor antiglobalizers have got it right. While economic globalization can be a boon for countries that are trying to dig out of poverty, success usually requires following policies that are tailored to local economic and political realities rather than obeying the dictates of the international globalization establishment. A definitive statement of Rodrik's original and influential perspective on economic growth and globalization, One Economics, Many Recipes shows how successful countries craft their own unique strategies--and what other countries can learn from them. To most proglobalizers, globalization is a source of economic salvation for developing nations, and to fully benefit from it nations must follow a universal set of rules designed by organizations such as the World Bank, the International Monetary Fund, and the World Trade Organization and enforced by international investors and capital markets. But to most antiglobalizers, such global rules spell nothing but trouble, and the more poor nations shield themselves from them, the better off they are. Rodrik rejects the simplifications of both sides, showing that poor countries get rich not by copying what Washington technocrats preach or what others have done, but by overcoming their own highly specific constraints. And, far from conflicting with economic science, this is exactly what good economics teaches."
The globalization paradox : democracy and the future of the world economy
by
Dani Rodrik
( Book )
21 editions published between
2011
and 2017 in
English
and held by 1,076 WorldCat member libraries worldwide
Discusses how democracy and national self-determination cannot be pursued simultaneously with economic globalization and instead promotes customizable globalization with international rules to achieve balanced prosperity
Handbook of development economics
by
Hollis Burnley Chenery
( Book )
14 editions published between
1988
and 2010 in
English
and
Dutch
and held by 925 WorldCat member libraries worldwide
This handbook organizes chapters by sets of policies that are important components of discussions about how to facilitate development. In each chapter, authors identify and discuss the relevant theoretical and empirical literature that describes the fundamental problems that the policies seek to remedy or ameliorate
Straight talk on trade : ideas for a sane world economy
by
Dani Rodrik
( Book )
26 editions published between
2017
and 2019 in
English
and held by 762 WorldCat member libraries worldwide
An honest discussion of free trade and how nations can sensibly chart a path forward in today's global economy. Not so long ago the nation-state seemed to be on its deathbed, condemned to irrelevance by the forces of globalization and technology. Now it is back with a vengeance, propelled by a groundswell of populists around the world. In Straight Talk on Trade, Dani Rodrik, an early and outspoken critic of economic globalization taken too far, goes beyond the populist backlash and offers a more reasoned explanation for why our elites' and technocrats' obsession with hyper-globalization made it more difficult for nations to achieve legitimate economic and social objectives at home: economic prosperity, financial stability, and equity. Rodrik takes globalization's cheerleaders to task, not for emphasizing economics over other values, but for practicing bad economics and ignoring the discipline's own nuances that should have called for caution. He makes a case for a pluralist world economy where nation-states retain sufficient autonomy to fashion their own social contracts and develop economic strategies tailored to their needs. Rather than calling for closed borders or defending protectionists, Rodrik shows how we can restore a sensible balance between national and global governance. Ranging over the recent experiences of advanced countries, the eurozone, and developing nations, Rodrik charts a way forward with new ideas about how to reconcile today's inequitable economic and technological trends with liberal democracy and social inclusion. Deftly navigating the tensions among globalization, national sovereignty, and democracy, Straight Talk on Trade presents an indispensable commentary on today's world economy and its dilemmas, and offers a visionary framework at a critical time when we need it most
Economics rules : the rights and wrongs of the dismal science
by
Dani Rodrik
( Book )
12 editions published between
2015
and 2018 in
English
and
Chinese
and held by 677 WorldCat member libraries worldwide
Takes a close look at economics to examine when it falls short and when it works, to give a surprisingly upbeat account of the discipline. Drawing on the history of the field and his deep experience as a practitioner, Rodrik argues that economics can be a powerful tool that improves the world--but only when economists abandon universal theories and focus on getting the context right. Economics Rules argues that the discipline's much-derided mathematical models are its true strength. Models are the tools that make economics a science. Too often, however, economists mistake a model for the model that applies everywhere and at all times
The new global economy and developing countries : making openness work
by
Dani Rodrik
( Book )
12 editions published in
1999
in
English
and held by 447 WorldCat member libraries worldwide
"Policymakers in the developing world are grappling with new dilemmas created by openness to trade and capital flows. What role, if any, remains for the state in promoting industrialization? Does openness worsen inequality, and if so, what can be done about it? What is the best way to handle turbulence from the world economy, especially the fickleness of international capital flows? In this study, Dani Rodrik argues that successful integration into the world economy requires a complementary set of policies and institutions at home. Policymakers must reinforce their external strategy of liberalization with an internal strategy that gives the state substantial responsibility in building physical and human capital and mediating social conflicts."--Jacket
External debt, adjustment, and burden sharing : a unified framework
by
Ishac Diwan
( Book )
15 editions published between
1991
and 1992 in
English
and held by 432 WorldCat member libraries worldwide
Because the disincentive effect of a debt overhang is generally small, debt reduction does not lead to important efficiency gains on this account. This study develops, instead, a framework that highlights the inefficiency created by the liquidity constraint faced by over-indebted countries. Adjustment and investment opportunities that are profitable at the world interest rate often cannot be undertaken for lack of sufficient funds. New creditors are deterred from investing, because they expect to be "taxed" by the old creditors who stand to gain disproportionately. This leads to inefficiency when a class of new creditors have a comparative advantage over old creditors. The shortage of liquidity introduces a time inconsistency. New (unconditional) loans will be consumed rather than invested. In this context, conditional lending can release the liquidity constraint in a time-consistent way and lead to efficiency gains that can be shared among the debtor, the old creditors, and the new creditors. The role of debt reduction is, thus, to create the "headroom" needed for these new and more efficient creditors to participate
more
fewer
Audience Level
0

1
Kids
General
Special
Audience level: 0.35 (from 0.05 for The Econom ... to 0.83 for Das Global ...)
Related Identities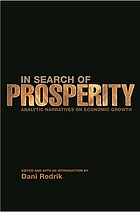 Covers
Alternative Names
Dani Rodrik economista turco

Dani Rodrik économiste turc

Dani Rodrik török közgazdász

Dani Rodrik turecki ekonomista w USA

Dani Rodrik turecký ekonom

Dani Rodrik türkischer Ökonom und Publizist

Dani Rodrik Turkish Economist

Dani Rodrik turkisk ekonom

Dani Rodrik turkkilainen taloustieteilijä

Dani Rodrik Turks econoom

Dani Rodrik tyrkisk økonom

Rodrick Dani

Rodrick, Dani 1957-

Rodrik, D. 1957-

Rodrik, Dan

Rodrik, Daniel 1957-

Rodrik, Dany 1957-

Дани Родрик

Дені Родрик

Дэні Родрык

Родрик, Дэни

Родрик, Дэни, 1957-

Դենի Ռոդրիկ

דאני ראדריק

דני רודריק

دانی رادریک اقتصاددان اهل ترکیه

대니 로드릭

로드릭, 대니 1957-

ダニ・ロドリック

ロドリック, ダニ

丹尼·洛列

丹尼罗德里克

Languages