Schom, Alan
Most widely held works by Alan Schom
Napoleon Bonaparte
by
Alan Schom
( Book )
18 editions published between
1997
and 2005 in
English
and
Chinese
and held by 2,048 WorldCat member libraries worldwide
"Schom's one-volume life of Napoleon includes all facets of Napoleon's incredible career, from his childhood in Corsica to his death in exile on the island of St. Helena. It follows his many military campaigns and describes the great battles he won and lost from northern Italy to Egypt, Spain, Prussia, Austria, Poland, and Russia, to his final defeat at Waterloo. It illuminates his extensive political and structural reorganization of the French government; explores his relationships with his wives - the legendary Josephine and her replacement, Marie-Louise - and some of his mistresses; and chronicles his feuds with his tempestuous family and both loyal and mutinous officials. Key aides, ministers, generals, and naval commanders - from Talleyrand and Police Minister Fouche to Marshals Ney, Davout, and Lannes, Admiral Villeneuve, and many more - are fully portrayed and given their due. International rivalries and diplomatic negotiations are also thoroughly covered, and Napoleon's many opponents and enemies - including Friedrich Wilhelm III of Prussia, Emperor Franz I of Austria, Czar Alexander I of Russia, and Field Marshals Kutuzov, Blucher, and the Duke of Wellington - are brought vividly to life." "There are intriguing fresh insights here, too; among them an examination of Napoleon's little-known friendship with a leading mathematician and savant, and of the cause of his death on St. Helena. Unique in Napoleonic literature, even that by French authors, is Schom's candor about Napoleon's character flaws. Nor does he gloss over the awful misery and destruction that Napoleon's endless, often needless wars of conquest wreaked on the peoples of Europe, his indifference to the medical needs of his own soldiers, or the surprisingly frequent examples of his poor planning and intelligence gathering."
One hundred days : Napoleon's road to Waterloo
by
Alan Schom
( Book )
29 editions published between
1992
and 2014 in
English
and held by 1,195 WorldCat member libraries worldwide
Europe, 1815: the Great Powers believed that they had at last successfully crushed the Emperor Napoleon Bonaparte. Divested of his empire, exiled to the tiny island of Elba, the ex-conqueror had no army, no money, no ships - nothing but an empty title and his unflagging ambition. But his audacity admitted no defeat. Mustering a minuscule army of a thousand men, with few supplies, he sailed for France and set into motion the events that over the next one hundred days would propel a beleaguered Europe once again into total war, ending with the catastrophic battle of Waterloo, the routing of his Grand Army, and his second - and final - exile. In One Hundred Days, Alan Schom shows us, in his lively, immediate narrative style, the inevitability of Napoleon's return from exile and his doomed bid for power. Landing unopposed on French soil, the emperor and his skeleton force began their march through a hostile countryside impoverished by years of war, famine, and conscription. Yet the charismatic leader managed to attract men and support: by the time they reached Paris with a force of 20,000, the Bourbon king Louis XVIII had abandoned the city, and Napoleon was greeted with parades and the shouts of citizens eager to align themselves with the stronger power. But war already loomed over his return. The Duke of Wellington and his Grand Allied Army, astonished and alarmed by Napoleon's rise from the ashes of exile, were already on the march and determined to quench him once and for all. The two armies met at Waterloo to fight the bitter three-day contest that would mark the end of Napoleon. Alan Schom's One Hundred Days is a detailed chronicle of the events that led up to the final fall of Napoleon, and a complex and vivid portrait of the personalities that surrounded him: the icily charming and self-serving Talleyrand; the brutal, fickle police minister Fouche, who helped form the first modern police state; the brave but vacillating Ney; the dogged Davout, the emperor's scapegoat; and Napoleon's underestimated foes, Arthur Wellesley, Duke of Wellington, and the aging yet pugnacious Marshal Blucher. Meticulously reconstructed from diaries, memoirs, and correspondence, a host of lesser characters spring to vivid life, populating the grandiloquent stage of the Napoleonic empire. More than an account of a watershed event in the evolution of modern Europe, One Hundred Days is a chronicle of an age, replete with intrigue, drama, and consequence. Believing that the epic of history is incomplete without providing the elementary human perspective responsible for shaping it, Alan Schom unveils a story rich in intimate detail: history with a human face and voice
Trafalgar : countdown to battle, 1803-1805
by
Alan Schom
( Book )
22 editions published between
1990
and 1992 in
English
and held by 776 WorldCat member libraries worldwide
Presents the battle of Trafalgar in it's historical scope and context. Quotes extensively from journals and sources and brings to life the whole story of the British-French conflict, at sea and on land, at the dawn of the nineteenth century
Emile Zola : a biography
by
Alan Schom
( Book )
7 editions published between
1987
and 1988 in
English
and held by 623 WorldCat member libraries worldwide
Emile Zola : a bourgeois rebel
by
Alan Schom
( Book )
8 editions published in
1987
in
English
and
Undetermined
and held by 296 WorldCat member libraries worldwide
Ch. 16 (pp. 146-152), "Anti-Semite évolué", relates that Zola used antisemitic stereotypes in one of his early plays, and that his novel "L'Argent" (1891), about rivalry between Jews and Christians in the Paris stock exchange, described the control of the financial world by an international Jewish conspiracy, and portrayed Jews as alien and ugly. However, by 1896 Zola came to oppose the antisemitic movement and its fanatic xenophobia and advocated assimilation of the Jews. Deals, also, with his involvement in the Dreyfus Affair, his articles in "Le Figaro" in 1897 and his famous letter "J'accuse", exposing the conspiracy by the Army and the War Office, which led to violent antisemitic demonstrations against him. Condemned for defamation, Zola fled to England and returned when Dreyfus was retried. In the novel "Vérité" (1903) he exposed the machinations of the Catholic Church and state authorities in the Affair in a story about a Jew falsely accused of murder. Suggests that Zola's death in 1902 was caused by anti-Dreyfusards
Le national-socialisme vocabulaire et chronologie
by
Thierry Féral
( Book )
2 editions published in
1998
in
French
and held by 54 WorldCat member libraries worldwide
L'analyse du vocabulaire spécifique développé par les nazis, qui s'érigera progressivement en lexique officiel de l'engloutissement dans l'obscurantisme et la barbarie. Cette étude démontre que le dévoiement du langage est l'indicateur de la dérive d'une société
Napoleon Bonaparte : a life
by
Alan Schom
( Recording )
3 editions published between
1998
and 2008 in
English
and held by 11 WorldCat member libraries worldwide
A critical portrait of the legendary ruler of France, whose empire controlled much of Europe. Covers "all aspects of his life," tracing his obscure Corsican youth, his rise to power, his military campaigns, his defeat at Waterloo, and his death in exile in 1821. Descriptions of violence. 1997
more
fewer
Audience Level
0

1
Kids
General
Special
Audience level: 0.27 (from 0.14 for Book revie ... to 0.99 for Americký ...)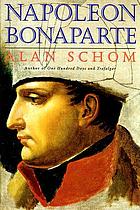 Covers
Alternative Names
Alan Schom American writer

Alan Schom escriptor estatunidenc

Alan Schom escritor estadounidense

Alan Schom schrijver uit Verenigde Staten van Amerika (1937-)

Scham, Alan.

Scham, Alan 1941-

Scham, Alan M.

Scham, Alan M. 1941-

Schom, Alan

Schom, Alan M.

Schom, Alan M. 1941-

Schom, Alan Morris.

Schom, Alan Strauss.

Strauss Schom, Alan.

Languages