Thurstone, L. L. (Louis Leon) 1887-1955
Most widely held works about L. L Thurstone
more
fewer
Most widely held works by L. L Thurstone
The nature of intelligence
by
L. L Thurstone
( Book )
54 editions published between
1827
and 2014 in
English
and
Undetermined
and held by 740 WorldCat member libraries worldwide
"A psychological subject that is at the present time very much in the public mind is that of Intelligence Tests. Most of the psychological tests that are in common use have been arrived at principally by trying different tests for different purposes until certain tests have been found to be successful. There is considerable difference of opinion as to what intelligence really is, but, even if we do not know just what intelligence is, we can still use the tests as long as they are demonstrably satisfactory for definite practical ends. We use electricity for practical purposes even though we have been uncertain as to its ultimate nature, and it is so with the intelligence tests. We use the tests and leave it for separate inquiry to determine the ultimate nature of intelligence. In these chapters I have started with the assumption that conduct originates in the actor himself, and I have tried to discover what intelligent conduct may mean if we follow this assumption to its limits. I find that the disparity between the new psychology, and the academic or scientific psychology and the most rigorously objective behaviourism breaks down completely. These three schools of psychological interpretation form a continuum, in that conduct originates in the self as studied by psychiatry, it takes partial and tentative formulations in conscious states as studied by academic psychology, and it completes itself into behaviour, as studied by the behaviourist school. The cognitive categories of academic psychology become, in such an interpretation, the incomplete and tentative formulations of conduct. Consciousness is interpreted as conduct which is in the process of being formed. It may be that these chapters contain nothing that is fundamentally new beyond the attempt to harmonize three schools of thought about human nature which have the appearance of being irreconcilably disparate. Stated in a nutshell, my message is that psychology starts with the unrest of the inner self, and it completes its discovery in the contentment of the inner self"--Preface. (PsycINFO Database Record (c) 2007 APA, all rights reserved)
Primary mental abilities
by
L. L Thurstone
( Book )
46 editions published between
1934
and 1989 in
English
and
Undetermined
and held by 641 WorldCat member libraries worldwide
Motion pictures and the social attitudes of children
by
Ruth Camilla Peterson
( Book )
16 editions published between
1933
and 2015 in
English
and held by 298 WorldCat member libraries worldwide
"Motion pictures are not understood by the present generation of adults. They are new; they make an enormous appeal to children; and they present ideas and situations which parents may not like. Consequently when parents think of the welfare of their children who are exposed to these compelling situations, they wonder about the effect of the pictures upon the ideals and behavior of the children. Do the pictures really influence children in any direction? Are their conduct, ideals, and attitudes affected by the movies? Are the scenes which are objectionable to adults understood by children, or at least by very young children? Do children eventually become sophisticated and grow superior to pictures? Are the emotions of children harmfully excited? In short, just what effect do motion pictures have upon children of different ages? Each individual has his answer to these questions. He knows of this or that incident in his own experience, and upon these he bases his conclusions. Consequently opinions differ widely. No one in this country up to the present time has known in any general and impersonal manner just what effect motion pictures have upon children. Meanwhile children clamor to attend the movies as often as they are allowed to go. Moving pictures make a profound appeal to children of all ages. In such a situation it is obvious that a comprehensive study of the influence of motion pictures upon children and youth is appropriate. To measure these influences the investigators who cooperated to make this series of studies analyzed the problem to discover the most significant questions involved. They set up individual studies to ascertain the answer to the questions and to provide a composite answer to the central question of the nature and extent of these influences. In using this technique the answers must inevitably be sketches without all the details filled in; but when the details are added the picture will not be changed in any essential manner. Parents, educators, and physicians will have little difficulty in fitting concrete details of their own into the outlines which these studies supply. Specifically, the studies were designed to form a series to answer the following questions: What sorts of scenes do the children of America see when they attend the theaters? How do the mores depicted in these scenes compare with those of the community? How often do children attend? How much of what they see do they remember? What effect does what they witness have upon their ideals and attitudes? Upon their sleep and health? Upon their emotions? Do motion pictures directly or indirectly affect the conduct of children? Are they related to delinquency and crime, and, finally, how can we teach children to discriminate between movies that are artistically and morally good and bad?"--Preface. (PsycINFO Database Record (c) 2015 APA, all rights reserved)
Factorial studies of intelligence
by
L. L Thurstone
( Book )
20 editions published between
1941
and 1981 in 3 languages and held by 210 WorldCat member libraries worldwide
Order of birth, parent-age, and intelligence
by
L. L Thurstone
( Book )
17 editions published in
1931
in
English
and held by 189 WorldCat member libraries worldwide
"This investigation of the relation between the order of birth and the intelligence of children as well as a number of related questions has been carried out on data collected at the Institute for Juvenile Research. A large part of the work was carried out under the auspices of the Behavior Research Fund, and it was completed by some work under the auspices of the Local Community Research Committee of the University of Chicago. The first part is an analysis of our own data, and the second part, for which Dr. Jenkins is chiefly responsible, is a summary of the literature on this and closely related problems. The first part of this study is the work of both authors. The conclusions of this investigation, which indicate a steadily increasing advantage in intelligence in favor of the later-born children, are based upon the Institute population of children. These children come to the Institute usually for some behavior problem, and their mean intelligence quotient is in the vicinity of .80. Although the mean intelligence of our population is lower than the average for the general population, we have seen no very good reason to suspect that this fact would in any way influence our main problem. We have been interested in the relative intelligence of the first-born, the second-born, and the third-born child in each family rather than in the mean intelligence of the whole population. (PsycINFO Database Record (c) 2006 APA, all rights reserved)"--Preface
more
fewer
Audience Level
0

1
Kids
General
Special
Audience level: 0.50 (from 0.40 for Louis Leon ... to 0.99 for Thurstone, ...)
Related Identities
Associated Subjects
Ability
Attitude (Psychology)
Attitude (Psychology)--Testing
Automobile drivers
Bingham, Walter Van Dyke,
Birth order
Chess players--Rating of
Child development
Child psychology
Children with disabilities
Choice (Psychology)--Mathematical models
College freshmen--Psychological testing
Correlation (Statistics)
Decision making--Mathematical models
Developmental psychology
Educational psychology
Educational tests and measurements
Educational tests and measurements--Construction
Examinations
Exceptional children
Factor analysis
First-born children
Graphic methods
Growth
Institute for Juvenile Research (Ill.)
Intellect
Intelligence tests
Learning, Psychology of
Luce, R. Duncan--(Robert Duncan)
Mental tests
Moore, Bruce Victor,
Motion pictures--Moral and ethical aspects
Pennsylvania State College (Corporate Name)
Personality
Personality disorders
Physical education and training
Primary mental abilities tests
Psychological tests
Psychologists
Psychology
Psychology, Applied
Psychology--Mathematical models
Psychology--Methodology
Psychometrics
Scale analysis (Psychology)
Social service
Spearman, C.--(Charles),
Stevens, S. S.--(Stanley Smith),
Thurstone, L. L.--(Louis Leon),
Vocational guidance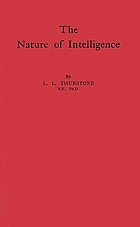 Alternative Names
L.L. Thurstone

L.L. Thurstone Amerikaans ingenieur (1887-1955)

Louis Leon Thurstone American scientist

Louis Leon Thurstone ingegnere e psicologo statunitense

Louis Leon Thurstone psychologue et ingénieur américain

Louis Leon Thurstone US-amerikanischer Ingenieur und Psychologe

Louis Thurstone

Thurstone, L. L.

Thurstone, L. L. 1887-1955

Thurstone LL 1887-1955

Thurstone, Louis Léon

Thurstone, Louis Leon 1887-1955

Тёрстоун, Луис Леон

ルイス・レオン サーストン

Languages
Covers