Balmer, Randall Herbert
Most widely held works about Randall Herbert Balmer
Most widely held works by Randall Herbert Balmer
Mine eyes have seen the glory : a journey into the evangelical subculture in America
by
Randall Herbert Balmer
( Book )
41 editions published between
1989
and 2014 in
English
and held by 2,605 WorldCat member libraries worldwide
This book takes us on an insightful and engaging journey into the world of conservative Christians in America. Originally published fifteen years ago and the basis for an award-winning PBS documentary, this timely new edition arrives just as recent elections have left an ever-growing number of secular Americans wondering exactly how the other half thinks. From Oregon to Florida, and from Texas to North Dakota, Balmer offers an immensely readable tour of the highways and byways of American evangelicalism. We visit a revival meeting in Florida, an Indian reservation in the Dakotas, a trade show for Christian booksellers, and a fundamentalist Bible camp in the Adirondacks. For this fourth edition, Balmer adds two chapters, one on the phenomenally popular "Painter of Light," Thomas Kinkade, and one on Rick Warren, author of The Purpose-Driven Life. Through the eyes of these and other people Balmer meets on his journeys, we arrive at a more accurate and balanced understanding of an abiding tradition that, as the author argues, is both rich in theological insights and mired in contradictions. Mine Eyes Have Seen the Glory offers readers a genuine insight into the appeal that the evangelicals movement holds for thousands of Americans
Religion in American life : a short history
by
Jon Butler
( Book )
32 editions published between
2002
and 2011 in
English
and
Undetermined
and held by 1,260 WorldCat member libraries worldwide
Accessible and wide-ranging, Religion in American Life illuminates the rich spiritual heritage central to nearly every event in American history. Jon Butler begins by describing the state of religious affairs in both the Old and New Worlds on the eve of colonization. He traces the progress of religion in the colonies through the time of the American Revolution, covering all the religious groups in the colonies: Protestants, Jews, Catholics, as well as the unique religious experiences of Native Americans and African Americans. Grant Wacker continues the story with a fascinating look at the ever-shifting religious landscape of 19th-century America. He focuses on the rapid growth of evangelical Protestants-Methodists, Presbyterians, Baptists, and others-and their competition for dominance over religions such as Catholicism and Judaism, which continued to increase with large immigrant arrivals from Ireland, Eastern Europe, and other countries. The 20th century saw massive cultural changes. Randall Balmer discusses the effects industrialization, modernization, and secularization had on new and established religions. He examines Protestants, Hindus, Jews, New Age believers, Mormons, Buddhists, Roman Catholics, and many more, providing a clear look into the kaleidoscope of religious belief in modern-day America
Protestantism in America
by
Randall Herbert Balmer
( Book )
14 editions published between
2002
and 2005 in
English
and held by 1,119 WorldCat member libraries worldwide
"As America has become more pluralistic, Protestantism, with its long roots in American history and culture, has hardly remained static. This portrait of a complex group of Christian denominations describes Protestantism's history, constituent subgroups and their activities, and the way in which its dialectic with American culture has shaped such facets of the wider society as healthcare, welfare, labor relations, gender roles, and political discourse."--Jacket
Redeemer : the life of Jimmy Carter
by
Randall Herbert Balmer
( Book )
6 editions published in
2014
in
English
and held by 1,045 WorldCat member libraries worldwide
"Evangelical Christianity and conservative politics are today seen as inseparable. But when Jimmy Carter, a Democrat and a born-again Christian, won the presidency in 1976, he owed his victory in part to American evangelicals, who responded to his open religiosity and his rejection of the moral bankruptcy of the Nixon Administration. Carter, running as a representative of the New South, articulated a progressive strand of American Christianity that championed liberal ideals, racial equality, and social justice--one that has almost been forgotten since. In Redeemer, acclaimed religious historian Randall Balmer reveals how the rise and fall of Jimmy Carter's political fortunes mirrored the transformation of American religious politics. From his beginnings as a humble peanut farmer to the galvanizing politician who rode a reenergized religious movement into the White House, Carter's life and career mark him as the last great figure in America's long and venerable history of progressive evangelicalism. Although he stumbled early in his career--courting segregationists during his second campaign for Georgia governor--Carter's run for president marked a return to the progressive principles of his faith and helped reenergize the evangelical movement. Responding to his message of racial justice, women's rights, and concern for the plight of the poor, evangelicals across the country helped propel Carter to office. Yet four years later, those very same voters abandoned him for Ronald Reagan and the Republican Party. Carter's defeat signaled the eclipse of progressive evangelicalism and the rise of the Religious Right, which popularized a dramatically different understanding of the faith, one rooted in nationalism, individualism, and free-market capitalism. An illuminating biography of our 39th president, Redeemer presents Jimmy Carter as the last great standard-bearer of an important strand of American Christianity, and provides an original and riveting account of the moments that transformed our political landscape in the 1970s and 1980s"
God in the White House : a history : how faith shaped the presidency from John F. Kennedy to George W. Bush
by
Randall Herbert Balmer
( Book )
14 editions published between
2008
and 2014 in
English
and
Russian
and held by 931 WorldCat member libraries worldwide
Historian Balmer reveals the role religion has played in the personal and political lives of the last nine American presidents. Americans were once content to disregard religion as a criterion, as in most of the modern presidential elections before Jimmy Carter. But today's voters have come to expect candidates to disclose their religious views and to illustrate their personal relationship to the Almighty. This book explores the paradox of Americans' expectation that presidents should simultaneously trumpet their religious views and relationship to God while supporting the separation of church and state. Balmer tells the story of the politicization of religion in the last half of the twentieth century, as well as the "religionization" of our politics. He reflects on the implications of this shift, and offers a new lens through which to see not only these presidents, but also our current political situation.--From publisher description
The Presbyterians
by
Randall Herbert Balmer
( Book )
7 editions published between
1993
and 1994 in
English
and held by 861 WorldCat member libraries worldwide
A denominational history, written for academics and for general readers who seek an informed and critical introduction to the Presbyterian tradition in America. It is narrative inform, not argumentative, and more than half of the volume is given over to biographical treatment of important, if not well-known, Presbyterians
Religion in twentieth century America
by
Randall Herbert Balmer
( Book )
8 editions published in
2001
in
English
and held by 837 WorldCat member libraries worldwide
From the Pentecostal revival sparked by Agnes Ozman in Kansas, 1901, to the flare and fade of the millennium in 1999, this text provides an overview of the evolution of religion in the United States in the twentieth century. For grades 9 and up. In this book, a part of the RELIGION IN AMERICAN LIFE series (John Butler and Harry S. Stout, general editors), the author discusses the massive cultural changes in 20th-century America and the effects such forces as industrialization, modernization, and secularization had on established religions as well as new ones being strengthened by influxes of immigrants. Groups such as Protestants, Hindus, Jews, New Age believers, Mormons, Buddhists, Roman Catholics, and many more are discussed
The encyclopedia of evangelicalism
by
Randall Herbert Balmer
( Book )
11 editions published between
2002
and 2014 in
English
and held by 778 WorldCat member libraries worldwide
In this completely revised and expanded edition of the Encyclopedia of Evangelicalism, Randall Balmer gives readers the most comprehensive resource about evangelicalism available anywhere. With more than three thousand separate entries, the Encyclopedia of Evangelicalism covers historical and contemporary theologians, preachers, laity, cultural figures, musicians, televangelists, movements, organizations, denominations, folkways, theological terms, events, and much moreall penned in Balmer's engaging style. Students, scholars, journalists, and libraries will all benefit from it
Blessed assurance : a history of evangelicalism in America
by
Randall Herbert Balmer
( Book )
7 editions published between
1999
and 2000 in
English
and held by 741 WorldCat member libraries worldwide
Most importantly, Blessed Assurance convincingly shows us that evangelicals - often thought of as backward-looking and old-fashioned - have always been in tune with their time, taking advantage of mass communication and the charisma of their leaders."--Jacket
more
fewer
Audience Level
0

1
Kids
General
Special
Audience level: 0.23 (from 0.08 for Protestant ... to 1.00 for The making ...)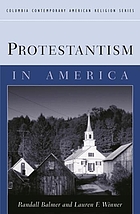 Alternative Names
Balmer, Randall.

Balmer, Randall 1954-

Balmer, Randall Herbert

Randall Balmer American writer and historian

Randall Balmer Amerikaans godsdiensthistoricus

Randall Balmer religioso statunitense

Randall Balmer US-amerikanischer Religionshistoriker

발머, 랜달

발머, 랜돌

Languages
Covers