United States Holocaust Memorial Museum
Most widely held works about United States Holocaust Memorial Museum
more
fewer
Most widely held works by United States Holocaust Memorial Museum
Tell them we remember : the story of the Holocaust
by
Susan D Bachrach
( Book )
7 editions published in
1994
in
English
and
German
and held by 2,191 WorldCat member libraries worldwide
Presents the story of the Holocaust and shows how it affected the lives of innocent people throughout Europe, using artifacts, photographs, maps, and taped oral and video histories from the collections of the United States Holocaust Memorial Museum in Washington, D.C
After representation? : the Holocaust, literature, and culture
by
R. Clifton Spargo
( )
9 editions published between
2009
and 2010 in
English
and
Polish
and held by 2,038 WorldCat member libraries worldwide
"After Representation? explores one of the major issues in Holocaust studies - the intersection of culture and memory in artistic expression, particularly within literature. What imaginative literature brings to the study of the Holocaust is an ability to test the limits of language and its conventions. After Representation? explores the changing meaning of the Holocaust for different generations, audiences, and contexts."--Jacket
Case closed : Holocaust survivors in postwar America
by
Beth B Cohen
( )
6 editions published in
2007
in
English
and held by 1,994 WorldCat member libraries worldwide
"Following the end of World War II, it was widely reported by the media that Jewish refugees found lives filled with opportunity and happiness in America. However, for most of the 140,000 Jewish Displaced Persons (DPs) who immigrated to the United States from Europe in the years between 1946 and 1954, it was a much more complicated story." "Case Closed challenges the prevailing optimistic perception of the lives of Holocaust survivors in postwar America by scrutinizing their first years through the eyes of those who lived it. Cohen explores how the Truman Directive allowed the American Jewish community to handle the financial and legal responsibility for survivors, and shows what assistance the community offered the refugees and what help was not available."--BOOK JACKET
Nazi empire-building and the Holocaust in Ukraine
by
Wendy Lower
( )
8 editions published in
2005
in
English
and held by 1,572 WorldCat member libraries worldwide
"On 16 July 1941, Adolf Hitler convened top Nazi leaders at his headquarters in East Prussia to dictate how they would rule the newly occupied eastern territories. Ukraine, the "jewel" in the Nazi empire, would become a German colony administered by Heinrich Himmler's SS and police, Hermann Goring's economic plunderers, and a host of other satraps. Focusing on the Zhytomyr region and weaving together official German wartime records, diaries, memoirs, and personal interviews, Wendy Lower provides the most complete assessment available of German colonization and the Holocaust in Ukraine." "Midlevel "managers," Lower demonstrates, played major roles in mass murder, and locals willingly participated in violence and theft. Lower puts names and faces to local perpetrators, bystanders, beneficiaries, as well as resisters. She argues that Nazi actions in the region evolved from imperial arrogance and ambition; hatred of Jews, Slavs, and Communists; careerism and pragmatism; greed and fear. In her analysis of the murderous implementation of Nazi "race" and population policy in Zhytomyr, Lower shifts scholarly attention from Germany itself to the eastern outposts of the Reich, where the regime truly revealed its core beliefs, aims, and practices."--Jacket
Historical atlas of the Holocaust
by
United States Holocaust Memorial Museum
( )
20 editions published between
1995
and 1997 in
English
and held by 1,421 WorldCat member libraries worldwide
To great critical acclaim, the United States Holocaust Memorial Museum opened on the Mall in Washington, D.C., in the spring of 1993, with the purpose of educating the public to the atrocities committed by the Nazi regime during World War II against Jews and other victims. The Atlas presents the story of the Holocaust in all its specific geographical details - country by country, ghetto by ghetto, camp by camp, action by action. Through more than 230 full-color maps and accompanying text, the story of this tragic period of world history is made clear - from the location of the Jewish and Romani (Gypsy) communities in 1933 to the makeup of postwar Europe in 1949-50. The maps and the text explain the physical facts of the deportations, concentration camps, and the extermination of the victims of the Nazi state in Europe, from Germany and the western countries to Poland and the other areas in the east
Anatomy of the Auschwitz death camp
( Book )
7 editions published between
1994
and 1998 in
English
and held by 1,383 WorldCat member libraries worldwide
Commissioned by the U.S. Holocaust Research Institute." ... Principal sections of the book address the institutional history of the camp, the technology and dimensions of the genocide carried out there, the profiles of the perpetrators and the lives of the inmates, underground resistance and escapes, and what the outside world knew about Auschwitz and when. A major study of the design and construction of the gas chambers and crematoria reveals the economic competitiveness, bureaucratic struggles, and technological sophistication behind the manufacture of the machinery that was used to murder and incinerate thousands daily ..."
The United States Holocaust Memorial Museum encyclopedia of camps and ghettos, 1933-1945
by
Geoffrey P Megargee
( )
16 editions published between
2009
and 2012 in
English
and held by 1,378 WorldCat member libraries worldwide
Created by the Center for Advanced Holocaust Studies at the United States Holocaust Memorial Museum, the monumental 7-volume encyclopaedia that the present work inaugurates will make available - in one place for the first time - detailed information about the universe of camps, sub-camps, and ghettos established and operated by the Nazis - altogether some 20,000 sites, from Norway to North Africa and from France to Russia. This volume covers three groups of camps: the early camps established in the first year of Hitler's rule, the major concentration camps with their constellations of sub-camps that operated under the control of the SS-Business Administration Main Office, and youth camps. Overview essays precede entries on individual camps and sub-camps. Each entry provides basic information about the purpose of the site; the prisoners, guards, working and living conditions; and key events in its history. Material drawn from personal testimonies helps convey the character of each site, while source citations for each entry provide a path to additional information
Deaf people in Hitler's Europe
by
John S Schuchman
( )
5 editions published in
2002
in
English
and held by 1,338 WorldCat member libraries worldwide
Annotation
Resistance : the Warsaw Ghetto uprising
by
Israel Gutman
( Book )
2 editions published in
1994
in
English
and held by 1,229 WorldCat member libraries worldwide
On April 19, 1943, thousands of Nazi troops were given the order to remove all Jews in the Warsaw ghetto, a few square blocks sheltering the remnants of the half million or more Jewish citizens of Poland's capital, to the death camps of Treblinka and Auschwitz. They were to kill those who resisted. A few hundred of the trapped Jews, mostly teenagers, armed only with pistols, Molotov cocktails, and a few light machine guns, vowed to fight back. Resistance is the full story of the uprising and the events leading to it, told by a survivor of the battle who is now a world-renowned Israeli scholar of the Holocaust. Warsaw in the 1920s and 1930s was the home of Europe's largest and most vibrant Jewish community. It included the rich, the poor, and the middle class; casual assimilationists and ardent Zionists; representatives of the full spectrum of political and religious factions. Then came the German onslaught of ruthless violence against the Jews--isolation and starvation amid desperation and disease--then deportations. As the ghetto walls rose, hundreds of thousands were rounded up and sent to Treblinka. But resistance began to take shape, and when the final attack order came, the ghetto fighters stood ready. Includes excerpts from diaries, letters, and other documents of the period
more
fewer
Audience Level
0

1
Kids
General
Special
Audience level: 0.23 (from 0.03 for After repr ... to 0.59 for United Sta ...)
Related Identities
Associated Subjects
Auschwitz (Concentration camp)
Buildings
Children
Children's art
Children's writings
Concentration camps
Czech Republic
Ethnic relations
Europe
Europe, Central
Europe, Eastern
Exhibition catalogs
Forced labor
France
Freed, James Ingo
Gays--Nazi persecution
Genocide
Germany
Historical geography
Hitler-Jugend
Holocaust, Jewish (1939-1945)
Holocaust memorials
Holocaust memorials--Political aspects
Holocaust Remembrance Day
Holocaust survivors
Jewish children
Jewish ghettos
Jewish refugees
Jews
Jews, European
Jews--Persecutions
Klein, Gerda Weissmann,
Museum architecture
Museums
Perel, Shlomo,
Poland
Poland--Warsaw
Politics and government
Psychological aspects
Refugees
Sobibór (Concentration camp)
Symbolism in architecture
Theresienstadt (Concentration camp)
Ukraine--Z︠H︡ytomyrsʹka oblastʹ
Underground movements, War
United States
United States Holocaust Memorial Museum
Warsaw Ghetto Uprising (Warsaw, Poland :
Washington (D.C.)
World War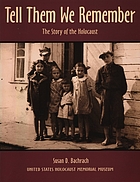 Alternative Names
Ameerika Ühendriikide holokausti memoriaalmuuseum

Amerika gasshukoku horokosuto kinen hakubutsukan

Holocaust-Gedenkmuseum der Vereinigten Staaten.

Holocaust Memorial Museum

Holocaust Memorial Museum (United States)

Holocaust Memorial Museum (Washington D. C.)

Holocaust Memorial Museum Washington, DC

Holocaust Museum

Holocaust Museum (Estats Units d'Amèrica)

Holocaust Museum (Spojené státy americké)

Holocaust Museum (United States)

Holocaust Museum (Washington D. C.)

Memorìal'nij muzej Golokostu SŠA.

Memorialʹnyĭ muzeĭ Kholokosta SShA

Memorial'nyj muzej Holokosta.

Musée du mémorial de l'Holocauste des États-Unis.

Musée mémorial de l'Holocauste des États-Unis

Museo del Holocausto.

Museo Estadounidense Conmemorativo del Holocausto.

Museu Memorial de l'Holocaust dels Estats Units

Museu Memorial do Holocausto dos Estados Unidos

Museum Memorial Holocaust Amerika Serikat

Muzeul Memorial al Holocaustului din Statele Unite ale Americii

U.S. Holocaust Memorial Museum

United States Holocaust Memorial Museum

US Holocaust Memorial Museum

USHMM

USHMM (United States Holocaust Memorial Museum)

Washington (D.C.)

Мемориальный музей Холокоста

Мемориальный музей Холокоста США

אמעריקאנער חורבן אייראפע מוזיי

מוזיאון ארצות הברית לזכר השואה

متحف ذكرى الهولوكوست بالولايات المتحدة

متحف ذكرى هولوكوست بامريكا

موزه یادبود هولوکاست

미국 홀로코스트 기념박물관

アメリカ ガッシュウコク ホロコースト キネン ハクブツカン

アメリカ合衆国ホロコースト記念博物館

美国大屠杀纪念博物馆

Languages
Covers