Migdal, Joel S.
Most widely held works about Joel S Migdal
Most widely held works by Joel S Migdal
The Palestinian people : a history
by
Baruch Kimmerling
( Book )
12 editions published between
1994
and 2003 in
English
and
Undetermined
and held by 1,630 WorldCat member libraries worldwide
In this text Baruch Kimmerling and Joel Migdal offer an authoritative account of the history of the Palestinian people from their modern origins to the Oslo peace process and beyond. Palestinians struggled to create themselves as a people from the first revolt of the Arabs in Palestine in 1834 through the British Mandate to the impact of Zionism and the founding of Israel. Their relationship with the Jewish people and the State of Israel has been fundamental in shaping that identity, and today Palestinians find themselves again at a critical juncture. In the 1990s cornerstones for peace were laid for eventual Palestinian-Israeli coexistence, including mutual acceptance, the renunciation of violence as a permanent strategy, and the establishment for the first time of Palestinian self-government. But the dawn of the twenty-first century saw a reversion to unmitigated hatred and mutual demonization. By mid-2002 the brutal violence of the Intifada had crippled Palestine's fledgling political institutions and threatened the fragile social cohesion painstakingly constructed after 1967. Kimmerling and Migdal unravel what went right--and what went wrong--in the Oslo peace process, and what lessons we can draw about the forces that help to shape a people. The authors present a balanced, insightful, and sobering look at the realities of creating peace in the Middle East
Palestinians : the making of a people
by
Baruch Kimmerling
( Book )
32 editions published between
1992
and 2002 in 3 languages and held by 1,387 WorldCat member libraries worldwide
In the hundred-year struggle for Palestine, history itself has been a battlefield, Israeli Jews and Palestinian Arabs seek to undermine each other's claim to national identity. Whatever the outcome of the current phase in regional affairs, no real progress toward peace can occur before agreement is reached about the events that have shaped the present and will remain dominant influences over the future. Baruch Kimmerling and Joel Migdal have taken the first significant step in this direction with a timely and authoritative account of the origins and history of the Palestinian people. This is the story of an agrarian society, ruled for centuries by outside powers and lacking indigenous political traditions, whose historical experience has been overwhelmingly negative. Kimmerling and Migdal give a sensitive and detailed portrait of this society as it struggled to survive the dissipation of the Ottoman Empire, the devastations of World War I, the transfer to British authority, and the subsequent destabilizing impact of Western economies. In the midst of these upheavals, such events as the first Zionist settlement in 1870 and even the Balfour Declaration of 1917 went almost unnoticed. But Jews became a swiftly growing presence in Palestine, acquiring land, expanding settlements, and introducing modern farming and commercial practices that further strained the region's social fabric. The authors closely document this process, and reveal that what had always been a diffuse, clan-centered Arab population began to acquire national self-consciousness as a result of these violent changes. Thus, the authors argue that the Palestinians came into existence as a people over time, largely through their interaction with the Jewish people and the Israeli state. Kimmerling and Migdal believe that, although recent events have dealt the Palestinians a number of serious blows, they have reached a turning point in their tortured history, as a new generation of leaders arise who may abandon anti-Zionism as an organizing principle. If so, the present phase of struggle may present the most propitious opportunity for peace in generations
Palestinian society and politics
by
Joel S Migdal
( Book )
18 editions published between
1978
and 2016 in
English
and held by 703 WorldCat member libraries worldwide
State power and social forces : domination and transformation in the Third World
( Book )
22 editions published between
1994
and 2007 in
English
and held by 553 WorldCat member libraries worldwide
This eminently readable 1994 collection of high-quality, country-specific essays on Third World politics provides, through a variety of well-integrated themes and approaches, an examination of 'state theory' as it has been practised in the past, and how it must be refined for the future. The contributors go beyond the previously articulated 'bringing the state back in' model to offer their own 'state-in-society' approach. They argue that states, which should be disaggregated for meaningful comparative study, are best analysed as parts of societies. States may help mould, but are also continually moulded by, the societies within which they are embedded. States' capacities, further, will vary depending on their ties to other social forces. And other social forces will be capable of being mobilised into political contention only under certain conditions. Political contention pitting states against other social forces may sometimes be mutually enfeebling, but at other times, mutually empowering
State in society : studying how states and societies transform and constitute one another
by
Joel S Migdal
( Book )
23 editions published between
2001
and 2010 in
English
and held by 461 WorldCat member libraries worldwide
"The essays in this book trace the development of Joel S. Migdal's "state-in-society" approach. His process-oriented analysis illuminates how power is exercised around the world, and how and when patterns of power change."--Jacket
Boundaries and belonging : states and societies in the struggle to shape identities and local practices
( Book )
24 editions published between
2004
and 2009 in
English
and held by 385 WorldCat member libraries worldwide
"This interdisciplinary volume maintains the importance of a spatial understanding of society and history, but suggests a way of conceiving of borders and space that goes beyond a school map of states. Its subject is the struggle among differing spatial logics, or mental maps. It is concerned with the meaning that state borders hold for people, but recognizes that such meaning varies and is contested by other social formations. The authors here ask, To what degree do state borders encase the mechanisms that make the decisive rules governing people's lives and to what extent do they give way to other rulemakers? To what extent do states circumscribe the communities to which people feel attached and to what extent do they intersect with other communities of belonging? The essays in this book home in on the struggles and conflicting demands on people, given that state borders are not automatically pre-eminent and that other spatial logics demand attention"--Jacket
Rules and rights in the Middle East : democracy, law, and society
by Rules and rights in the Middle East
( Book )
6 editions published in
1993
in
English
and held by 344 WorldCat member libraries worldwide
"As a whole, the book demonstrates that neither the region's overgrown state structures nor the corresponding weakness of autonomous societal organizations can be explained by referring to cultural characteristics of the people in the Middle East or to the precepts of their religions. True explanations, the authors argue, should be framed historically. They pay special attention to the relations among the various groups and regions of the Middle East and to those between the Middle East and western Europe. The authors emphasize the important role played by economic issues and constraints in broadening or narrowing the scope of democracy at various points in time; and finally, they are in agreement in seeing religion and culture of the Middle East not in static and essentialist terms but as dynamic phenomena that grow independently and even in opposition to existing political authorities."--Jacket
Shifting sands : the United States in the Middle East
by
Joel S Migdal
( Book )
7 editions published in
2014
in
English
and held by 301 WorldCat member libraries worldwide
Joel S. Migdal focuses on the approach U.S. officials adopted toward the Middle East after World War II, one that paid scant attention to tectonic shifts in the region. The United States did not restrict its strategic model to the Middle East?beginning with Harry S. Truman, American presidents applied a uniform strategy rooted in the country's Cold War experience in Europe to regions across the globe, designed to project America into nearly every corner of the world while limiting costs and overreach. The approach was simple: find a local power that could play Great Britain's role
more
fewer
Audience Level
0

1
Kids
General
Special
Audience level: 0.33 (from 0.07 for State in s ... to 0.81 for Peasants, ...)
Related Identities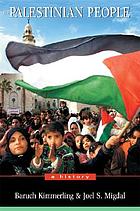 Alternative Names
Joel S. Migdal American academic

Mi-ko-tai-erh, J

Mi-ko-tai-erh, J 1945-

Migdal, Joel 1945-

Migdal, Joel S.

Migdal, Joel Samuel

Migdal, Joel Samuel 1945-

Migdal, Joel Shmuel

Migdāl, Yôʾēl Šemûʾēl 1945-

Migdal, Yo'el Shemu'el

Migdal, Yo'el Shemu'el 1945-

Mījdāl, Jūil

מגדל, יואל שמואל

جول ميجدال، 1945-

مغدال، يوئيل شموئيل

ميجدال، جول

Languages
Covers