Schneider, Barbara L.
Most widely held works by Barbara L Schneider
The ambitious generation : America's teenagers, motivated but directionless
by
Barbara L Schneider
( )
10 editions published between
1999
and 2000 in
English
and held by 2,532 WorldCat member libraries worldwide
But because schools and parents sometimes do a poor job of directing them, many take the wrong courses, choose the wrong colleges, and enter college with unrealistic career goals. For many their dreams of success are likely to remain just that - dreams
Workplace flexibility : realigning 20th-century jobs for a 21st-century workforce
( )
13 editions published between
2010
and 2015 in
English
and held by 951 WorldCat member libraries worldwide
Publisher: Although today's family has changed, the workplace has not-and the resulting one-size-fits-all workplace has become profoundly mismatched to the needs of an increasingly diverse and varied workforce. As changes in the composition of the workforce exert new demands on employers, considerable attention is being paid to how workplaces can be structured more flexibly to achieve the goals of employers and employees. Workplace Flexibility brings together sixteen essays authored by leading experts in economics, demography, political science, law, sociology, anthropology, and management. Collectively, they make the case for workplace flexibility, as well as examine existing business practices and public policy regarding flexibility in the United States, Europe, Australia, and Japan. Workplace Flexibility underscores the need to realign the structure of work in time and place with the needs of the changing workforce. Considering the positive and negative consequences for employer and employee alike, the authors argue that, although there is not an easy solution to creating and implementing flexibility practices-in the United States or abroad-redesigning the workplace is essential if today's workers are effectively to meet the demands of life and work and if employers are successfully able to attract and retain top talent and improve performance. Kathleen Christensen is Program Director at the Alfred P. Sloan Foundation and coeditor of Contingent Work: American Employment Relations in Transition, also from Cornell. Barbara Schneider is John A. Hannah University Distinguished Professor in the College of Education and the Department of Sociology at Michigan State University and a Senior Fellow, NORC and The University of Chicago. She is coeditor of The AERA Handbook on Education Policy Research
The adolescent years : social influences and educational challenges
( Book )
7 editions published between
1997
and 1998 in
English
and held by 853 WorldCat member libraries worldwide
"The contributors to this book see adolescence in broad terms - as a "dynamic social construction." As society changes, it becomes necessary to rethink what it means to be an adolescent in a rapidly changing world and to look with great care for explanations of teenage behavior, which is often perplexing to adults and teenagers themselves." "A recurrent theme in this volume is that, no matter how adolescence is defined, the establishment of identity and the search for autonomy remain central developmental tasks of the adolescent years. Changes in the various social contexts in which teenagers live - family, school, community institutions, peer groups, workplace - can significantly affect the progress they make with these and other social and cognitive developmental tasks. And success with those tasks is critical to ensure a smooth transition into adulthood."--Jacket
Becoming adult : how teenagers prepare for the world of work
by
Mihaly Csikszentmihalyi
( Book )
2 editions published in
2000
in
English
and held by 811 WorldCat member libraries worldwide
The detailed results provide a window of society's future through which we can glimpse how adolescents are preparing themselves for the lives they will lead in the years to come."--Jacket
Parents, their children, and schools
by
Barbara L Schneider
( Book )
12 editions published between
1993
and 2018 in
English
and held by 622 WorldCat member libraries worldwide
Parental involvement with children at home, in school, and in the community is one of the most important factors in educational success. Yet we know very little about the most effective approaches to parental intervention. Moreover, not all parents have the same resources or opportunities to act on the educational expectations they have for their children. This book examines the resources available to parents and the actions parents can take to further their children's education. It is the first study of the subject based on major survey data, drawing from the National Education Longitudinal Study of 1988 - a national survey of 26,000 eighth graders, their parents, teachers, and school administrators. The authors explore several important debates, including the extent to which parental involvement can mitigate the constraints of poverty for minorities and disadvantaged students, school choice and equality of educational opportunity, and the effects that school-sponsored activities involving parents have on educational performance. Certain to change the thinking of educators and policymakers, this book is essential reading for scholars and parents as well
Trust in schools : a core resource for improvement
by
Anthony S Bryk
( Book )
12 editions published between
2002
and 2004 in
English
and held by 540 WorldCat member libraries worldwide
Most Americans agree on the necessity of education reform, but there is little consensus about how this goal might be achieved. The rhetoric of standards and vouchers has occupied center stage, polarizing public opinion and affording litle room for reflection on the intangible conditions that make for good schools. This book engages this debate with a compelling examination of the importance of social relationships in the successful implementation of school reform
Innovations in improving access to higher education
by
Barbara L Schneider
( )
11 editions published between
2013
and 2014 in
English
and
Undetermined
and held by 499 WorldCat member libraries worldwide
Gaining an understanding about the barriers in transitioning from high school to college is crucial to improving college access and matriculation-particularly for low-income families and first-generation college-goers. These obstacles include many factors, such as: Lack of access to resources at home or schoolNot having a rigorous college-preparatory curriculum or not taking advantage of these coursesMisperceptions about the college-going process. This volume introduces innovative and effective ways to ease the transition process. One essential quest
Handbook of education policy research
by
David Nathan Plank
( Book )
19 editions published between
2009
and 2012 in
English
and held by 486 WorldCat member libraries worldwide
Educational policy continues to be of major concern. This AERA-sponsored Handbook presents two themes of defining the theoretical boundaries and methodological approaches of education policy research
Transforming schools
by
Peter W Cookson
( Book )
14 editions published between
1955
and 2014 in
English
and held by 473 WorldCat member libraries worldwide
The authors in this book address the issues that relate to the crisis in American education and review some of the proposed solutions. To transform education, schools must be examined as social systems that are interrelated with families, communities, and the world of work. Following the introduction, section 1, "Conditions for Educational Opportunities," is comprised of the following four chapters: (1) "Schooling, Achievement, and Mobility" (Aaron M. Pallas); (2) "Tracking and Detracking Practices: Relevance for Learning" (Maureen T. Hallinan); (3) "Parental Ties to the School and Community and Mathematics Achievement" (Chandra Muller); (4) "Reading Reality More Carefully Than Books: a Structural Approach to Race and Class Differences in Adolescent Educational Performance" (Roslyn Arlin Mickelson, Sumie Okazaki, and Dunchun Zheng); and (5) "Dropouts: Definitions, Causes, Consequences, and Remedies" (Gary Natriello). The second section, "Changing Definitions of Education," includes the following five chapters: (6) "Mapping Knowledge Perspectives in Studies of Educational Change" (Rolland G. Paulston); (7) "Expanding Definitions of Learning and Teaching: Notes from the mi Underground" (Mindy Kornhaber and Mara Krechevsky); (8) "Thinking Like a Fish: The Implications of the Image of School Community for Connections between Parents and Schools" (Mary Erina Driscoll); (9) "Education Reform and Policy Implications" (Kathryn M. Borman, Louis Castenell, Karen Gallagher, Sally B. Kilgore, and Debra A. Martinson); and (10) "Schools Must Do More for Children--Child Advocacy as an Educational Responsibility" (Judith H. Cohen). Section 3, "Learning and Assessment," is comprised of the following four chapters: (11) "The Content of Cultural Inventions: Learning and Curriculum" (Ivor F. Goodson); (12) "The Role of Standards and Assessments in National Reform" (David Lee Stevenson); (13) "The Politics of a National Curriculum" (Michael W. Apple); and (14) "High School Curriculum Differentiation and Postsecondary Outcomes" (Thomas B. Hoffer). The following five chapters are included in the fourth section, "New Strategies for Solving Educational Problems"; (15) "Policy, Knowledge, and Power: Some Issues for the Study of Educational Reform" (Thomas S. Popkewitz); (16) "Can the Big-City School System Be Governed?" (Kenneth K. Wong); (17) "Administrative Leadership and the Crisis in the Study of Educational Administration: Technical Rationality and Its Aftermath" (James G. Cibulka and Hanne B. Mawhinney); (18) "Privatization: Integrating Private Services in Public Schools" (Ellen B. Goldring and Anna V. Shaw Sullivan); and (19) "Why School Choice? A Question of Values" (Peter W. Cookson, Jr., And Barbara Schneider). Nine figures, 10 tables, and an index are included. References accompany each chapter. (Lmi)
Being together, working apart : dual-career families and the work-life balance
( Book )
9 editions published in
2005
in
English
and held by 456 WorldCat member libraries worldwide
"A recent study of 500 families, which focuses on middle-class dual-career families in eight communities across the US, provides a holistic view of the complexities of work and family life experienced by parents and their children. This unique study has resulted in an unusually rich data set due to the variety of methods used. Drawing on the study, this book explores how dual-earner families cope with the stresses and demands of balancing work and family life, whether the time parents spend working is negatively affecting their children, how mothers feel managing both work and household responsibilities, and what role fathers are taking in family life. In answering these questions the authors argue for a new balance between work and family life. The book with its rich data, findings, and commentary from an interdisciplinary group of scholars provides a valuable resource for academics, policy makers, and working parents."--Jacket
more
fewer
Audience Level
0

1
Kids
General
Special
Audience level: 0.29 (from 0.07 for The ambiti ... to 0.68 for Time use a ...)
Related Identities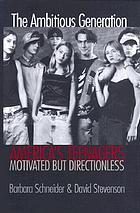 Covers
Alternative Names
Schneider, B. L.

Schneider, Barbara.

Schneider Barbara 1946-....

Schneider, Barbara L. 1946-

Schneider, Barbara sociologinja

Languages