Murnane, Richard J.
Most widely held works about Richard J Murnane
Most widely held works by Richard J Murnane
The new division of labor : how computers are creating the next job market
by
Frank Levy
( )
22 editions published between
2004
and 2012 in
English
and held by 2,083 WorldCat member libraries worldwide
"As the current recession ends, many workers will not be returning to the jobs they once held -- those jobs are gone. In The New Division of Labor, Frank Levy and Richard Murnane show how computers are changing the employment landscape and how the right kinds of education can ease the transition to the new job market. The book tells stories of people at work -- a high-end financial advisor, a customer service representative, a pair of successful chefs, a cardiologist, an automotive mechanic, the author Victor Hugo, floor traders in a London financial exchange. The authors merge these stories with insights from cognitive science, computer science, and economics to show how computers are enhancing productivity in many jobs even as they eliminate other jobs -- both directly and by sending work offshore. At greatest risk are jobs that can be expressed in programmable rules -- blue collar, clerical, and similar work that requires moderate skills and used to pay middle-class wages. The loss of these jobs leaves a growing division between those who can and cannot earn a good living in the computerized economy. Left unchecked, the division threatens the nation's democratic institutions. The nation's challenge is to recognize this division and to prepare the population for the high-wage/high-skilled jobs that are rapidly growing in number -- jobs involving extensive problem solving and interpersonal communication. Using detailed examples -- a second grade classroom, an IBM managerial training program, Cisco Networking Academies -- the authors describe how these skills can be taught and how our adjustment to the computerized workplace can begin in earnest. Book jacket."--Jacket
Improving indicators of the quality of science and mathematics education in grades K-12
by
Richard J Murnane
( )
14 editions published between
1900
and 1988 in
English
and held by 1,972 WorldCat member libraries worldwide
And recommendations -- Indicators of science and mathematics education -- What are indicators? -- Indicators of learning in science and mathematics -- Indicators of student behavior -- Indicators of teaching quality -- Indicators of curriculum -- Indicators of financial and leadership support
Low-wage America : how employers are reshaping opportunity in the workplace
by
Annette D Bernhardt
( Book )
10 editions published between
2003
and 2006 in
English
and held by 1,634 WorldCat member libraries worldwide
About 27.5 million Americans -- nearly 24 percent of the labor force -- earn less than $8.70 an hour, not enough to keep a family of four out of poverty, even working full-time. "Low-Wage America" is the most extensive study to date of how the choices employers make in response to economic globalization, industry deregulation, and advances in information technology affect the lives of tens of millions of workers at the bottom of the wage distribution. Based on data from hundreds of establishments in twenty-five industries -- including manufacturing, telecommunications, hospitality, and health care -- the case studies document how firms' responses to economic restructuring often result in harsh working conditions, reduced benefits, and fewer opportunities for advancement. "Low-Wage America" challenges us to a national self-examination about the nature of low-wage work in this country and asks whether we are willing to tolerate the profound social and economic consequences entailed by these jobs. -- From publisher's description
Whither opportunity? : rising inequality, schools, and children's life chances
by
Greg J Duncan
( )
10 editions published in
2011
in
English
and held by 958 WorldCat member libraries worldwide
In Whither Opportunity?, a team of economists, sociologists, and experts in social and education policy examines the corrosive effects of unequal family resources, disadvantaged neighborhoods, insecure labor markets, and worsening school conditions on K-12 education. This groundbreaking book illuminates the ways rising inequality is undermining the ability of schools to provide children with an equal chance at academic and economic success. Whither Opportunity? shows that from earliest childhood, parental investments in children s learning affect reading, math, and other attainments later in life. Contributor Meredith Phillip finds that between birth and age six, wealthier children spend significantly more time than poor children on child enrichment activities such as music lessons, travel, and summer camp. Greg Duncan, George Farkas, and Katherine Magnuson demonstrate that a child from a poor family is two to four times as likely as a child from an affluent family to have classmates with low skills and behavior problems. As a result of such disparities, contributor Sean Reardon finds that the gap between rich and poor children s achievement scores is now much larger than it was 50 years ago. Such income-based gaps persist across the school years, as Martha Bailey and Sue Dynarski document in their chapter on the growing income-based gap in college completion. Whither Opportunity? also reveals the profound impact of environmental factors on children s educational progress. Elizabeth Ananat, Anna Gassman-Pines, and Christina Gibson-Davis show that local job losses such as those caused by plant closings can lower the test scores of students with low socioeconomic status, even students whose parents have not lost their jobs. And David Kirk and Robert Sampson show that teacher commitment, parental involvement, and student achievement in schools in high-crime neighborhoods all tend to be low
Methods matter : improving causal inference in educational and social science research
by
Richard J Murnane
( )
18 editions published between
2010
and 2011 in
English
and held by 822 WorldCat member libraries worldwide
This text offers essential guidance for those who evaluate educational policies. Using numerous examples of high-quality studies that have evaluated the causal impacts of important educational interventions, the authors go beyond the presentation of analytical methods to discuss the controversies surrounding each study
Data wise : a step-by-step guide to using assessment results to improve teaching and learning
by
Kathryn Parker Boudett
( Book )
14 editions published between
2005
and 2015 in
English
and held by 805 WorldCat member libraries worldwide
Data Wise: A Step-by-Step Guide to Using Assessment Results to Improve Teaching and Learning presents a clear and carefully tested blueprint for school leaders. It shows how examining test scores and other classroom data can become a catalyst for important schoolwide conversations that will enhance schools abilities to capture teachers knowledge, foster collaboration, identify obstacles to change, and enhance school culture and climate. This revised and expanded edition captures the learning that has emerged in integrating the Data Wise process into school practice and brings the book up-to-date with recent developments in education and technology
Teaching the new basic skills : principles for educating children to thrive in a changing economy
by
Richard J Murnane
( Book )
6 editions published in
1996
in
English
and held by 616 WorldCat member libraries worldwide
Fifteen years ago, a U.S. high school diploma was a ticket to the middle class. No longer. The skills required to earn a decent income have changed radically. The skills taught in most U.S. schools have not. Today the average 30-year-old person with a high school diploma earns $20,200, and the nation faces of future of growing inequality and division. Teaching the New Basic Skills shows how to avoid such a future. By telling stories of real people in real businesses and real schools, the book shows the skills students need to get decent jobs and how schools can change to teach those skills. Richard Murnane and Frank Levy begin by describing the hiring processes of best practice firms like Northwestern Mutual Life and Honda of America. In today's competitive economy, these firms search for applicants with the New Basic Skills - the mix of hard and soft skills that all high-wage employers now require. Murnane and Levy then shift their analysis to schools, asking how they can more effectively teach these New Basic Skills. By using case studies the authors show that popular school reform proposals - higher standards, school choice, national standards, charter schools, more money - can only be the first half of a solution to the nation's school problem. When they work as advertised, they force a school to change the way it does business. But each of these reforms needs a second half, a strategy for guiding schools toward the changes that raise student skills. The authors show how that strategy rests on five management principles that focus a school on student achievement. These principles grow out of the experiences of real schools doing the dirty work of educational reform: an elementary school in East Austin, Texas organizing low-income Hispanic parents around higher educational performance, an affluent New England community retraining its teachers, the state of Vermont devising new ways to measure the math skills employers require, a Boston high school creating incentives for low-income minority students to devote more time and attention to schoolwork
Restoring opportunity : the crisis of inequality and the challenge for American education
by
Greg J Duncan
( Book )
5 editions published in
2014
in
English
and held by 555 WorldCat member libraries worldwide
"In this landmark volume, Greg J. Duncan and Richard J. Murnane lay out a meticulously researched case showing how--in a time of spiraling inequality--strategically targeted interventions and supports can help schools significantly improve the life chances of low-income children. The authors offer a brilliant synthesis of recent research on inequality and its effects on families, children, and schools. They describe the interplay of social and economic factors that has made it increasingly hard for schools to counteract the effects of inequality and that has created a widening wedge between low- and high-income students. Restoring Opportunity provides detailed portraits of proven initiatives that are transforming the lives of low-income children from prekindergarten through high school. All of these programs are research-tested and have demonstrated sustained effectiveness over time and at significant scale. Together, they offer a powerful vision of what good instruction in effective schools can look like. The authors conclude by outlining the elements of a new agenda for education reform." -- Publisher's description
Climate extremes and society
by
Henry F Diaz
( Book )
17 editions published between
2008
and 2011 in
English
and held by 457 WorldCat member libraries worldwide
"Climate Extremes and Society focuses on the recent and potential future consequences of weather and climate extremes for different socioeconomic sectors. The book also examines actions that may enable society to better respond and adapt to climate variability, regardless of its source."--BOOK JACKET
more
fewer
Audience Level
0

1
Kids
General
Special
Audience level: 0.27 (from 0.07 for Improving ... to 1.00 for The News h ...)
Related Identities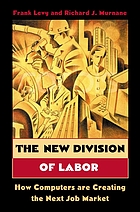 Covers
Alternative Names
Murnane, Richard 1945-

Murnane Richard J. 1945-....

Murnane, Richard John 1945-

Richard Murnane American academic

Richard Murnane Amerikaans econoom

Languages