Kirby, William 1759-1850
Most widely held works about William Kirby
more
fewer
Most widely held works by William Kirby
On the power, wisdom and goodness of God as manifested in the creation of animals and in their history, habits and instincts
by
William Kirby
( Book )
69 editions published between
1835
and 2016 in
English
and
Undetermined
and held by 945 WorldCat member libraries worldwide
"In this enumeration and history of the principal tribes of the Animal Kingdom, we have traced in every page the footsteps of infinite Wisdom, Power, and Goodness. In our ascent from the most minute and least animated parts of that Kingdom to man himself, we have seen in every department that nothing was left to chance, or the rule of circumstances, but every thing was adapted by its structure and organization for the situation in which it was to be placed, and the functions it was to discharge; that though every being, or group of beings, had separate interests, and wants, all were made to subserve to a common purpose, and to promote a common object; and that though there was a general and unceasing conflict between the members of this sphere of beings, introducing apparently death and destruction into every part of it, yet that by this great mass of seeming evil pervading the whole circuit of the animal creation, the renewed health and vigour of the entire system were maintained. A part suffers for the benefit and salvation of the whole; so that the doctrine of the sufferings of one creature, by the will of God, being necessary to promote the welfare of another, is irrefragably established by every thing we see in nature; and further, that there is an unseen hand directing all to accomplish this great object, and taking care that the destruction shall in no case exceed the necessity"--Book. (PsycINFO Database Record (c) 2009 APA, all rights reserved)
Journal of a voyage for the discovery of a north-west passage from the Atlantic to the Pacific; performed in the years, 1819-20, in His Majesty's ships Hecla and Griper, under the orders of William Edward Parry, R.N., F.R.S., and commander of the expedition
by
William Edward Parry
( )
7 editions published between
1821
and 1966 in
English
and held by 292 WorldCat member libraries worldwide
Englishman William Edward Parry's journal of his voyage for the discovery of a North-west passage through the Canadian Arctic in the years 1819-'20 aboard the ships Hecla and Griper. Includes official instructions to Parry from the British government on undertaking the expedition, details of land and sea exploration, encounters with Inuit (Eskimos) and fauna in the region, lists of supplies, chronometric, magnetic and lunar observations, numerous plates and maps, glossary of technical terms
Fauna boreali-americana, or, The zoology of the northern parts of British America : containing descriptions of the objects of natural history collected on the late northern land expeditions under command of Captain Sir John Franklin, R.N.
by
John Richardson
( Book )
22 editions published between
1960
and 1975 in
English
and held by 221 WorldCat member libraries worldwide
Sir John Richardson (1787-1865), surgeon, naturalist and Arctic explorer, went on Sir John Franklin's first two Arctic expeditions as ship's doctor and naturalist, and made observations and collected a large number of plant and animal specimens from the Canadian Arctic. On his return to England after the second expedition he began to write this four-volume work of natural history, first published between 1829 and 1837. A volume is dedicated to each of the classes of mammal, bird, fish and insect, which are found in the Canadian Arctic. This work is an interesting example of pre-Darwinian natural history, full of detailed descriptions of the appearance, anatomy and behaviour of the different species. Volume 1, first published in 1829, focuses on mammals. Descriptions of the species sometimes include details of interactions between humans and that species; for example, unfortunate encounters between sailors and polar bears
On the power, wisdom, and goodness of God
by
William Kirby
( )
10 editions published between
1835
and 2010 in
English
and held by 133 WorldCat member libraries worldwide
"The Works of God and the Word of God may be called the two doors which open into the temple of Truth; and, as both proceed from the same Almighty and Omniscient Author, they cannot, if rightly interpreted, contradict each other, but must mutually illustrate and confirm, "though each in different sort and manner," the same truths. Doubtless it was with this conviction upon his mind, that the learned Professor, from whom I have borrowed my motto, expresses his opinion--that in order rightly to understand the voice of God in nature, we ought to enter her temple with the Bible in our hands. The prescribed object of the several treatises, of which the present forms one, is the illustration of the Power, Wisdom, and Goodness of the Deity, as manifested in the Works of Creation; but it is not only directed that these primary attributes should be proved by all reasonable arguments derived from physical objects, but also by discoveries ancient and modern, and the whole extent of literature. As the Holy Scriptures form the most interesting portion, in every respect, of ancient literature; and it has always been the habit of the author of the present treatise to unite the study of the word of God with that of his works; the trusts he shall not be deemed to have stepped out of the record, where he has copiously drawn from the sacred fountains, provided the main tenor of his argument is in accordance with the brief put into his hands. As first volume of this work was printed before the publication of Dr. Roget's admirable Treatise, it will not be deemed wonderful that, in some instances, we have treated of the same subject. The history, habits, and instincts of animals, are so intimately connected with their physiological structure, especially their external anatomy, that it is scarcely possible, in order to prove the adaptation of means to an end, to treat satisfactorily of the former without occasional illustrations from the latter"--Introduction. (PsycINFO Database Record (c) 2009 APA, all rights reserved)
Fauna boreali-americana
by
John Richardson
( Book )
3 editions published in
1974
in
English
and held by 107 WorldCat member libraries worldwide
An introduction to entomology : or, elements of the natural history of insects: comprising an account of noxious and useful insects, of their metamorphoses, food, stratagems, habitations, societies, motions, noises, hybernation, instinct, etc., etc., With Plates
by
William Kirby
( Book )
5 editions published between
1828
and 1865 in
English
and held by 99 WorldCat member libraries worldwide
more
fewer
Audience Level
0

1
Kids
General
Special
Audience level: 0.61 (from 0.35 for On the pow ... to 0.93 for The rise a ...)
Associated Subjects
American Home Missionary Society
Animal behavior
Animals
Arctic Ocean--Northwest Passage
Arctic Regions
Authors, Canadian
Bee culture
Bees
Beneficial insects
Blaise, Clark
Botany
Canada
Canadian fiction
Christian ethics
Darwin, Charles,
Discoveries in geography
Discovery and exploration, British
England
Entomology
Franklin, John,
Funeral sermons
Great Britain
Griper (Ship)
Haliburton, Thomas Chandler,
Hecla (Ship)
Home missions
Hymenoptera
Insect pests
Insect-plant relationships
Insects
Insects--Anatomy
Insects--Behavior
Insects--Habitations
Insects--Host plants
Insects--Life cycles
Insect societies
Kirby, William,
Metcalf, John,
Munro, Alice,
Natural history
Natural theology
Presbyterian Church
Presbyterian Church--Clergy
Religion and science
Roberts, Charles G. D.,--Sir,
Scientific expeditions
Sermons, American
Seton, Ernest Thompson,
Watson, Sheila,
Zoology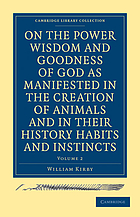 Covers
Alternative Names
Gulielmus Kirby

Kirby G.

Kirby, G. 1759-1850

Kirby, G. (Guillaume), 1759-1850

Kirby Giullaume

Kirby, Guillaume

Kirby Guillaume 1759-1850

Kirby W.

Kirby, W. 1759-1850

Kirby, W. (William), 1759-1850

Kirby Wilhelm

Kirby, Wilhelm 1759-1850

Kirby, Wilhem 1759-1850

Kirby, William

Kirby Wm.

Kirby, Wm 1759-1850

Kirby, Wm. (William), 1759-1850

William Kirby Brits entomoloog (1759-1850)

William Kirby englischer Pfarrer und Entomologe

William Kirby English entomologist (1759-1850)

William Kirby entomolog angielski

William Kirby entomologiste anglais

William Kirby entomólogo inglés

William Kirby entomologo inglese

Кёрби, Уильям

Кэрби

Уильям Кёрби английский энтомолог, один из основателей энтомологии

Уільям Кірбі

ויליאם קירבי

ویلیام کربی

வில்லியம் கிர்பி

ウィリアム・カービー

Languages