Huot, Sylvia
Most widely held works by Sylvia Huot
Rethinking The romance of the Rose : text, image, reception
by
Kevin Brownlee
( )
14 editions published between
1992
and 2016 in
English
and held by 1,209 WorldCat member libraries worldwide
The Romance of the Rose has been a controversial text since it was written in the thirteenth century. There is evidence for radically different readings as early as the first half of the fourteenth century. The text provided inspiration for both courtly and didactic poets. Some read it as a celebration of human love; others as an erudite philosophical work; still others as a satirical representation of social and sexual follies. On one hand it was praised as an edifying treatise, on the other condemned as lascivious and misogynistic. Over the course of the last thirty years, the Rose has been the focus of some of the most intensive and innovative scholarship in the field of medieval studies. This activity has been characterized by a wide variety of critical approaches and methodologies. Two striking features emerge from the volume's survey of recent work on the Romance of the Rose. First, a wide range of disciplines have been involved: philosophy, theology, history, art history and codicology, and literature. This diversity is not only a function of the medieval work of art itself, but also the result of our postmodern focus on "culture" from a cross-disciplinary perspective. Second, the methodological heterogeneity of the past three decades of Rose research has been extremely fruitful. Kevin Brownlee and Sylvia Huot and the contributors to this volume - Pierre-Yves Badel, Emmanuele Baumgartner, John V. Fleming, Robert Pogue Harrison, David F. Hult, Stephen G. Nichols, Lee Patterson, Daniel Poirion, Karl D. Uitti, Dieuwke E. van der Poel, and Lori Walters - represent all the major areas of current work on the Romance of the Rose, both in America and in Europe. The volume will be of value to students and scholars of medieval literature, intellectual history, and art history
The Romance of the rose and its medieval readers : interpretation, reception, manuscript transmission
by
Sylvia Huot
( Book )
18 editions published between
1992
and 2007 in
English
and held by 496 WorldCat member libraries worldwide
The Romance of the Rose was one of the most important works of medieval vernacular literature. It was composed in the thirteenth century and exerted a profound influence on literature in France, England, the Netherlands and Italy for the next 200 years. In this book, Sylvia Huot investigates how medieval readers understood the text, assessing the evidence to be found in well over 200 surviving manuscripts: annotations, glosses, illuminations, marginal doodles, rewritings, expansions and abridgements. This allows a picture to emerge of the interests and concerns of its readers, including such important fourteenth-century figures as the monastic author Guillaume de Deguilleville and the court poet Guillaume de Machaut. The book contains analyses of individual versions of the poem. It offers an interesting perspective on the interpretative difficulties of this learned and complex poem
Postcolonial fictions in the Roman de Perceforest : cultural identities and hybridities
by
Sylvia Huot
( )
11 editions published between
2007
and 2013 in
English
and held by 405 WorldCat member libraries worldwide
This vast romance chronicles an imaginary era of pre-Arthurian British history when Britain was ruled by a dynasty established by Alexander the Great. Its story of cultural rise, decline, and regeneration offers an exploration of medieval ideas about ethnic and cultural conflict and fusion, identity and hybridity
Madness in medieval French literature : identities found and lost
by
Sylvia Huot
( Book )
15 editions published between
2003
and 2007 in
English
and held by 401 WorldCat member libraries worldwide
"This new book, from one of the leading critics in medieval studies, ties in with contemporary interest in the politics of identity, and literary constructions of identity. There are many studies of gender, sexuality, race and ethnicity, and class in medieval literature and society, but far fewer of madness. Yet madness is the ultimate 'queerness' or 'otherness, ' the limit of the human condition. Madness has been identified as an important topic in feminist criticism, but has been explored largely with regard to nineteenth- and twentieth-century studies. The cultural significance of madness in the Middle Ages is often misrepresented in contemporary discussions. Sylvia Huot redresses that imbalance."--Jacket
Allegorical play in the Old French motet : the sacred and the profane in thirteenth-century polyphony
by
Sylvia Huot
( Book )
11 editions published in
1997
in
English
and
Undetermined
and held by 325 WorldCat member libraries worldwide
The book examines the creative juxtaposition of sacred tenors and vernacular lyric motifs, and the resulting interplay of allegorical and parodic meanings, focusing in particular on the female persona as object of desire and as desiring subject, and on the motives of the separation and reunion of lovers. the author's analysis also discusses the links between the French motet and the secular lyric, the allegorization of love poetry in sermons and mystical texts, sacred parody, and the playful use of liturgical and biblical citations in erotic poetry
Outsiders : the humanity and inhumanity of giants in medieval French prose romance
by
Sylvia Huot
( Book )
8 editions published in
2016
in
English
and held by 280 WorldCat member libraries worldwide
"Giants are a ubiquitous feature of medieval romance. As remnants of a British prehistory prior to the civilization established, according to the Historium regum Britannie, by Brutus and his Trojan followers, giants are permanently at odds with the chivalric culture of the romance world. Whether they are portrayed as brute savages or as tyrannical pagan lords, giants serve as a limit against which the chivalric hero can measure himself. In Outsiders: The Humanity and Inhumanity of Giants in Medieval French Prose Romance, Sylvia Huot argues that the presence of giants allows for fantasies of ethnic and cultural conflict and conquest, and for the presentation--and suppression--of alternative narrative and historical trajectories that might have made Arthurian Britain a very different place. Focusing on medieval French prose romance and drawing on aspects of postcolonial theory, Huot examines the role of giants in constructions of race, class, gender, and human subjectivity. She selects for study the well-known prose Lancelot and the prose Tristan, as well as the lesser known Perceforest, Le Conte du papegau, Guiron le Courtois, and Des Grantz Geants. By asking to what extent views of giants in Arthurian romance respond to questions that concern twenty-first-century readers, Huot demonstrates the usefulness of current theoretical concepts and the issues they raise for rethinking medieval literature from a modern perspective. "In her beautifully written Outsiders: The Humanity and Inhumanity of Giants in Medieval French Prose Romance, Sylvia Huot organizes a wealth of material into a taxonomy of giants and their complex role in medieval French literature. Huot imaginatively uses that mapping to demonstrate the many ways in which the figure of the giant is a cultural fantasy through which medieval writers imagined the limits of personhood. Tracing that fantasy through medieval concepts of race and ethnicity, Huot makes an original and important claim not just about what giants do for medieval writers or their audiences, but also about the vulnerable boundaries of the human that are both put into question and reaffirmed by representations of giant outsiders." --Peggy McCracken, University of Michigan"
Dreams of lovers and lies of poets : poetry, knowledge, and desire in the Roman de la rose
by
Sylvia Huot
( Book )
10 editions published between
2010
and 2017 in
English
and held by 195 WorldCat member libraries worldwide
"The Roman de la Rose explicitly offers an 'art of love', while also repeatedly asserting that the experience of love is impossible to put into words. An examination of the intertextual density of the Rose, with its citations and adaptations of a range of Latin authors, shows that the discourse of bodily desire, pleasure, and trauma emerges indirectly from the juxtaposition and conflation of sources. Huot's new book focuses on Guillaume de Lorris's use of the Ovidian corpus, and on Jean de Meun's dazzling orchestration of allusions to a wider range of Latin writers: principally Ovid, Boethius, and Virgil, but also including John of Salisbury and Alain de Lille. In both parts of the Rose, poetic allegory is a language that can express the unspeakable and the ineffable."--Provided by publisher
more
fewer
Audience Level
0

1
Kids
General
Special
Audience level: 0.48 (from 0.25 for Rethinking ... to 0.98 for The Fiore ...)
Associated Subjects
Allegory
Arthurian romances
Arts, Medieval
Authors, Medieval
Authors and readers
Ballades (Polyphonic chansons)
Books
Books and reading
Christine,--de Pisan,
Civilization, Medieval
Civilization, Medieval, in literature
Courtly love
Courtly love in literature
Deschamps, Eustache,
France
French literature
French poetry
Gaston--III Phœbus,--Count of Foix,
Giants in literature
Guillaume,--de Lorris,
Illumination of books and manuscripts, French
Jean,--de Meun,
Literature, Medieval
Literature, Medieval--Theory, etc
Love poetry, French
Lyric poetry
Manuscripts, French
Manuscripts, Italian
Manuscripts, Medieval
Mathieu,--de Castelbon, Count of Foix,
Mental illness in literature
Motets
Music and language
Music and literature
Narrative poetry, French
Outsiders in literature
Part songs, French
Part songs, Latin
Perceforest
Poetics
Poetry, Medieval
Poetry--Editing
Reader-response criticism
Rime (Petrarca, Francesco)
Romances
Roman de la rose (Guillaume, de Lorris)
Scriptoria
Songs, French
Thirteenth century
Transmission of texts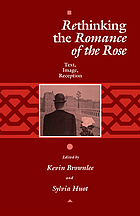 Covers
Alternative Names
Huot, Sylvia.

Huot, Sylvia J. 1953-

Huot, Sylvia Jean

Huot, Sylvia Jean 1953-

Sylvia Huot académica británica

Sylvia Jean Huot

Languages