United States Holocaust Memorial Museum
Most widely held works about United States Holocaust Memorial Museum
more
fewer
Most widely held works by United States Holocaust Memorial Museum
Tell them we remember : the story of the Holocaust
by
Susan D Bachrach
( Book )
5 editions published in
1994
in
English
and
German
and held by 2,210 WorldCat member libraries worldwide
Presents the story of the Holocaust and shows how it affected the lives of innocent people throughout Europe, using artifacts, photographs, maps, and taped oral and video histories from the collections of the United States Holocaust Memorial Museum in Washington, D.C
Anatomy of the Auschwitz death camp
( Book )
6 editions published between
1994
and 1998 in
English
and held by 1,384 WorldCat member libraries worldwide
Commissioned by the U.S. Holocaust Research Institute." ... Principal sections of the book address the institutional history of the camp, the technology and dimensions of the genocide carried out there, the profiles of the perpetrators and the lives of the inmates, underground resistance and escapes, and what the outside world knew about Auschwitz and when. A major study of the design and construction of the gas chambers and crematoria reveals the economic competitiveness, bureaucratic struggles, and technological sophistication behind the manufacture of the machinery that was used to murder and incinerate thousands daily ..."
Resistance : the Warsaw Ghetto uprising
by
Israel Gutman
( Book )
1 edition published in
1994
in
English
and held by 1,227 WorldCat member libraries worldwide
On April 19, 1943, thousands of Nazi troops were given the order to remove all Jews in the Warsaw ghetto, a few square blocks sheltering the remnants of the half million or more Jewish citizens of Poland's capital, to the death camps of Treblinka and Auschwitz. They were to kill those who resisted. A few hundred of the trapped Jews, mostly teenagers, armed only with pistols, Molotov cocktails, and a few light machine guns, vowed to fight back. Resistance is the full story of the uprising and the events leading to it, told by a survivor of the battle who is now a world-renowned Israeli scholar of the Holocaust. Warsaw in the 1920s and 1930s was the home of Europe's largest and most vibrant Jewish community. It included the rich, the poor, and the middle class; casual assimilationists and ardent Zionists; representatives of the full spectrum of political and religious factions. Then came the German onslaught of ruthless violence against the Jews--isolation and starvation amid desperation and disease--then deportations. As the ghetto walls rose, hundreds of thousands were rounded up and sent to Treblinka. But resistance began to take shape, and when the final attack order came, the ghetto fighters stood ready. Includes excerpts from diaries, letters, and other documents of the period
The Holocaust and history : the known, the unknown, the disputed, and the reexamined
by
Michael Berenbaum
( Book )
12 editions published between
1998
and 2002 in
English
and held by 1,217 WorldCat member libraries worldwide
This benchmark volume of extraordinary scope, depth, and power presents the results of nearly fifty years of scholarship on the Holocaust by the world's most eminent researchers. Fifty-four chapters probe such topics as Nazi politics, racial ideology, leadership, and bureaucracy; the phases of the Holocaust from definition to expropriation, ghettoization, deportation, and the death camps, etc
Remembering, voices of the Holocaust : a new history in the words of the men and women who survived
by
Lyn Smith
( Book )
5 editions published between
2005
and 2007 in
English
and held by 916 WorldCat member libraries worldwide
Contains a selection of transcripts taken from the sound archives of Britain's Imperial War Museum and the United States Holocaust Memorial Museum. Interviews of Holocaust survivors, refugees, families of the murdered and of survivors, aid workers and troops who liberated the camps are included
One survivor remembers
by
Gerda Weissmann Klein
( Visual )
15 editions published between
1995
and 2010 in 3 languages and held by 806 WorldCat member libraries worldwide
Through a series of interviews, photographs and footage shot in the actual locations of her memories, Gerda Weissmann Klein takes us on her journey of survival of the Holocaust. Following the film's credits this program includes Mrs. Klein's appearance with filmmaker Kary Antholis accepting the Academy award
Letters and dispatches, 1924-1944
by
Raoul Wallenberg
( Book )
6 editions published between
1995
and 2011 in
English
and held by 769 WorldCat member libraries worldwide
One of the most remarkable and stirring episodes of World War II involved a young Swede from a distinguished banking family named Raoul Wallenberg. Wallenberg had watched the progress of the war and the treatment of the Jews from his neutral country with growing horror and the burning ambition to do something. When in June of 1944 he was approached to oversee a rescue operation of Hungarian Jews being deported to the death camps by Adolf Eichmann, he accepted this clearly perilous and probably hopeless mission without hesitation. Hurriedly accorded diplomatic status by his own government, Wallenberg arrived in Budapest in early July of 1944. By the time of his arrest by the Soviet army on January 17, 1945, roughly six months later, he had helped to save the lives of over 100,000 people. Gathering together several elements of Wallenberg's written record, Letters and Dispatches, 1924-1944 marks the fiftieth anniversary of his tragic and still mysterious disappearance and offers some answers. At the heart of this collection is the correspondence between Raoul and his paternal and sternly patrician grandfather Gustaf Wallenberg, who had pledged to support his fatherless grandson so long as Raoul studied and worked outside of Sweden. He urged Raoul to go to America. In the fall of 1931, Raoul matriculated at the University of Michigan in Ann Arbor to study architecture and spent four years observing and admiring a country lifting itself up from the depths of the Depression. He also hitchhiked to California, studied New York's skyscrapers, worked at the World's Fair in Chicago, and drove a pickup truck to Mexico City, all the while engaged in a spirited exchange of ideas and impressions with his grandfather. Gustaf's plan was for Raoul to distinguish himself abroad and then, using contacts he himself would supply at the right moment, to go back to Sweden and begin a career. Dutiful though increasingly restless, Raoul obeyed his grandfather's directives and worked in South Africa, then at a bank in Palestine, waiting for his foreign apprenticeship to end. When Gustaf died in 1937 his grand design for his beloved grandson died with him, and for several years after his return home Raoul struggled to find his way. The War Refugee Board's offer to send him to Budapest was an opportunity Wallenberg could not refuse, and from the instant of his arrival he worked like a man inspired. As the dispatches in this volume attest, Wallenberg rapidly set up an organization that used any and all available means to save lives. Every aspect of his education, character, and heritage - his grandfather's willfulness included - came into play while he cajoled, hoodwinked, charmed, outmaneuvered, outnerved, and sometimes outright threatened the Nazis and Hungarian fascists in a desperate and valiant effort to save an entire people from extermination. More than merely fascinating historical documents, these letters and dispatches permit Raoul Wallenberg to tell his own story. They are testimony to the miracles of which ordinary but uncompromising human decency is capable
Homosexuals
( Book )
9 editions published between
1996
and 2002 in
English
and held by 672 WorldCat member libraries worldwide
Explores the persecution of homosexuals under the Nazi regime. A PDF version of the paper brochure of same title, numerous photographs, and individual case histories
more
fewer
Audience Level
0

1
Kids
General
Special
Audience level: 0.26 (from 0.03 for After repr ... to 0.59 for United Sta ...)
Related Identities
Associated Subjects
Auschwitz (Concentration camp)
Buildings
Children
Children's art
Children's writings
Civilian war relief
Concentration camps
Czech Republic
Diplomats
Ethnic relations
Europe
Europe, Eastern
Exhibition catalogs
Forced labor
France
Freed, James Ingo
Gays--Nazi persecution
Germany
Holocaust, Jewish (1939-1945)
Holocaust memorials
Holocaust memorials--Political aspects
Holocaust Remembrance Day
Holocaust survivors
Hungary
Jewish children
Jewish ghettos
Jews
Jews, European
Jews--Persecutions
Klein, Gerda Weissmann,
Museum architecture
Museums
Poland
Poland--Warsaw
Politics and government
Psychological aspects
Refugees
Righteous Gentiles in the Holocaust
Study skills
Sweden
Symbolism in architecture
Theresienstadt (Concentration camp)
Ukraine--Z︠H︡ytomyrsʹka oblastʹ
Underground movements, War
United States
United States Holocaust Memorial Museum
Wallenberg, Raoul,
Warsaw Ghetto Uprising (Warsaw, Poland :
Washington (D.C.)
World War (1939-1945)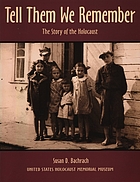 Alternative Names
Amerika gasshukoku horokosuto kinen hakubutsukan

Holocaust-Gedenkmuseum der Vereinigten Staaten.

Holocaust Memorial Museum

Holocaust Memorial Museum (United States)

Holocaust Memorial Museum (Washington D. C.)

Holocaust Memorial Museum Washington, DC

Holocaust Museum

Holocaust Museum (Estats Units d'Amèrica)

Holocaust Museum (Spojené státy americké)

Holocaust Museum (United States)

Holocaust Museum (Washington D. C.)

Memorìal'nij muzej Golokostu SŠA.

Memorialʹnyĭ muzeĭ Kholokosta SShA

Memorial'nyj muzej Holokosta.

Musée du mémorial de l'Holocauste des États-Unis.

Musée mémorial de l'Holocauste des États-Unis

Museo del Holocausto.

Museo Estadounidense Conmemorativo del Holocausto.

Museu Memorial de l'Holocaust dels Estats Units

Museu Memorial do Holocausto dos Estados Unidos

Museum Memorial Holocaust Amerika Serikat

Muzeul Memorial al Holocaustului din Statele Unite ale Americii

U.S. Holocaust Memorial Museum

United States Holocaust Memorial Museum

US Holocaust Memorial Museum

USHMM

USHMM (United States Holocaust Memorial Museum)

Washington (D.C.)

Мемориальный музей Холокоста

Мемориальный музей Холокоста США

אמעריקאנער חורבן אייראפע מוזיי

מוזיאון ארצות הברית לזכר השואה

متحف ذكرى الهولوكوست بالولايات المتحدة

متحف ذكرى هولوكوست بامريكا

موزه یادبود هولوکاست

미국 홀로코스트 기념박물관

アメリカ ガッシュウコク ホロコースト キネン ハクブツカン

アメリカ合衆国ホロコースト記念博物館

美国大屠杀纪念博物馆

Languages
Covers