Janaway, Christopher
Most widely held works by Christopher Janaway
Schopenhauer
by
Christopher Janaway
( Book )
42 editions published between
1994
and 2015 in 5 languages and held by 1,119 WorldCat member libraries worldwide
Arthur Schopenhauer is the most readable of German philosophers. This book offers a succinct explanation of his metaphysical system, concentrating on the original aspects of thought, including his doctrine of the will, his pessimism and his theories of art and music - which inspired artists and thinkers such as Nietzsche, Wagner, Freud and Wittgenstein. At his best, Schopenhauer displays a gift for cogent and lucid debate, and for exposing the flaws of his predecessors. But what should also earn readers' respect is Schopenhauer's lack of complacency. He does not play safe, but risks confrontation with problems that ought to make readers insecure. He asks what the self is, and can give no easy reply. He presses on into the greatest insecurity, asking what value one's existence may have - and his conclusion here is even less comfortable. -- from http://www.amazon.com (August 22, 2011)
The Cambridge companion to Schopenhauer
by
Christopher Janaway
( Book )
30 editions published between
1999
and 2009 in
English
and held by 864 WorldCat member libraries worldwide
Schopenhauer produced a unique theory of the world and human existence based on his notion of will. This collection analyses the related but distinct components of will from various viewpoints
Images of excellence : Plato's critique of the arts
by
Christopher Janaway
( Book )
33 editions published between
1995
and 2004 in
English
and held by 535 WorldCat member libraries worldwide
Denying that Plato advocates 'good art' in any modern sense, this book seeks both to understand Plato's critique in the context of his own philosophy and to locate him in today's philosophy of art, showing how issues in aesthetics arise from responses to his charges. Plato's questions about beauty, emotion, representation, ethical knowledge, artistic autonomy, and censorship are of contemporary relevance as formerly secure assumptions about the value of art and the aesthetic come under scrutiny. Images of Excellence is written not only for readers working in ancient philosophy, but for all who are interested in aesthetics, art theory, and literary theory
Self and world in Schopenhauer's philosophy
by
Christopher Janaway
( Book )
32 editions published between
1989
and 2007 in
English
and held by 485 WorldCat member libraries worldwide
Schopenhauer's central philosophical achievement was his account of the self and its relation to the world of objects. This book explores the philosophical conflicts that can arise when we think about the self
Beyond selflessness : reading Nietzsche's Genealogy
by
Christopher Janaway
( Book )
25 editions published between
2007
and 2009 in
English
and held by 479 WorldCat member libraries worldwide
Janaway presents a full commentary on Nietzsche's most studied work, 'On the Geneaology of Morality', and combines close reading of key passages with an exploration of Nietzsche's wider aims. The book will be essential reading for historians of moral philosophy
Willing and nothingness : Schopenhauer as Nietzsche's educator
( Book )
9 editions published between
1998
and 2007 in
English
and held by 315 WorldCat member libraries worldwide
Willing and Nothingness illuminates Nietzsche's philosophy by examining his relationship with Schopenhauer. Though Nietzsche was influenced by Schopenhauer's work in his early years, in his later writings he often appears dismissive of Schopenhauer. It is a mistake to take either of these facts at face value: a proper assessment demands an independent understanding of Schopenhauer's philosophy, a close look at Nietzsche's development, and an analysis of the detailed continuities and contrasts with Schopenhauerian themes that permeate his work. This allows not only a reassessment of the connection between these two great thinkers, but a notable enrichment of our understanding of Nietzsche's philosophy, which is too often studied in isolation from its intellectual roots. With these aims, eight leading scholars contribute specially written essays in which Nietzsche's changing conceptions of pessimism, tragedy, art, morality, truth, knowledge, religion, atheism, determinism, the will, and the self are revealed as responses to the work of the thinker he called his 'great teacher'
Nietzsche, naturalism, and normativity
by
Christopher Janaway
( Book )
13 editions published in
2012
in
English
and held by 226 WorldCat member libraries worldwide
"This title comprises ten original essays which critically engage with one of the western canon's most controversial ethical thinkers. Bringing together an internationally renowned line-up of Nietzsche specialists and mainstream moral philosophers, the volume provides a timely and distinctive contribution to our understanding of both Nietzsche and his significance for ethical thought more generally. As well as clarifying Nietzsche's own views, both critical and positive, ethical and meta-ethical, the articles connect Nietzsche's philosophical concerns to contemporary debates in and about ethics, normativity, and value. The volume's topics include: the nature and scope of Nietzsche's critique of morality; the character of the positive ideals Nietzsche advances in light of that critique; the meta-ethical commitments underpinning the substantive views he variously opposes and espouses; his conception of human psychology and its relation to normativity and value"
The two fundamental problems of ethics
by
Arthur Schopenhauer
( Book )
22 editions published between
2009
and 2014 in
English
and
German
and held by 219 WorldCat member libraries worldwide
"Arthur Schopenhauer's The Two Fundamental Problems of Ethics (1841) consists of two groundbreaking essays: 'On the Freedom of the Will' and 'On the Basis of Morals'. The essays make original contributions to ethics and display Schopenhauer's erudition, prose-style and flair for philosophical controversy, as well as philosophical views that contrast sharply with the positions of both Kant and Nietzsche. Written accessibly, they do not presuppose the intricate metaphysics which Schopenhauer constructs elsewhere. This is the first English translation of these works to re-unite both essays in one volume. It offers a new translation by Christopher Janaway, together with an introduction, editorial notes on Schopenhauer's vocabulary and the different editions of his essays, a chronology of his life, a bibliography, and a glossary of names."--Jacket
Reading aesthetics and philosophy of art : selected texts with interactive commentary
by
Christopher Janaway
( Book )
10 editions published between
2005
and 2006 in
English
and held by 193 WorldCat member libraries worldwide
"Designed for readers with no or little prior knowledge of the subject, this concise anthology brings together key texts in aesthetics and the philosophy of art. Two contrasting views are presented on each of six topics, with the texts either reprinted in their entirety or extracted where appropriate. They range from Plato's famous critique of art in the Republic, through Nietzsche's The Birth of Tragedy, to Barthes' The Death of the Author, and pieces in recent philosophical aesthetics from a number of traditions." "Each of the texts is accompanied by interactive editorial commentary, helping the reader to engage with the philosophical train of thought. The commentary explains the argumentative and historical context in which the piece was written, and draws out related methodological issues. Where relevant, the editor also highlights concerns about the nature of the subject, suggesting that much of what is discussed under the label 'aesthetics' is, in fact, better termed 'philosophy of art'. For each topic, questions for debate and a short annotated bibliography are provided."--Jacket
The world as will and representation.
by
Arthur Schopenhauer
( Book )
10 editions published between
2010
and 2014 in
English
and held by 156 WorldCat member libraries worldwide
"First published in 1818, The World as Will and Representation contains Schopenhauer's entire philosophy, ranging through epistemology, metaphysics, philosophy of mind and action, aesthetics and philosophy of art, to ethics, the meaning of life and the philosophy of religion, in an attempt to account for the world in all its significant aspects. It gives a unique and influential account of what is and is not of value in existence, the striving and pain of the human condition and the possibility of deliverance from it. This translation of the first volume of what later became a two-volume work reflects the eloquence and power of Schopenhauer's prose and renders philosophical terms accurately and consistently. It offers an introduction, glossary of names and bibliography, and succinct editorial notes, including notes on the revisions of the text which Schopenhauer made in 1844 and 1859"--EBL
more
fewer
Audience Level
0

1
Kids
General
Special
Audience level: 0.41 (from 0.04 for The two fu ... to 0.86 for The Cambri ...)
Related Identities
Associated Subjects
Aesthetics
Aesthetics, Ancient
Art--Philosophy
Conduct of life
Conscience, Examination of
Cosmology
Death
Ethics
Ethics, Modern
Free will and determinism
Germany
Idea (Philosophy)
Influence (Literary, artistic, etc.)
Kant, Immanuel,
Knowledge, Theory of
Metaphysics
Naturalism
Nietzsche, Friedrich Wilhelm,
Normativity (Ethics)
Ontology
Ovejero y Maury, Eduardo
Pessimism
Philosophers
Philosophy
Philosophy, Ancient
Philosophy, German
Philosophy, Modern
Philosophy in literature
Plato
Reason--Philosophy
Schopenhauer, Arthur,
Self (Philosophy)
Sex (Psychology)
Values
Welt als Wille und Vorstellung (Schopenhauer, Arthur)
Will
Zur Genealogie der Moral (Nietzsche, Friedrich Wilhelm)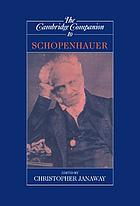 Alternative Names
Christopher Janaway British philosopher

Languages
Covers