Buchanan, Patrick J. (Patrick Joseph) 1938-
Most widely held works about Patrick J Buchanan
more
fewer
Most widely held works by Patrick J Buchanan
The death of the West : how dying populations and immigrant invasions imperil our country and civilization
by
Patrick J Buchanan
( Book )
14 editions published between
2001
and 2013 in
English
and held by 1,726 WorldCat member libraries worldwide
From the Publisher: The national bestseller that shocked the nation-The Death of the West is an unflinching look at the increasing decline in Western culture and power. The West is dying. Collapsing birth rates in Europe and the U.S., coupled with population explosions in Africa, Asia and Latin America are set to cause cataclysmic shifts in world power, as unchecked immigration swamps and polarizes every Western society and nation. The Death of the West details how a civilization, culture, and moral order are passing away and foresees a new world order that has terrifying implications for our freedom, our faith, and the preeminence of American democracy. The Death of the West is a timely, provocative study that asks the question that quietly troubles millions: Is the America we grew up in gone forever?
State of emergency : the Third World invasion and conquest of America
by
Patrick J Buchanan
( Book )
11 editions published between
2006
and 2013 in
English
and held by 1,650 WorldCat member libraries worldwide
Pat Buchanan is sounding the alarm. Since 9/11, more than four million illegal immigrants have crossed our borders, and there are more coming every day. Our leaders in Washington lack the political will to uphold the rule of law. The Melting Pot is broken beyond repair, and the future of our nation is at stake. In this important book, Pat Buchanan reveals that, slowly but surely, the great American Southwest is being reconquered by Mexico. These lands--which many Mexicans believe are their birthright--are being detached ethnically, linguistically, and culturally from the United States by a deliberate policy of the Mexican regime. This is the "Aztlan Plot" for "La Reconquista," the recapture of the lands lost by Mexico in the Texas War of Independence and Mexican-American War. Comparing the immigrant invasion of America from across the Mexican border--and of Europe from across the Mediterranean--to the barbarian invasions that ended the Roman Empire, the author writes with passion and conviction that we have begun the final chapter of the Death of the West. Unless the invasion is halted now, Buchanan argues, by midcentury America will be a country unrecognizable to our parents, the Third World dystopia that Theodore Roosevelt warned against when he said we must never let America become a "polyglot boardinghouse" for the world. President Bush's failure to halt the invasion and secure America's border, Buchanan writes, is a dereliction of constitutional duty that, in other times, would have called forth articles of impeachment. In the final chapter, "Last Chance," he lays out a sweeping immigration reform and border security plan, which, he contends, if not pursued, means George W. Bush's legacy will be to have lost for America a Southwest that was the legacy of Sam Houston, Andrew Jackson, and James K. Polk. With an estimated ten to fifteen million "illegals" already here and tens of millions more poised to pour across our borders, few books could be as timely--or important--as State of Emergency. It is essential reading for all Americans
Churchill, Hitler, and "the unnecessary war" : how Britain lost its empire and the West lost the world
by
Patrick J Buchanan
( Book )
26 editions published between
2008
and 2014 in 5 languages and held by 1,393 WorldCat member libraries worldwide
Patrick Buchanan makes the case that, if not for the blunders of British statesmen--Winston Churchill first among them--the horrors of two world wars and the Holocaust might have been avoided and the British Empire might never have collapsed into ruins. Half a century of murderous oppression of scores of millions under the iron boot of Communist tyranny might never have happened, and Europe's central role in world affairs might have been sustained for many generations.--From amazon.com
Day of reckoning : how hubris, ideology, and greed are tearing America apart
by
Patrick J Buchanan
( Book )
7 editions published between
2007
and 2013 in
English
and held by 1,232 WorldCat member libraries worldwide
In this book, pundit Buchanan reveals the perilous path our nation has taken: The era of U.S. global dominance is over. A struggle for hegemony among the United States, China, a resurgent Russia and radical Islam has begun. Torn apart by a culture war, America has begun to break down along class, cultural, ethnic, and racial lines. Free trade is hollowing out U.S. industry, destroying the dollar, and plunging the country into permanent dependency and unpayable debt. One of every six U.S. manufacturing jobs has vanished under Bush. The Third World invasion through Mexico is a grave threat to U.S. survival than anything happening in Afghanistan or Iraq. To save America, Buchanan would start by removing from power the ideologues of both parties, reviewing America's Cold War commitments, and securing our borders. He offers ideas to halt the erosion of our sovereignty and restore our manufacturing preeminence and economic independence.--From publisher description
A republic, not an empire : reclaiming America's destiny
by
Patrick J Buchanan
( Book )
10 editions published between
1999
and 2013 in
English
and held by 1,069 WorldCat member libraries worldwide
"A Republic, Not an Empire is presidential candidate Pat Buchanan's plea for a new American foreign policy. To avoid a future of endless war, he offers a new policy rooted in America's greatest traditions." "Surveying the sweep of our nation's history, Buchanan demonstrates how America's liberty is best protected when the United States pursues its own vital interests, and how our liberty is most endangered when we embark on international crusades that are divorced from those interests."--Jacket
The great betrayal : how American sovereignty and social justice are being sacrificed to the gods of the global economy
by
Patrick J Buchanan
( Book )
9 editions published in
1998
in
English
and held by 1,022 WorldCat member libraries worldwide
"In The Great Betrayal, Buchanan charges the architects of NAFTA and GATT with selling out the middle class and turning their backs on the nation. As the voice of populist conservatism, he speaks to the desperation of the millions of Americans who have lost their jobs as a result of the free-trade policies of the Global Economy. He shows how by exporting jobs to Asia and Mexico, the corporate elite is destroying the American dream and profiting from the exploitation of sweatshop labor. Abandoned by their government, American workers are being forced to compete with cheap Third World labor and, inevitably, are losing out." "Basing his arguments on the principles of our Founding Fathers and using real-life stories to illustrate the plight of the working class, Buchanan raises an impassioned call to arms. He offers a "new economic nationalism" and invites a battle for the heart and soul of the Republican Party in 2000 on the issues of national sovereignty and social justice. Republicans, neoconservatives, and Democrats cannot let his charges go unanswered."--Jacket
Patriocracy
( Visual )
2 editions published between
2011
and 2012 in
English
and held by 201 WorldCat member libraries worldwide
Patriocracy: a voice of reason in the age of polarization. Patriocracy is a non-partisan examination of Washington dysfunction. Alan Simpson, Bob Schieffer, Eleanor Clift, Pat Buchanan, Senator Mark Warner and Senator Kent Conrad are just a few of the notable Washington personalities who offer their valuable perspectives. Patriocracy drills down and illustrates the forces that drive a wedge into the middle ground of America and the solutions required to move forward
more
fewer
Audience Level
0

1
Kids
General
Special
Audience level: 0.21 (from 0.08 for The Reform ... to 0.68 for The perils ...)
Related Identities
Associated Subjects
Buchanan, Patrick J.--(Patrick Joseph),
Churchill, Winston,
Civilization, Western--Forecasting
Conservatism
Crisis management in government
Cultural pluralism
Diplomatic relations
Economic history
Economic policy
Elite (Social sciences)--Political activity
Emigration and immigration
Emigration and immigration--Government policy
Emigration and immigration--Social aspects
Europe
Free trade
Friendship
Great Britain
Hitler, Adolf,
Ideology--Political aspects
Illegal aliens
Illegal aliens--Government policy
International economic relations
Intervention (International law)
Islamic countries
Journalists
Liberalism
Nixon, Richard M.--(Richard Milhous),
Political campaigns
Political consultants
Political culture
Politicians
Politics and government
Population forecasting
Presidential candidates
Presidents
Presidents--Election
Presidents--Staff
Press conferences
Reagan, Ronald
Republican Party (U.S. : 1854- )
Social conflict
Social history--Forecasting
Social policy
Social prediction
Speechwriters
United States
War--Causes
War on Terrorism (2001-2009)
Working class
World War (1939-1945)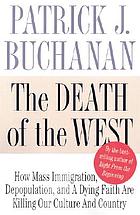 Alternative Names
Bʹi︠u︡kenen, Patrik Dzh 1938-

Buchanan, Pat 1938-

Buchanan, Patrick 1938-

Buchanan, Patrick J.

Buchanan, Patrick Joseph.

Buchanan, Patrick Joseph 1938-

Pat Buchanan americký politik

Pat Buchanan Amerikaans journalist

Pat Buchanan politician american

Pat Buchanan politicien américain

Pat Buchanan politico statunitense

Pat Buchanan US-amerikanesche Politiker

Pat Buchanan US-amerikanischer Politiker und Journalist

Pat Buchanan yhdysvaltalainen poliitikko

Patrick Buchanan

Patrick Buchanan amerykański polityk i publicysta

Бьюкенен, Патрик Дж.

Патрик Джозеф Бьюкенен

Пет Б'юкенен

Пет Бјукенан американски политичар и новинар

פט ביוקנן

بات بوكانان

بات بوكانان سياسي أمريكي

پت بیوکانان

પેટ બ્યુકેનન

పాట్ బుకానన్

ಪ್ಯಾಟ್ ಬ್ಯೂಕ್ಯಾನನ್

パット・ブキャナン

ブキャナン, パトリック・J.

帕特·布坎南

Languages
Covers