Pinto, Brian
Overview
| | |
| --- | --- |
| Works: | 61 works in 236 publications in 1 language and 2,616 library holdings |
| Roles: | Author, Editor, Honoree |
| Classifications: | HV6344.R8, 338.947 |
Most widely held works by Brian Pinto
Managing economic volatility and crises : a practitioner's guide
( Book )
12 editions published between
2005
and 2010 in
English
and held by 320 WorldCat member libraries worldwide
"Over the past ten years, economic volatility has come into its own after being treated for decades as a secondary phenomenon in the business cycle literature. This book organizes empirical and policy results for economists and development policy practitioners into four parts: basic features, including the impact of volatility on growth and poverty; commodity price volatility; the financial sector's dual role as an absorber and amplifier of shocks; and the management and prevention of macroeconomic crises. The latter section includes a cross-country study, ease studies on Argentina and Russia, and lessons from the debt default episodes of the 1980s and 1990s."--BOOK JACKET
Public debt in developing countries has the market-based model worked?
by
Indermit Singh Gill
( )
10 editions published in
2005
in
English
and
Undetermined
and held by 90 WorldCat member libraries worldwide
Several prominent MACs have sought to address the debt and external finance problem by generating large primary fiscal surpluses, switching to flexible exchange rates, and reforming fiscal and financial institutions. Such country-led initiatives completely dominate attempts to overhaul the international financial architecture or launch new lending instruments, which have so far met with little success. While the initial results of the countries' initiatives have been encouraging, serious questions remain about the viability of the model of market-based external development finance. Beyond crisis resolution, which has received attention in the form of the sovereign debt restructuring mechanism, the international financial institutions may need to ramp up their role as providers of stable long-run development finance to MACs instead of exiting from them."
Sargent-Wallace meets Krugman-Flood-Garber, or, why sovereign debt swaps don't avert macroeconomic crises
by
Joshua Aizenman
( Book )
9 editions published in
2002
in
English
and held by 74 WorldCat member libraries worldwide
Abstract: This paper argues that the frequent failure of the debt swaps is not an accident. Instead, it follows from fundamental forces driven by the market's assessment of the scarcity of fiscal revenue relative to the demand for fiscal outlays. It follows from the observation that arbitrage forces systematically impact prices in asset markets. Ignoring these price adjustments would lead to too optimistic an assessment of the gains from swaps or buybacks. A by-product of our paper is to highlight the perils of financial engineering that ignores the intertemporal constraints imposed by fiscal fundamentals. As a country approaches the range of partial default (either on domestic or external debt), swaps may not provide the expected breathing room and could even bring the crisis forward. Our methodology combines three independent themes: exchange rate crises as the manifestation of excessive monetary injections [Krugman-Flood-Garber], the fiscal theory of inflation [Sargent-Wallace (1981)], and sovereign debt. The integrated framework derives devaluation and external debt repudiation as part of a public-finance optimizing problem. We shows that under conditions similar to those which prevailed in Russia and Argentina prior to their meltdown, swaps are not just neutral, but could actually make the situation worse and even trigger a speculative attack. An unsettlingly clear implication of the model is that there may be very few options left once public debt reaches levels regarded as unsustainable in relation to fiscal fundamentals. Dollarization only makes matters worse, and pushes the debt write-down option to the fore
Managing volatility and crises : a practitioner's guide overview
by
Joshua Aizenman
( Book )
9 editions published in
2004
in
English
and held by 72 WorldCat member libraries worldwide
"This overview introduces and summarizes the findings of a practical volume on managing volatility and crises. The interest in these topics stems from the growing recognition that non-linearities tend to magnify the impact of economic volatility leading to large output and economic growth costs, especially in poor countries. In these circumstances, good times do not offset the negative impact of bad times, leading to permanent negative effects. Such asymmetry is often reinforced by incomplete markets, sovereign risk, divisive politics, inefficient taxation, procyclical fiscal policy and weak financial market institutions factors that are more problematic in developing countries. The same fundamental phenomena that make it difficult to cope with volatility also drive crises. Hence, the volume also focuses on the prevention and management of crises. It is a user-friendly compilation of empirical and policy results aimed at development policy practitioners divided into three modules: (i) the basics of volatility and its impact on growth and poverty; (ii) managing volatility along thematic lines, including financial sector and commodity price volatility; and (iii) management and prevention of macroeconomic crises, including a cross-country study, lessons from the debt defaults of the 1980s and 1990s and case studies on Argentina and Russia"--National Bureau of Economic Research web site
Sources for financing domestic capital-- : is foreign saving a viable option for developing countries?
by
Joshua Aizenman
( Book )
8 editions published in
2004
in
English
and held by 69 WorldCat member libraries worldwide
"This paper proposes a new method for measuring the degree to which the domestic capital stock is self-financed. The main idea is to use the national accounts to construct a self-financing ratio, indicating what would have been the autarky stock of tangible capital supported by actual past domestic saving, relative to the actual stock of capital. We use the constructed measure of self-financing to evaluate the impact of the growing global financial integration on the sources of financing domestic capital stocks in developing countries. On average, 90% of the stock of capital in developing countries is self financed, and this fraction was surprisingly stable throughout the 1990s. The greater integration of financial markets has not changed the dispersion of self-financing rates, and the correlation between changes in de-facto financial integration and changes in self-financing ratios is statistically insignificant. There is no evidence of any growth bonus' associated with increasing the financing share of foreign savings. In fact, the evidence suggests the opposite: throughout the 1990s, countries with higher self-financing ratios grew significantly faster than countries with low self-financing ratios. This result persists even after controlling growth for the quality of institutions. We also find that higher volatility of the self-financing ratios is associated with lower growth rates, and that better institutions are associated with lower volatility of the self-financing ratios. These findings are consistent with the notion that financial integration may have facilitated diversification of assets and liabilities, but failed to offer new net sources of financing capital in developing countries"--National Bureau of Economic Research web site
How does my country grow? : economic advice through storytelling
by
Brian Pinto
( Book )
7 editions published in
2014
in
English
and held by 66 WorldCat member libraries worldwide
This text shows how to think about economic growth and sovereign debt in live country situations. The country stories are practical applications of real-time analysis involving significant economic events of the past two decades (e.g. Poland's early transition, India's unexpected growth takeoff in 2003, and the Russian crisis of 1998)
more
fewer
Audience Level
0

1
Kids
General
Special
Audience level: 0.61 (from 0.30 for Dismantlin ... to 0.96 for India risi ...)
Related Identities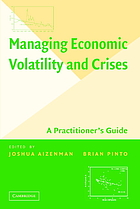 Languages
Covers