Cole, Jackson
Most widely held works by Jackson Cole
Outlawed
by
Jackson Cole
( Book )
13 editions published between
1939
and 2010 in
English
and
Undetermined
and held by 547 WorldCat member libraries worldwide
Texas Ranger Jim Hatfield faced the gravest challenge of his perilous career. The Lone Star State was up for grabs -- bloodthirsty Apaches, Cherokees and Creeks had been goaded onto the warpath by a trio of ruthless rebels whose diabolical dream of empire was almost fulfilled when they framed the tall, lean lawman for a brutal killing. Alone and discredited, Hatfield had to make a gunman's choice -- 'Swing for murder or cut down your enemies one by one!'
Riders of the Rimrock trail
by
Jackson Cole
( Book )
11 editions published between
1942
and 2013 in
English
and held by 477 WorldCat member libraries worldwide
In the latest adventure in the career of Jim Hatfield, the famous Texas Ranger is pounding the danger trail in pursuit of the mysterious secret of a lost Spanish mine. An old Indian legend helps Hatfield in his perilous quest, as greed-maddened men murder and plunder in the hunt for a map of the mine's location. This classic western full of break-neck action and hard-riding thrills builds to a surprising conclusion as Hatfield rounds up the instigators of a sinister plot
Death rides the Rio
by
Jackson Cole
( Book )
12 editions published between
2011
and 2012 in
English
and held by 466 WorldCat member libraries worldwide
Vance was just about the fiercest, most murderous, coldly quiet killer Ranger Jim Hatfield had ever come across. Already, in a perfect ambush, Vance's gang has massacred 50 Mexican pack-train drivers outside of Brewster. Then they killed one man too many - a Texas Ranger, a friend of Hatfield's. Bent on revenge and on uncovering a wily plot by Vance to sell off Aztec treasure, Hatfield rides into the mountains of the Rio Grande. Now it will be a duel of giants
Gunfire land
by
Jackson Cole
( Book )
14 editions published between
1943
and 2012 in
English
and held by 430 WorldCat member libraries worldwide
Range war! It started when a mean-eyed Texan named Canty dry-gulched honest young rancher Jack Lee, and his good friend Bob Allison injured. Soon the Pecos range was cloudy with gunsmoke and damp with fresh blood, and Ranger Jim Hatfield was called in to set the score straight
Gun town
by
Jackson Cole
( Book )
14 editions published between
1954
and 2008 in
English
and
Undetermined
and held by 430 WorldCat member libraries worldwide
When Doc Horton bellows that Graham is his town and he aims to run things his way, Ranger Jim Hatfield drives his knuckles into Horton's face, sending him sprawling onto the floor, and tells Horton that a fist and a gun say it won't be Horton's town long
Guns of vengeance
by
Jackson Cole
( Book )
13 editions published between
1943
and 2007 in
English
and held by 401 WorldCat member libraries worldwide
Pecos Carns - king of the rustlers - was as mean as they came. He took what he wanted in cold blood and shot before he said "please." Now he was leading a band of gun-happy outlaws against a group of helpless ranchers. Ranger Jim Hatfield rode in to put an end to bloodshed and found himself face to face with a gang of the hungriest killers he'd ever met - all out to see him dead
Trigger law
by
Jackson Cole
( Book )
13 editions published between
1950
and 2009 in
English
and held by 399 WorldCat member libraries worldwide
Roma's raiders were a vicious crew with a thirst for murder. By plunder and terror they were about to steal an empire, and only Jim Hatfield stood in the way. But Hatfield was a Texas Ranger and wouldn't scare. And as the killers sent their threats and the deadly pressure mounted, Hatfield answered the only way a Ranger could--with flying fists and roaring guns that turned the whole Texas range into a wild fire of violence and awful retribution
Texas manhunt
by
Jackson Cole
( Book )
11 editions published between
1961
and 2007 in
English
and held by 366 WorldCat member libraries worldwide
Jim Hatfield's right hand moved with rattlesnake swiftness. Morales' hand moved also. The two guns boomed together. For a moment there was a deathly silence. Then Hatfield's tall form crumpled forwards and crashed to the floor. "Great God!" the crowd shouted. "Morales shaded the Lone Wolf!" For the first time in his career, Ranger Jim Hatfield was up against a killer who could out-gun him. And against these odds began the deadliest manhunt in Texas history!
Bullets high
by
Jackson Cole
( Book )
11 editions published between
1954
and 2011 in
English
and
Undetermined
and held by 358 WorldCat member libraries worldwide
Ranger Jim Hatfield rode into Bowman with the bloodstained body of Bill Carter slung across his saddle. Would they believe him when he told them that he wasn't the killer--that he'd downed the guns licks who'd ambushed Carter? Hatfield knew they wouldn't. Lynch law ruled the Pecos country now--brother pitted against brother in a bitter struggle for an oil-rich land that was ripe for the plunder. Alone, hunted, the tall lean Texan fingered the stock of his .45, knowing that time would run out on justice unless he met the lawless one by one ... gun for gun ... bullet for bullet!
Six-gun fury
by
Jackson Cole
( Book )
10 editions published between
1940
and 2009 in
English
and
Undetermined
and held by 353 WorldCat member libraries worldwide
Ranger Jim Hatfield rides into no man's land, a place where death-dealing gunmen dare to prey on the few miners and ranchers who settled there; Jim only has his six-guns to back his plays
more
fewer
Audience Level
0

1
Kids
General
Special
Audience level: 0.27 (from 0.11 for Lone star ... to 0.42 for Trouble sh ...)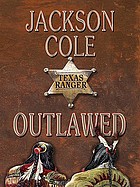 Alternative Names
Languages
Covers