Spawforth, Antony
Most widely held works by Antony Spawforth
The Oxford companion to classical civilization
by
Simon Hornblower
( Book )
48 editions published between
1998
and 2014 in
English
and
Undetermined
and held by 2,014 WorldCat member libraries worldwide
Unrivaled in scope and scholarship, The Oxford Companion to Classical Civilization is an indispensable guide to the richly textured history of ancient Greece and Rome. The meticulously detailed entries contained within this volume breathe life into the people, places, and events that shaped the development of classical civilization. Readers will learn that Alexander the Great's grand army consisted of 48,500 soldiers and was the largest ever to leave Greek soil, that the white facades of refined Ionic structures in Greece were once washed with vibrant reds and blues, and that the Theodosian Code, a collection of Roman law published in AD 438, still survives today. Here are examinations of the lives and works of great philosophers and literary figures, such as Aristotle, Plato, Socrates, Sophocles, Seneca, Aeschylus and the poets Ovid and Sappho. Mythology and religion were integral parts of classical civilization, and from Aphrodite and Hermes to funerary rites and sacrifice, they are integral parts of this volume as well. Filled with both essay length articles and short quick reference entries, this extraordinarily thorough yet accessibly written book is a treasury of information on classical civilization. Arranged alphabetically, fully cross-referenced, and graced with a beautiful selection of full color plates, The Oxford Companion to Classical Civilization will certainly become an essential resource for anyone interested in learning more about the cradle of western civilization
The complete Greek temples
by
Antony Spawforth
( Book )
16 editions published between
2006
and 2007 in 3 languages and held by 1,074 WorldCat member libraries worldwide
This is an illustrated survey of all Greek temples in one volume. From the debated origins of the temple in the Greek dark ages to its transformation at the end of antiquity, this book summarizes the latest thinking, bringing to light new discoveries, and placing emphasis on the architecture and its cultural, historical context
Hellenistic and Roman Sparta, a tale of two cities
by
Paul Cartledge
( Book )
30 editions published between
1989
and 2002 in
English
and held by 874 WorldCat member libraries worldwide
This original and compelling account of later Spartan history challenges the conventional misperception of Spartan 'decline' after the loss of her status as a great power on the battlefield in 371 BC
Versailles : a biography of a palace
by
Antony Spawforth
( Book )
7 editions published between
2008
and 2010 in
English
and held by 828 WorldCat member libraries worldwide
The story of Versailles is one of high historical drama mixed with the high camp and glamour of the European courts, all in an iconic home for the French arts. Spawforth probes the conventional picture of the palace, and gives full weight to the darker side, as well as its changing place in France's national identity since 1789
Greece : an Oxford archaeological guide
by
C Mee
( Book )
14 editions published between
2001
and 2004 in
English
and held by 463 WorldCat member libraries worldwide
Greece, with all its temples, cities, and sanctuaries created by Europe's most formative ancient civilization, is a must-see for the archaeological traveler. This valuable new addition to the acclaimed Oxford Archaeological Guides series provides coverage of all the main archaeological sites in Greece, ranging from prehistory to the sixth century AD. The individual sites are arranged by region, and include Philip's Tomb at Vergina, the Palace complex at Mycenae, the Temples of the Acropolis, the Hellenistic city of the Messene, and the Roman colony of Corinth. Also included in the book are 'partner factor' ratings that rank the most worthwhile sites for travelers to visit during their stay. An up-to-date introduction surveys Greece's landscape, history, and archaeology from the Neolithic period to the end of antiquity, and places the sites in their cultural context. Finally, there is a chronology for reference and a glossary of essential terms
Who's who in the classical world
by
Simon Hornblower
( Book )
28 editions published between
1998
and 2003 in
English
and
Spanish
and held by 392 WorldCat member libraries worldwide
While books about the gods of antiquity abound, there are few works that give us entrance to the classical world as it existed in the personalities and deeds of its most important citizens. With the arrival of Who's Who in the Classical World, all this is changed. This volume holds biographical entries on nearly 500 individuals of central importance from the civilizations of ancient Greece and Rome, including writers, thinkers, artists, scientists, statesmen, kings, queens, and other historical figures. Furthermore, these entries offer far more than simple biographical information: many are short essays covering major historical and cultural themes centered around individuals as varied as Herodotus, Socrates, Plato, Alexander the Great, and Augustus. Drawing on the latest edition of the Oxford Classical Dictionary, this book offers authoritative and accessible scholarship from over 190 world experts on their subjects, providing an invaluable guide to the names and achievements of the leaders of the classical world
Greece and the Augustan cultural revolution
by
Antony Spawforth
( Book )
13 editions published between
2011
and 2015 in
English
and held by 279 WorldCat member libraries worldwide
"This book examines the impact of the Roman cultural revolution under Augustus on the Roman province of Greece. It argues that the transformation of Roman Greece into a classicizing 'museum' was a specific response of the provincial Greek elites to the cultural politics of the Roman imperial monarchy. Against a background of Roman debates about Greek culture and Roman decadence, Augustus promoted the ideal of a Roman debt to a 'classical' Greece rooted in Europe and morally opposed to a stereotyped Asia. In Greece the regime signalled its admiration for Athens, Sparta, Olympia and Plataea as symbols of these past Greek glories. Cued by the Augustan monarchy, provincial-Greek notables expressed their Roman orientation by competitive cultural work (revival of ritual; restoration of buildings) aimed at further emphasising Greece's 'classical' legacy. Reprised by Hadrian, the Augustan construction of 'classical' Greece helped to promote the archaism typifying Greek culture under the principate."
The immortal emperor
( Visual )
12 editions published between
1994
and 2012 in
English
and held by 229 WorldCat member libraries worldwide
It's 221 B.C., and the veil of history is lifted to reveal life in the Qin Dynasty, under China's first emperor, Shihuangdi. Noted historians, archaeologists, and other experts extrapolate from discoveries made in the ruler's tomb, as they examine the political, intellectual, philosophical, artistic, and religious structure of Chinese society of the first dynasty
The court and court society in ancient monarchies
by
Antony Spawforth
( Book )
15 editions published between
2007
and 2011 in
English
and held by 215 WorldCat member libraries worldwide
Monarchy was widespread as a political system in the ancient world. This volume offers the first substantial discussion of ancient monarchies from the viewpoint of the ruler's court. The monarchies treated are Achaemenid and Sassanian Persia, the empire of Alexander, Rome under both the early and later Caesars, the Han rulers of China and Egypt's Eighteenth Dynasty. A comparative approach is adopted to major aspects of ancient courts, including their organisation and physical setting, their role as a vehicle for display, and their place in monarchial structures of power and control. This approach is broadly inspired by work on courts in later periods of history, especially early-modern France. The case studies confirm that ancient monarchies created the conditions for the emergence of a court and court society. The culturally-specific conditions in which these monarchies functioned meant variety in the character of the ruler's court from one society to another
The lost world of El Dorado
by Graham Judd
( Visual )
4 editions published in
1998
in
English
and held by 103 WorldCat member libraries worldwide
In the early decades of the 16th century, countless Spanish adventurers crossed the Atlantic to South America , in pursuit of the riches of the new world. Their quest was fueled by a strange rumor, of a kingdom of gold, called El Dorado. The search for it, led pioneers deep into the jungles and high into the mountains of the unexplored continent, into contact with worlds that would amaze, and appall them. This program seeks to follow in the footsteps of those early explorers. It's an investigation to discover new evidence about El Dorado. A quest to unearth the truth, behind the legendry kingdom of gold
more
fewer
Audience Level
0

1
Kids
General
Special
Audience level: 0.37 (from 0.11 for The Oxford ... to 0.99 for Grandes di ...)
Associated Subjects
Acculturation
Alexander,--the Great,
America
Antiquities
Architecture, Greek
Art, Classical
Augustus,--Emperor of Rome,
Aztecs--Social life and customs
Buildings
Château de Versailles (Versailles, France)
China
China--Shaanxi Sheng
China--Tibet Autonomous Region
Cities and towns, Ancient
Civilization
Civilization--Roman influences
Classical biography
Classical dictionaries
Classical literature
Courts and courtiers
Discovery and exploration, Spanish
East Asia
El Dorado
Elite (Social sciences)
Ethnicity
Excavations (Archaeology)
France
France--Versailles
Funeral rites and ceremonies, Ancient
Greece
Greece--Sparta (Extinct city)
Hadrian,--Emperor of Rome,
Influence (Literary, artistic, etc.)
Kings and rulers
Kings and rulers, Ancient
Manners and customs
Mediterranean Region
Monarchy
Moral conditions
Philosophy, Ancient
Political culture
Qin Dynasty (China)
Qin shi huang,--Emperor of China,
Rome (Empire)
Sculpture, Chinese--Qin-Han dynasties
Social change
Temples
Temples, Greek
Terra-cotta sculpture, Chinese--Qin-Han dynasties
Tombs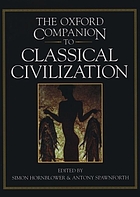 Alternative Names
Spawforth, A.J.S.

Spawforth, A. J. S. (Antony J. S.)

Spawforth Anthony

Spawforth Anthony J. S.

Spawforth, Antony

Spawforth, Antony J.

Spawforth Antony J. S.

Spawforth Tony

Languages
Covers