Minow, Martha 1954-
Most widely held works about Martha Minow
Most widely held works by Martha Minow
In Brown's wake : legacies of America's educational landmark
by
Martha Minow
( Book )
13 editions published between
2010
and 2012 in
English
and
Undetermined
and held by 1,012 WorldCat member libraries worldwide
""Everyone knows how important the Brown v. Board of Education decision was. But until Martha Minow turned her exceptional mind and imagination to the subject, no one fully appreciated the decisions' reach across our society and across national boundaries. In Brown's Wake is eloquent and careful, scholarly and accessible, passionate and thoughtful. Thanks to Minow, we will now have a far greater appreciation of what may be the most significant and constructive decision in the Supreme Court's history."--E.J. Dionne, author of Why Americans Hate Politics" ""Brown was a landmark case and Martha Minow has written a landmark book about it. No effort to bring the issues raised by that decision up to date can top this one."-Alan Wolfe, Professor of Political Science, Boston College" ""In today's education discussions, Brown v. Board ql. Education is invoked as a vague metaphor for the need to address the racial achievement gap, disconnected from the case's original declaration that separate schools are inherently unequal. Martha Minow's sweeping and provocative narrative brilliantly depicts the many adaptations of Brown, while at the same time anchoring the decision to its fundamental insight about the importance of integrated education in a pluralistic democracy."-Richard D. Kahlenberg, Senior Fellow, The Century Foundation, and author, All Together Now: Creating Middle-Class Schools through. Public School Choice" ""In Brown's Wake is a panoramic view of how this landmark decision has shaped education policy and practice both in the United States and abroad. With an objective eye, Martha Minow leads us through various reform measures designed to promote equal opportunity, skillfully displaying points of contention between integration and segregation, equality and pluralism, sameness and difference. Mining an impressively broad body of social science research, she acknowledges its limitations and the need to find pragmatic and effective solutions to continuing inequalities."-Rosemary Salomone, Kenneth Wang Professor of Law, St. John's University" "What Is The Legacy of Brown v. Board of Education? While it is well known for establishing racial equality as a central commitment of American schools, the case also inspired social movements for equality in education across all lines of difference, including language, gender, disability, immigration status, socio-economic status, religion, and sexual orientation. Yet more than a half century after Brown, American schools are more racially separated than before, and educators, parents, and policy makers still debate whether the ruling requires all-inclusive classrooms in terms of race, gender, disability, and other differences." "In Brown's Wake examines the reverberations of Brown in American schools, including efforts to promote equal opportunities for all kinds of students. School choice, once a strategy for avoiding Brown, has emerged as a tool to promote integration and opportunities, even as charter schools and private school voucher programs enable new forms of self-separation by language, gender, disability, and ethnicity." "Martha Minow, Dean of Harvard Law School, argues that the criteria placed on such initiatives carry serious consequences for both the character of American education and civil society itself. Although the original promise of Brown remains more symbolic than effective, Minow demonstrates the power of its vision in the struggles for equal education regardless of students' social identity, not only in the United States but also in many countries around the world." "Further, she urges renewed commitment to the project of social integration even while acknowledging the complex obstacles that must be overcome. An elegant and concise overview of Brown and its aftermath, In Brown's Wake explores the broad-ranging and often surprising impact of one of the century's most important Supreme Court decisions."--Jacket
Between vengeance and forgiveness : facing history after genocide and mass violence
by
Martha Minow
( Book )
21 editions published between
1998
and 2009 in
English
and
Japanese
and held by 852 WorldCat member libraries worldwide
"With Between Vengeance and Forgiveness, Martha Minow, Harvard law professor and one of our most brilliant and humane legal minds, offers a landmark book on justice and healing after horrific violence. Remembering and forgetting, judging and forgiving, reconciling and avenging, grieving and educatingMinow shows us why each may be necessary, yet painfully inadequate, to individuals and societies living in the wake of past horrors." "She explores the rich and often troubling range of responses to massive, societal-level oppression. She writes of the legacy of war-crime prosecutions, beginning with the Nuremberg trials. She explores whether reparation - such as the monetary awards given to Japanese-Americans for internment during World War II, or art, such as Holocaust memorials - can be a basis for reconciliation after immeasurable personal and cultural loss. Minow also writes with informed, searching prose of the extraordinary drama of truth commissions in Argentina, East Germany, and most notably South Africa, and in the process delves into the risks and requirements involved in hearing from victims, the dynamics of gender, and the value of even imperfect gestures in the midst of these riveting experiments in justice and healing."--Jacket
Not only for myself : identity, politics, and the law
by
Martha Minow
( Book )
8 editions published between
1997
and 1999 in
English
and held by 565 WorldCat member libraries worldwide
What rights can individuals claim by virtue of membership in historically oppressed groups? How do these claims conflict with membership in larger communities, such as progressive political movements or the American nation? In her multi-faceted investigation of the thorny legal and social terrain mapped out by these questions, noted scholar Martha Minow offers lawyers and lay readers alike a broader understanding of the legal issues bearing on such incendiary questions as affirmative action, segregation, gay and lesbian rights, racial redistricting, and "identity politics." Not Only for Myself uses well-known incidents, such as the furor over the casting of Miss Saigon and the confirmation hearings of Supreme Court Justice Clarence Thomas to explain the legal concepts behind court decisions affecting all our lives
Breaking the cycles of hatred : memory, law, and repair
by
Martha Minow
( Book )
13 editions published in
2002
in
English
and
Undetermined
and held by 545 WorldCat member libraries worldwide
Violence so often begets violence. Victims respond with revenge only to inspire seemingly endless cycles of retaliation. Conflicts between nations, between ethnic groups, between strangers, and between family members differ in so many ways and yet often share this dynamic. In this powerful and timely book Martha Minow and others ask: What explains these cycles and what can break them? What lessons can we draw from one form of violence that might be relevant to other forms? Can legal responses to violence provide accountability but avoid escalating vengeance? If so, what kinds of legal institut
Government by contract : outsourcing and American democracy
( Book )
7 editions published in
2009
in
English
and held by 508 WorldCat member libraries worldwide
"The Dramatic Growth of Government since the New Deal prompts concern among libertarians and conservatives and also among those who worry about government's costs, efficiency, and quality of service. This concern, combined with rising confidence in private markets, motivates the widespread shift of federal and state government work to private organizations. This shift typically alters only who performs the work, not who pays or is ultimately responsible for it. "Government by contract" now includes military intelligence, environmental monitoring, prison management, and interrogation of terrorism suspects." "Outsourcing government work raises questions of accountability. What role should costs, quality, and democratic oversight play in contracting out government work? What tools do citizens and consumers need to evaluate the effectiveness of government contracts? How can the work be structured for optimal performance as well as compliance with public values?" "Government by Contract explains the phenomenon and scope of government outsourcing and sets an agenda for future research attentive to workforce capacities as well as legal, economic, and political concerns."--Jacket
Partners, not rivals : privatization and the public good
by
Martha Minow
( Book )
5 editions published in
2002
in
English
and held by 438 WorldCat member libraries worldwide
"What happens when private companies, nonprofit agencies, and religious groups manage what government used to - in education, criminal justice, legal services, and welfare programs? As for-profit companies run schools, where will they make their profit margin? As religious groups provide job training and food stamps, will they respect public rules against discrimination and forcing people to pray?"
Law stories
( Book )
9 editions published between
1996
and 2009 in
English
and held by 411 WorldCat member libraries worldwide
Celebrating "storytelling," books and articles for more than a decade have featured an array of stories, both fiction and nonfiction, reflecting various experiences with law and discussing the role of storytelling in conventional law practice. Still we have relatively few stories of the actual experiences of clients and lawyers in concrete legal contexts. Gary Bellow and Martha Minow in Law Stories have gathered a group of stories that answers this need. Law Stories is a body of narrative work which reflects multiple points of view, textured depictions of conventional practices and institutional cultures, and insights into how the legal workers and those affected by law make their choices, understand their actions, and experience the frustrations and satisfactions they entail. The essays in Law Stories are all first-person accounts of law problems and the way they were handled, written by lawyers involved in the problems
more
fewer
Audience Level
0

1
Kids
General
Special
Audience level: 0.32 (from 0.06 for In Brown's ... to 0.91 for Contributi ...)
Related Identities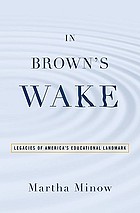 Alternative Names
Martha Minow American legal scholar

Martha Minow Amerikaans auteur

Martha Minow US-amerikanische Rechtswissenschaftlerin

Minou, Māsa 1954-

Minow, Martha.

Minow, Martha L. 1954-

ميناو، مارثا

ミノウ, マーサ

ミノウ, マーサ 1954-

瑪莎·米諾

Languages
Covers