Braidotti, Rosi
Most widely held works about Rosi Braidotti
Most widely held works by Rosi Braidotti
Nomadic subjects : embodiment and sexual difference in contemporary feminist theory
by
Rosi Braidotti
( Book )
38 editions published between
1994
and 2011 in 5 languages and held by 769 WorldCat member libraries worldwide
This revised and expanded edition retains all but two of Braidotti's original essays, including her investigations into epistemology's relation to the 'woman question', feminism and biomedical ethics; European feminism; and the possible relations between American feminism and European politics and philosophy. A new piece integrates Deleuze and Guattari's concept of the 'becoming-minoritarian' more deeply into modern democratic thought, and a chapter on methodology explains Braidotti's methods while engaging with her critics
Patterns of dissonance : a study of women in contemporary philosophy
by
Rosi Braidotti
( Book )
28 editions published between
1989
and 2013 in 3 languages and held by 541 WorldCat member libraries worldwide
This book is a brilliant and timely analysis of the complex issues raised by the relation between women and philosophy. It offers a critical account of a wide range of contemporary philosophical and feminist texts and it develops this account into an original project of critical feminist thought. Braidotti examines contemporary French philosophy as practised by men such as Foucault and Derrida, showing that they rely on a notion of 'the feminine' in order to undermine classical thought, which bears no direct relevance to the historical experience of women. Braidotti then looks
Between monsters, goddesses, and cyborgs : feminist confrontations with science, medicine, and cyberspace
by
Nina Lykke
( Book )
12 editions published in
1996
in
English
and held by 383 WorldCat member libraries worldwide
This important book shows that feminists cannot ignore either the emancipatory or the oppressive potential of technological progress. Bringing together 'natural' and 'social' scientists, the book paves the way for a specifically feminist strategy for science, technology, and health care. As such, it is vital reading for students, academics and activists in women's studies, cultural studies, the philosophy and social studies of science, health and the environment
The posthuman
by
Rosi Braidotti
( Book )
25 editions published between
2011
and 2014 in 4 languages and held by 352 WorldCat member libraries worldwide
The Posthuman offers both an introduction and major contribution to contemporary debates on the posthuman. Digital 'second life', genetically modified food, advanced prosthetics, robotics and reproductive technologies are familiar facets of our globally linked and technologically mediated societies. This has blurred the traditional distinction between the human and its others, exposing the non-naturalistic structure of the human. The Posthuman starts by exploring the extent to which a post-humanist move displaces the traditional humanistic unity of the subject. Rather than perceiving this situation as a loss of cognitive and moral self-mastery, Braidotti argues that the posthuman helps us make sense of our flexible and multiple identities. Braidotti then analyzes the escalating effects of post-anthropocentric thought, which encompass not only other species, but also the sustainability of our planet as a whole. Because contemporary market economies profit from the control and commodification of all that lives, they result in hybridization, erasing categorical distinctions between the human and other species, seeds, plants, animals and bacteria. These dislocations induced by globalized cultures and economies enable a critique of anthropocentrism, but how reliable are they as indicators of a sustainable future? The Posthuman concludes by considering the implications of these shifts for the institutional practice of the humanities. Braidotti outlines new forms of cosmopolitan neo-humanism that emerge from the spectrum of post-colonial and race studies, as well as gender analysis and environmentalism. The challenge of the posthuman condition consists in seizing the opportunities for new social bonding and community building, while pursuing sustainability and empowerment
Metamorphoses : towards a materialist theory of becoming
by
Rosi Braidotti
( Book )
15 editions published between
2002
and 2013 in
English
and held by 322 WorldCat member libraries worldwide
"This original contribution to current debates is written for those who find changes and transformations challenging and necessary. It will be of great interest to students and scholars of philosophy, feminist theory, gender studies, sociology, social theory and cultural studies."--Jacket
Thinking differently : a reader in European women's studies
( Book )
9 editions published between
2001
and 2002 in
English
and held by 314 WorldCat member libraries worldwide
Présentation sous http://www.zedbooks.co.uk/ : "This is the first book to ask whether there is a specifically European dimension to some of the major issues in Women's Studies. In doing so, it fills some of the gaps in our knowledge about women and enriches debates hitherto dominated by Anglo-American influences. Among the new areas of enquiry opened up are : Europe's experience of repeated warfare has impacted significantly on women. Hence contributions focus on women and militarism, and ethnic cleansing as an attack on the family. The abadingly problematic relationship between feminism and anti-semitism, and issues of migration and 'whiteness' in a context where racism reflects the colonial histories of particular European countries. The importance of passion, the emotions and psychoanalytical theory for the politics of certain European countries. The decline of the welfare state across Europe, the issue of the relationship between womens rights and human rights, and the rise of the phenomenon of the single woman. Reading feminism from a European perspective enables readers to reflect upon the ways changes in political, social and cultural positions and practices over the past century in Europe have impacted on feminist thinking and theorizing. The volume also raises important issues about the transfer of feminist concepts across cultures and languages. And to English-speaking audiences the volume will offer different viewpoints on some of the key debates
Transpositions : on nomadic ethics
by
Rosi Braidotti
( Book )
14 editions published between
2006
and 2010 in
English
and held by 285 WorldCat member libraries worldwide
"This book offers an account of ethical and political subjectivity in contemporary culture. It makes a case for a non-unitary or nomadic conception of the subject, in opposition to the claims of ideologies such as conservatism, liberal individualism and techno-capitalism. Braidotti takes a stand against moral universalism, while offering a vigorous defence of nomadic ethics against the charges of relativism and nihilism. She calls for a new form of ethical accountability that takes "Life" as the subject, not the object, of enquiry. The nomadic ethical subject negotiates successfully the complex tension between the multiplicity of political forces on the one hand and the sustained commitment to emancipatory politics on the other"
Nomadic theory : the portable Rosi Braidotti
by
Rosi Braidotti
( Book )
8 editions published between
2011
and 2012 in
English
and held by 157 WorldCat member libraries worldwide
This collection provides a core introduction to Braidotti's nomadic theory and its innovative formulations, which playfully engage with Deleuze, Foucault, Irigaray, and a host of political and cultural issues. Arranged thematically, essays begin with such concepts as sexual difference and embodied subjectivity and follow with explorations in technoscience, feminism, postsecular citizenship, and the politics of affirmation. Inspired yet not confined by Deleuzian vitalism she emphasizes affects, imagination, and creativity and the politics of radical immanence. Incorporating ideas from Nietzsche and Spinoza as well, Braidotti establishes a critical-theoretical framework equal parts critique and creation. Ever mindful of the perils of defining difference in terms of denigration and the related tendency to subordinate sexualized, racialized, and naturalized others, she explores the eco-philosophical implications of nomadic theory, feminism, and the irreducibility of sexual difference and sexuality. Her dialogue with technoscience is crucial to nomadic theory, which deterritorializes the established understanding of what counts as human, along with our relationship to animals, the environment, and changing notions of materialism
After cosmopolitanism
by
Rosi Braidotti
( Book )
18 editions published between
2003
and 2013 in
English
and held by 149 WorldCat member libraries worldwide
At a time when social and political reality seems to move away from the practice of cosmopolitanism, whilst being in serious need of a new international framework to regulate global interaction, what are the new definitions and practices of cosmopolitanism? Including contributions from leading figures across the humanities and social sciences, After Cosmopolitanism takes up this question as its central challenge. Its core argument is the idea that our globalised condition forms the heart of contemporary cosmopolitan claims, which do not refer to a transcendental ideal, but are rather immanent
more
fewer
Audience Level
0

1
Kids
General
Special
Audience level: 0.54 (from 0.22 for Revisiting ... to 0.80 for The making ...)
Related Identities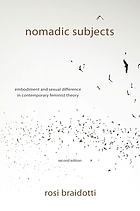 Alternative Names
Braidotti, R.

Braidotti, R. (Rosi)

Rosi Braidotti Australian feminist

Rosi Braidotti Australisch filosoof

Rosi Braidotti italienisch-australische Philosophin und Theoretikerin des Feminismus

ブライドッチ, R

Languages
Covers