Lowrie, Walter 1868-1959
Overview
| | |
| --- | --- |
| Works: | 103 works in 848 publications in 5 languages and 23,872 library holdings |
| Genres: | History Sermons Controversial literature Criticism, interpretation, etc Biography Illustrated works Essays |
| Roles: | Author, Translator, Editor, Author of introduction, Other, Contributor, tra |
| Classifications: | BR100, 198.9 |
Most widely held works about Walter Lowrie
more
fewer
Most widely held works by Walter Lowrie
Kierkegaard's Concluding unscientific postscript
by
Søren Kierkegaard
( Book )
45 editions published between
1941
and 1974 in
English
and
Undetermined
and held by 1,728 WorldCat member libraries worldwide
Besides a sense of personal loss at the death of David F. Swenson on February 11, 1940, I felt dismay that he had left unfinished his translation of the Unscientific Postscript. I had longed to see it published among the first of Kierkegaard's works in English. In the spring of 1935 it did not seem exorbitant to hope that it might be ready for the printer by the end of that year. For in March I learned from Professor Swenson that he had years before "done about two thirds of a rough translation." In 1937/38 he took a sabbatical leave from his university for the sake of finishing this work. Yet after all it was not finished- partly because Professor Swenson was already incapacitated by the illness which eventually resulted in his death; but also because he aimed at a degree of perfection which hardly can be reached by a translator. At one time he expressed to me his suspicion that perhaps, as in the translation of Kant's philosophy, it might require the cooperation of many scholars during several generations before the translation of Kierkegaard's terminology could be definitely settled. I hailed with joy this new apprehension, which promised a speedy conclusion of the work, and in the words of Luther I urged him to "sin boldly."
A short life of Kierkegaard
by
Walter Lowrie
( Book )
91 editions published between
1942
and 2013 in 6 languages and held by 1,671 WorldCat member libraries worldwide
This little book, being simply a biography, may perhaps be more lucid than the other, in which it was sometimes difficult to see the forest for the trees. Having devoted myself for a month last year to the unaccustomed task of writing a mystery story, I may perhaps have learned to make the big events in S.K's life more thrilling than they were. And perhaps after spending the last six years translating the greater part of S.K's works I have learned to know him better than I did at first. At all events, this little book is not merely an abstract or condensation of the bigger one. It has been written afresh from beginning to end, and barely half a page here and there has been copied- except, of course, the quotations from S.K., and they have been carefully revised
Practice in Christianity
by
Søren Kierkegaard
( Book )
56 editions published between
1940
and 2004 in
English
and held by 1,647 WorldCat member libraries worldwide
Of the many works he wrote during 1848, Kierkegaard specified Practice in Christianity as "the most perfect and truest thing." In his reflections on such topics as Christ's invitation to the burdened, the imitatio Christi, the possibility of offense, and the exalted Christ, he takes as his theme the requirement of Christian ideality in the context of divine grace. Addressing clergy and laity alike, Kierkegaard asserts the need for institutional and personal admission of the accommodation of Christianity to the culture and to the individual misuse of grace. As a corrective defense, the book is an attempt to find, ideally, a basis for the established order, which would involve the order's ability to acknowledge the Christian requirement, confess its own distance from it, and resort to grace for support in its continued existence. At the same time the book can be read as the beginning of Kierkegaard's attack on Christendom. Because of the high ideality of the contents and in order to prevent the misunderstanding that he himself represented that ideality, Kierkegaard writes under a new pseudonym, Anti-Climacus.--From publisher's description
Stages on life's way
by
Søren Kierkegaard
( Book )
19 editions published between
1940
and 1971 in
English
and held by 1,188 WorldCat member libraries worldwide
Im religionsphilosophischen Denken Kierkegaards spielt die Herausarbeitung verschiedener Typen ethischer und religiöser "Lebensanschauungen" oder "Existenzsphären" eine große Rolle. In seinem letzten rein religionsphilosophischen Werk, der "Abschließenden unwissenschaftlichen Nachschrift" (16. Abteilung der "Gesammelten Werke"), unterschied er vier "Existenzsphären": die "aesthetische", die schon im I. Teil von Entweder-Oder in großer Vielfalt dargestellt wurde, eine "ethische" mit nur geringem religiösen Tiefgang und zwei Stufen religiöser Vertiefung; deren erste scheitert bei ihrem Ringen um ein Gottesverhältnis an dem damit verbundenen, nicht verwundenen Schuldbewußtsein und bleibt in Schwermut gefangen; erst auf der zweiten, "paradox-religiösen" Stufe wird diese Krise im Erfahren der versöhnenden Gnade Gottes überwunden. Doch ist es der Denkweise Kierkegaards gemäß, Typen ethisch-religiöser Einstellungen und Fehlentwicklungen nicht nur abstrakt-begrifflich abzuleiten, sondern in der Vielfalt des Lebens dichterisch darzustellen; das letzte, sehr umfassende Werk mit diesem Ziel sind die "Stadien auf des Lebens Weg". In der ersten der drei hier zusammengefaßten Schriften läßt er dichterische Gestalten vor allem aus seinen früheren Werken auf einem "Gastmahl der Pseudonyme" Reden auf "das Weib" und "die Liebe" halten und führt so verschiedene Spielarten "aesthetischer Lebensanschauung" vor; mit seinem Wirbel geistreicher, überraschender, oft frivoler Gedanken und Einfälle wie mit dem sehr stimmungsvollen Erzählungsrahmen hat dies Werk immer wieder starken Eindruck gemacht und wird als Gegenstück zu Platos berühmtem Symposion gepriesen. Dagegen stellt er dann ein neues Loblied des aus Entweder/Oder bekannten, hier allerdings "verflachten" Gerichtsrats auf die Ehe, die er damit gegen den Spott der Pseudonyme verteidigt, - ein Musterbild einer soliden "ethischen Lebensanschauung", die jedoch tiefere religiöse Probleme kaum ahnt, wie sie gerade auch mit der Lebensbindung zweier Menschen verbunden sind. Schließlich bietet er in der "Leidensgeschichte" noch einmal ein Beispiel einer zerbrechenden Verlobung (dies Problem hatte er schon in der 1. und 5. Abteilung der "Gesammelten Werke" behandelt); sie scheitert in diesem Fall gerade daran, daß der sie durchleidende "Quidam" bei seinem Ringen mit solchen religiösen Problemen in Schwermut gefangen bleibt. Diese Darstellung kommt dem tatsächlichen Erleben Kierkegaards beim Zerbrechen seiner Verlobung sehr viel näher als die beiden früheren, enthält sogar ein Originaldokument seiner eigenen Geschichte, wenn auch der dargestellte "Quidam" das eigentliche religiöse Erleben Kierkegaards nicht erreicht. Besonders gerühmt werden sechs Einlagestücke, in denen Kierkegaard verschiedene Arten religiös bedingter Schwermut dichterisch eindrucksvoll darstellt. Schließlich bietet der fingierte Verfasser dieser "Leidensgeschichte", Frater Taciturnus, der sie in einem umfangreichen Nachwort kommentiert, selbst ein Beispiel eines Menschen, der sich scharfsinnig um die Probleme religiöser Existenz und die Möglichkeiten ihrer dichterischen Darstellung bemüht, jedoch mit der eigenen Existenz an ihrer Grenze stehen bleibt. Seine Gedanken dürfen darum, obwohl Kierkegaard dies Pseudonym bald danach auch in persönlichen Stellungnahmen verwendet hat, nicht als Kierkegaards eigene letzte Überzeugung genommen werden. Diese findet man vielmehr in der Beichtrede der mit den "Stadien" gleichzeitig veröffentlichten "Drei Reden bei gedachten Gelegenheiten" (14. Abteilung der "Gesammelten Werke"); deren Grabrede ist zur Interpretation des Gastmahls der Pseudonyme heranzuziehen, die Traurede zur religiösen Korrektur des "Allerleis über die Ehe" des "Gerichtsrats"
Repetition; an essay in experimental psychology
by
Søren Kierkegaard
( Book )
24 editions published between
1941
and 1964 in
English
and held by 1,104 WorldCat member libraries worldwide
It is 1949. A special agent of the French secret service, Henri Robin, is aboard a train to Berlin, on a special mission of an undisclosed nature. In what could be Graham Greene's The Third Man or a Hitchcock film, he crosses national borders and shuffles aliases with a false mustache and multiple sets of identity papers. Pulling into the station and preparing to meet his contact, Robin is alarmed by a disturbing glimpse of his own doppelganger. As Robin's time in Berlin unfolds, it becomes clear that nothing is what it seems. A shooting, a kidnapping, encounters with pimps and teenage whores, druggings, police interrogations, and torture arise in a mysterious, ever-more-dreamlike sequence, as an unnamed interlocutor points out inconsistencies in Robin's own story
Either/or
by
Søren Kierkegaard
( Book )
23 editions published between
1944
and 1999 in
English
and held by 1,002 WorldCat member libraries worldwide
"Søren Kierkegaard, the Danish philosopher, is a major influence in contemporary existentialist philosophy. In his work he dealt with three levels of existence -- the aesthetic, ethical and religious -- and the first two of these were his primary concern in this first great work. It appears pseudonymously, purporting to contain the papers of two men. One is a young man who, in his aphorisms, essays, lyrical outbursts and the famous "Diary of a seducer", brilliantly presents the pleasures of aesthetic life. The other is an older man, who writes letters discussing marriage and selfhood in which he tries to convince his young friend of the superiority of the ethical life. Kierkegaard indicates no choice between the two views; the reader is left to make his own decision." [Back cover]
more
fewer
Audience Level
0

1
Kids
General
Special
Audience level: 0.39 (from 0.26 for A short li ... to 0.79 for Robert War ...)
Related Identities
Associated Subjects
Abraham--(Biblical patriarch)
Adler, Adolf Peter,
Aesthetics
Anxiety--Religious aspects--Christianity
Apologetics
Atonement
Begrebet angest (Kierkegaard, Søren)
Christian antiquities
Christian art and symbolism
Christianity
Christianity--Philosophy
Christianity--Psychology
Christian life--Lutheran authors
Church architecture
Church history
Church history--Primitive and early church
Corsaren
Danske folkekirke
Denmark
Despair
Despair--Religious aspects--Christianity
Ethics
Faith
Fear
Goldschmidt, Meïr,
Grace (Theology)
Isaac--(Biblical patriarch)
Kierkegaard, Søren,
Love
Lutheran Church
Marriage
Melancholy
Music--Philosophy and aesthetics
Møller, P. L.--(Peder Ludvig),
Philosophy
Philosophy, Danish
Psychology, Religious
Religion--Philosophy
Repentance
Repetition (Philosophy)
Sacrifice of Isaac
Self
Sermons, Danish
Sin
Sin, Original
Sin, Original--History of doctrines
Sin--Christianity
Theology
Time
Vocation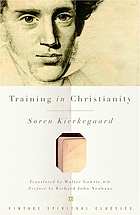 Alternative Names
Lowrie, W.

Lowrie, W. 1868-1959

Lowrie, W. (Walter), 1868-1959

Walter Lowrie American writer

Walter Lowrie Kierkegaardian theologian and translator

Walter Lowrie Theologe, Übersetzer

라우리, 월터 1868-1959

로리, 월터 1868-1959

ラゥリー, W.

ラウリー, W

Languages
Covers