Friedman, Stanton T.
Most widely held works by Stanton T Friedman
Crash at Corona : the U.S. military retrieval and cover-up of a UFO
by
Stanton T Friedman
( Book )
11 editions published between
1992
and 2010 in
English
and held by 561 WorldCat member libraries worldwide
"On July 8, 1947, the Public Information Office at the Roswell Army Air Field released a statement that said the remains of a "flying disc" had been recovered from a ranch near Corona, New Mexico. The story was released to the wire services and appeared in the evening editions of newspapers across the country. Within hours, however, this story was replaced by the Pentagon's official account that the disc was simply the misidentified radar reflector from a downed weather balloon. And so began the government's successful forty-year conspiracy to conceal the truth. The wreckage, consisting of I-beams with unrecognizable symbols and ultralight, indestructible foil, metal, and plasticlike material, thoroughly baffled the experienced airmen and intelligence officers who examined it. The military immediately quarantined the crash site, gathered every scrap of the debris, and flew much of it to the U.S. Eighth Air Force Headquarters where it disappeared from the public eye. In his determined, decade-long search for the truth behind this crash, Stanton Friedman has interviewed over 100 witnesses, including those who claim first-hand experiences with the spacecraft's remnants. Here are the remarkable accounts of Mac Brazel, the rancher who discovered the crash; Major Jesse Marcel of the 509th Bomb Group sent to collect the debris; and other high ranking Air Force officers, scientists, and officials who examined the wreckage or prepared it for shipment. Here, as well, is the statement of Glenn Dennis, the Roswell mortician whose friend, a nurse, described the small humanoid bodies autopsied at the base hospital, and the exclusive testimony of Gerald Anderson, who recalls seeing the crashed disc and its occupants at a second crash site 150 miles west in the Plains of San Augustin. Together, these previously untold stories present the true account of a singular event in world history. Crash at Corona also details the government's secret investigation and coverup of this incident - from the official silencing of military personnel and intimidation of civilian witnesses to the disinformation campaigns and staged investigations like Projects Sign and Bluebook - and provides new information on the original members of Majestic-12, the supersecret group of scientists, the military, and intelligence personnel allegedly assigned to study this Crash and other UFO phenomena for the president. Complete with the corroborating testimony of dozens of witnesses, shocking revelations of government duplicity, and photos of the key people and places involved, Crash at Corona is the most thorough and up-to-date examination of America's best-documented UFO encounter"--Jacket
Top secret/MAJIC
by
Stanton T Friedman
( Book )
8 editions published between
1996
and 2005 in
English
and
Undetermined
and held by 497 WorldCat member libraries worldwide
Operation Majestic-12, classified top secret, was established by President Truman to oversee the July 1947 recovery of a crashed flying saucer near Roswell, New Mexico, to deal with the saucer itself and with its non human inhabitants
Flying saucers and science : a scientist investigates the mysteries of UFOs : interstellar travel, crashes, and government cover-ups
by
Stanton T Friedman
( Book )
5 editions published in
2008
in
English
and held by 458 WorldCat member libraries worldwide
Flying Saucers and Science is a comprehensive look at the scientific data on the flying saucer phenomenon. Nuclear physicist and lecturer Stanton T. Friedman has distilled more than 40 years of research on U.F.O.s, and he shares his work on a wide variety of classified advanced nuclear and space systems. He answers a number of physics questions in layman's terms, and establishes that travel to nearby stars is within reach without violating the laws of physics. Photographs of little known, far-out advanced propulsion systems, on some of which he worked, are included. Friedman also presents data demonstrating the ability to withstand high accelerations with some surprising results. He clearly shows that government policy on this subject has been to provide false, misleading claims and disinformation, and establishes that the subject truly represents a Cosmic Watergate. Flying Saucers and Science presents intriguing data from a number of large-scale scientific U.F.O. studies that almost no one, especially the noisy negativists, has discussed in detail. It deals with a host of "why" questions like reasons for the cover-up, reasons for aliens to come to Earth and reasons for not landing on the White House lawn. Friedman unveils the S.E.T.I. program, and details the antipathy of science-fiction writers to U.F.O.s and other mysteries of the saucer conundrum. False notions about those who believe in the reality of alien visitors and the adequacy of coverage by the journalistic and scientific communities are reviewed. In this book, you'll discover: * What type of energy and technologies could provide travel between the stars. * The most likely locations in the universe where aliens come from. * Why the aliens are here. * Who believes in the flying saucer phenomenon. * The government's motives to cover-up. Readers of Flying Saucers and Science will never feel the same about U.F.O.s again. Stanton T. Friedman has B.S. and M.S. degrees in Physics from the University of Chicago. He has lectured on "Flying Saucers ARE Real!" to more than 700 college and professional audiences in 50 states, 9 provinces and 16 other countries, and has appeared on hundreds of radio and T.V. programs, including C.B.S. Sunday Morning, Larry King Live, Nightline and Unsolved Mysteries. Friedman has worked on classified, advanced technology programs for such companies as G.E., G.M. and Westinghouse. He has done research at 20 government document archives, authored TOP SECRET/MAJIC about Operation Majestic 12, and coauthored Crash at Corona: The Definitive Study of the Roswell Incident. He was the original civilian investigator of that very important event, and also coauthored Captured! The Betty and Barney Hill U.F.O. Experience with Kathleen Marden, Betty Hill's niece
Captured! : the Betty and Barney Hill UFO experience : the true story of the world's first documented alien abduction
by
Kathleen Marden
( Book )
2 editions published in
2007
in
English
and held by 411 WorldCat member libraries worldwide
"In Captured! you?ll get an insider?s look at the alien abduction, previously unpublished information about the lives of the Hills before and after Barney?s death in 1969, their status as celebrities, Betty?s experiences as a UFO investigator, and other activities before her death in 2004. Kathleen Marden, Betty Hill?s niece, shares details from her discussions with Betty and from the evidence of the UFO abduction. She also looks at the Hills? riveting hypnosis sessions about their time onboard the spacecraft. The transcripts of these sessions provide insight into the character of the aliens, including their curiosity, their democratic discussions, and their desire to avoid inflicting pain. In addition, co-author, physicist, and ufologist Stanton T. Friedman, the original civilian investigator of the Roswell Incident, reviews and refutes the arguments of those who have attacked the Hill case, including the star map Betty Hill saw inside the craft and later recreated."--Publisher's website
UFOs : real or imagined? : a scientific investigation
by
Stanton T Friedman
( Book )
2 editions published between
2011
and 2012 in
English
and held by 140 WorldCat member libraries worldwide
Presents an investigation into UFO phenomena, discussing the explanations offered by various scientists, military organizations, and aviators for UFO sightings and evaluating the probability of alien life forms visiting Earth
Fact, fiction, and flying saucers : the truth behind the misinformation, distortion, and derision by debunkers, government agencies, and conspiracy conmen
by
Stanton T Friedman
( Book )
3 editions published in
2016
in
English
and held by 135 WorldCat member libraries worldwide
There is a clear conspiracy to deny the existence of UFOs. The mainstream media has misinformed us for years about UFO studies conducted by highly regarded scientists associated with some of the finest universities in the country. There is significant evidence that the U.S. government has covered up the alien presence through misinformation, distortion, obfuscation, and ridicule. Some prominent, politically connected scientists have engaged in the cover up. And a few professional writers have helped to successfully label any scientists who have been persuaded by the evidence and brave enough to take a stand as unscientific charlatans, fanatics, and kooks. Fact, Fiction, and Flying Saucers examines the wealth of archival documents that clearly demonstrate this cooperative disinformation effort and refute the false claims made by these professional scoffers. Friedman and Marden set the record straight by examining politically motivated misinformation and presenting the compelling evidence that separates fact from fiction. They reveal: The most compelling UFO evidence, including a variety of large-scale scientific studies. The current state of UFOlogy and what the future holds. The media#x92;s role in disclosure and denial. The government scientists whose job it is to deny. The Air Force, FBI, CIA, and NSA#x92;s involvement
True stories of alien abduction
by
Stanton T Friedman
( Book )
3 editions published between
2014
and 2015 in
English
and held by 108 WorldCat member libraries worldwide
Stories about real alien abductions from people that have been abducted
Fastwalkers
( Visual )
1 edition published in
2009
in
English
and held by 69 WorldCat member libraries worldwide
Fastwalker is a code word created by NORAD (North Amercian Air Defense Command) to classify unidentified flying objects which approach our Earth from space and enter our atompshere. It has been reported that from its subterranean facility deep inside Cheyenne Mountain Colorado, USA, the Air Force NORAD facility tracks a rough average of 500 of these Fastwalkers each year. A feature length documentary produced in association with the Safespace Project and provides astounding revelations by the world's foremost authorities including Dr. Steven M. Greer, Steve Bassett, Jim Marrs, Robert O. Dean, Dr. Michael Salla, Stanton T. Friedman, Alfred L. Webre, John Greenwald Jr., Dr. Len Horowitz, Dr. Richard Boylan, Jaime Maussan, Paola Harris, Jerry Pippin, Dr. Bruce Maccabee, A.J. Gevaerd, Sean David Morton, Graham E. Bethune, Col. Wendelle C. Stevens, Monsignor Corrado Balducci, James W. Deardorff, PhD., Robert M. Wood PhD, Charles Hall, Richard Dolan, Steven Jones, Rob Simone, Don Ware, Richard Giordano, James Courant, Dolores Cannon, Maurice Osborn, David Coote, Stoyan Cheresharov, Daniel Munioz, Lisa Davis, Bruce Jessop, Robert Miles, Alan G. Toleman, Jutta Savill; and is hosted by Erika Jessop. DVD includes trailer extras and Roswell revelations
Shades of Gray : [eVideo - Films on Demand]
( Visual )
1 edition published in
2010
in
English
and held by 67 WorldCat member libraries worldwide
Gray Barker stood at the heart of America's UFO phenomenon almost from its inception. His investigations led to the publication of his bestselling book, They Knew Too Much About Flying Saucers. Peels the layers away of one of the great American hoaxers of the twentieth century. Barker singlehandedly created or perpetuated much of what is now the 'gospel' of UFOs. This documentary strives to present a complete picture of a complicated, and ultimately influential, modern American mythmaker
more
fewer
Audience Level
0

1
Kids
General
Special
Audience level: 0.19 (from 0.06 for Flying sau ... to 0.54 for Fact, fict ...)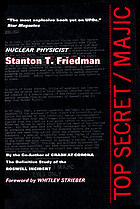 Covers
Alternative Names
Friedman, Stanton.

Friedman, Stanton Terry

Stanton Friedman

Stanton T. Friedman Amerikaans natuurkundige

Stanton T. Friedman fisico e saggista statunitense

Stanton T. Friedman ufologist

Stanton T. Friedman ufologue américain

Stanton Terry Friedman

Стантън Фридман

Фридман, Стэнтон

סטנטון פרידמן

סטנטון פרידמן עב"מולוג

スタントン・フリードマン

斯坦頓·弗里德曼

Languages