Grine, Frederick E. 1952-
Most widely held works by Frederick E Grine
The first humans : origin and early evolution of the genus Homo : contributions from the third Stony Brook Human Evolution Symposium and Workshop, October 3-October 7, 2006
by
Eric Delson
( )
18 editions published in
2009
in
English
and held by 532 WorldCat member libraries worldwide
This volume addresses the origin of the human genus Homo, a major transition in human evolution and associated with major changes in brain size, locomotion, and culture, but one with many unanswered questions. How many different species of Homo were there, and how were they interrelated? Are stone tools a characteristic of early Homo? What was their function? How does the use of stone tools relate to changes in the dentition and brain size? Did adaptations for long distance running first appear with the origin of this genus? How does this relate to its diet and cultural abilities
Evolutionary history of the "robust" australopithecines
by
Frederick E Grine
( Book )
17 editions published between
1988
and 2017 in
English
and held by 408 WorldCat member libraries worldwide
"In paleoanthropology the group of hominids known as the ""robust"" australopithecines has emerged as one of the most interesting. Through them we have the opportunity to examine the origin, natural history, and ultimate extinction of not just a single species, but of an entire branch in the hominid fossil record. It is generally agreed that the human lineage can be traced back to this group of comparatively small-brained, large-toothed creatures. This volume focuses on the evolutionary history of these early hominids with state-of-the-art contributions by leading international authorities in the field. Although a case can be made for a ""robust"" lineage, the functional and taxonomic implications of the morphological features are subject to vigorous disagreement. An area of lively debate is the possible causal relationship between the presence of early Homo and the origin, evolution, and virtual extinction of ""robust"" australopithecines. This volume summarizes what has been learned about the evolutionary history of the ""robust"" australopithecines in the 50 years since Robert Broom first encountered the visage of a new kind of ape-man from Kromdraai. New discoveries from Kromdraai to Lomekwi have served to keep us aware that the paleontological record for hominid evolution is hardly exhausted. Because of such finds no single volume can hope to stand as a summary on the ""robust"" australopithecines for very long, but this classic volume comes close to achieving this goal. The book sheds new light upon some old questions and also acts to provide new questions. The answers to those questions bring us closer to a fuller understanding and appreciation of the origins, evolution, and ultimate demise of the ""robust"" australopithecines. Since the ""robust"" australopithecines most likely stand as our closest relatives, a better understanding of their origin, history, and demise serves to provide heightened appreciation of the course of human evolution itself. This definitive volum"--Provided by publisher
Primate phylogeny
by Symposium on Primate Phylogeny
( Book )
5 editions published in
1987
in
English
and held by 124 WorldCat member libraries worldwide
Regional human anatomy : a laboratory workbook for use with models and prosections
by
Frederick E Grine
( Book )
11 editions published between
2001
and 2014 in
English
and held by 79 WorldCat member libraries worldwide
The Grine Lab Workbook is designed for the Human Anatomy Lab course and takes a REGIONAL approach as opposed to a systems approach. This approach is becoming more and more popular as a way to teach Human Anatomy. Instructors who use a lab book with a "regional approach" and combine it with a text that takes a "systems" approach offer their students a combination that serves to reinforce anatomical knowledge since it forces the student to see each anatomical structure from two perspectives. Grine can be used effectively in conjunction with a lab course that uses human cadavers since the content is presented in the regional sequence typically practiced in dissection
The first humans : origin and early evolution of the genus homo
by
Frederick E Grine
( Book )
7 editions published in
2009
in
English
and held by 21 WorldCat member libraries worldwide
Addresses the origin of the human genus Homo, a major transition in human evolution and associated with major changes in brain size, locomotion, and culture
Out of Africa I : the first hominin colonization of Eurasia
by
John G Fleagle
( )
3 editions published in
2010
in
English
and held by 11 WorldCat member libraries worldwide
For the first two thirds of our evolutionary history, we hominins were restricted to Africa. Dating from about two million years ago, hominin fossils first appear in Eurasia. This volume addresses many of the issues surrounding this initial hominin intercontinental dispersal. Why did hominins first leave Africa in the early Pleistocene and not earlier? What do we know about the adaptations of the hominins that dispersed - their diet, locomotor abilities, cultural abilities? Was there a single dispersal event or several? Was the hominin dispersal part of a broader faunal expansion of African mammals northward? What route or routes did dispersing populations take?
Anatomía humana regional : manual para prácticas de laboratorio para usarse con modelos y prosecciones
by
Frederick E Grine
( Book )
4 editions published in
2008
in
Spanish
and
English
and held by 9 WorldCat member libraries worldwide
El libro de anatomía regional humana ha sido diseñado para el curso de laboratorio de anatomía humana y permite tener una visión regional en contraposición a la visión de sistemas común. Esta visión se ha vuelto cada vez más común como una forma de enseñar anatomía humana. Los maestros que utilizan un libro de laboratorio con una visión regional y lo combinan con un libro de texto que tiene una visión de sistemas ofrece a los estudiantes reforzar su conocimiento anatómico ya que forza al estudiante a ver cada estructura anatómica de forma general y después de forma particular. Esta edición se puede utilizar además como apoyo de las clases de disección en donde se utilizan cadáveres para ver de forma práctica cada región anatómica al mismo tiempo que se explica
more
fewer
Audience Level
0

1
Kids
General
Special
Audience level: 0.56 (from 0.40 for Out of Afr ... to 0.99 for Cross-sect ...)
Related Identities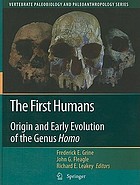 Covers
Alternative Names
Frederick E. Grine American anthropologist

Frederick E. Grine Amerikaans antropoloog

Frederick E. Grine antropólogo estadounidense

Frederick E. Grine antropólogu estauxunidense

Grine, F. E.

Grine, F. E. 1952-

Grine, F. E. (Frederick E.), 1952-

Grine, Frederick

Grine, Frederick E.

그린, 프레데릭 E

Languages