Bronson, Denise E.
Overview
| | |
| --- | --- |
| Works: | 15 works in 40 publications in 1 language and 560 library holdings |
| Genres: | Academic theses |
| Roles: | Author |
| Classifications: | HV11, 363.25 |
Most widely held works by Denise E Bronson
Finding and evaluating evidence : systematic reviews and evidence-based practice
by
Denise E Bronson
( Book )
17 editions published between
2011
and 2012 in
English
and held by 355 WorldCat member libraries worldwide
"This pocket guide provides a concise overview of how to complete a systematic review, and criteria that should be used for assessing the quality of existing reviews. It examines evidence-based practice, systematic reviews, and meta-analysis."--WorldCat
Evaluation of Victim Advocacy Services Funded by the Violence Against Women Act in Urban Ohio, 1999
by
Carol Bohmer
( )
4 editions published in
2000
in
English
and
No Linguistic content
and held by 29 WorldCat member libraries worldwide
The focus of this research and evaluation endeavor was on direct service programs in Ohio, particularly advocacy services for female victims of violence, receiving funding through the Services, Training, Officers, Prosecutors (STOP) formula grants under the Violence Against Women Act (VAWA) of 1994. The objectives of this project were (1) to describe and compare existing advocacy services in Ohio, (2) to compare victim advocacy typologies and identify key variables in the delivery of services, (3) to develop a better understanding of how victim advocacy services are defined and delivered, and (4) to assess the effectiveness of those services. For Part 1, Service Agencies Data, comprehensive information about 13 VAWA-funded programs providing direct services in urban Ohio was gathered through a mailback questionnaire and phone interviews. Detailed information was collected on organizational structure, clients served, and agency services. Focus groups were also used to collect data from clients (Parts 3-11) and staff (Parts 12-23) about their definitions of advocacy, types of services needed by victims, services provided to victims, and important outcomes for service providers. Part 2, Police Officer Data, focused on police officers' attitudes toward domestic violence and on evaluating service outcomes in one particular agency. The agency selected was a prosecutor's office that planned to improve services to victims by changing how the police and prosecutors responded to domestic violence cases. The prosecutor's office selected one police district as the site for implementing the new program, which included training police officers and placing a prosecutor in the district office to work directly with the police on domestic violence cases. The evaluation of this program was designed to assess the effectiveness of the police officers' training and officers' increased acce ... Cf.: http://dx.doi.org/10.3886/ICPSR02992
Prevention of non-biological male perpetrated child maltreatment : does a prevention and public awareness campaign work?
by
Linda S Helm
( )
1 edition published in
2014
in
English
and held by 16 WorldCat member libraries worldwide
This study evaluated the effectiveness of the Choose Your Partner Carefully campaign on reducing the incidence of non-biological male-perpetrated child maltreatment in the counties that implemented the program. County factors such as the strength and length of the program implementation, poverty rates, and the availability of social services and childcare availability were included in the analysis. Analysis of variance (ANOVA) was used to examine the difference in in counties with and without the campaign on the incidence rates of non-biological male maltreatment. A negative binomial regression model controlling for covariates was used to provide a more detailed look at the impact of the Choose Your Partner Carefully campaign
Targeting families for family preservation services : the decision-making process
by Ramona Woods Denby
( )
1 edition published in
1995
in
English
and held by 1 WorldCat member library worldwide
In this dissertation, two approaches to targeting are explored: imminent risk and special population. The purpose of this research was to evaluate how a sample of family preservation workers handle the issues of imminent risk and special population in the decision-making process they employ
Intention to use male condoms to prevent teen pregnancy and sexually transmitted infections
by Charlla D Allen
( )
1 edition published in
2001
in
English
and held by 1 WorldCat member library worldwide
A factor analysis was used to determine which factors would emerge that could be used to predict adolescent females' use of condoms. Seven factors emerged that explained 68.3% of the variance. These factors were found to be positively correlated with the intent to use condoms, and the intention to talk about condom use was significantly correlated to the intent to use condoms. Those who view condom use to be necessary, generally intended to use male condoms in the future. Logistic regression analysis showed that (a) current use of condoms, (b) discussion of condom use, and (c) a sense of acculturation, best predicted the intent of using male condoms. Title from first page of PDF file
Effects of social capital and adolescent extracurricular activities on school truancy
by Francis A Kombarakaran
( )
1 edition published in
2002
in
English
and held by 1 WorldCat member library worldwide
The findings of this study support a social capital hypothesis (Coleman, 1990) in explaining adolescent participation in extracurricular activities and school truancy. Adolescents whose parents are involved in their lives and who experience a sense of connection to their school tend to participate in extracurricular activities. Additionally, parental involvement in school activities, and intergenerational closure in the neighborhood also promote participation in extracurricular activities. Access to social capital resources in the various loci of adolescent life was found to predict the likelihood of non-truancy. Adolescents who experienced closeness at home and acceptance in school were less likely to be truant than others. Whereas parental involvement in school and in community activities were more protective for middle school children, parental involvement in community activities was more beneficial for poor children. Participation in arts and music activities was found to protect particularly middle school children from truant behavior
The impact of maternal problem drinking on children's developmental outcomes : focus on parenting as mediator
by Gye Soon Kong Seo
( )
1 edition published in
1998
in
English
and held by 1 WorldCat member library worldwide
The results showed that maternal problem drinking was associated with children's increased non-normative behaviors and poor reading performance, but maternal problem drinking was not associated with children's depressive mood. Maternal problem drinking was associated with less maternal warmth and less cognitive stimulation, but it was not associated with other dimensions of parenting practices. Less cognitive stimulation and less maternal warmth were associated with increased children's non-normative behaviors and poor performance in reading tests, but they were not associated with scores on the measures of depression. Parenting practices, specifically in terms of maternal warmth and cognitive stimulation, had a mediating function in the impact of maternal problem drinking on children's non-normative behaviors and reading performance. However, the mediating effects of parenting were very small, and the direct effects of maternal binge drinking on child outcomes remained strong after controlling the effects of parenting variables. Major findings were discussed in terms of previous research findings. Several suggestions were made for social work practice and future studies of children with parental problem drinking
more
fewer
Audience Level
0

1
Kids
General
Special
Audience level: 0.54 (from 0.30 for Prevention ... to 0.99 for Current tr ...)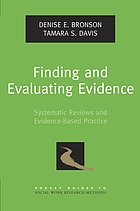 Covers
Languages