Bronson, Denise E.
Overview
| | |
| --- | --- |
| Works: | 14 works in 36 publications in 1 language and 489 library holdings |
| Roles: | Author |
Most widely held works by Denise E Bronson
Finding and evaluating evidence : systematic reviews and evidence-based practice
by
Denise E Bronson
( Book )
15 editions published between
2011
and 2012 in
English
and held by 297 WorldCat member libraries worldwide
"This pocket guide provides a concise overview of how to complete a systematic review, and criteria that should be used for assessing the quality of existing reviews. It examines evidence-based practice, systematic reviews, and meta-analysis."--WorldCat
Evaluation of Victim Advocacy Services Funded by the Violence Against Women Act in Urban Ohio, 1999
by
Carol Bohmer
( )
4 editions published in
2000
in
English
and
No Linguistic content
and held by 31 WorldCat member libraries worldwide
The focus of this research and evaluation endeavor was on direct service programs in Ohio, particularly advocacy services for female victims of violence, receiving funding through the Services, Training, Officers, Prosecutors (STOP) formula grants under the Violence Against Women Act (VAWA) of 1994. The objectives of this project were (1) to describe and compare existing advocacy services in Ohio, (2) to compare victim advocacy typologies and identify key variables in the delivery of services, (3) to develop a better understanding of how victim advocacy services are defined and delivered, and (4) to assess the effectiveness of those services. For Part 1, Service Agencies Data, comprehensive information about 13 VAWA-funded programs providing direct services in urban Ohio was gathered through a mailback questionnaire and phone interviews. Detailed information was collected on organizational structure, clients served, and agency services. Focus groups were also used to collect data from clients (Parts 3-11) and staff (Parts 12-23) about their definitions of advocacy, types of services needed by victims, services provided to victims, and important outcomes for service providers. Part 2, Police Officer Data, focused on police officers' attitudes toward domestic violence and on evaluating service outcomes in one particular agency. The agency selected was a prosecutor's office that planned to improve services to victims by changing how the police and prosecutors responded to domestic violence cases. The prosecutor's office selected one police district as the site for implementing the new program, which included training police officers and placing a prosecutor in the district office to work directly with the police on domestic violence cases. The evaluation of this program was designed to assess the effectiveness of the police officers' training and officers' increased acce ... Cf.: http://dx.doi.org/10.3886/ICPSR02992
Implementing computer systems in social service agencies : an analysis of cost and benefits for the direct service staff
by
Denise Ellen Bronson
( )
6 editions published between
1986
and 1988 in
English
and
Undetermined
and held by 6 WorldCat member libraries worldwide
This study explored the costs and benefits of computerization for the direct service workers in a social service agency in order to determine the conditions under which the implementation of computers will be successful. The implementation process was divided into four phases: (a) Preparation, (b) Transition, (c) Management Reports, and (d) Worker Reports. It was hypothesized that each of these phases would be characterized by different costs and benefits for the casework staff and that their
The role of paternal involvement in male violence against female intimates
by Gary Lee Dick
( )
1 edition published in
2000
in
English
and held by 1 WorldCat member library worldwide
Understanding how mens' relationships with their fathers influences male violence against a female intimate partner has been a missing link in research on men who batter women. Fathers can play a significant role in contributing to the sense of self in their children. Self-psychological theory postulates that a warm, understanding and empathic father can provide important psychological functions that support a cohesive self structure and contribute to self-esteem in their children. The narcissistic personality has been a consistent profile found in studies of male batterers. A cold, rejecting, humiliating and indifferent father contributes to the formation of the narcissistic personality disorder. These men often resort to violence when they are threatened or perceive rejection
Prevention of non-biological male perpetrated child maltreatment : does a prevention and public awareness campaign work?
by
Linda S Helm
( )
1 edition published in
2014
in
English
and held by 1 WorldCat member library worldwide
The results indicated the strength of the campaign was related to an incidence rate increase in child maltreatment and the availability of child care funds was related to a decrease in incidence rate of non-biological child maltreatment. The findings have implications for further evaluation of child maltreatment prevention interventions, for the promotion of social work practice and research collaborations, for further research into child care policies that promote more availability and research attention, and for social work education to better prepare social workers for evaluation and research as standard practice
Targeting families for family preservation services : the decision-making process
by Ramona Woods Denby
( )
1 edition published in
1995
in
English
and held by 1 WorldCat member library worldwide
The issue of "targeting" in family preservation programs is examined. Targeting involves a program decision to direct services to specific children and families who have been identified along a previously established line of eligibility
Utilizing research technology in human service organizations : factors contributing to implementing a convergent needs assessment model in area agencies on aging
by In Hae Seo
( )
1 edition published in
1998
in
English
and held by 1 WorldCat member library worldwide
A descriptive analysis shows that 240 agencies had needs assessment experiences in the past. Of those 240 agencies, 29% reported having implemented the maximum convergent model, including fully completed convergence from people, from existing data, and from data collection methods. Almost 64% reported having experienced some degree of convergence in NA activities which converged either data sources and/or data collection: 17% for the minimum convergent model, 47% for the moderate convergent model. In addition, only 7% of the AAAs conducted a divergent needs assessment in which a single source was collected by a single method
Model analyses of factors affecting the neighboring activities of youth who reside in a revitalizing community
by Carol A Snively
( )
1 edition published in
2002
in
English
and held by 1 WorldCat member library worldwide
This study examined the attitudes and behavior of 119 youth living in a small community located adjacent to a major midwestern university which began a community revitalization project in 1995. Survey data were collected in 1999. A model of prosocial community behavior was created based on research literature from sociology, psychology, and social work on community change, as well as literature on adult and adolescent community attitudes and behavior. The analysis examined a model of four latent variables (residential stability, community attitudes, social integration, and neighboring activities). Residential stability was hypothesized to have a direct negative effect on community attitudes and a direct positive effect social integration. Community attitudes and social integration were hypothesized to directly affect neighboring activities and mediate the effect of residential stability on neighboring activities
The impact of maternal problem drinking on children's developmental outcomes : focus on parenting as mediator
by Gye Soon Kong Seo
( )
1 edition published in
1998
in
English
and held by 1 WorldCat member library worldwide
The subjects of this study were drawn from among a group of children 10 to 14 years of age and their mothers who responded to a survey conducted in 1994 as part of the National Longitudinal Surveys on Youth (NLSY). A series of regression analyses were conducted, and the relationships among major variables were presented in path diagrams
more
fewer
Audience Level
0

1
Kids
General
Special
Audience level: 0.55 (from 0.53 for Finding an ... to 1.00 for Computeriz ...)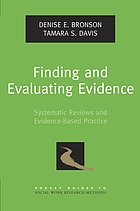 Covers
Languages