Damasio, Antonio R.
Overview
| | |
| --- | --- |
| Works: | 252 works in 1,082 publications in 14 languages and 15,020 library holdings |
| Genres: | Conference papers and proceedings Educational films Internet videos Exhibition catalogs Criticism, interpretation, etc Academic theses |
| Roles: | Author, Editor, Contributor, Narrator, Interviewee, Creator, Author of afterword, colophon, etc., htt, Other, pre, Author of introduction, Thesis advisor, Collector, Opponent |
| Classifications: | QP401, 153 |
Most widely held works about Antonio R Damasio
more
fewer
Most widely held works by Antonio R Damasio
Descartes' error : emotion, reason, and the human brain
by
Antonio R Damasio
( Book )
192 editions published between
1994
and 2019 in 9 languages and held by 3,376 WorldCat member libraries worldwide
""Although I cannot tell for certain what sparked my interest in the neural underpinnings of reason, I do know when I became convinced that the traditional views on the nature of rationality could not be correct." Thus begins a book that takes the reader on a journey of discovery, from the story of Phineas Gage, the famous nineteenth-century case of behavioral change that followed brain damage, to the contemporary recreation of Gage's brain; and from the doubts of a young neurologist to a testable hypothesis concerning the emotions and their fundamental role in rational human behavior." "Drawing on his experiences with neurological patients affected by brain damage (his laboratory is recognized worldwide as the foremost center for the study of such patients), Antonio Damasio shows how the absence of emotion and feeling can break down rationality. In the course of explaining how emotions and feelings contribute to reason and to adaptive social behavior, Damasio also offers a novel perspective on what emotions and feelings actually are: a direct sensing of our own body states, a link between the body and its survival-oriented regulations, on the one hand, and consciousness, on the other." "Descartes' Error leads us to conclude that human organisms are endowed from the very beginning with a spirited passion for making choices, which the social mind can use to build rational behavior."--Jacket
The feeling of what happens : body and emotion in the making of consciousness
by
Antonio R Damasio
( Book )
93 editions published between
1999
and 2019 in 8 languages and held by 2,590 WorldCat member libraries worldwide
A new theory of consciousness and the construction of identity focuses on the body's reaction to its world, postulating that a complex relationship between body, emotion, and mind is required to configure the self
Looking for Spinoza : joy, sorrow, and the feeling brain
by
Antonio R Damasio
( Book )
71 editions published between
2003
and 2021 in 7 languages and held by 1,865 WorldCat member libraries worldwide
Completing the trilogy that began with Descartes Error and continued with "The Feeling of What Happens," noted neuroscientist Damasio now focuses the full force of his research on emotions as he shows how joy and sorrow are cornerstones of humankind's survival. "One of the best brain stories of the decade."-"New York Times Book Review." 30 illustrations throughout. (Philosophy). Completing the trilogy that began with Descartes' Error and continued with The Feeling of What Happens, noted neuroscientist Antonio Damasio now focuses the full force of his research and wisdom on emotions. He shows how joy and sorrow are cornerstones of our survival. As he investigates the cerebral mechanisms behind emotions and feelings, Damasio argues that the internal regulatory processes not only preserve life within ourselves, but they create, motivate, and even shape our greatest cultural accomplishments. If Descartes declared a split between mind and body, Spinoza not only unified the two but intuitively understood the role of emotions in human survival and culture. So it is Spinoza who accompanies Damasio as he journeys back to the seventeenth century in search of a philosopher who, in Damasio's view, prefigured modern neuroscience. In Looking for Spinoza Damasio brings us closer to understanding the delicate interaction between affect, consciousness, and memory-the processes that both keep us alive and make life worth living. Drawing on research and patients' case studies, leading neurologist Damasio (U. of Iowa Medical Center), author of Descartes' Error, deconstructs the life and thought of this radical 17th century Dutch-Jewish philosopher, who anticipated modern views on mind-body unity, as a springboard for his model of the biological basis for emotions and feelings. This general audience treatment includes illustrations, a glossary, and chronology. Joy, sorrow, jealousy, and awe-these and other feelings are the stuff of our daily lives. Thought to be too private for science to explain and not essential for understanding cognition, they have largely been ignored. But not by Spinoza, and not by Antonio Damasio. Here, in a humane work of science, Damasio draws on his innovative research and on his experience with neurological patients to examine how feelings and the emotions that underlie them support human survival and enable the spirit's greatest creations. Looking for Spinoza reveals the biology of our sophisticated survival mechanisms. It rediscovers a thinker whose work prefigures modern neuroscience, not only in his emphasis on emotions and feelings, but also in his refusal to separate mind and body. Together, the scientist and the philosopher help us understand what we're made of, and what we're here for. Based on laboratory investigations but moving beyond those to society and culture, Looking for Spinoza is a master work of science and writing. Antonio Damasio, widely recognized as one of the world's leading neuroscientists, has for decades been investigating the neurobiological foundations of human life. In Descartes' Error he explored the importance of emotion in rational behavior, and in The Feeling of What Happens he developed the neurobiology of the self. Damasio's new book on feeling and emotion offers unexpected grounds for optimism about our survival and the human condition
Self comes to mind : constructing the conscious brain
by
Antonio R Damasio
( Book )
54 editions published between
2010
and 2013 in 4 languages and held by 1,430 WorldCat member libraries worldwide
This work is an investigation of a question that has confounded philosophers, psychologists, and neuroscientists for centuries: how is consciousness created? The author, a neuroscientist has spent the past thirty years studying and writing about how the brain operates, and his work has garnered acclaim for its singular melding of the scientific and the humanistic. In this book he goes against the long standing idea that consciousness is somehow separate from the body, presenting compelling new scientific evidence that consciousness, what we think of as a mind with a self, is to begin with a biological process created by a living organism. Besides the three traditional perspectives used to study the mind (the introspective, the behavioral, and the neurological), he introduces an evolutionary perspective that entails a radical change in the way the history of conscious minds is viewed and told. He also advances a radical hypothesis regarding the origins and varieties of feelings, which is central to his framework for the biological construction of consciousness: feelings are grounded in a near fusion of body and brain networks, and first emerge from the historically old and humble brain stem rather than from the modern cerebral cortex. He suggests that the brain's development of a human self becomes a challenge to nature's indifference and opens the way for the appearance of culture, a radical break in the course of evolution and the source of a new level of life regulation, sociocultural homeostasis. He leaves no doubt that the blueprint for the work in progress he calls sociocultural homeostasis is the genetically well-established basic homeostasis, the curator of value that has been present in simple life forms for billions of years. This book is a journey into the neurobiological foundations of mind and self
The strange order of things : life, feeling, and the making of cultures
by
Antonio R Damasio
( Book )
31 editions published between
2017
and 2021 in
English
and held by 803 WorldCat member libraries worldwide
"A pathbreaking investigation into homeostasis, the condition of that regulates human physiology within the range that makes possible not only the survival but also the flourishing of life. Antonio Damasio makes clear that we descend biologically, psychologically, and even socially from a long lineage that begins with single living cells; that our minds and cultures are linked by an invisible thread to the ways and means of ancient unicellular life and other primitive life-forms; and that inherent in our very chemistry is a powerful force, a striving toward life maintenance that governs life in all its guises, including the development of genes that help regulate and transmit life."--Supplied by publisher
The Scientific American book of the brain
( Book )
10 editions published between
1999
and 2001 in
English
and held by 672 WorldCat member libraries worldwide
Presents 26 cutting-edge articles on current brain research by some of the biggest names working in the field
Feeling & knowing : making minds conscious
by
Antonio Damasio
( Book )
17 editions published between
1901
and 2022 in
English
and
Spanish
and held by 482 WorldCat member libraries worldwide
"From one of the world's leading neuroscientists--a succinct, illuminating, wholly engaging investigation of the phenomenon of consciousness and its relation to life. In recent decades, many philosophers and cognitive scientists have declared the question of consciousness unsolvable, but Antonio Damasio is convinced that recent findings in biology, neuroscience, psychology, and artificial intelligence have given us the necessary tools to solve its mystery. Now, he not only elucidates its myriad aspects, but presents his analysis and insights in a way that is faithful to our own intuitive sense of the experience of consciousness. In the 48 brief chapters of the book, he helps us understand the relation between consciousness and mind; why being conscious is not the same as either being awake or sensing; the essential role of feeling; and the biological brain and development of consciousness. He synthesizes the recent findings of various sciences with the outlook of philosophy, and, most significantly, presents his original research which has transformed our understanding of the brain and human behavior. Here is an indispensable guide to understanding consciousness, the fundamental human capacity for informing--and transforming--our experience of the world around us and our perception of our place in it"--
Lesion analysis in neuropsychology
by
Hanna Damasio
( Book )
12 editions published in
1989
in
English
and held by 299 WorldCat member libraries worldwide
Based on neuroanatomical studies in humans, this book describes the main behavioral syndromes resulting from focal brain damage, providing a comprehensive view of what is known about brain/behavior relationships
TEDTalks : Antonio Damasio - The Quest to Understand Consciousness
( Visual )
2 editions published in
2011
in
English
and held by 271 WorldCat member libraries worldwide
Every morning we wake up and regain consciousness--that is a marvelous fact--but what exactly is it that we regain? In this TEDTalk, neuroscientist Antonio Damasio uses this simple question to give us a glimpse into how our brains create our sense of self. Damasio's work has had a major influence on current understanding of our neural systems, which underlie memory, language, and consciousness. A streaming videorecording
more
fewer
Audience Level
0

1
General
Special
Audience level: 0.00 (from 0.00 for Descartes' ... to 0.00 for Descartes' ...)
Related Identities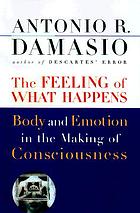 Covers
Alternative Names
António Damásio hjerneforsker og forfatter

António Damásio médico neurologista e neurocientista português

Antonio Damasio Neurologi

Antonio Damasio neurologo, neuroscienziato e psicologo portoghese

Antonio Damasio neurologo, neuroscienziato, psicologo e saggista portoghese (1944-2022)

António Damásio neurólogo y profesor portugués

António Damásio neurologue portugais

Antonio Damasio neuroloog uit Portugal

Antonio Damasio portugál-amerikai neurológus

António Damásio portugalsko-americký neurovědec.

António Damásio portugiesischer Neurowissenschaftler

Damásio

Damasio, A.R.

Damasio, A. R. 1944-

Damásio, A. R. 1944- (Antonio R.)

Damasio, A. R. (Antonio R.)

Damásio António

Damásio, Antônio, 1944-

Damásio, António João Gomes Rosa

Damásio, António João Gomes Rosa, 1944-

Damásio António R.

Damásio, António R. 1944-

Damasio, Antonio R. (Antonio Rosa‏(, 1944-

Damásio António Rosa

Damásio, António Rosa 1944-

Антонио Дамасио

אנטוניו דמסיו

דמאסיו, אנטוניו

דמסיו, אנטוניו

انتونيو داماسيو

آنتونیو دامازیو

أنطونيو داماسيو

আঁতনিউ দামাজিউ

அன்டோனியோ டமாசியோ

다마지오, 안토니오 1944-

다마지오, 안토니오 R. 1944-

안토니오 다마시오

アントニオ・ダマシオ

ダマジオ, アントニオ・R

安東尼奧‧達馬西奧

Languages