Shugart, Matthew Soberg 1960-
Most widely held works by Matthew Soberg Shugart
Mixed-member electoral systems : the best of both worlds?
by
Matthew Soberg Shugart
( )
40 editions published between
2000
and 2005 in
English
and held by 1,722 WorldCat member libraries worldwide
In the view of many electoral reformers, mixed-member systems offer the best of the traditional British single-seat system and PR systems. This book evaluates why the systems have appealed to many countries, and how well expectations have been met
Presidents, parties, and prime ministers : how the separation of powers affects party organization and behavior
by
David Samuels
( )
19 editions published between
2010
and 2011 in
English
and held by 911 WorldCat member libraries worldwide
This book provides a framework for analyzing the impact of the separation of powers on party politics. Conventional political science wisdom assumes that democracy is impossible without political parties, because parties fulfil all the key functions of democratic governance. They nominate candidates, coordinate campaigns, aggregate interests, formulate and implement policy, and manage government power. When scholars first asserted the essential connection between parties and democracy, most of the world's democracies were parliamentary. Yet
Presidentialism and democracy in Latin America
( Book )
18 editions published between
1997
and 2003 in
English
and held by 719 WorldCat member libraries worldwide
Addressing the current debate regarding the liabilities and merits of presidential government, this work asks: does presidentialism make it less likely that democratic governments will be able to manage political conflict, as many prominent scholars have argued? With the unprecedented wave of transitions to democracy since the 1970s, this question has been hotly contested in political and intellectual circles all over the globe. The contributors to this volume examine variations among different presidential systems and sceptically view claims that presidentialism has added significantly to the problems of democratic governance and stability. The contributors argue that presidential systems vary in important ways, mostly according to the constitutional powers accorded to the president to affect legislation and the degree to which presidents parties control legislative majorities
Presidents and assemblies : constitutional design and electoral dynamics
by
Matthew Soberg Shugart
( Book )
31 editions published between
1992
and 2009 in
English
and held by 593 WorldCat member libraries worldwide
In recent years renewed attention has been directed to the importance of the role of institutional design in democratic politics. Particular interest has concerned constitutional design and the relative merits of parliamentary versus presidential systems. In this book, the authors systematically assess the strengths and weaknesses of various forms of presidential systems, drawing on recent developments in the theoretical literature about institutional design and electoral rules. They develop a typology of democratic regimes structured around the separation of powers principle, including two hybrid forms, the premier-presidential and president-parliamentary systems, and they evaluate a number of alternative ways of balancing powers between the branches within these basic frameworks. They also demonstrate that electoral rules are critically important in determining how political authority is exercised
A different democracy : American government in a Thirty-One-Country perspective
by
Steven L Taylor
( Book )
8 editions published between
2014
and 2015 in
English
and held by 400 WorldCat member libraries worldwide
"Four distinguished scholars in political science analyze American democracy from a comparative point of view, exploring how the U.S. political system differs from that of thirty other democracies and what those differences ultimately mean for democratic performance. This essential text approaches the following institutions from a political engineering point of view: constitutions, electoral systems, and political parties, as well as legislative, executive, and judicial power. The text looks at democracies from around the world over a two-decade time frame. The result is not only a fresh view of the much-discussed theme of American exceptionalism but also an innovative approach to comparative politics that treats the United States as but one case among many. An ideal textbook for both American and comparative politics courses"--
Executive decree authority
( Book )
10 editions published in
1998
in
English
and held by 393 WorldCat member libraries worldwide
When presidents or prime ministers make law by decree, are we witnessing the usurpation of legislative authority? The increased frequency of policy-making by decree, in older democracies as well as in the newer regimes of Latin America and the post-communist world, has generated concern that legislatures are being marginalized and thus that democratic institutions are not functioning. Professors Carey and Shugart suggest which elements of constitutional design should (and should not) foster reliance on decree authority. Individual chapters then bring the experiences of Argentina, Brazil, France, Italy, Peru, Russia, the United States, and Venezuela to bear on the theory. The book combines broadly comparative analysis with intensive case studies to provide a more thorough understanding of the scope of executive authority across countries
Votes from seats : logical models of electoral systems
by
Matthew Soberg Shugart
( Book )
11 editions published in
2017
in
English
and held by 310 WorldCat member libraries worldwide
"Take the number of seats in a representative assembly and the number of seats in districts through which this assembly is elected. From just these two numbers, the authors ... show that it is possible to deduce the number of parties in the assembly and in the electorate, as well as the size of the largest party. Inside parties, the vote distributions of individual candidates likewise follow predictable patterns. Four laws of party seats and votes are constructed by logic and tested, using scientific approaches rare in social sciences. Both complex and simple electoral systems are covered, and the book offers a set of 'best practices' for electoral system design. The ability to predict so much from so little, and to apply to countries worldwide, is an advance in the systematic analysis of a core institutional feature found in any democracy, and points the way towards making social sciences more predictive."--
The Oxford handbook of electoral systems
( Book )
1 edition published in
2018
in
English
and held by 96 WorldCat member libraries worldwide
"No subject is more central to the study of politics than elections. All across the globe, elections are a focal point for citizens, the media, and politicians long before--and sometimes long after--they occur. Electoral systems, the rules about how voters' preferences are translated into election results, profoundly shape the results not only of individual elections but also of many other important political outcomes, including party systems, candidate selection, and policy choices. Electoral systems have been a hot topic in established democracies from the UK and Italy to New Zealand and Japan. Even in the United States, events like the 2016 presidential election and court decisions such as Citizens United have sparked advocates to promote change in the Electoral College, redistricting, and campaign-finance rules. Elections and electoral systems have also intensified as a field of academic study, with groundbreaking work over the past decade sharpening our understanding of how electoral systems fundamentally shape the connections among citizens, government, and policy. This volume provides an in-depth exploration of the origins and effects of electoral systems."--
Electoral systems
( )
3 editions published in
2012
in
English
and held by 71 WorldCat member libraries worldwide
This collection brings together leading electoral systems experts from either side of the Atlantic, namely David Farrell and Matthew Shugart. The last 25 years have seen this initially underdeveloped discipline in political science grow exponentially in level and range of output
more
fewer
Audience Level
0

1
Kids
General
Special
Audience level: 0.35 (from 0.10 for Mixed-memb ... to 0.95 for Presidenti ...)
Related Identities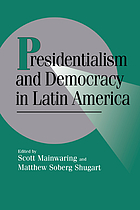 Covers
Alternative Names
Matthew Søberg Shugart American political scientist

Matthew Søberg Shugart Amerikaans politicoloog

Matthew Søberg Shugart politólogo estadounidense

Matthew Søberg Shugart politólogu estauxunidense

Shugart, Matthew

Shugart, Matthew S.

Shugart, Matthew S. 1960-

Shugart, Matthew Søberg.

Soberg Shugart Matthew

Søberg Shugart, Matthew 1960-

Languages