Ogletree, Charles J.
Overview
| | |
| --- | --- |
| Works: | 141 works in 297 publications in 1 language and 11,735 library holdings |
| Genres: | History Biography Internet videos Educational films Trials, litigation, etc Trial and arbitral proceedings Documentary films Nonfiction television programs Documentary television programs Nonfiction films |
| Roles: | Author, Editor, Speaker, Narrator, Moderator, Host, Interviewee, Interviewer |
| Classifications: | KF4757, 342.730873 |
Most widely held works about Charles J Ogletree
more
fewer
Most widely held works by Charles J Ogletree
Life without parole : America's new death penalty?
by
Charles J Ogletree
( )
11 editions published in
2012
in
English
and held by 2,184 WorldCat member libraries worldwide
"Is life without parole the perfect compromise to the death penalty? Or is it as ethically fraught as capital punishment? This comprehensive, interdisciplinary anthology treats life without parole as 'the new death penalty.' Editors Charles J. Ogletree, Jr. and Austin Sarat bring together original work by prominent scholars in an effort to better understand the growth of life without parole and its social, cultural, political, and legal meanings. What justifies the turn to life imprisonment? How should we understand the fact that this penalty is used disproportionately against racial minorities? What are the most promising avenues for limiting, reforming, or eliminating life without parole sentences in the United States? Contributors explore the structure of life without parole sentences and the impact they have on prisoners, where the penalty fits in modern theories of punishment, and prospects for reform"--Back cover
The road to abolition? : the future of capital punishment in the United States
by
Charles J Ogletree
( Book )
12 editions published between
2009
and 2016 in
English
and held by 1,150 WorldCat member libraries worldwide
Contains scholarly essays on the possibility that capital punishment might be abolished in the United States in the twenty-first century, discussing the decline in the number of people being sentenced to death, and exploring the idea that life without parole will replace the death penalty in the United States
When law fails : making sense of miscarriages of justice
by
Charles J Ogletree
( Book )
13 editions published in
2009
in
English
and held by 1,111 WorldCat member libraries worldwide
Essays that view wrongful convictions not as random mistakes but as organic outcomes of a misshaped larger system that is rife with faulty eyewitness identifications, false confessions, biased juries, and racial discrimination. Together the contributors reveal the dramatic consequences as well as the daily realities of breakdowns in the law's ability to deliver justice swiftly and fairly, and calls on us to look beyond headline-grabbing exonerations to see how failure is embedded in the legal system itself
Beyond the Rodney King story : an investigation of police conduct in minority communities
( Book )
8 editions published between
1994
and 1995 in
English
and held by 888 WorldCat member libraries worldwide
"At the conclusion of the public hearings, the NAACP selected the Criminal Justice Institute of Harvard Law School, and the Trotter Institute of the University of Massachusetts to review the material that had been collected and write a report."
Punishment in popular culture
( )
7 editions published between
2015
and 2016 in
English
and held by 781 WorldCat member libraries worldwide
"The way a society punishes demonstrates its commitment to standards of judgment and justice, its distinctive views of blame and responsibility, and its particular way of responding to evil. Punishment in Popular Culture examines the cultural presuppositions that undergird America's distinctive approach to punishment and analyzes punishment as a set of images. It recognizes that the semiotics of punishment is all around us, in both 'high' and 'popular' culture iconography, in novels, television, and film. This book brings together distinguished scholars of punishment and experts in media studies in an unusual juxtaposition of disciplines and perspectives. Americans continue to lock up more people for longer periods of time than most other nations, to use the death penalty, and to racialize punishment in remarkable ways. How are these facts of American penal life reflected in the portraits of punishment that Americans regularly encounter on television and in film?And how are images of punishment received by their audiences? It is to these questions that Punishment in Popular Culture is addressed"--Unedited summary from book cover
The presumption of guilt : the arrest of Henry Louis Gates, Jr. and race, class, and crime in America
by
Charles J Ogletree
( Book )
9 editions published between
2010
and 2012 in
English
and held by 759 WorldCat member libraries worldwide
"Shortly after noon on Tuesday, July 16, 2009, Henry Louis Gates, Jr., MacArthur Fellow and Harvard professor, was mistakenly arrested by Cambridge police sergeant James Crowley for attempting to break into his own home. The ensuing media firestorm ignited debate across the country. The Crowley-Gates incident was a clash of absolutes, underscoring the tension between black and white, police and civilians, and the privileged and less privileged in modern America. Charles Ogletree, one of the country's foremost experts on civil rights, uses this incident as a lens through which to explore issues of race, class, and crime, with the goal of creating a more just legal system for all. Working from years of research and based on his own classes and experiences with law enforcement, the author illuminates the steps needed to embark on the long journey toward racial and legal equality for all Americans"--
From lynch mobs to the killing state : race and the death penalty in America
( Book )
6 editions published in
2006
in
English
and held by 663 WorldCat member libraries worldwide
Since 1976, over forty percent of prisoners executed in American jails have been African American or Hispanic. This trend shows little evidence of diminishing, and follows a larger pattern of the violent criminalization of African American populations that has marked the country's history of punishment. In a bold attempt to tackle the looming question of how and why the connection between race and the death penalty has been so strong throughout American history, Ogletree and Sarat headline an interdisciplinary cast of experts in reflecting on this disturbing issue. Insightful original essays
Brown at 50 : the unfinished legacy, a collection of essays
( Book )
4 editions published in
2004
in
English
and held by 286 WorldCat member libraries worldwide
The ABA Commission on the 50th Anniversary of Brown v. Board of Education brings together this collection of essays that explore the unfinished legacy of that decision
Racial reconciliation and the healing of a nation : beyond law and rights
( Book )
4 editions published between
2017
and 2018 in
English
and held by 238 WorldCat member libraries worldwide
The work at hand for bridging the racial divide in the United States From Baltimore and Ferguson to Flint and Charleston, the dream of a post-racial era in America has run up against the continuing reality of racial antagonism. Current debates about affirmative action, multiculturalism, and racial hate speech reveal persistent uncertainty and ambivalence about the place and meaning of race - and especially the black/white divide - in American culture. They also suggest that the work of racial reconciliation remains incomplete. Racial Reconciliation and the Healing of a Nation seeks to assess where we are in that work, examining sources of continuing racial antagonism among blacks and whites. It also highlights strategies that promise to promote racial reconciliation in the future. Rather than revisit arguments about the importance of integration, assimilation, and reparations, the contributors explore previously unconsidered perspectives on reconciliation between blacks and whites. Chapters connect identity politics, the rhetoric of race and difference, the work of institutions and actors in those institutions, and structural inequities in the lives of blacks and whites to our thinking about tolerance and respect. Going beyond an assessment of the capacity of law to facilitate racial reconciliation, Racial Reconciliation and the Healing of a Nation challenges readers to examine social, political, cultural, and psychological issues that fuel racial antagonism, as well as the factors that might facilitate racial reconciliation
Race to execution
by
Rachel V Lyon
( Visual )
3 editions published in
2006
in
English
and held by 160 WorldCat member libraries worldwide
Follows the cases of two death row inmates to examine the problem of race discrimination in the U.S. criminal justice system, particularly with regard to death penalty sentencing
more
fewer
Audience Level
0

1
Kids
General
Special
Audience level: 0.25 (from 0.05 for Life witho ... to 0.72 for Research f ...)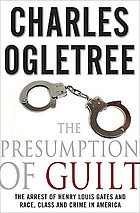 Covers
Alternative Names
Charles Ogletree American legal scholar

Ogletree, Charles J.

Ogletree, Charles J. Jr

Ogletree, Charles J. Jr. 1952-

查爾斯·奧格萊崔

Languages