Hansen, Karen V.
Most widely held works by Karen V Hansen
Not-so-nuclear families : class, gender, and networks of care
by
Karen V Hansen
( )
17 editions published in
2005
in
English
and held by 2,510 WorldCat member libraries worldwide
How do working parents provide care and mobilize the help that they need? Karen V. Hansen investigates the lives of working parents and the informal networks they construct to help care for their children. The book concludes with a series of policy suggestions intended to improve the environment in which working families raise children
At the heart of work and family : engaging the ideas of Arlie Hochschild
by
Anita Ilta Garey
( )
15 editions published in
2011
in
English
and held by 1,796 WorldCat member libraries worldwide
"At the Heart of Work and Family presents original research on work and family by scholars who engage and build on the conceptual framework developed by well-known sociologist Arlie Russell Hochschild. These concepts, such as 'the second shift, ' 'the economy of gratitude, ' 'emotion work, ' 'feeling rules, ' 'gender strategies, ' and 'the time bind, ' are basic to sociology and have shaped both popular discussions and academic study. The common thread in these essays covering the gender division of housework, childcare networks, families in the global economy, and children of consumers is the incorporation of emotion, feelings, and meaning into the study of working families. These examinations, like Hochschild's own work, connect micro-level interaction to larger social and economic forces and illustrate the continued relevance of linking economic relations to emotional ones for understanding contemporary work-family life"--Résumé de l'éditeur
Encounter on the Great Plains : Scandinavian settlers and the dispossession of Dakota Indians, 1890-1930
by
Karen V Hansen
( )
18 editions published between
2013
and 2016 in
English
and held by 666 WorldCat member libraries worldwide
In 1904, the first Scandinavian settlers moved onto the Spirit Lake Dakota Indian Reservation. These land-hungry immigrants struggled against severe poverty, often becoming the sharecropping tenants of Dakota landowners. Yet the homesteaders' impoverishment did not impede their quest to acquire Indian land, and by 1929 Scandinavians owned more reservation acreage than their Dakota neighbors. Norwegian homesteader Helena Haugen Kanten put it plainly: "We stole the land from the Indians." With this largely unknown story at its center, Encounter on the Great Plains brings together two dominant processes in American history: the unceasing migration of newcomers to North America, and the protracted dispossession of indigenous peoples who inhabited the continent. Drawing on fifteen years of archival research and 130 oral histories, Karen V. Hansen explores the epic issues of co-existence between settlers and Indians and the effect of racial hierarchies, both legal and cultural, on marginalized peoples. Hansen offers a wealth of intimate detail about daily lives and community events, showing how both Dakotas and Scandinavians resisted assimilation and used their rights as new citizens to combat attacks on their cultures. In this narrative, women emerge as resourceful agents of their own economic interests. Dakota women gained autonomy in the use of their allotments, while Scandinavian women staked and "proved up" their own claims. Hansen chronicles the intertwined stories of Dakotas and immigrants -- women and men, farmers, domestic servants, and day laborers. Their shared struggles reveal efforts to maintain a language, sustain a culture, and navigate their complex ties to more than one nation. The history of the American West cannot be told without these voices: their long connections, intermittent conflicts, and profound influence over one another defy easy categorization and provide a new perspective on the processes of immigration and land taking
"Transcending the public/private divide : the social dimension of laborers' lives, 1810-1860"
by
Karen V Hansen
( )
6 editions published in
1989
in
English
and held by 11 WorldCat member libraries worldwide
By examining antebellum New England, this study challenges the public/private dualism and suggests adopting the trichotomy proposed by Hannah Arendt--that of the public, private, and "social." The inclusion of "the social"--Those behaviors that mediate public and private activities and occur in both private and public space--structurally reflects a complex industrial society and interpretively captures the interactional nature of these activities
Not-So-Nuclear Families : Class, Gender, and Networks of Care
by
Karen V Hansen
( )
1 edition published in
2004
in
English
and held by 10 WorldCat member libraries worldwide
In recent years U.S. public policy has focused on strengthening the nuclear family as a primary strategy for improving the lives of America's youth. It is often assumed that this normative type of family is an independent, self-sufficient unit adequate for raising children. But half of all households in the United States with young children have two employed parents. How do working parents provide care and mobilize the help that they need? In Not-So-Nuclear Families: Class, Gender, and Networks of Care, Karen V. Hansen investigates the lives of working parents and the informal networks they construct to help care for their children. She chronicles the conflicts, hardships, and triumphs of four families of various social classes. Each must navigate the ideology that mandates that parents, mothers in particular, rear their own children, in the face of an economic reality that requires that parents rely on the help of others. In vivid family stories, parents detail how they and their networks of friends, paid caregivers, and extended kin collectively close the "care gap" for their school-aged children. Hansen not only debunks the myth that families in the United States are independent, isolated, and self-reliant units, she breaks new theoretical ground by asserting that informal networks of care can potentially provide unique and valuable bonds that nuclear families cannot
At the Heart of Work and Family : Engaging the Ideas of Arlie Hochschild
( )
1 edition published in
2011
in
English
and held by 10 WorldCat member libraries worldwide
At the Heart of Work and Family presents original research on work and family by scholars who engage and build on the conceptual framework developed by well-known sociologist Arlie Russell Hochschild. These concepts, such as "the second shift," "the economy of gratitude," "emotion work," "feeling rules," "gender strategies," and "the time bind," are basic to sociology and have shaped both popular discussions and academic study. The common thread in these essays covering the gender division of housework, childcare networks, families in the global economy, and children of consumers is the incorporation of emotion, feelings, and meaning into the study of working families. These examinations, like Hochschild's own work, connect micro-level interaction to larger social and economic forces and illustrate the continued relevance of linking economic relations to emotional ones for understanding contemporary work-family life
more
fewer
Audience Level
0

1
Kids
General
Special
Audience level: 0.10 (from 0.04 for A very soc ... to 0.96 for Final pape ...)
Related Identities
Associated Subjects
Agriculture
Berkeley/Oakland Women's Union
California--San Francisco Bay Area
Dakota Indians
Ethnic relations
Families
Family policy
Family violence
Feminism
Feminists
Gay parents
Gund, Agnes
Hochschild, Arlie Russell,
Indian allotments
Indians of North America--Land tenure
Interracial marriage
Manners and customs
New England
North Dakota
North Dakota--Fort Totten Indian Reservation
Norwegians
Parker, Bonnie,
Parks, Rosa,
Rosenberg, Ethel,
Rural women
Scandinavian Americans
Social classes
Socialism
Social networks
Social structure
Spirit Lake Tribe, North Dakota
Tuchman, Barbara W.--(Barbara Wertheim),
United States
University of California, Berkeley.--Department of Sociology
Walker, C. J.,--Madam,
Women
Women and socialism
Women in agriculture
Work and family
Working class
Working class--Social conditions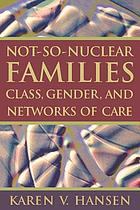 Covers
Languages