Simons, William E.
Most widely held works about William E Simons
Most widely held works by William E Simons
Soldiers for peace : critical operational issues
by
Bruce Pirnie
( Book )
5 editions published in
1996
in
English
and held by 207 WorldCat member libraries worldwide
As a power with global interests, the United States has a strong concern for successful peace operations. Seldom if ever will its interests be well served by failure, especially widely publicized and expensive failures that tend to discredit the United Nations. Intended to assist the analysis of peace operations, this report provides a checklist of critical issues that should be resolved when a new peace operation is proposed or an existing operation is under review. Asserting that peace operations are too complex and too highly variable to follow a tidy set of guidelines, it offers issues to be resolved rather than guidelines to be followed. The issues are presented as a checklist organized around six headings covering the subject of peace operations: (1) amenability of the conflict to peace operations; (2) consent of parties bearing responsibility for the conflict; (3) mandate approved by the Security Council; (4) configuration of the peace force; (5) physical environment surrounding the operation; and (6) extent of international support for the operation. One broad issue is posed under each heading as a starting point for inquiry, then is divided into further issues forming the checklist. Each critical issue assumes different dimensions according to the type of operation that is being contemplated or is in progress. The five types of operations and their subtypes are those defined and illustrated in the companion volume, Soldiers for Peace: An Operational Typology (MR-582-OSD): observation, interposition, transition, security for humanitarian aid, and peace enforcement. As in that volume, the issues are illustrated with examples from the Congo to Croatia
Soldiers for peace : an operational typology
by
Bruce Pirnie
( Book )
9 editions published in
1996
in
English
and held by 192 WorldCat member libraries worldwide
Despite increased interest in peace operations during recent years, their study remains a semantic morass, because there is no generally accepted classification of such operations for analysts and decisionmakers. Even fundamental concepts are frequently misunderstood or are interpreted in widely different ways. This confusion increases the danger that peace operations will become murky and ill-defined, as is often alleged by critics. The typology presented in this report defines five types of peace operations -- observation, interposition, transition, security for humanitarian aid, and peace enforcement -- from an operational perspective, drawing on the past five decades of experience, and offers vivid illustrations from the Congo to Croatia. It should help decisionmakers to understand the limitations of peace operations, to select the optimal type of operation for a given situation, and to evaluate success and failure
A framework for enhancing operational capabilities
by
Glenn A Kent
( Book )
6 editions published in
1991
in
English
and held by 116 WorldCat member libraries worldwide
This report suggests a straightforward approach for linking defense system acquisition programs with our national security objectives. It reflects two related defense planning issues: lack of clarity regarding the relative importance and relevance of the military capabilities we are trying to achieve, and excessive consumption of time, energy, and dollars in acquiring the systems to achieve these capabilities. To structure the Department of Defense effort to enhance operational capabilities, the authors propose a framework with five components: (1) assess abilities to achieve projected operational objectives, identify critical deficiencies, determine the importance of enhancing capabilities, assess opportunities to do so, and direct concept formulation; (2) formulate, define, evaluate, and demonstrate new concepts; (3) decide, allocate, and budget; (4) acquire systems; and (5) organize and equip force elements. The framework provides a clear audit trail from national objectives to military tasks; it also defines a coherent flow of functions among forums and identifies which official and which forum is responsible for taking action. -- Publisher's description
Sample campaign plans and staff assessments for NATO's Southern region
by
David A Shlapak
( Book )
7 editions published in
1989
in
English
and held by 88 WorldCat member libraries worldwide
This Note is the product of an intensive six-month effort by the RAND Strategy Assessment Center in support of the National Defense University's (NDU) spring 1988 Allied Forces Southern Europe seminar war game. This week-long exercise represented the capstone in the university's year-long program to introduce field-grade officers to the concepts and issues involved in joint and combined operations at the theater level. RAND provided game materials for both NDU students and faculty. The Note comprises the reference materials developed for the exercise, including (1) a summary of the geography of the Southern Region; (2) a sample staff assessment of the overall balance of forces in the area; (3) parallel assessments for each of the three land subtheaters (Northern Italy, the Balkans, and Eastern Turkey); (4) a sample NATO campaign plan; (5) a sample Warsaw Pact campaign plan for the Southwestern theater of military operations; and (6) a quantitative NATO-Warsaw Pact force balance summary for the Southern Region
NATO's interacting models of national mobilization
by
William E Simons
( Book )
8 editions published between
1971
and 1980 in
English
and held by 75 WorldCat member libraries worldwide
Alliance nations have found prohibitive the costs of manning their NATO forward defense positions fully and continually with active duty personnel. Accordingly, they have adopted various modes of mobilizing their national resources in time of crisis to bring their deployed forces in Europe up to effective wartime strength. Meeting the challenge of deterrence, however, means getting a proper combination of forces together and moving them to their forward positions in time to make a difference. This problem is particularly demanding with respect to NATO's central region. Here, unlike the flanks, a credible deterrent posture is the mutual responsibility of seven different nations within NATO's current military command structure. This paper examines the different processes by which these nations plan to mobilize their resources and move their reinforcements into position. It also identifies problems likely to be encountered in coordinating the simultaneous flow of these resources in the central region and suggests some areas where improvement can be made
Long-range development planning in the Air Force
by
Rand Corporation
( Book )
5 editions published between
1975
and 1976 in
English
and held by 74 WorldCat member libraries worldwide
Analyzes current planning procedures in both the Air Staff and Air Force Systems Command and suggests ways of applying these procedures more effectively to technology development so as to enable the Air Force to develop the capabilities that it will need. Based on data from (1) the literature on management theory, industrial planning, and modeling techniques, and (2) interviews with government and corporate executives and planning staffs, current Air Force planning practices are examined critically in relation to an analogue developed from our theoretical study and supplemented by observations of industrial practice. Recommended improvements include establishing a systematic strategic planning effort by creating a small corporate planning staff within the Chief of Staff's personal staff, to be charged with exploring goals and alternatives suitable for the uncertainties of the future, with particular concern for resource constraints. Also, long-range corporate preferences with respect to resource allocation should be integrated routinely into RDT & E program planning at all levels
more
fewer
Audience Level
0

1
Kids
General
Special
Audience level: 0.51 (from 0.34 for Scenarios, ... to 0.81 for Soldiers f ...)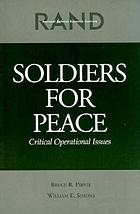 Covers
Alternative Names
Simons, W. E.

Simons, W. E. (William E.)

Languages