Hurtado, Aída
Most widely held works about Aída Hurtado
Most widely held works by Aída Hurtado
Beyond machismo : intersectional Latino masculinities
by
Aída Hurtado
( )
8 editions published in
2016
in
English
and held by 703 WorldCat member libraries worldwide
"Long considered a pervasive value of Latino cultures both south and north of the US border, machismo--a hypermasculinity that obliterates any other possible influences on men's attitudes and behavior--is still used to define Latino men and boys in the larger social narrative. Yet a closer look reveals young, educated Latino men who are going beyond machismo to a deeper understanding of women's experiences and a commitment to ending gender oppression. This new Latino manhood is the subject of Beyond Machismo. Applying and expanding the concept of intersectionality developed by Chicana feminists, Aída Hurtado and Mrinal Sinha explain how the influences of race, class, ethnicity, sexuality, and gender shape Latinos' views of manhood, masculinity, and gender issues in Latino communities and their acceptance or rejection of feminism. In particular, the authors show how encountering Chicana feminist writings in college, as well as witnessing the horrors of sexist oppression in the United States and Latin America, propels young Latino men to a feminist consciousness. By focusing on young, high-achieving Latinos, Beyond Machismo elucidates this social group's internal diversity, thereby providing a more nuanced understanding of the processes by which Latino men can overcome structural obstacles, form coalitions across lines of difference, and contribute to movements for social justice"--Publisher's description
The color of privilege : three blasphemies on race and feminism
by
Aída Hurtado
( Book )
8 editions published in
1996
in
English
and held by 658 WorldCat member libraries worldwide
This groundbreaking and important book explores how women of different ethnic/racial groups conceive of feminism. Arguing against the normative feminist model based on white women's experience, Aida Hurtado advances a theory of relational privilege to explain that the different responses to feminism are not so much the result of personality or cultural differences between white women and women of color, but of their differing relationship to white men. Written from an interdisciplinary, multicultural standpoint that draws from psychology, economics, political science, and feminist theory, Hurtado's analysis is enriched by selections from poems by Sandra Cisneros, Gloria Anzaldua, Lorna Dee Cervantes, and Elba Sanchez, and from plays by El Teatro Campesino, the United Farm Workers theater group
Borderlands : the new mestiza = La frontera
by
Gloria Anzaldúa
( Book )
2 editions published in
2012
in
English
and held by 584 WorldCat member libraries worldwide
"Rooted in Gloria Anzaldúa's experience as a Chicana, a lesbian, an activist, and a writer, the essays and poems in this volume profoundly challenged, and continue to challenge, how we think about identity. Borderlands / La Frontera remaps our understanding of what a "border" is, presenting it not as a simple divide between here and there, us and them, but as a psychic, social, and cultural terrain that we inhabit, and that inhabits all of us. This twenty-fifth anniversary edition features a new introduction by scholars Norma Cantu (University of Texas at San Antonio) and Aida Hurtado (University of California at Santa Cruz) as well as a revised critical bibliography."--Back cover
Voicing Chicana feminisms : young women speak out on sexuality and identity
by
Aída Hurtado
( Book )
7 editions published in
2003
in
English
and held by 482 WorldCat member libraries worldwide
Including ethnographic testimony based on questionnaires, in-depth interviews, and shadowing, Aida Hurtado allows Chicana women to speak in their own terms about how they see their femininity, sexuality, gender, ethnic/racial identity, and ties to other feminisms and political struggles
Invisible no more : understanding the disenfranchisement of Latino men and boys
by
Edward Fergus
( Book )
6 editions published between
2011
and 2013 in
English
and held by 293 WorldCat member libraries worldwide
"Latino men and boys in the United States are confronted with a wide variety of hardships that are not easily explained or understood. They are populating prisons, dropping out of high school, and are becoming overrepresented in the service industry at alarming degrees. Young Latino men, especially, have among the lowest wages earned in the country, a rapidly growing rate of HIV/AIDS, and one of the highest mortality rates due to homicide. Although there has been growing interest in the status of men in American society, there is a glaring lack of research and scholarly work available on Latino men and boys. This groundbreaking interdisciplinary volume, edited by renowned scholars Pedro Noguera, Aída Hurtado and Edward Fergus addresses the dearth of scholarship and information about Latino men and boys to further our understanding of the unique challenges and obstacles that they confront during this historical moment. The contributors represent a cross section of disciplines from health, criminal justice, education, literature, psychology, economics, labor, sociology and more. By drawing attention to the sweeping issues facing this segment of the population, this volume offers research and policy a set of principles and overarching guidelines for decreasing the invisibility and thus the disenfranchisement of Latino men and boys."--
Chicana/o identity in a changing U.S. society : quién soy? quiénes somos?
by
Aída Hurtado
( Book )
5 editions published in
2004
in
English
and held by 219 WorldCat member libraries worldwide
Examines the development of the Chicano communities in the United States, identifies the relationship between individual ethnic groups, discusses the influence on American culture, and covers issues such as immigration and intermarriage
Chicana feminisms : a critical reader
by
Gabriela F Arredondo
( )
4 editions published between
2003
and 2009 in
English
and held by 148 WorldCat member libraries worldwide
<DIV>An anthology of original essays from Chicana feminists which explores the complexities of life experiences of the Chicanas, such as class, generation, sexual orientation, age, language use, etc.</div>
MeXicana fashions : politics, self-adornment, and identity construction
( Book )
3 editions published in
2020
in
English
and held by 131 WorldCat member libraries worldwide
"Collecting the perspectives of scholars who reflect on their own relationships to particular garments, analyze the politics of dress, and examine the role of consumerism and entrepreneurialism in the production of creating and selling a style, meXicana Fashions examines and searches for meaning in these visible, performative aspects of identity. Focusing primarily on Chicanas but also considering trends connected to other Latin American communities, the authors highlight specific constituencies that are defined by region ("Tejana style," "L.A. style"), age group ("homie," "chola"), and social class (marked by haute couture labels such as Carolina Herrera and Oscar de la Renta). The essays acknowledge the complex layers of these styles, which are not mutually exclusive but instead reflect a range of intersections in occupation, origin, personality, sexuality, and fads. Other elements include urban indigenous fashion shows, the shifting quinceañera market, "walking altars" on the Days of the Dead, plus-size clothing, huipiles in the workplace, and dressing in drag. Together, these chapters illuminate the full array of messages woven into a vibrant social fabric." --
Intersectional Chicana feminisms : sitios y lenguas
by
Aída Hurtado
( Book )
3 editions published in
2020
in
English
and held by 53 WorldCat member libraries worldwide
"This manuscript introduces the reader to Chicana feminisms as a field of study. The focus is on providing an overview to prepare the reader to pursue more specific areas and authors within Chicana feminisms. It provides an overview of the field of Chicana feminisms, tracing the historical origins of Chicanas' efforts to bring attention to the effects of gender in Chicana and Chicano studies; highlights the innovative and pathbreaking methodologies developed within the field of Chicana feminisms, such as testimonio, conocimiento, and auto-historia; explores Chicana art and activism; and looks to the future of Chicana feminisms by discussing the newest developments in the field. As is customary in the Mexican American Experience series, there will be additional suggested readings and exercises at the end of each chapter"
more
fewer
Audience Level
0

1
Kids
General
Special
Audience level: 0.38 (from 0.25 for Sitios y l ... to 0.99 for News from ...)
Related Identities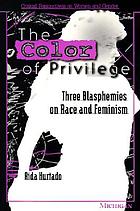 Covers
Languages