Blanchflower, David G.
Most widely held works about David G Blanchflower
Most widely held works by David G Blanchflower
The wage curve
by
David G Blanchflower
( Book )
41 editions published between
1989
and 2006 in
English
and
Undetermined
and held by 741 WorldCat member libraries worldwide
The Wage Curve casts doubt on some of the most important ideas in macroeconomics, labor economics, and regional economics. According to macroeconomic orthodoxy, there is a relationship between unemployment and the rate of change of wages. According to orthodoxy in labor economics and regional economics an area's wage is positively related to the amount of joblessness in the area. The Wage Curve suggests that both these beliefs are incorrect. Blanchflower and Oswald argue that the stable relationship is a downward-sloping convex curve linking local unemployment and the level of pay. Their study, one of the most intensive in the history of social science, is based on random samples that provide computerized information on nearly four million people from sixteen countries. Throughout, the authors systematically present evidence and possible explanations for their empirical law of economics
Not working : where have all the good jobs gone?
by
David G Blanchflower
( Book )
16 editions published between
2019
and 2021 in
English
and
Undetermined
and held by 647 WorldCat member libraries worldwide
Don't trust low unemployment numbers as proof that the labor market is doing fine - it isn't. Not Working is about those who can't find full-time work at a decent wage - the underemployed - and how their plight is contributing to widespread despair, a worsening drug epidemic, and the unchecked rise of right-wing populism. In this revelatory and outspoken book, David Blanchflower draws on his acclaimed work in the economics of labor and well-being to explain why today's postrecession economy is vastly different from what came before. He calls out our leaders and policymakers for failing to see the Great Recession coming, and for their continued failure to address one of the most unacknowledged social catastrophes of our time. Blanchflower shows how many workers are underemployed or have simply given up trying to find a well-paying job, how wage growth has not returned to prerecession levels despite rosy employment indicators, and how general prosperity has not returned since the crash of 2008. Standard economic measures are often blind to these forgotten workers, which is why Blanchflower practices the "economics of walking about "--Seeing for himself how ordinary people are faring under the recovery, and taking seriously what they say and do. Not Working is his candid report on how the young and the less skilled are among the worst casualties of underemployment, how immigrants are taking the blame, and how the epidemic of unhappiness and self-destruction will continue to spread unless we deal with it
The legacy of communist labor relations
by
David G Blanchflower
( )
19 editions published between
1993
and 1994 in
English
and held by 139 WorldCat member libraries worldwide
This paper contrasts International Social Science Programme (ISSP) surveys for Hungary, supplemented with related survey data for East Germany, Poland, and Slovenia, with ISSP data for Western countries, to examine the extent to which workers in traditionally communist societies differ in their attitudes toward work conditions, wage inequality, the role of unions and the role of the state in determining labor market outcomes. We find sufficiently marked differences in responses between Hungary and the other previously communist countries and in Western countries to suggest that communism left an identifiable common legacy in the labor area. The citizens of former communist countries evince a greater desire for egalitarianism, are less satisfied with their jobs, and are more supportive of state interventions in the job market and economy than Westerners. These differences suggest that the move to a market economy will be marked by considerable 'social schizophrenia' due to an attitudinal legacy of their communist past
Discrimination in the small business credit market
by
David G Blanchflower
( )
16 editions published between
1993
and 1998 in
English
and held by 138 WorldCat member libraries worldwide
This paper uses data from the 1993 National Survey of Small Business Finances to determine the extent to which minority-owned small businesses face constraints in the credit market beyond those faced by white-owned small businesses. First, we present qualitative evidence indicating that black- and white-owned firms report similar concerns about the factors that may affect their businesses except that blacks are far more likely to report problems with credit availability. Second, we conduct an econometric analysis of loan denial probabilities by race and find that black-owned small businesses are almost three times more likely to have a loan application denied. Even after controlling for the differences in credit-worthiness and other factors that exist between black- and white-owned firms, blacks are still about twice as likely to be denied credit. A series of specification checks indicates that this gap is unlikely to be largely attributed to omitted variable bias. Third, we conduct a similar analysis regarding interest rates charged to approved loans and find black-owned firms pay higher interest rates as well. Finally, even these results are likely to understate differences in credit access because many potential black-owned firms are not in operation due to the lack of credit and those in business may be too afraid to apply. These results indicate that the racial disparity in credit availability is likely caused by discrimination
Changes over time in union relative wage effects in Great Britain and the United States
by
David G Blanchflower
( )
19 editions published in
1997
in
English
and held by 138 WorldCat member libraries worldwide
This paper uses broadly comparable micro data at the level of the individual to examine the extent to which union relative wage effects vary across groups and through time. The main findings may be summarized as follows. a) The union wage gap averages 15% in the US and 10% in Great Britain. b) The gap is positively correlated with the (lagged) unemployment rate, and appears to be untrended in both countries. Union wages are sticky. c) The size of the wage gap varies across groups. In both the US and Great Britain the differential is relatively high in the private sector, in non-manufacturing, for manuals, the young and the least educated. d) In the US there are no differences by race or gender in the size of the differential. In Great Britain it is higher both for women and non-whites. The fact that the differential has remained more or less constant in both Great Britain and the US is a puzzle, particularly given the rapid declines in union membership in both countries. The evidence does not appear to be consistent with the widely held view that union power has been emasculated
The rising well-being of the young
by
David G Blanchflower
( )
20 editions published between
1997
and 1998 in
English
and held by 135 WorldCat member libraries worldwide
Many observers believe that times are growing harder for young people in Western society. This paper looks at the evidence and finds that conventional wisdom appears to be wrong. Using the U.S. General Social Surveys and the Eurobarometer Surveys, the paper studies the reported happiness and life-satisfaction scores of random samples of young men and women. " The data cover the USA and thirteen European countries. Our main finding is that from the 1970s to the 1990s the well-being of the young increased quite markedly. A number of possible explanations are considered
Estimating a wage curve for Britain 1973-1990
by
David G Blanchflower
( )
16 editions published between
1994
and 1995 in
English
and held by 124 WorldCat member libraries worldwide
Following Phillip's original work on the UK, applied research on unemployment and wages has been dominated by the analysis of highly aggregated time-series data sets. However, it has proved difficult with such methods to uncover statistically reliable models. This paper adopts a different approach. It uses microeconomic data on 175,000 British workers from 1973-1990 to provide evidence for the existence of a negatively sloped relationship linking the level of pay to the local rate of unemployment. This 'wage curve' is found to have an elasticity of approximately -0.1. Contrary to the Phillips Curve, no autoregression is found in wages. The paper casts doubt on standard ideas in macroeconomics, regional economics and labour economics
Self-employment in OECD countries
by
David G Blanchflower
( )
16 editions published between
1999
and 2000 in
English
and
Undetermined
and held by 123 WorldCat member libraries worldwide
This paper describes measurement of a self-employment rate and the important role the agricultural sector plays in any analysis of the determinants of self-employment. The determinants of the self-employment rate are modeled using a panel of 23 countries for the period 1966-1996. A similar analysis is then performed at the level of the individual using a time-series of cross-sections for the period 1975-1996 for 19 countries. For most countries there is a negative relationship between the self-employment rate and the unemployment rate. It is also shown that the self-employed are more satisfied with their jobs than are individuals who are not their own boss. I developed a flexibility index based on information provided by individuals in 1995. According to this index, the U.S. economy was the most flexible, followed by Canada, Germany and the Netherlands. Latvia, Russia and Hungary were found to be the least flexible countries. Of the OECD countries examined, Austria and Ireland were ranked lowest
more
fewer
Audience Level
0

1
Kids
General
Special
Audience level: 0.40 (from 0.05 for Not workin ... to 0.73 for Bank of En ...)
Related Identities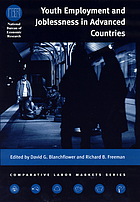 Covers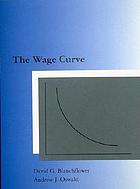 Alternative Names
Blanchflower, D.

Blanchflower, D. 1952-

Blanchflower, D. G. (David G.)

Blanchflower, Danny 1952-

Blanchflower David

Blanchflower, David 1952-

Blanchflower, David G.

Blanchflower David Graham

Blanchflower, David Graham 1952-

David Blanchflower British economist

David Blanchflower Brits econoom

David Blanchflower economista britànic

David Blanchflower economista británico

David Blanchflower economista británicu

David Blanchflower economista britannico

David Blanchflower économiste britannique

David Blanchflower ekonomist britanik

Graham Blanchflower, David 1952-

Бленчфлауэр, Дэвид

Languages