Williams, Christine L. 1959-
Most widely held works by Christine L Williams
Still a man's world : men who do "women's work"
by
Christine L Williams
( )
13 editions published between
1995
and 2004 in
English
and held by 2,298 WorldCat member libraries worldwide
"Men who do 'women's work' have consistently been the butt of jokes, derided for their lack of drive and masculinity. In this eye-opening study, Christine Williams provides a wholly new look at men who work in predominantly female jobs. Having conducted extensive interviews in four cities, Williams uncovers how men in four occupations--nursing, elementary school teaching, librarianship, and social work--think about themselves and experience their work. Contrary to popular imagery, men in traditionally female occupations do not define themselves differently from men in more traditional occupations. Williams finds that most embrace conventional, masculine values. Her findings about how these men fare in their jobs are also counterintuitive. Rather than being surpassed by the larger number of women around them, these men experience the 'glass escalator effect,' rising in disproportionate numbers to administrative jobs at the top of their professions. Williams finds that a complex interplay between gendered expectations embedded in organizations, and the socially determined ideas workers bring to their jobs, contribute to mens' advantages in these occupations. Using a feminist psychoanalytic perspective, Williams calls for more men not only to cross over to women's occupations, but also to develop alternative masculinities that find common ground with traditionally female norms of cooperation and caring. Until the workplace is sexually integrated and masculine and feminine norms equally valued, it will unfortunately remain 'still a man's world.'"--Résumé de l'éditeur
Gender and sexuality in the workplace
by
Christine L Williams
( )
13 editions published in
2010
in
English
and held by 1,434 WorldCat member libraries worldwide
This volume features sociological research and theory on gender and sexuality in the workplace, and identifies how organizations can achieve a gender-balanced and sexually-diverse work force. While identifying characteristics of work organizations that have made important strides to achieving equality in the workplace, articles also detail how women and sexual minorities continue to face discrimination, harassment, and exclusion. Special attention is paid to how race and class shape the experience of discrimination for these groups. Topics discussed are wide-ranging and include: gender discrimination and the wage gap; sexual minorities (LGBT workers); homophobic and 'gay friendly' workplaces; sexual harassment; sex in the workplace; sex work and sex workers; gender equity policies; transgender workers; men and women in non-traditional jobs; occupational gender segregation; and, gender difference in work hours. "The Research in the Sociology of Work" series is proud to publish the works of new and established scholars on these important topics, including both quantitative and qualitative studies, as well as review essays that set the agenda for future sociological analysis
Inside toyland : working, shopping, and social inequality
by
Christine L Williams
( )
2 editions published in
2006
in
English
and held by 1,375 WorldCat member libraries worldwide
"I got my first job working in a toy store when I was 41 years old." So begins sociologist Christine Williams's description of her stint as a low-wage worker at two national toy store chains: one upscale shop and one big box outlet. In this provocative, perceptive, and lively book, studded with rich observations from the shop floor, Williams chronicles her experiences as a cashier, salesperson, and stocker and provides broad-ranging, often startling, insights into the social impact of shopping for toys. Taking a new look at what selling and buying for kids are all about, she illuminates the politics of how we shop, exposes the realities of low-wage retail work, and discovers how class, race, and gender manifest and reproduce themselves in our shopping-mall culture. Despite their differences, Williams finds that both toy stores perpetuate social inequality in a variety of ways. She observes that workers are often assigned to different tasks and functions on the basis of gender and race; that racial dynamics between black staff and white customers can play out in complex and intense ways; that unions can't protect workers from harassment from supervisors or demeaning customers even in the upscale toy store. And she discovers how lessons that adults teach to children about shopping can legitimize economic and social hierarchies. In the end, however, Inside Toyland is not an anticonsumer diatribe. Williams discusses specific changes in labor law and in the organization of the retail industry that can better promote social justice
Doing "women's work" : men in nontraditional occupations
by
Christine Williams
( Book )
9 editions published between
1993
and 1994 in
English
and
Undetermined
and held by 909 WorldCat member libraries worldwide
This book summarizes the state of our knowledge on the effects of men in women's professions - effects on the men, on their views of masculinity, on the occupations and on the women they work with. Do men get preferential treatment in these positions? Do they receive higher salaries? Or are they treated the same as their women colleagues? Through a series of statistical and demographic analyses, as well as case studies of men in professions such as teaching, secretarial work, care-giving and stripping, the contributors give a glimpse of the role of these men in bolstering or undermining the ge
Feminist views of the social sciences
( Book )
6 editions published in
2000
in
English
and held by 382 WorldCat member libraries worldwide
Overview: Among the many achievements of the feminist movement of the 1970s was the unprecedented influx of women into academia. Over the last 25 years, women have entered the social sciences in huge numbers - bringing with them new perspectives and new insights into the social world. This special issue of The Annals reflects on this multivocal, richly textured, and dynamic revolution. From anthropology to psychology to geography to criminology and more, leading feminists reflect on the most significant contributions of feminist activism and feminist research to their fields. Two main themes run through this volume: the relationship between feminist scholarship and feminist activism, and the enduring controversies and future direction of feminist social science. The contributions run the gamut from the impact of feminism on specific social science disciplines such as family studies, archaeology, political science, and media studies to the influence of feminist thought on specific topics such as federally funded social science, migration, media practices, and sexuality. The main conclusion of this volume is that, "where reigning paradigms are strong and the accepted methodologies are limited, feminist perspectives tend to be marginalized. On the other hand, fields that are theoretically eclectic and interdisciplinary appear to be the most welcoming to feminist influence."
Sexuality and gender
by
Christie Williams
( Book )
1 edition published in
2002
in
English
and held by 282 WorldCat member libraries worldwide
Therapeutic interaction in nursing
by
Christine L Williams
( Book )
8 editions published between
2004
and 2008 in
English
and held by 14 WorldCat member libraries worldwide
"Nurses communicate with a diverse client group in their everyday practice. Each day is fraught with communication challenges from a patient, a family member, a colleague, or a supervisor. Excellence in nursing care requires the ability to instantly respond to an emotion-charged moment with a therapeutic use of one's self, by way of effective verbal and nonverbal communication. Therapeutic Interaction in Nursing provides an advanced theoretical explanation of therapeutic communication for the nurse and nursing student when encountering problematic situations." "This multifaceted text not only provides the skill development required to communicate therapeutically in these difficult situations, it offers communication strategies and self-awareness exercises that will assist in the inner growth necessary to develop effective outer behavior. Applying fundamental concepts from the best seller Patient Practitioner Interaction, Therapeutic Interaction in Nursing is an important text for the nursing field."--Jacket
Women marines and male nurses : the social construction and maintenance of gender
by
Christine L Williams
( )
5 editions published in
1986
in
English
and held by 10 WorldCat member libraries worldwide
This study examines the social, cultural, and psychological factors involved in the construction and maintenance of gender for men and women in two non-traditional occupations: women in the United States Marine Corps and men in the nursing profession. Using in-depth interview, survey, and archival data, I discuss the roles played by laws and discriminatory policies, institutionalized practices, informal practices, and the individuals themselves in constituting femininity in the Marine Corps and masculinity in nursing. This study demonstrates how formidable and pervasive the social and psychological mechanisms are which maintain gender: gender differentiation persists in spite of occupational integration. I then examine these various mechanisms which maintain gender in the light of four theories of gender. Theories of male dominance, structural functionalism, symbolic interactionism, and psychoanalytic theory each contribute to understanding how and why gender is socially constituted and reproduced in these two occupations. I conclude that gender can best be conceptualized as an institutionalized ideology. Gender means different things to men and women due to their earliest psychological identifications as children. Because men are in positions of power, their definition and evaluation of the significance of gender is the one that is institutionalized in policy and practices
more
fewer
Audience Level
0

1
Kids
General
Special
Audience level: 0.12 (from 0.03 for Gender and ... to 0.99 for Inside toy ...)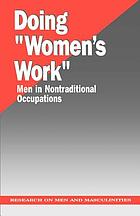 Covers
Alternative Names
Williams, Christine

Williams, Christine L.

Languages