Coyle, Karen
Most widely held works about Karen Coyle
Most widely held works by Karen Coyle
Coyle's information highway handbook : a practical file on the new information order
by
Karen Coyle
( )
13 editions published in
1997
in
English
and held by 1,854 WorldCat member libraries worldwide
This book provides a selection of documentary background information on areas of the Information Highway debate that are particularly relevant to libraries. The book is designed for librarians who are online but have little time to explore the general areas of information policy, and for those not yet connected to the Internet who need to understand its implications. The documents represent the library viewpoint and include both key Federal documents that have formed the core of the Internet discussion and the viewpoints of concerned groups. Documents are organized by theme in seven sections: The New Information Society; The Promise of the Information Highway; Stakeholders and the Information Marketplace; Copyright in the Digital Age; Privacy and Intellectual Freedom in the Digital Age; Censors Take on the Net; and Accessing the Digital Universe. Contributions are included from the U.S. Department of Commerce; American Library Association; Computer Professionals for Social Responsibility; Progress and Freedom Foundation; Hal R. Varian; Francis Miksa; Karen Coyle; National Writers Union; Philip R. Zimmermann; Privacy Rights Clearinghouse; Voters Telecommunications Watch; Benton Foundation; and Center for Information Revolution Analyses-RAND. Contains a list of organizations and their addresses, and a subject index. (Swc)
Linked data tools : connecting on the Web
by
Karen Coyle
( )
16 editions published between
2010
and 2013 in
English
and held by 1,520 WorldCat member libraries worldwide
"This issue of Library Technology Reports presents an overview of current developments in Semantic Web technology that provide the foundations for making library data accessible on the Semantic Web. Author Karen Coyle introduces basic Semantic Web concepts and then describes the metadata activites and developer tools that are being used to create Semantic Web applications. She points readers to projects within and beyond the library community that are a source of metadata elements and controlled vocabularies. for software developers, she describes available software tools in the nascent world of linked data the Semantic Web."--Publisher's website
FRBR, before and after : a look at our bibliographic models
by
Karen Coyle
( )
20 editions published between
2015
and 2016 in
English
and held by 923 WorldCat member libraries worldwide
"This book looks at the ways that we define the things of the bibliographic world, and in particular how our bibliographic models reflect our technology and the assumed goals of libraries. There is, of course, a history behind this, as well as a present and a future. The first part of the book begins by looking at the concept of the 'work' in library cataloging theory, and how that concept has evolved since the mid-nineteenth century to date. Next it talks about models and technology, two areas that need to be understood before taking a long look at where we are today. It then examines the new bibliographic model called Functional Requirements for Bibliographic Records (FRBR) and the technical and social goals that the FRBR Study Group was tasked to address. The FRBR entities are analyzed in some detail. Finally, FRBR as an entity-relation model is compared to a small set of Semantic Web vocabularies that can be seen as variants of the multi-entity bibliographic model that FRBR introduced"--
Understanding the Semantic Web : bibliographic data and metadata
by
Karen Coyle
( Book )
6 editions published in
2010
in
English
and held by 157 WorldCat member libraries worldwide
"If there is one constant, it is that throughout these nearly two centuries, the modern library has continually transformed itself in an effort to respond to the needs of its contemporary user. Today, we face another significant time of change that is being prompted by today's library user. This user no longer visits the physical library as his primary source of information, but seeks and creates information while connected to the global computer network. The change that libraries will need to make in response must include the transformation of the library's public catalog from a stand-alone database of bibliographic records to a highly hyperlinked data set that can interact with information resources on the World Wide Web. The library data can then be integrated into the virtual working spaces of the users served by the library. If all of this sounds otherworldly and vague, it is because there is no specific vision of where these changes will lead us. The crystal ball is unfortunately shortsighted, in no small part because this is a time of rapid change in many aspects of the information ecology. The few things that are certain, however, point to the Web, and its eventual successors, as the place to be. For libraries, this means yet another evolutionary step in the library of our catalog: from metadata to metaDATA."--Publisher's website
Cataloging : new perspectives
( Visual )
1 edition published in
2011
in
English
and held by 22 WorldCat member libraries worldwide
The continuously growing number of materials, especially electronic resources born into a digital environment, has led to a re-examination of cataloging practices and suggestions for new methods. The new cataloging code, Resource Description and Access (RDA) has been finalized, tested, and is now available as an online service. There is also new attention, even from outside the library world, on the possibilities of library data becoming part of the Semantic Web. In this follow up to last season's program, Karen Coyle and Christopher Cronin provide an update on the developments influencing the direction of cataloging practices. This program details considerations and strategies for the effective sharing of library data, and offers new perspectives to embrace changes that will define the library community's place in the global information environment
Cataloging : where are we now? where are we going?
( Visual )
1 edition published in
2010
in
English
and held by 18 WorldCat member libraries worldwide
Librarians are justly proud of their accomplishments in organizing the world's published information through the use of standard subject headings and the ubiquitous, demanding MARC record. But, with the explosion of more information stored electronically, are our old standards still relevant today? Has keyword trumped the subject heading? Librarians also see their roles changing as more information description and metadata production are handled by other professionals. Will online tagging or vendor descriptions diminish the need for librarians? Questions are rife on what exactly are the thrust of RDA and the new AACR2?
more
fewer
Audience Level
0

1
General
Special
Audience level: 0.00 (from 0.00 for Coyle's in ... to 0.00 for Coyle's in ...)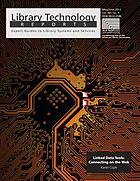 Covers
Alternative Names
coyle karen

k coyle

karen coyle

Karen Coyle American librarian (1949-)

Karen Coyle Amerikaans bibliothecaresse

Karen Coyle bibliotecaria

Karen Coyle bibliotecaria estauxunidense

Karen Coyle bibliotecaria statunitense (1949-)

Karen Coyle Bibliothekarin

Languages