Kehoe, Patrick J.
Overview
| | |
| --- | --- |
| Works: | 266 works in 1,038 publications in 1 language and 5,634 library holdings |
| Roles: | Author, Editor, Honoree, htt |
| Classifications: | HB1, 330 |
Most widely held works by Patrick J Kehoe
Modeling North American economic integration
by
Patrick J Kehoe
( Book )
13 editions published between
1995
and 1996 in
English
and
Undetermined
and held by 208 WorldCat member libraries worldwide
Modeling North American Economic Integration presents descriptions of the models and the central results obtained by four teams of economic modelers who analyze the impact of the North American Free Trade Agreement (NAFTA) on the economies of Canada, Mexico and the USA. Preliminary versions of these four modeling efforts were presented at a conference with the same title as the book, held in March 1991 at the Federal Reserve Bank of Minneapolis and sponsored by El Colegio de Mexico and the Institute for Empirical Macroeconomics. The book also includes a Foreword by Jaime Serra-Puche, the former Secretary of Trade and Industrial Development in Mexico and that country's chief negotiator of NAFTA, plus two essays by the editors. The first provides an overview and discussion of the results obtained by the modeling groups, and the second provides a critical survey of the sort of applied general equilibrium model employed by these groups. A final chapter discusses the results of the models in relation to the 1994-95 financial crisis in Mexico
Business cycle accounting
by
V. V Chari
( Book )
26 editions published between
2003
and 2006 in
English
and held by 146 WorldCat member libraries worldwide
We propose and demonstrate a simple method for guiding researchers in developing quantitative models of economic fluctuations. We show that a large class of models are equivalent to a prototype growth model with time-varying wedges that resemble time-varying productivity, labor taxes, and capital income taxes. We use data to measure these wedges, called efficiency, labor, and investment wedges, and then feed their measured values back into the model. We assess the fraction of fluctuations in output, employment, and investment accounted for by these wedges during the Great Depression and the 1982 recession. For the Depression, the efficiency and labor wedges together account for essentially all of the fluctuations; investment wedges play no role. For the recession, the efficiency wedge plays the most important role; the other two, minor roles. These results are not sensitive to alternative measures of capital utilization or alternative labor supply elasticities
Can sticky price models generate volatile and persistent real exchange rates?
by
V. V Chari
( Book )
21 editions published between
2000
and 2002 in
English
and held by 143 WorldCat member libraries worldwide
The central puzzle in international business cycles is that real exchange rates are volatile and persistent. The most popular story for real exchange rate fluctuations is that they are generated by monetary shocks interacting with sticky goods prices. We quantify this story and find that it can account for some of the observed properties of real exchange rates. When prices are held fixed for at least one year, risk aversion is high and preferences are separable in leisure, the model generates real exchange rates that are as volatile as in the data. The model also generates real exchange rates that are persistent, but less so than in the data. If monetary shocks are correlated across countries, then the comovements in aggregates across countries are broadly consistent with those in the data. Making asset markets incomplete or introducing sticky wages does not measurably change the results
Sticky price models of the business cycle : can the contract multiplier solve the persistence problem?
by
V. V Chari
( Book )
27 editions published between
1996
and 1998 in
English
and held by 137 WorldCat member libraries worldwide
The purpose of this paper is to construct a quantitative equilibrium model with price setting and use it to ask whether staggered price setting can generate persistent output fluctuations following monetary shocks. We construct a business cycle version of a standard sticky price model in which imperfectly competitive firms set nominal prices in a staggered fashion. We assume that prices are exogenously sticky for a short period of time. Persistent output fluctuations require endogenous price stickiness in the sense that firms choose not to change prices very much when they can do so. We find the amount of endogenous stickiness to be small. As a result, we find that such a model cannot generate persistent movements in output following monetary shocks
Optimal fiscal and monetary policy
by
V. V Chari
( Book )
23 editions published between
1998
and 1999 in
English
and held by 135 WorldCat member libraries worldwide
We provide an introduction to optimal fiscal and monetary policy using the primal approach to optimal taxation. We use this approach to address how fiscal and monetary policy should be set over the long run and over the business cycle. We find four substantive lessons for policymaking: Capital income taxes should be high initially and then roughly zero; tax rates on labor and consumption should be roughly constant; state-contingent taxes on assets should be used to provide insurance against adverse shocks; and monetary policy should be conducted so as to keep nominal interest rates close to zero. We begin optimal taxation in a static context. We then develop a general framework to analyze optimal fiscal policy. Finally, we analyze optimal monetary policy in three commonly used models of money: a cash-credit economy, a money-in-the-utility-function economy
The optimal degree of discretion in monetary policy
by
Susan Athey
( Book )
25 editions published between
2002
and 2004 in
English
and held by 132 WorldCat member libraries worldwide
How much discretion should the monetary authority have in setting its policy? This question is analyzed in an economy with an agreed-upon social welfare function that depends on the randomly fluctuating state of the economy. The monetary authority has private information about that state. In the model, well-designed rules trade off society's desire to give the monetary authority discretion to react to its private information against society's need to guard against the time inconsistency problem arising from the temptation to stimulate the economy with unexpected inflation. Although this dynamic mechanism design problem seems complex, society can implement the optimal policy simply by legislating an inflation cap that specifies the highest allowable inflation rate. The more severe the time inconsistency problem, the more tightly the cap constrains policy and the smaller is the degree of discretion. As this problem becomes sufficiently severe, the optimal degree of discretion is none
Competitive equilibria with limited enforcement
by
Patrick J Kehoe
( Book )
19 editions published between
2002
and 2003 in
English
and held by 130 WorldCat member libraries worldwide
This study demonstrates how constrained efficient allocations can arise endogenously as equilibria in an economy with a limited ability to enforce contracts and with private agents behaving competitively, taking a set of taxes as given. The taxes in this economy limit risk-sharing and arise in an equilibrium of a dynamic game between governments of sovereign nations. The equilibrium allocations depend on governments choosing to tax both the repayment of international debt and the income from capital investment in their countries
The advantage of transparent instruments of monetary policy
by
Andrew Atkeson
( )
17 editions published in
2001
in
English
and held by 129 WorldCat member libraries worldwide
Monetary policy instruments differ in their tightness-how closely they are linked to inflation-and their transparency-how easily the public can monitor them. Tightness is always desirable in a monetary policy instrument. When is transparency desirable? We show it is desirable when a government cannot commit to follow a given monetary policy. We apply our argument to a classic question in international economics: Is the exchange rate or the money growth rate the better instrument of monetary policy? We show that if the two instruments are equally tight and a government cannot commit to a policy, then the greater transparency of the exchange rate gives it an advantage as a monetary policy instrument.--Federal Reserve Bank of Minneapolis web site
Money and interest rates with endogeneously segmented markets
by
Fernando Alvarez
( Book )
16 editions published in
1999
in
English
and held by 126 WorldCat member libraries worldwide
This paper analyses the effects of open market operations on interest rates in a model in which agents must pay a fixed cost to exchange assets and cash. Asset markets are endogenously segmented in that some agents choose to pay the fixed cost and some do not. When the fixed cost is zero, the model reduces to the standard one in which persistent money injections increase interest rates, flatten the yield curve, and lead to a downward-sloping yield curve on average. In contrast sufficiently segmented, then persistent money injections decrease nominal interest rates, steepen or even twist the yield curve, and lead to an upward-sloping yield curve on average
Money, interest rates, and exchange rates with endogenously segmented asset markets
by
Fernando Alvarez
( Book )
18 editions published in
2000
in
English
and held by 124 WorldCat member libraries worldwide
This paper analyzes the effects of money injections on interest rates and exchange rates in a model in which agents must pay a Baumol-Tobin style fixed cost to exchange bonds and money. Asset markets are endogenously segmented because this fixed cost leads agents to trade bonds and money only infrequently. When the government injects money through an open market operation, only those agents that are currently trading absorb these injections. Through their impact on these agents' consumption, these money injections affect real interest rates and real exchange rates. We show that the model generates the observed negative relation between expected inflation and real interest rates. With moderate amounts of segmentation, the model also generates other observed features of the data: persistent liquidity effects in interest rates and volatile and persistent exchange rates. A standard model with no fixed costs can produce none of these features
more
fewer
Audience Level
0

1
Kids
General
Special
Audience level: 0.69 (from 0.66 for Dynamics o ... to 0.71 for The optima ...)
Related Identities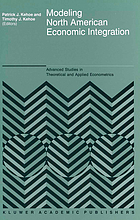 Covers
Alternative Names
Kehoe, P. J.

Kehoe, Patrick

Kehoe, Patrick James

Patrick J. Kehoe econoom

Languages