Morgan, Iwan W.
Most widely held works by Iwan W Morgan
Deficit government : taxing and spending in modern America
by
Iwan W Morgan
( Book )
8 editions published in
1995
in
English
and held by 561 WorldCat member libraries worldwide
Since the advent of the New Deal, unbalanced budgets have become an almost permanent feature of American government - enlightened economic policy to some, a scourge to others. In Deficit Government, Iwan Morgan makes understandable the main trends of budget policy from the Roosevelt to the Clinton presidencies, and surveys the political and partisan debates surrounding the budget during those years. Focusing on federal expenditure and tax policies, Mr. Morgan explains why budget deficits have become the norm in modern American history, what impact they have had on the economy, and why the size of the deficit has grown so vast in recent years. He evaluates the budget as an instrument of economic management: FDR's hesitant acceptance of new Keynesian doctrines; efforts by Truman and Eisenhower to reconcile traditional budget-balancing with the modern concerns of budget policy; the use of deficits by Democratic administrations to boost economic growth in the 1960s; the effects of stagflation on fiscal policy in the 1970s; and the emergence of conservative doctrines that culminated in the supply-side approaches of the Reagan era. Deficit Government also examines those federal programs that over time have been the main beneficiaries of the public purse, focusing particularly on the competing demands of national security, social welfare, and public investment. Mr. Morgan shows how the tax burden has evolved and considers whether principles of progressivity and equity have been maintained. He concludes by noting efforts made in the 1990s to control an alarmingly expanding budget and looks at prospects for deficit control as the century draws to a close. In all, readers who find their eyes glazing over at the thought of reading about budget policy will find Mr. Morgan's refreshing clarity a revelation
The age of deficits : presidents and unbalanced budgets from Jimmy Carter to George W. Bush
by
Iwan W Morgan
( Book )
7 editions published in
2009
in
English
and held by 501 WorldCat member libraries worldwide
This explores the role of presidents in the emergence of large deficits in the period from 1976 through 2008 and shows how they have all, with Bill Clinton's exception, subordinated balanced budgets to the achievements of other parts of their political agenda
Nixon
by
Iwan W Morgan
( Book )
5 editions published in
2002
in
English
and held by 318 WorldCat member libraries worldwide
"Richard Nixon left office in deep disgrace, his resignation the only escape from certain impeachment by Congress. Even before presidential cover-up over the Watergate break-in - the source of this obloquy - was a political issue, Nixon was cordially loathed and distrusted by liberal America. That distrust was justified, at least on certain matters, but we are now less credulous about probity in high office. We know that previous and subsequent presidents have not necessarily been sparing in their practice of lies and deceit." "Nixon himself was assiduous in taking advantage of changing perspectives to remodel his shattered image and portray himself as a great leader brought down by one mistake. While most historians resisted this revisionism during his lifetime, a growing number have called for his achievements to be reassessed since his death in 1994." "It is time to look again at the Nixon presidency and, without falling into the trap of apologia, try to discern how Nixon's reputation has evolved and how far it corresponds to his actions and their effects. Can we give credence to his self-promotion as 'world statesman'? Should we re-evaluate the domestic record of a president whose policies had more in common with those of his liberal predecessors than his conservative successors? These and other issues that contribute to a fresh understanding of the ways in which Richard Nixon's historical image has been fashioned are at the heart of this incisive new study."--Jacket
Reagan : American icon
by
Iwan W Morgan
( Book )
6 editions published in
2016
in
English
and held by 309 WorldCat member libraries worldwide
Ronald Reagan is one of the most important--and arguably most successful--presidents in modern American history. He is broadly credited with renewing American prosperity in the wake of the most miserable economic era since the 1930s, laying the foundations for Cold War victory and doing much to bring about the late twentieth century shift to the right in American politics. In this book, Iwan Morgan presents the first thoroughly-researched biography of Reagan, based on original materials and first-hand interviews. He plots a chronological path through Reagan's life beginning with his childhood and early years in Illinois, through his Hollywood career, his emergent Republicanism and his election as governor of California, before acceding to the presidency in 1981. In office, Morgan assesses Reagan's economic and foreign policies, as well as his idealization of the constitution and his near-impeachment over the Iran-Contra affair
America's century : perspectives on U.S. history since 1900
by
Iwan W Morgan
( Book )
6 editions published in
1993
in
English
and held by 277 WorldCat member libraries worldwide
A cohesive collection of twelve essays, the book brilliantly achieves its ambitious agenda: to present a comprehensive overview of the major issues shaping U.S. society and government during this century; to examine the impact of recurrent historical forces; to probe the major historiographical debates that have subjected important themes and personalities to revisionist and counter-revisionist interpretation; and to reflect a broad comparative perspective that takes into account the nation's uniqueness as well as its role as a member of the larger Atlantic community
Watergate remembered : the legacy for American politics
by
Michael A Genovese
( Book )
10 editions published in
2012
in
English
and held by 216 WorldCat member libraries worldwide
"The Watergate crisis continues to cast a long shadow over American politics. So many of the issues we confront today have their roots in the scandals of the Nixon administration. In this volume, a collection of essays by political scientists and historians from the United States and the United Kingdom, the contributors trace many of today's problems directly back to the Watergate crisis, and examine the legacy of Watergate for American politics today."--Publisher's description
Presidents in the movies : American history and politics on screen
by
Iwan W Morgan
( Book )
18 editions published in
2011
in
English
and held by 198 WorldCat member libraries worldwide
Transition: The Making of Screen Presidents - Ian Scott * D. W. Griffith's Lincoln - Melvyn Stokes * The 'Picture Man:' The Cinematic Strife of Theodore Roosevelt - Brian Neve * Darryl F. Zanuck's Wilson (1944) - Mark Wheeler * The "Confidence" President: Franklin D. Roosevelt in Film - Harry Keyishian * The Cinematic Kennedy: Thirteen Days and the Burnishing of an Image - Mark White * The President Impeached: Tennessee Johnson and Nixon - Iwan Morgan * Oliver Stone's Improbable 'W.' - Kingsley Marshall
more
fewer
Audience Level
0

1
Kids
General
Special
Audience level: 0.39 (from 0.06 for From sit-i ... to 0.64 for Assessing ...)
Associated Subjects
African Americans--Civil rights
America
American Civil War (1861-1865)
Budget
Budget deficits
Bush, George W.--(George Walker),
Civil rights demonstrations
Civil rights movements
College students--Political activity
Conservatism
Democratic Party (U.S.)
Depressions
Diplomatic relations
Economic history
Economic policy
Eisenhower, Dwight D.--(Dwight David),
Federal government
Finance, Public
Fiscal policy
Government spending policy
Influence (Literary, artistic, etc.)
International economic relations
International relations
Liberalism
Manners and customs
Motion pictures
Motion pictures and history
Motion pictures and television
Motion pictures--Political aspects
Nineteen thirties
Nixon, Richard M.--(Richard Milhous),
Political and social views
Political culture
Political parties
Political science
Politics and government
Population
Population--Economic aspects
Population policy
Presidents
Presidents in motion pictures
Public opinion
Québec
Race relations
Reagan, Ronald
Republican Party (U.S. : 1854- )
States' rights (American politics)
Student Nonviolent Coordinating Committee (U.S.)
United States
Watergate Affair (1972-1974)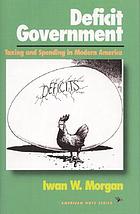 Alternative Names
Morgan, Iwan.

Morgan Iwan 1949-....

Morgan, Iwan W.

Languages
Covers