Sunstein, Cass R.
Overview
| | |
| --- | --- |
| Works: | 611 works in 1,829 publications in 6 languages and 66,984 library holdings |
| Genres: | History Conference papers and proceedings |
| Roles: | Author, Editor, Other, Author of introduction, wpr, Creator, Thesis advisor, Author of afterword, colophon, etc., Contributor |
| Classifications: | HB74.P8, 330.019 |
Most widely held works about Cass R Sunstein
more
fewer
Most widely held works by Cass R Sunstein
Legal reasoning and political conflict
by
Cass R Sunstein
( )
39 editions published between
1966
and 2018 in
English
and
Chinese
and held by 4,035 WorldCat member libraries worldwide
Sunstein offers a close analysis of the way the law can mediate disputes in a diverse society, examining how the law works in practical terms, and showing that, to arrive at workable, practical solutions, judges must avoid broad, abstract reasoning. Why? For one thing, critics and adversaries who would never agree on fundamental ideals are often willing to accept the concrete details of a particular decision. Likewise, a plea bargain for someone caught exceeding the speed limit need not - indeed, must not - delve into sweeping issues of government regulation and personal liberty. Thus judges purposely limit the scope of their decisions to avoid reopening large-scale controversies. Sunstein calls such actions incompletely theorized agreements
Nudge : improving decisions about health, wealth, and happiness
by
Richard H Thaler
( Book )
65 editions published between
2008
and 2014 in
English
and
Italian
and held by 3,569 WorldCat member libraries worldwide
"Every day, we make decisions on topics ranging from personal investments to schools for our children to the meals we eat to the causes we champion. Unfortunately, we often choose poorly. Nobel laureate Richard Thaler and legal scholar and bestselling author Cass Sunstein explain in this important exploration of choice architecture that, being human, we all are susceptible to various biases that can lead us to blunder. Our mistakes make us poorer and less healthy; we often make bad decisions involving education, personal finance, health care, mortgages and credit cards, the family, and even the planet itself. In Nudge, Thaler and Sunstein invite us to enter an alternative world, one that takes our humanness as a given. They show that by knowing how people think, we can design choice environments that make it easier for people to choose what is best for themselves, their families, and their society. Using colorful examples from the most important aspects of life, Thaler and Sunstein demonstrate how thoughtful "choice architecture" can be established to nudge us in beneficial directions without restricting freedom of choice. Nudge offers a unique new take--from neither the left nor the right--on many hot-button issues, for individuals and governments alike. This is one of the most engaging and provocative books to come along in many years."
Animal rights : current debates and new directions
by
Cass R Sunstein
( )
30 editions published between
2004
and 2017 in
English
and held by 2,662 WorldCat member libraries worldwide
Millions of people live with cats, dogs, and other pets, which they treat as members of their families. But through their daily behavior, people who love those pets, and greatly care about their welfare, help ensure short and painful lives for millions, even billions of animals that cannot easily be distinguished from dogs and cats. Today, the overwhelming percentage of animals with whom Westerners interact are raised for food. Countless animals endure lives of relentless misery and die often torturous deaths. The use of animals by human beings, often for important human purposes, has forced uncomfortable questions to center stage: Should people change their behavior? Should the law promote animal welfare? Should animals have legal rights? Should animals continue to be counted as "property"? What reforms make sense? Cass Sunstein and Martha Nussbaum bring together an all-star cast of contributors to explore the legal and political issues that underlie the campaign for animal rights and the opposition to it. Addressing ethical questions about ownership, protection against unjustified suffering, and the ability of animals to make their own choices free from human control, the authors offer numerous different perspectives on animal rights and animal welfare. They show that whatever one's ultimate conclusions, the relationship between human beings and nonhuman animals is being fundamentally rethought. This book offers a state-of-the-art treatment of that rethinking
Worst-case scenarios
by
Cass R Sunstein
( )
21 editions published between
2007
and 2009 in
English
and
Undetermined
and held by 2,590 WorldCat member libraries worldwide
"Nuclear bombs in suitcases, anthrax bacilli in ventilators, tsunamis and meteors, avian flu, scorchingly hot temperatures: nightmares that were once the plot of Hollywood movies are now frighteningly real possibilities. How can we steer a path between willful inaction and reckless overreaction?" "In this vivid, illuminating, and highly original analysis, Cass Sunstein explores these and other worst-case scenarios and how we might best prevent them. Singling out the problems of terrorism and climate change, Sunstein describes our susceptibility to two opposite reactions: panic and utter neglect. He shows how private individuals and public officials might best respond to low-probability risks of disaster - emphasizing the need to know what we will lose from precautions as well as from inaction. Finally, he offers an understanding of the uses and limits of cost-benefit analysis, especially when current generations are imposing risks on future generations." "Throughout, Sunstein uses climate change as a defining case, because it dramatically illustrates the underlying principles. But he also discusses terrorism, depletion of the ozone layer, genetic modification of food, hurricanes, and worst-case scenarios faced in our ordinary lives. Sunstein concludes that if we can avoid the twin dangers of overreaction and apathy, we will be able to ameliorate if not avoid future catastrophes, retaining our sanity as well as scarce resources that can be devoted to more constructive ends."--Jacket
Infotopia : how many minds produce knowledge
by
Cass R Sunstein
( )
33 editions published between
1465
and 2008 in
English
and
Thai
and held by 2,514 WorldCat member libraries worldwide
The rise of the "information society" offers not only considerable peril but also great promise. Beset from all sides by a never-ending barrage of media, how can we ensure that the most accurate information emerges and is heeded? In this book, Cass R. Sunstein develops a deeply optimistic understanding of the human potential to pool information, and to use that knowledge to improve our lives. In an age of information overload, it is easy to fall back on our own prejudices and insulate ourselves with comforting opinions that reaffirm our core beliefs. Crowds quickly become mobs. The justification for the Iraq war, the collapse of Enron, the explosion of the space shuttle Columbia--all of these resulted from decisions made by leaders and groups trapped in "information cocoons," shielded from information at odds with their preconceptions. How can leaders and ordinary people challenge insular decision making and gain access to the sum of human knowledge?Stunning new ways to share and aggregate information, many Internet-based, are helping companies, schools, governments, and individuals not only to acquire, but also to create, ever-growing bodies of accurate knowledge. Through a ceaseless flurry of self-correcting exchanges, wikis, covering everything from politics and business plans to sports and science fiction subcultures, amass--and refine--information. Open-source software enables large numbers of people to participate in technological development. Prediction markets aggregate information in a way that allows companies, ranging from computer manufacturers to Hollywood studios, to make better decisions about product launches and office openings. Sunstein shows how people can assimilate aggregated information without succumbing to the dangers of the herd mentality--and when and why the new aggregation techniques are so astoundingly accurate. In a world where opinion and anecdote increasingly compete on equal footing with hard evidence, the on-line effort of many minds coming together might well provide the best path to infotopia
Free markets and social justice
by
Cass R Sunstein
( )
31 editions published between
1997
and 2010 in
English
and
Chinese
and held by 2,507 WorldCat member libraries worldwide
Written by one of the preeminent voices in the legal/political arena today, this ground-breaking book moves beyond the "more/less" question by presenting a new conception of the relationship between free markets and social justice. Instead of asking whether there should be more or less regulation, Cass R. Sunstein asks readers to consider what kinds of regulations promote human well-being in different contexts. He develops seven basic themes, involving the myth of laissez-faire, the importance of fair distribution, the puzzle of human rationality, the diversity of human goods, the role of social norms in forming people's preferences, the contextual character of choice, and the effects of law on human desires. As the latest word from an internationally renowned writer, Free Markets and Social Justice suggests a new way of understanding the role of the economic marketplace in a democratic society
Designing democracy : what constitutions do
by
Cass R Sunstein
( )
27 editions published between
2001
and 2003 in
English
and held by 2,410 WorldCat member libraries worldwide
What is the purpose of a constitution? This book shows how a democratic constitution helps diverse people, with opposing ethical and religious commitments, to live together on terms of mutual respect
Are judges political? : an empirical analysis of the federal judiciary
by
Cass R Sunstein
( )
15 editions published in
2006
in
English
and held by 2,271 WorldCat member libraries worldwide
"Americans are engaged in an intense debate about their judicial branch of government. Some people worry about "activist" judges who are "legislating from the bench," making an end run around electoral democracy, while others feel that the judiciary is properly protecting fundamental rights. How do the political leanings of judges affect their activity on the bench? To put it another way, Are Judges Political? And to what degree? This book produces real answers by looking at what judges actually do, injecting fact and analysis into a discussion that is all too often overwhelmed by sound bites and ideological howling." "Legal analyst Cass R. Sunstein, management scholar David Schkade, attorney Lisa Ellman, and judicial clerk Andres Sawicki examine thousands of judicial votes to analyze the influence of ideology on judicial decisions. Focusing principally on the federal courts of appeal, where judgments are made by a panel of three politically appointed judges, the authors scrutinize decisions on some of the most controversial issues in American law and politics. They look at controversial, sometimes polarizing issues - abortion, affirmative action, campaign finance regulation, disability discrimination, environmental protection, and gay rights. They focus on these key questions: Do judges appointed by Republican presidents consistently vote differently from their colleagues who were appointed by a Democrat? When are those differences most stark and predictable? And to what degree are judicial votes affected by the ideological leanings of other judges on the same panel? For example, do judges who find themselves a minority of one behave differently than those who hold either a 2-1 or 3-0 edge?" "Are Judges Political? brings precision to an impassioned but often impressionistic discussion by quantifying how ideology affects legal judgments. Interestingly, even in the most controversial cases, Republican and Democratic appointees agree more than they disagree. When they do disagree, however, the analysis of who votes how (and under what circumstances) can be quite illuminating and tells us a great deal about human nature as well as politics and justice in America. Are Judges Political? finds that judges do adhere to the law, but where the law is not plain, political convictions clearly play a role. And when like-minded judges sit together, they may well go to extremes."--BOOK JACKET
Going to extremes : how like minds unite and divide
by
Cass R Sunstein
( )
24 editions published between
2009
and 2014 in
English
and
Arabic
and held by 2,036 WorldCat member libraries worldwide
"In Going to Extremes, renowned legal scholar and best-selling author Cass R. Sunstein offers startling insights into why and when people gravitate toward extremism."--Inside jacket
Radicals in robes : why extreme right-wing courts are wrong for America
by
Cass R Sunstein
( Book )
14 editions published between
2005
and 2009 in
English
and held by 1,877 WorldCat member libraries worldwide
Argues that conservatives want to restore "the Constitution in Exile," which would undermine the civil liberties of Americans and endanger environmental regulations, campaign finance laws, and the right to privacy
more
fewer
Audience Level
0

1
Kids
General
Special
Audience level: 0.16 (from 0.07 for Punitive d ... to 0.93 for Democrazia ...)
Related Identities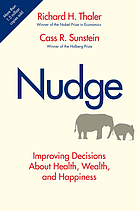 Covers
Alternative Names
Cass R. Sunstein

Cass Sunstein Amerikaans jurist

Cass Sunstein amerikansk jurist og samfunnsforsker

Cass Sunstein US-amerikanischer Rechtswissenschaftler und Ökonom

Sunstein, Cass.

Sunstein, Cass 1954-

Sunstein, Cass R.

Sunstein, Cass R. 1954-

Sunstein, Cass Robert.

Sunstein, Cass Robert 1954-

Касс Санстейн

سونشتاين، كاس أر.، 1954-

سونشتاين، كاس ر، 1954-

كاس أر. سونشتاين، 1954-

كاس ر. سانشتين، 1954-

کس سانستاین

선스타인, 카스 R. 1954-

선스타인, 캐스 1954-

선스타인, 캐스 R. 1954-

선스타인, 캐스 로버트 1954-

선스테인, 캐스 1954-

キャス・サンスティーン

サンスタイン, キャス・R

サンスティーン, キャス

サンスティーン, キャス・R.

サンスティン, キャス R. 1954-

凱斯·桑斯坦

Languages