Cahill, Thomas
Most widely held works about Thomas Cahill
Most widely held works by Thomas Cahill
How the Irish saved civilization : the untold story of Ireland's heroic role from the fall of Rome to the rise of medieval Europe
by
Thomas Cahill
( Book )
55 editions published between
1995
and 2004 in
English
and
Undetermined
and held by 4,429 WorldCat member libraries worldwide
The perfect St. Patrick's Day gift, and a book in the best tradition of popular history -- the untold story of Ireland's role in maintaining Western culture while the Dark Ages settled on Europe. Every year millions of Americans celebrate St. Patrick's Day, but they may not be aware of how great an influence St. Patrick was on the subsequent history of civilization. Not only did he bring Christianity to Ireland, he instilled a sense of literacy and learning that would create the conditions that allowed Ireland to become "the isle of saints and scholars"--And thus preserve Western culture while Europe was being overrun by barbarians. In this entertaining and compelling narrative, Thomas Cahill tells the story of how Europe evolved from the classical age of Rome to the medieval era. Without Ireland, the transition could not have taken place. Not only did Irish monks and scribes maintain the very record of Western civilization -- copying manuscripts of Greek and Latin writers, both pagan and Christian, while libraries and learning on the continent were forever lost -- they brought their uniquely Irish world-view to the task. As Cahill delightfully illustrates, so much of the liveliness we associate with medieval culture has its roots in Ireland. When the seeds of culture were replanted on the European continent, it was from Ireland that they were germinated. In the tradition of Barbara Tuchman's A Distant Mirror, How The Irish Saved Civilization reconstructs an era that few know about but which is central to understanding our past and our cultural heritage. But it conveys its knowledge with a winking wit that aptly captures the sensibility of the unsung Irish who relaunched civilization
The gifts of the Jews : how a tribe of desert nomads changed the way everyone thinks and feels
by
Thomas Cahill
( Book )
45 editions published between
1997
and 2010 in 3 languages and held by 3,583 WorldCat member libraries worldwide
The Gifts of the Jews reveals the critical change that made western civilization possible. Within the matrix of ancient religions and philosophies, life was seen as part of an endless cycle of birth and death; time was like a wheel, spinning ceaselessly. Yet somehow, the ancient Jews began to see time differently. For them, time had a beginning and an end; it was a narrative, whose triumphant conclusion would come in the future. From this insight came a new conception of men and women as individuals with unique destinies--a conception that would inform the Declaration of Independence--and our hopeful belief in progress and the sense that tomorrow can be better than today. As Thomas Cahill narrates this momentous shift, he also explains the real significance of such Biblical figures as Abraham and Sarah, Moses and the Pharaoh, Joshua, Isaiah, and Jeremiah
Sailing the wine-dark sea : why the Greeks matter
by
Thomas Cahill
( Book )
25 editions published between
2003
and 2010 in
English
and held by 2,573 WorldCat member libraries worldwide
"In Sailing the Wine-Dark Sea, his latest bestselling work of popular history, Thomas Cahill escorts the reader on another entertaining-and historically unassailable-journey through the landmarks of art and bloodshed that defined Greek culture nearly three millennia ago. In ancient Greece, honors could be won in making love and war, and lives were rife with contradictions. By developing the alphabet, the Greeks empowered the reader and encouraged civil discussion--yet they kept slaves. The glorious verses of the Iliad suggest that their "bellicose society of gleaming metals and rattling weapons" is not so very distant from more recent campaigns of "shock and awe." And, centuries before Zorba, Greece was a land where music, dance, and wine were essential to the high life. Granting equal time to the sacred and the profane, Cahill rivets our attention to the legacies of an ancient and enduring worldview."
Mysteries of the Middle Ages : the rise of feminism, science, and art from the cults of Catholic Europe
by
Thomas Cahill
( Book )
12 editions published between
2006
and 2007 in
English
and held by 1,642 WorldCat member libraries worldwide
After the long period of cultural decline known as the Dark Ages, Europe experienced a rebirth of scholarship, art, literature, philosophy, and science and began to develop a vision of Western society that remains at the heart of Western civilization today. On visits to the great cities of Europe--monumental Rome; the intellectually explosive Paris of Peter Abelard and Thomas Aquinas; the hotbed of scientific study that was Oxford; and the incomparable Florence of Dante and Giotto--Cahill captures the spirit of experimentation, the colorful pageantry, and the passionate pursuit of knowledge that built the foundations for the modern world.--From publisher description
Pope John XXIII
by
Thomas Cahill
( Book )
24 editions published between
2002
and 2015 in 6 languages and held by 1,397 WorldCat member libraries worldwide
Provides a history of the Catholic Church and the papacy by focusing on Pope John XXIII
Heretics and heroes : how Renaissance artists and Reformation Priests created our world
by
Thomas Cahill
( Book )
13 editions published between
2013
and 2014 in
English
and held by 1,237 WorldCat member libraries worldwide
From the inimitable bestselling author Thomas Cahill comes another popular history -- this one focusing on how the innovations of the Renaissance and the Reformation changed the Western world. It is a truly revolutionary book. In Volume VI of his acclaimed Hinges of History series, Thomas Cahill guides us through the thrilling period of the Renaissance and the Reformation (the late fourteenth to the early seventeenth century), so full of innovation and cultural change that the Western world would not experience its like again until the twentieth century. Beginning with the continent-wide disaster of the Black Death, Cahill traces the many developments in European thought and experience that served both the new humanism of the Renaissance and the seemingly abrupt religious alterations of the increasingly radical Reformation. This is an age of the most sublime artistic and scientific adventure, but also of newly powerful princes and armies and of newly found courage, as many thousands refuse to bow their heads to the religious pieties of the past. It is an era of just-discovered continents and previously unknown peoples. More than anything, it is a time of individuality in which a whole culture must achieve a new balance if the West is to continue
A literary guide to Ireland
by
Susan Cahill
( Book )
21 editions published between
1973
and 1983 in
English
and
Undetermined
and held by 685 WorldCat member libraries worldwide
How the Irish saved civilization
by
Thomas Cahill
( Recording )
19 editions published between
1995
and 2010 in 3 languages and held by 681 WorldCat member libraries worldwide
A history of the Dark Ages showing that as Europe was in an intellectual decline, Ireland became a haven for scholarship
A saint on death row : the story of Dominique Green
by
Thomas Cahill
( Book )
2 editions published in
2009
in
English
and held by 621 WorldCat member libraries worldwide
Relates the life of an African American inmate, sentenced to death for taking part in a robbery in which a victim was killed, and for whom opponents of the death penalty spent twelve years unsuccessfuly trying to have the case reviewed and his sentence overturned
more
fewer
Audience Level
0

1
General
Special
Audience level: 0.20 (from 0.15 for Authors! A ... to 0.99 for Cahill, Th ...)
Related Identities
Associated Subjects
Art, Medieval
Arts, Medieval
Authors, Irish--Homes and haunts
Bible.--New Testament
Bible.--Old Testament
Books
Cahill, Thomas
Capital punishment
Catholic Church
Christianity--Origin
Christian life
Civilization
Civilization, Classical--Study and teaching
Civilization, Medieval
Civilization, Western--Greek influences
Civilization--Irish influences
Civilization--Jewish influences
Death row inmates
Ego (Psychology)
Europe
Greece
Green, Dominique,
History
History of Biblical events
Intellectual life
Ireland
Jesus Christ
Jewish philosophy
Jews
John--XXIII,--Pope,
Judaism
Land use--Environmental aspects--Planning
Learning and scholarship--Medieval
Literary landmarks
Manuscripts
Monastic libraries
Popes
Reformation
Renaissance
Science, Medieval
Scriptoria
Sustainable development
Technological innovations--Social aspects
Texas
Transmission of texts
Travel
United States
Women
Women--Middle Ages
Words of Jesus Christ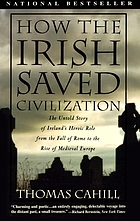 Covers
Alternative Names
Cahill, Susan and Thomas.

Cahill, Thomas 1940-

Thomas Cahill American scholar and writer

Thomas Cahill eskritor merikano

Thomas Cahill schrijver uit Verenigde Staten van Amerika (1940-)

توماس كاهيل مؤرخ من امريكا

카힐, 토마스 1940-

캐힐, 토마스 1940-

カヒル, トマス

ケイヒル, トマス

Languages