Dembski, William A. 1960-
Most widely held works about William A Dembski
more
fewer
Most widely held works by William A Dembski
Intelligent design : the bridge between science & theology
by
William A Dembski
( Book )
11 editions published between
1999
and 2007 in
English
and
Finnish
and held by 834 WorldCat member libraries worldwide
Explains the theory of intelligent design and explains how it can link science and theology by avoiding the traps of creationism and Darwinism
Debating design : from Darwin to DNA
by
William A Dembski
( Book )
24 editions published between
2004
and 2007 in
English
and held by 755 WorldCat member libraries worldwide
William Dembski, Michael Ruse, and other prominent philosophers provide here a comprehensive balanced overview of the debate concerning biological origins--a controversial dialectic since Darwin published The Origin of Species in 1859. Invariably, the source of controversy has been "design." Is the appearance of design in organisms (as exhibited in their functional complexity) the result of purely natural forces acting without prevision or teleology? Or, does the appearance of design signify genuine prevision and teleology, and, if so, is that design empirically detectable and thus open to scientific inquiry? Four main positions have emerged in response to these questions: Darwinism, self-organization, theistic evolution, and intelligent design. The contributors to this volume define their respective positions in an accessible style, inviting readers to draw their own conclusions. Two introductory essays furnish a historical overview of the debate
The design revolution : answering the toughest questions about intelligent design
by
William A Dembski
( Book )
9 editions published in
2004
in
English
and held by 691 WorldCat member libraries worldwide
"Scientists, mathematicians and philosophers in the intelligent design movement are challenging a certain view of science - one that limits its investigations and procedures to purely lawlike and mechanical explanations. They charge that there is no scientific reason to exclude the consideration of intelligence, agency and purpose from truly scientific research. In fact, the practice of science often already includes these factors!"
Uncommon dissent : intellectuals who find Darwinism unconvincing
by
William A Dembski
( Book )
17 editions published between
2004
and 2014 in
English
and
Undetermined
and held by 562 WorldCat member libraries worldwide
Recent years have seen the rise to prominence of ever more sophisticated philosophical and scientific critiques of the ideas marketed under the name of Darwinism. In Uncommon Dissent , mathematician and philosopher William A. Dembski brings together essays by leading intellectuals who find one or more aspects of Darwinism unpersuasive. As Dembski explains, Darwinism has gathered around itself an aura of invincibility that is inhospitable to rational discussion—to say the least: "Darwinism, its proponents assure us, has been overwhelmingly vindicated. Any resistance to it is futile and indicates bad faith or worse." Indeed, those who question the Darwinian synthesis are supposed, in the famous formulation of Richard Dawkins, to be ignorant, stupid, insane, or wicked. The hostility of dogmatic Darwinians like Dawkins has not, however, prevented the advent of a growing cadre of scholarly critics of metaphysical Darwinism. The measured, thought-provoking essays in Uncommon Dissent make it increasingly obvious that these critics are not the brainwashed fundamentalist buffoons that Darwinism's defenders suggest they are, but rather serious, skeptical, open-minded inquirers whose challenges pose serious questions about the viability of Darwinist ideology. The intellectual power of their contributions to Uncommon Dissent is bracing
The design inference : eliminating chance through small probabilities
by
William A Dembski
( Book )
30 editions published between
1995
and 2007 in
English
and held by 542 WorldCat member libraries worldwide
How can we identify events due to intelligent causes and distinguish them from events due to undirected natural causes? If we lack a causal theory how can we determine whether an intelligent cause acted? This book presents a reliable method for detecting intelligent causes: the design inference. The design inference uncovers intelligent causes by isolating the key trademark of intelligent causes: specified events of small probability. Design inferences can be found in a range of scientific pursuits from forensic science to research into the origins of life to the search for extraterrestrial intelligence. This challenging and provocative book will be read with particular interest by philosophers of science and religion, other philosophers concerned with epistemology and logic, probability and complexity theorists, and statisticians
Mere creation : science, faith & intelligent design
by
William A Dembski
( Book )
6 editions published between
1998
and 2005 in
English
and held by 473 WorldCat member libraries worldwide
A Movement has Emerged among scholars exploring the possibility of intelligent design as an explanatory theory in scientific descriptions of the universe. As Michael Behe has proposed in his landmark Darwin's Black Box, at the cellular level there appears to be a high level of irreducible complexity that suggests design
Signs of intelligence : understanding intelligent design
( Book )
6 editions published between
2001
and 2007 in
English
and held by 467 WorldCat member libraries worldwide
A collection of fourteen essays which provide an overview of the argument for intelligent design, with diagrams, explanations, and relevant quotations
Darwin's nemesis : Phillip Johnson and the intelligent design movement
( Book )
7 editions published between
2006
and 2007 in
English
and held by 377 WorldCat member libraries worldwide
With the publication of Darwin on Trial in 1991, Cal Berkeley legal scholar Phillip Johnson became the leading figure in the intelligent design movement. Exposing and calling into question the philosophical foundations of Darwinism, Johnson led the charge against this largely unquestioned philosophy of materialistic reductionism and its purported basis in scientific research. This book reviews and celebrates the life and thought of Phillip Johnson and the movement for which he has served as chief architect. Editor William A. Dembski presents eighteen essays by those who have known and worked with Johnson for more than a decade. They provide personal and in-depth insight into the man, his convictions and his leadership of the intellectual movement that called into question the hegemony of Darwinian theory
more
fewer
Audience Level
0

1
Kids
General
Special
Audience level: 0.28 (from 0.05 for The design ... to 0.84 for Implicit p ...)
Associated Subjects
American Sign Language
Apologetics
Apologetics--Methodology
Apostles
Authority--Religious aspects
Bible
Bible.--Luke
Bible.--New Testament
Bible stories
Biological systems
Causation
Christian biography
Christianity
Cosmology
Creationism
Darwin, Charles,
Darwin on trial (Johnson, Phillip E.)
Dembski, William A.,
Evolution (Biology)
Evolution (Biology)--Philosophy
Evolution (Biology)--Religious aspects
Evolution (Biology)--Religious aspects--Christianity
Experimental design
God (Christianity)
God--Proof
God--Proof, Cosmological
God--Proof, Teleological
Good and evil
Heaven--Christianity
Historicity of Jesus Christ
Intelligent design (Teleology)
Jesus Christ
Johnson, Phillip E.,
Knowledge, Theory of
Materialism
Middle East--Palestine
Montgomery, John Warwick
Naturalism
Paley, William,
Philosophy and science
Probabilities
Providence and government of God
Realism
Reality
Religion and science
Science--Philosophy
Self-organizing systems
Sign language
Theology
Truth--Religious aspects--Christianity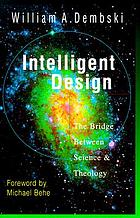 Alternative Names
Dembski, Bill.

Dembski, William 1960-

Dembski, William Albert.

Dembski, William Albert 1960-

William A. Dembski Amerikaans wiskundige

William A. Dembski amerikansk matematikar

William A. Dembski amerikansk matematiker

William A. Dembski US-amerikanischer Mathematiker, Philosoph und Theologe

William Dembski

William Dembski amerikansk matematiker

William Dembski matematico, filosofo e teologo statunitense

وليم ديمبسكي

윌리엄 뎀스키

ウィリアム・A・デムスキー

威廉·但布斯基

Languages
Covers