Bordewich, Fergus M.
Most widely held works about Fergus M Bordewich
Most widely held works by Fergus M Bordewich
Bound for Canaan : the Underground Railroad and the War for the Soul of America
by
Fergus M Bordewich
( Book )
18 editions published between
2004
and 2007 in
English
and held by 2,699 WorldCat member libraries worldwide
A history of the Underground Railroad as the movement reflected America's moral complexities and political divisiveness offers insight into the role played by the nation's westward expansion, the spiritual beliefs that motivated each side of the conflict, and the efforts of black and white citizens to save tens of thousands of lives
Killing the White man's Indian : Reinventing of Native Americans at the end of the twentieth century
by
Fergus M Bordewich
( Book )
31 editions published between
1996
and 1997 in
English
and
Undetermined
and held by 1,809 WorldCat member libraries worldwide
Publisher description: In the face of a new lightly romanticized view of Native Americans, Killing the White Man's Indian bravely confronts the current myths and often contradictory realities of tribal life today. Following two centuries of broken treaties and virtual government extermination of the "savage redmen," Americans today have recast Native Americans into another, equally stereotyped role, that of eternal victims, politically powerless and weakened by poverty and alcoholism, yet whose spiritual ties with the natural world form our last, best hope of salvaging our natural environment and ennobling our souls. The truth, however, is neither as grim, nor as blindly idealistic, as many would expect. The fact is that a virtual revolution is underway in Indian Country, an upheaval of epic proportions. For the first time in generations, Indians are shaping their own destinies, largely beyond the control of whites, reinventing Indian education and justice, exploiting the principle of tribal sovereignty in ways that empower tribal governments far beyond most American's imaginations. While new found power has enriched tribal life and prospects, and has made Native Americans fuller participants in the American dream, it has brought tribal governments into direct conflict with local economics and the federal government. Based on three years of research on the Native American reservations, and written without a hidden conservative bias or politically correct agenda, Killing the White Man's Indian takes on Native American politics and policies today in all their contradictory--and controversial-guises."
The First Congress : how James Madison, George Washington, and a group of extraordinary men invented the government
by
Fergus M Bordewich
( Book )
6 editions published between
2016
and 2017 in
English
and held by 1,180 WorldCat member libraries worldwide
"The little known story of perhaps the most productive Congress in US history, the First Federal Congress of 1789-1791. The First Congress was the most important in US history, says prizewinning author and historian Fergus Bordewich, because it established how our government would actually function. Had it failed--as many at the time feared it would--it's possible that the United States as we know it would not exist today. The Constitution was a broad set of principles. It was left to the members of the First Congress and President George Washington to create the machinery that would make the government work. Fortunately, James Madison, John Adams, Alexander Hamilton, and others less well known today, rose to the occasion. During two years of often fierce political struggle, they passed the first ten amendments to the Constitution; they resolved bitter regional rivalries to choose the site of the new national capital; they set in place the procedure for admitting new states to the union; and much more. But the First Congress also confronted some issues that remain to this day: the conflict between states' rights and the powers of national government; the proper balance between legislative and executive power; the respective roles of the federal and state judiciaries; and funding the central government. Other issues, such as slavery, would fester for decades before being resolved. The First Congress tells the dramatic story of the two remarkable years when Washington, Madison, and their dedicated colleagues struggled to successfully create our government, an achievement that has lasted to the present day."--Publisher website
Washington : the making of the American capital
by
Fergus M Bordewich
( Book )
10 editions published between
2008
and 2009 in
English
and held by 852 WorldCat member libraries worldwide
From the acclaimed author of "Bound for Canaan" comes a major work of American history on the astonishing compromises and alliances involved in making Washington, D.C., the capital of the new nation
Peach blossom spring : adapted from a Chinese tale
by
Fergus M Bordewich
( Book )
2 editions published in
1994
in
English
and held by 220 WorldCat member libraries worldwide
When he accidentally discovers a beautiful hidden valley inhabited by contented people, a fisherman is asked to return but only if he tells no one where he's been
No reservations : Native American history and culture in contemporary art
( Book )
3 editions published in
2006
in
English
and held by 218 WorldCat member libraries worldwide
This collection of work by both Native and non-Native artists speaks of the complexity of Native American historical and cultural influences in contemporary culture. Rather than focusing on artists who attempt to maintain strict cultural practices, it brings together a group of artists who engage the larger contemporary art world and are not afraid to step beyond the bounds of tradition. Focusing on a group of 10 artists who came of age since the initial Native Rights movement of the 1960s and 70s, the book emphasizes art that does not so much "look Indian," but incorporates Native content in surprising and innovative ways that defy easy categorization. The Native artists featured here focus on the evolution of cultural traditions. The non-Native artists focus primarily on the history of European colonization in America. Artists include Matthew Buckingham, Lewis deSoto, Peter Edlund, Nicholas Galanin, Jeffrey Gibson, Rigo 23, Duane Slick, Marie Watt, Edie Winograde and Yoram Wolberger
Bound for Canaan : [the underground railroad and the war for the soul of America]
by
Fergus M Bordewich
( Recording )
5 editions published between
2005
and 2016 in
English
and held by 191 WorldCat member libraries worldwide
Presents a comprehensive study of the Underground Railroad and those who were instrumental in helping thousands of runaway slaves to freedom and profiles key figures including Levi Coffin, Harriett Tubman, Thomas Garrett, William Still, and many others
Through darkness to light : photographs along the underground railroad : a photographic essay
by
Jeanine Michna-Bales
( Book )
1 edition published in
2017
in
English
and held by 169 WorldCat member libraries worldwide
"They left in the middle of the night-- often carrying little more than the knowledge to follow the North Star. An estimated one hundred thousand slaves between 1830 and the end of the Civil War in 1865 embarked on a journey of untold hardship in search of freedom, many with the aid of the Underground Railroad. Through Darkness to Light : Seeking Freedom on the Underground Railroad imagines how this journey may have appeared through a series of atmospheric and evocative photographs by Jeanine Michna-Bales. From over a decade's worth of research, Michna-Bales pieced together a route of Underground Railroad sites from the cotton plantations just south of Natchitoches, Louisiana, all the way north to the Canadian border, a path encompassing roughly two thousand miles. Complementing Michna-Bales' compelling photographs are essays on the history and figures of the Underground Railroad by Fergus M. Bordwich, Robert F. Darden, and Eric R. Jackson"--
more
fewer
Audience Level
0

1
Kids
General
Special
Audience level: 0.21 (from 0.13 for Washington ... to 0.87 for Free at la ...)
Associated Subjects
Abolitionists
African Americans
American Civil War (1861-1865)
Antislavery movements
Architecture, American
Architecture, Modern
Art, American
Art, Modern
Book covers
Bordewich, Fergus M
Canada
Capitals (Cities)
China
City planning
Clay, Henry,
Compromise of 1850
Douglas, Stephen A.--(Stephen Arnold),
Education
Families
Fishers
Folklore
Fugitive slaves
Fugitive slaves--Travel
Historic sites
History
Indiana
Indian art
Indian artists
Indians of North America
Indians of North America--Ethnic identity
Indians of North America--Government relations
Indians of North America--Politics and government
Jefferson, Thomas,
Journalists
Legislators
Madigan, LaVerne,
National Underground Railroad Freedom Center (Cincinnati, Ohio)
Pennsylvania--Lancaster County
Politics and government
Slaveholders
Slavery
Travel
Underground Railroad
United States
United States.--Congress
University of Virginia
War--Causes
Washington (D.C.)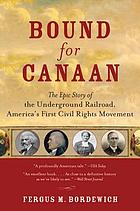 Covers
Languages