Weeks, Jennifer
Overview
| | |
| --- | --- |
| Works: | 51 works in 69 publications in 1 language and 534 library holdings |
| Genres: | History |
| Roles: | Author |
| Classifications: | PN4888.P6, 362.10973 |
Most widely held works by Jennifer Weeks
Fish farming : is it safe for humans and the environment?
by
Jennifer Weeks
( Book )
2 editions published in
2007
in
English
and held by 7 WorldCat member libraries worldwide
Global demand for fish products has doubled since the 1950s and is still rising. Today more than 40 percent of the world's seafood comes not from wild catches but from land-based and offshore farms. With many wild fisheries already overharvested throughout the world, aquaculture is an important food source -- especially for poor countries -- and has made seafood more abundant and affordable. But some fish farms pollute surrounding waters, and escaped farm fish compete with wild stocks and spread diseases. Moreover, raising carnivorous fish can use up more fish protein for feed than it produces, further stressing wild fisheries. There are also growing concerns about whether imported seafood is safe to eat and whether the United States regulates fish imports strictly enough. Congress is considering legislation to expand ocean aquaculture, but many fish and marine experts urge caution, saying we know little about the potential impact on the oceans
Modernizing the grid : is the electric power system at risk?
by
Jennifer Weeks
( Book )
2 editions published in
2010
in
English
and held by 6 WorldCat member libraries worldwide
Smart grids will generate more electricty from renewable fuels but some worry that digital grids could be vulnerable to cyberattacks and others say promoting energy conservation is the more effective approach
Regulating toxic chemicals : do we know enough about chemical risks?
by
Jennifer Weeks
( Book )
2 editions published in
2009
in
English
and held by 6 WorldCat member libraries worldwide
Chemicals are integral to many everyday products, from electronics and toys to building materials and household goods. But environmental, health and consumer advocates say the agencies responsible for protecting Americans from exposure to harmful chemicals are allowing too many dangerous substances into the market without testing them for toxicity. Some goods, such as medicines, are tested for safety before they can be sold, but many common products do not go through premarket safety screening. Many concerns focus on infants and young children, who are especially sensitive to toxic hazards. Chemical manufacturers say the existing regulatory system works effectively and can be tightened to address new concerns, but critics argue that a precautionary approach -- which would require producers to show that materials are safe before they can be marketed -- would protect consumers more fully
Managing nuclear waste : should spent fuel be stored at Yucca Mountain?
by
Jennifer Weeks
( Book )
2 editions published in
2011
in
English
and held by 6 WorldCat member libraries worldwide
Thousands of tons of lethal nuclear waste from civilian power plants and military sites are stored at more than 100 sites around the country. But the federal government doesn't have a long-term plan today for managing nuclear waste. In the 1980s, Congress decided to build a single underground repository for spent fuel and highly radioactive defense waste in the southern Nevada desert. But work on the Yucca Mountain complex has faced political and technical problems and was canceled by President Obama, who advocates a new storage solution. Cancellation has created uncertainty for the nuclear power industry and for states where military waste is stored. It also is forcing utilities to pay to store used nuclear fuel at reactors costs they pass on to customers. Some utilities have won multimillion-dollar lawsuits against the federal government, and more cases are pending. Obama supports expanding nuclear power as a clean energy strategy, but if the waste problem isn't solved, new reactors may be a hard sell in many states
Water shortages : is the United States facing a crisis?
by
Jennifer Weeks
( Book )
2 editions published in
2010
in
English
and held by 6 WorldCat member libraries worldwide
Clean water is a critical resource not only for drinking but also for agriculture, energy production and high-tech manufacturing. But severe drought once seen as an issue only for the arid West has become a fact of life in many parts of the United States. Meanwhile, many cities depend on water mains and sewer pipes more than 100 years old. Environmental laws have sharply cut water pollution and improved drinking-water quality since the 1970s. But experts say the nation needs to spend more than $250 billion in the next several years to modernize water treatment systems, and current investments are falling short. The Environmental Protection Agency has proposed new ways to regulate water pollutants, and economists say charging more for water would promote conservation. But whether Americans will pay more for a resource that many view as a basic human right remains to be seen
Nuclear disarmament : will President Obama's efforts make the U.S. safer?
by
Jennifer Weeks
( Book )
2 editions published in
2009
in
English
and held by 5 WorldCat member libraries worldwide
Peace activists have sought to eliminate nuclear weapons for decades, but now they have a new ally. President Barack Obama has pledged to negotiate new U.S.-Russian arms reductions, end U.S. nuclear testing and reduce the role of nuclear weapons in national defense policy. Obama argues that these steps, plus new measures to combat nuclear smuggling and theft, will make the United States safer. But critics say further nuclear cuts will embolden rogue countries like North Korea and Iran, which are widely thought to be seeking nuclear capabilities. Although the U.S. and Russia have drastically shrunk their Cold War arsenals, the United States still spends at least $52 billion annually on nuclear-related programs. Liberals and conservatives sharply disagree about addressing post-Cold War security threats with nuclear arms. But some experts warn that new, regional nuclear arms races could break out if the U.S. fails to rebuild global support for nuclear reductions
Energy policy : should the U.S. use more clean-energy sources?
by
Jennifer Weeks
( Book )
2 editions published in
2011
in
English
and held by 4 WorldCat member libraries worldwide
Gasoline prices are rising above $4 per gallon in many parts of the United States, causing stress for consumers and political finger-pointing. Conservatives say that government overregulates energy companies and limits domestic production, while liberals want to repeal tax breaks for oil companies. But the larger problem is that the United States has an energy-intensive economy and depends heavily on imported oil. The Obama administration, with support from environmentalists, argues that the U.S. needs to use more clean-energy sources, and that investing in these industries will generate high-tech jobs and export revenues. Republicans in Congress want to cut federal energy spending and rely on market forces to determine which fuels and technologies succeed. Complicating the issue, many forms of energy receive various kinds of government support, although budget debates could provide an opportunity to rethink whether longstanding energy subsidies are still needed
more
fewer
Audience Level
0

1
Kids
General
Special
Audience level: 0.41 (from 0.21 for Rapid urba ... to 0.72 for New age of ...)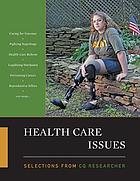 Languages
Covers