Asch, Beth J.
Most widely held works by Beth J Asch
Emigration and its effects on the sending country
by
Beth J Asch
( Book )
8 editions published in
1994
in
English
and held by 210 WorldCat member libraries worldwide
While the effects of immigration on the receiving country have received a great deal of attention, less has been paid to its affects on the sending country. The available data suggest that, on net, emigration has a positive effect on the sending country. For example, by decreasing the labor pool in the sending country, emigration helps to alleviate unemployment and increase the incomes of the remaining workers. Also, emigres often send money home, enhancing their families' standards of living and thereby contributing both to the home economy and the nations' trade balance. Most emigres are young, male, and married, however, so there can be a destabilizing effect on the family. Some countries have attempted to restrict immigration, in the belief that it does not enhance economic development. However, the evidence suggests that, because of the benefits noted above, this might result in an even greater economic decline than such countries fear
Military recruiting : trends, outlook, and implications
by
Bruce R Orvis
( Book )
5 editions published in
2001
in
English
and held by 188 WorldCat member libraries worldwide
Based on indications of increased difficulty in meeting recruiting goals, in spring 1994 the Army Chief of Staff and the Deputy of Secretary of Defense asked RAND to examine recent trends in the recruiting market and to assess their implications for meeting accession requirements. An initial examination of the 1994 market concluded that the pool of interested high-quality young men was adequate to meet DoD needs. But the system appeared to be less effective in tapping into this supply of potential enlistees. The longer-term analysis, reported here, confirms the reduced effectiveness of recruiting, and also finds that the significant increase in FY97's accessions required to sustain the postdrawdown force, coupled with a smaller decline in youth's interest in military service, translates into a possible supply shortage. The decline in recruiting productivity is most likely due to a number of factors; until they are addressed, meeting accession goals will require a greater level of recruiting resources or different management practices. The researchers offer two short-term actions for consideration: (1) increase recruiting resources and (2) reduce the requirement for high-quality non-prior-service male accessions by recruiting more women, accepting more prior-service accessions, or changing the quality goals. Longer-term actions should be aimed at trying to enhance the cost-effectiveness of recruiting in the postdrawdown environment. This could include: rethinking recruiting management and the cost benefit of alternative recruit quality levels; considering more marketing strategies and enlistment options, particularly ones that would improve the military's ability to recruit persons interested in attending college; and optimizing the match between monthly accession goals and training infrastructure costs
The pay, promotion, and retention of high-quality civil service workers in the Department of Defense
by
Beth J Asch
( Book )
9 editions published in
2001
in
English
and held by 184 WorldCat member libraries worldwide
This report uses data on the promotion, pay, and retention profiles of groups of General Schedule civil service workers in the Department of Defense (DoD) to evaluate whether high-quality workers are promoted faster, are paid more, and stay longer in civil service than other workers. It also provides some evidence on whether these profiles and results have changed in recent years since the drawdown in the DoD changed the nature of civilian careers in the organization. The evaluation uses three measures of personnel quality: supervisor ratings, level of education on entering the DoD, and promotion speed. The analytical results indicate that higher-quality personnel are generally paid more and are promoted faster than lower-quality personnel, regardless of which measure of quality is used. However, the effectiveness of these factors in inducing longer retention is not clear. Results vary depending on the quality measure used, the cohort examined, and a number of other variables. Retention patterns also vary significantly by occupational area and education. Areas for future research are suggested, including the effects of the retirement system on retention, the definition and refinement of measures of personnel quality, the role of bonuses, and whether the career outcomes examined in this study are sufficient to attract and retain a workforce that meets current and future personnel requirements
Separation and retirement incentives in the federal civil service : a comparison of the Federal Employees Retirement System and the Civil Service Retirement System
by
Beth J Asch
( Book )
8 editions published between
1998
and 1999 in
English
and held by 179 WorldCat member libraries worldwide
In 1987 a new retirement system, called the Federal Employees Retirement System (FERS), was introduced for federal civil service personnel. Some observers have hypothesized that FERS would alter the retirement and separation outcomes produced by FERS' predecessor, the Civil Service Retirement System (CSRS). This report compares the retirement and separation incentives embedded in FERS versus those in CSRS to see whether the incentives embedded in FERS are consistent with these hypotheses. It also examines which system is more generous in terms of providing greater expected net lifetime earnings and retirement wealth. To compare the systems, the authors compute expected net wealth associated with different separation and retirement ages for a representative individual. The authors also conduct sensitivity analyses to see how their comparisons differ under alternative assumptions. Finally, the authors use data on Department of Defense civil service personnel from fiscal year 1983 through fiscal year 1996 to examine empirically how separation rates differ for early and mid-career personnel under FERS and under CSRS
Attracting college-bound youth into the military : toward the development of new recruiting policy options
by
Beth J Asch
( Book )
8 editions published between
1998
and 2000 in
English
and held by 161 WorldCat member libraries worldwide
Although the military's need for enlisted personnel has declined by almost one-third since the end of the cold war, the armed services are finding it difficult to meet their recruiting goals. Among ongoing changes in the civilian labor market is a strong demand for skilled labor, which has prompted an increasing number of "high quality" youth to pursue post-secondary education and subsequent civilian employment. Because of this competition for high quality youth, the Department of Defense may want to explore new options for attracting desirable young people into the armed forces. The military, for example, offers a myriad of options for service members to take college courses while in active service. However, the programs do not in fact generate significant increases in educational attainment during time in service. One popular program, the Montgomery GI Bill, enrolls large numbers of individuals, but the vast majority of service members use their benefits after separating from service. Thus, the military does not receive the benefits of a more educated and productive workforce, unless the individuals subsequently join a reserve component. The authors suggest the Department of Defense should consider nontraditional policy options to enhance recruitment of college-bound youth. Recruiters could target more thoroughly students on two-year college campuses, or dropouts from two- or four-year colleges. Options for obtaining some college before military service could be expanded by allowing high school seniors to first attend college, paid for by the military, and then enlist. Or the student might serve in a reserve component while in college and then enter an active component after college. Alternatively, the military could create an entirely new path for combining college and military service by encouraging enlisted veterans to attend college and then reenlist (at a higher pay grade). The most promising alternatives should be evaluated in a national experiment designed to test their effectiveness and cost-effectiveness, similar to the one that led to the creation of the Army College Fund and the Navy College Fund
The quality of personnel in the enlisted ranks
by
Beth J Asch
( Book )
6 editions published in
2005
in
English
and held by 159 WorldCat member libraries worldwide
The armed services must attract, retain, and promote high-quality personnel. This monograph examines their ability to meet these goals in the past. Using the quality index, we find that those who complete their first terms, who stay until year of service (YOS) 8 or YOS12, and those who are promoted to higher grades are significantly higher quality. Our conclusions differ from those drawn from traditional measures because our measure includes information that cannot be predicted at entry but is instead revealed on the job
Designing military pay : contributions and implications of the economics literature
by
Beth J Asch
( Book )
4 editions published in
1993
in
English
and held by 157 WorldCat member libraries worldwide
What should be the structure of military compensation for active-duty personnel? This broad question is the focus of the review of the economic literature presented in this report. The review addresses a more specific question, How should military basic pay be designed? Some of the key guidelines derived from the survey are that (1) individuals in occupations or positions with disamenities (e.g., greater injury/death/health risks) must receive higher pay than those in occupations with amenities; (2) compensation should rise with grade or with hierarchical level; (3) the intergrade compensation spread should increase with grade; (4) promotion policy can increase each individual's motivation and performance; (5) explicit up-or-out policies can sometimes be replaced by implicit up-or-out policies; (6) individuals have different abilities to perform different jobs; (7) compensation within a grade should be contingent on effort and/or performance; (8) the best matches between personnel and grades can be achieved by not motivating to move up in the ranks those who are relatively less able to perform the tasks associated with the higher grades; and (9) the pay gap across grades should be greater than the pay gap within a grade. The report points to aspects of the military that violate these guidelines and makes recommendations for future work to apply the findings
Educational benefits versus enlistment bonuses : a comparison of recruiting options
by
Beth J Asch
( Book )
7 editions published between
1994
and 1995 in
English
and held by 156 WorldCat member libraries worldwide
An analysis was made of the relative cost-effectiveness of two incentive programs for recruiting military personnel: enlistment bonuses and educational benefits. In comparing these alternative recruiting resources, the study considered the effects of such programs on the service history of recruits, including reserve component accessions, as well as their cost. Data were gathered through military records of recruits of the early 1980s who were offered either enlistment bonuses or educational benefits depending on their geographic location. The study found that the cost of a high-quality recruit is $6,900 in educational benefits or $18,700 in enlistment bonuses. Therefore, educational benefits were found to be more cost effective. (Contains 12 references.) (Kc)
Military enlistment of Hispanic youth : obstacles and opportunities
( Book )
8 editions published between
2008
and 2009 in
English
and held by 155 WorldCat member libraries worldwide
Although polls of Hispanic youth show a strong propensity to serve in the military, Hispanics are nonetheless underrepresented among military recruits. The authors discuss the major characteristics that disproportionately disqualify Hispanic youth and explore actions that could be taken to increase Hispanic enlistments
Reforming the military retirement system
by
Beth J Asch
( Book )
8 editions published between
1997
and 1998 in
English
and held by 154 WorldCat member libraries worldwide
The authors summarize the principal features of a model of military compensation they developed earlier and use it to analyze the effects of converting the current military retirement system to an alternative system patterned after the Federal Employees Retirement System
more
fewer
Audience Level
0

1
Kids
General
Special
Audience level: 0.37 (from 0.01 for Reforming ... to 0.61 for Emigration ...)
Related Identities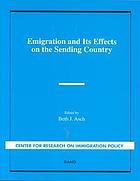 Alternative Names
Asch, Beth 1958-

Asch, Beth J.

Languages
Covers