Kempf, Hubert
Most widely held works by Hubert Kempf
Macroéconomie
by
Hubert Kempf
( Book )
13 editions published between
1995
and 2006 in 3 languages and held by 242 WorldCat member libraries worldwide
S'efforçant de comprendre le fonctionnement et les problèmes globaux d'une économie de marché puis de leur trouver des solutions, la macroéconomie est un domaine d'étude dont les enjeux, sont considérables, qu'ils soient économiques sociaux ou politiques. L'ouvrage présente les bases de l'analyse macroéconomique mais aussi les recherches les plus récentes. Evitant l'excès de formalisation mathématique, il accorde une place importante à la présentation des concepts et des méthodes ainsi qu'aux explications, aux vérifications et aux interprétations des faits. Des repères statistiques et des exemples empiriques sont largement introduits pour illustrer les exposés théoriques
Market imperfections and macroeconomic dynamics
by
Jean-Olivier Hairault
( Book )
11 editions published between
2002
and 2011 in
English
and held by 202 WorldCat member libraries worldwide
Market Imperfections and Macroeconomic Dynamics is based upon a collection of papers originally presented at the 5th Theory and Methods in Macroeconomics (T2M) meeting in Paris, France, 2002. The contributions in this volume focus on a central theme: the aggregate dynamic consequences of market imperfections. Such effects are of great interest to researchers in macroeconomics as these imperfections play a primary role in the persistence of aggregate output, the characteristics of the business cycles and the interactions of agents over time. Incorporating up-to-date techniques and methods, these contributions exemplify the remarkable progress made by macroeconomists in tackling these issues. The primary market for Market Imperfections and Macroeconomic Dynamics is academic researchers in economics and graduate students specializing in macroeconomics. Divisions of economic studies in public administration and in financial organizations will also find this book beneficial
Establishing a monetary union
by
Russell W Cooper
( )
16 editions published between
1998
and 2000 in
English
and held by 157 WorldCat member libraries worldwide
This paper explores the gains to monetary union. We consider a two-country overlapping generations model. Agents work when young and have random tastes over the composition (domestic vs. foreign goods) of old age consumption. In equilibrium, governments require that local currency be used for transactions as a means of creating a base for seignorage. Thus agents hold multiple currencies to deal with uncertainty in their optimal consumption bundles. We argue that this equilibrium is Pareto dominated by a monetary union, in which there is a single currency and a strong central bank that optimally chooses zero inflation. As suggested by the European Commission's 1990 report, monetary union reduces the inefficiencies created by multiple currencies and leads to price stability. Finally, we argue this Pareto superior outcome cannot be achieved without cooperation of the two governments
Designing stabilization policy in a monetary union
by
Russell W Cooper
( )
18 editions published in
2000
in
English
and held by 143 WorldCat member libraries worldwide
While the European Monetary Union (EMU) is now a reality, debate among economists nonetheless continues about the design and desirability of monetary unions. Since an essential element of a monetary union is the delegation of monetary power to a single centralized entity, one of the key issues in this debate is whether a monetary union will limit the effectiveness of stabilization policy. If so, monetary union will not necessarily be welfare improving. In this paper, we study a two-country world economy and consider various designs of monetary union. We argue that the success of monetary union depends on : (i) the commitment ability of the single central bank, (ii) the policy flexibility of the national fiscal authorities and the central monetary authority and (iii) the cross country correlation of shocks. If, for example, the central bank moves before the fiscal authorities, then a monetary union will increase welfare as long as fiscal policy is sufficiently responsive to shocks. However, if the fiscal authorities have a restricted set of tools and/or the monetary authority lacks the ability to commit to its policy, then monetary union may not be desirable
Is it is or is it ain't my obligation? : regional debt in a fiscal federation
by
Russell W Cooper
( )
16 editions published between
2005
and 2015 in
English
and
Undetermined
and held by 116 WorldCat member libraries worldwide
This paper studies the repayment of regional debt in a multi-region economy with a central authority: who pays the obligation issued by a region? With commitment, a central government will use its taxation power to smooth distortionary taxes across regions. Absent commitment, the central government may be induced to bailout the regional government in order to smooth consumption and distortionary taxes across the regions. We characterize the conditions under which bailouts occur and their welfare implications. The gains to creating a federation are higher when the (government spending) shocks across regions are negatively correlated and volatile. We use these insights to comment on actual fiscal relations in three quite different federations: the US, the European Union and Argentina
La présidence américaine
by
Marie-France Toinet
( Book )
3 editions published in
1996
in
French
and held by 88 WorldCat member libraries worldwide
Deposit insurance without commitment : Wall St. versus Main St
by
Russell W Cooper
( )
10 editions published in
2011
in
English
and held by 87 WorldCat member libraries worldwide
This paper studies the provision of deposit insurance without commitment in an economy with heterogenous households. When households are identical, deposit insurance will be provided ex post to reap insurance gains. But the ex post provision of deposit insurance redistributes consumption when households differ in their claims on the banking system as well as in their tax obligations to finance the deposit insurance. Deposit insurance will not be provided ex post if it requires a (socially) undesirable redistribution of consumption which outweighs insurance gains
Deposit insurance and orderly liquidation without commitment : can we sleep well?
by
Russell W Cooper
( )
6 editions published in
2013
in
English
and held by 82 WorldCat member libraries worldwide
This paper assess the affects of the orderly liquidation of a failing bank and the ex post provision of deposit insurance on the prospect of bank runs. Assuming that the public institutions in charge of these policies lack commitment power, these interventions, both individually and jointly, are chosen and undertaken ex post. The costs of liquidation and redistribution across heterogenous households play key roles in these decisions. If investment is suffciently illiquid, a credible liquidation policy will deter runs. Deposit insurance will not be provided ex post if it requires a (socially) undesirable redistribution of consumption that outweighs insurance gains. Despite the lack of commitment, runs can be prevented by the provision of deposit insurance funded by an optimally designed ex post tax scheme
Is it is or is it ain't my obligation? regional debt in monetary unions
by
Russell W Cooper
( Book )
13 editions published in
2004
in
English
and held by 69 WorldCat member libraries worldwide
This paper studies the implications of the circulation of interest bearing regional debt in a monetary union. Does the circulation of this debt have the same monetary implications as the printing of money by a central government? Or are the obligations of this debt simply backed by future taxation with no inflationary consequences? We argue here that both outcomes can arise in equilibrium. In the model economy we consider there are multiple equilibria which reflect the perceptions of agents regarding the manner in which the debt obligations will be met. In one equilibrium, termed Ricardian, the future obligations are met with taxation by a regional government while in the other, termed Monetization, the central bank is induced to print money to finance the region's obligations. The multiplicity of equilibria reflects a commitment problem of the central bank. A key indicator of the selected equilibrium is the distribution of the holdings of the regional debt. We use the model to assess the impact of policy measures, such as fiscal restrictions, within a monetary union
more
fewer
Audience Level
0

1
General
Special
Audience level: 0.75 (from 0.59 for Deposit in ... to 0.93 for Overturnin ...)
Related Identities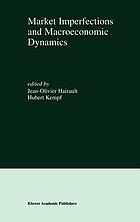 Covers
Alternative Names
Hubert Kempf economist (Paris School of Economics; École Normale Supérieure (ENS Cachan))

Hubert Kempf econoom

Hubert Kempf Wirtschaftswissenschaftler (Tätig als Leiter des Forschungsteams EUREQua;tätig an der Paris School of Economics, France (2008) ; tätig an der Univ. Paris I Panthéon-Sorbonne; seit 1990 MAD; Europ. Univ. Inst., Florenz; Univ. of Caen)

Kempf H.

Kempf, H. 1953-

Kempf, Hubert, agrégé de science économique

Languages