National Research Council (U.S.). Space Studies Board
Most widely held works about National Research Council (U.S.).
Most widely held works by National Research Council (U.S.).
An astrobiology strategy for the exploration of Mars
by Commitee on an Astrobiology Strastegy for the Exploration on Mars
( Book )
6 editions published in
2007
in
English
and held by 115 WorldCat member libraries worldwide
Three recent developments have greatly increased interest in the search for life on Mars. The first is new information about the Martian environment including evidence of a watery past and the possibility of atmospheric methane. The second is the possibility of microbial viability on Mars. Finally, the Vision for Space Exploration initiative included an explicit directive to search for the evidence of life on Mars. These scientific and political developments led NASA to request the NRC's assistance in formulating an up-to-date integrated astrobiology strategy for Mars exploration. Among other topics, this report presents a review of current knowledge about possible life on Mars; an astrobiological assessment of current Mars missions; a review of Mars-mission planetary protection; and findings and recommendations. The report notes that the greatest increase in understanding of Mars will come from the collection and return to Earth of a well-chosen suite of Martian surface materials
Preventing the forward contamination of Mars
( Book )
6 editions published in
2006
in
English
and held by 110 WorldCat member libraries worldwide
Recent spacecraft and robotic probes to Mars have yielded data that are changing our understanding significantly about the possibility of existing or past life on that planet. Coupled with advances in biology and life-detection techniques, these developments place increasing importance on the need to protect Mars from contamination by Earth-borne organisms. To help with this effort, NASA requested that the NRC examine existing planetary protection measures for Mars and recommend changes and further research to improve such measures. This report discusses policies, requirements, and techniques to protect Mars from organisms originating on Earth that could interfere with scientific investigations. It provides recommendations on cleanliness and biological burden levels of Mars-bound spacecraft, methods to reach those levels, and research to reduce uncertainties in preventing forward contamination of Mars
Defending planet Earth : near-Earth-object surveys and hazard mitigation strategies
by
National Research Council (U.S.)
( Book )
6 editions published in
2010
in
English
and held by 104 WorldCat member libraries worldwide
"The United States spends approximately $4 million each year searching for near-Earth objects (NEOs). The objective is to detect those that may collide with Earth. The majority of this funding supports the operation of several observatories that scan the sky searching for NEOs. This, however, is insufficient in detecting the majority of NEOs that may present a tangible threat to humanity. A significantly smaller amount of funding supports ways to protect the Earth from such a potential collision or "mitigation." In 2005, a Congressional mandate called for NASA to detect 90 percent of NEOs with diameters of 140 meters of greater by 2020. Defending Planet Earth: Near-Earth Object Surveys and Hazard Mitigation Strategies identifies the need for detection of objects as small as 30 to 50 meters as these can be highly destructive. The book explores four main types of mitigation including civil defense, "slow push" or "pull" methods, kinetic impactors and nuclear explosions. It also asserts that responding effectively to hazards posed by NEOs requires national and international cooperation. Defending Planet Earth: Near-Earth Object Surveys and Hazard Mitigation Strategies is a useful guide for scientists, astronomers, policy makers and engineers."--Publisher's description
Launching science : science opportunities provided by NASA's constellation system
by
National Research Council (U.S.)
( Book )
7 editions published between
2008
and 2009 in
English
and held by 95 WorldCat member libraries worldwide
In January 2004 NASA was given a new policy direction known as the Vision for Space Exploration. That plan, now renamed the United States Space Exploration Policy, called for sending human and robotic missions to the Moon, Mars, and beyond. In 2005 NASA outlined how to conduct the first steps in implementing this policy and began the development of a new human-carrying spacecraft known as Orion, the lunar lander known as Altair, and the launch vehicles Ares I and Ares V. Collectively, these are called the Constellation System. In November 2007 NASA asked the National Research Council (NRC) to evaluate the potential for new science opportunities enabled by the Constellation System of rockets and spacecraft. The NRC committee evaluated a total of 17 mission concepts for future space science missions. Of those, the committee determined that 12 would benefit from the Constellation System and five would not. This book presents the committee's findings and recommendations, including cost estimates, a review of the technical feasibility of each mission, and identification of the missions most deserving of future study
Recapturing a future for space exploration : life and physical sciences research for a new era
by
National Research Council (U.S.)
( Book )
6 editions published in
2011
in
English
and held by 91 WorldCat member libraries worldwide
'More than four decades have passed since a human first set foot on the Moon. Great strides have been made in our understanding of what is required to support an enduring human presence in space, as evidenced by progressively more advanced orbiting human outposts, culminating in the current International Space Station (ISS). However, of the more than 500 humans who have so far ventured into space, most have gone only as far as near-Earth orbit, and none have traveled beyond the orbit of the Moon. Achieving humans' further progress into the solar system had proved far more difficult than imagined in the heady days of the Apollo missions, but the potential rewards remain substantial. During its more than 50-year history, NASA's success in human space exploration has depended on the agency's ability to effectively address a wide range of biomedical, engineering, physical science, and related obstacles--an achievement made possible by NASA's strong and productive commitments to life and physical sciences research for human space exploration, and by its use of human space exploration infrastructures for scientific discovery. The Committee for the Decadal Survey of Biological and Physical Sciences acknowledges the many achievements of NASA, which are all the more remarkable given budgetary challenges and changing directions within the agency. In the past decade, however, a consequence of those challenges has been a life and physical sciences research program that was dramatically reduced in both scale and scope, with the result that the agency is poorly positioned to take full advantage of the scientific opportunities offered by the now fully equipped and staffed ISS laboratory, or to effectively pursue the scientific research needed to support the development of advanced human exploration capabilities. Although its review has left it deeply concerned about the current state of NASA's life and physical sciences research, the Committee for the Decadal Survey on Biological and Physical Sciences in Space is nevertheless convinced that a focused science and engineering program can achieve successes that will bring the space community, the U.S. public, and policymakers to an understanding that we are ready for the next significant phase of human space exploration. The goal of this report is to lay out steps and develop a forward-looking portfolio of research that will provide the basis for recapturing the excitement and value of human spaceflight--thereby enabling the U.S. space program to deliver on new exploration initiatives that serve the nation, excite the public, and place the United States again at the forefront of space exploration for the global good"--Publisher's description
Vision and voyages for planetary science in the decade 2013-2022
by
Committee on the Planetary Science Decadal Survey
( Book )
7 editions published in
2011
in
English
and held by 81 WorldCat member libraries worldwide
'In recent years, planetary science has seen a tremendous growth in new knowledge. Deposits of water ice exist at the Moon's poles. Discoveries on the surface of Mars point to an early warm wet climate, and perhaps conditions under which life could have emerged. Liquid methane rain falls on Saturn's moon Titan, creating rivers, lakes, and geologic landscapes with uncanny resemblances to Earth's. Vision and Voyages for Planetary Science in the Decade 2013-2022 surveys the current state of knowledge of the solar system and recommends a suite of planetary science flagship missions for the decade 2013-2022 that could provide a steady stream of important new discoveries about the solar system. Research priorities defined in the report were selected through a rigorous review that included input from five expert panels. NASA's highest priority large mission should be the Mars Astrobiology Explorer Cacher (MAX-C), a mission to Mars that could help determine whether the planet ever supported life and could also help answer questions about its geologic and climatic history. Other projects should include a mission to Jupiter's icy moon Europa and its subsurface ocean, and the Uranus Orbiter and Probe mission to investigate that planet's interior structure, atmosphere, and composition. For medium-size missions, Vision and Voyages for Planetary Science in the Decade 2013-2022 recommends that NASA select two new missions to be included in its New Frontiers program, which explores the solar system with frequent, mid-size spacecraft missions. If NASA cannot stay within budget for any of these proposed flagship projects, it should focus on smaller, less expensive missions first. Vision and Voyages for Planetary Science in the Decade 2013-2022 suggests that the National Science Foundation expand its funding for existing laboratories and establish new facilities as needed. It also recommends that the program enlist the participation of international partners. This report is a vital resource for government agencies supporting space science, the planetary science community, and the public.--Publisher's description."
more
fewer
Audience Level
0

1
Kids
General
Special
Audience level: 0.09 (from 0.02 for Vision and ... to 0.78 for Space stud ...)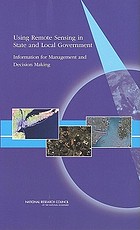 Alternative Names
Assembly of Mathematical and Physical Sciences (U.S.). Space Science Board
Commission on physical sciences, mathematics, and applications

Commission on physical sciences, mathematics, and applications Etats-Unis Space sciences board

National research council

National Research Council Aeronautics and Space Engineering Board Space Studies Board

National Research Council Commission on Physical Sciences, Mathematics, and Applications Space Studies Board

National Research Council Division on Engineering and Physical Sciences Space Studies Board

National research council Etats-Unis Space studies board

National Research Council Space Studies Board

National Research Council (Spojené státy americké). Commission on Physical Sciences, Mathematics, and Applications. Space Studies Board

National Research Council (Spojené státy americké). Commission on Physical Sciences, Mathematics, and Resources. Space Studies Board

National Research Council (Spojené státy americké). Division on Engineering and Physical Sciences. Space Studies Board

National Research Council (Spojené státy americké) Space Studies Board

National Research Council (U.S.). Commission on Physical Sciences, Mathematics, and Applications. Space Studies Board

National Research Council (U.S.). Commission on Physical Sciences, Mathematics, and Resources. Space Studies Board

National Research Council (U.S.). Division on Engineering and Physical Sciences. Space Studies Board

National Research Council (U.S.) Space Studies Board

Space Studies Board

Languages
Covers