Allmon, Warren D.
Most widely held works by Warren D Allmon
For the rock record : geologists on intelligent design
( )
14 editions published in
2009
in
English
and held by 2,352 WorldCat member libraries worldwide
"According to the idea of intelligent design, nature's complexity is the result of deliberate planning by a supernatural creative force. To date, most scientific arguments against this form of creationism have been made by evolutionary biologists. In this volume, a team of earth scientists reveals that the flaws of intelligent design are not limited to the biological sciences. Indeed, the geological sciences offer some of the best refutations of intelligent design arguments. For the Rock Record is dedicated to the proposition that the idea of intelligent design should be of serious concern to everyone. Editors Jill S. Schneiderman and Warren D. Allmon have gathered leading figures from the geological community with a wide range of viewpoints that go to the heart of the debate over what is and is not science. The purveyors of intelligent design theories and its kindred philosophies threaten the scientific literacy that our society needs by confusing faith and the practice of science. This collection offers a much-needed response."--Page 4 of cover
Evolutionary paleoecology : the ecological context of macroevolutionary change
by
Warren D Allmon
( )
15 editions published between
2000
and 2012 in
English
and
Undetermined
and held by 1,963 WorldCat member libraries worldwide
One of the most important questions we can ask about life is ""Does ecology matter?"" Most biologists and paleontologists are trained to answer ""yes, "" but the exact mechanisms by which ecology matters in the context of patterns that play out over millions of years have never been entirely clear. This book examines these mechanisms and looks at how ancient environments affected evolution, focusing on long-term macroevolutionary changes as seen in the fossil record. Evolutionary paleoecology is not a new discipline. Beginning with Darwin, researchers have attempted to understand ho
Stephen Jay Gould : reflections on his view of life
by
Warren D Allmon
( )
15 editions published between
2008
and 2009 in
English
and held by 1,640 WorldCat member libraries worldwide
"Considered by many during his lifetime as the most well-known scientist in the world, Stephen Jay Gould left an enormous and influential body of work. A Harvard professor of paleontology, evolutionary biology, and the history of science, Gould provided major insights into our understanding of the history of life. He helped to reinvigorate paleontology, launch macroevolution on a new course, and provide a context in which the biological developmental stages of an organism's embryonic growth could be integrated into an understanding of evolution. This book is a set of reflections on the many areas of Gould's intellectual life by the people who knew and understood him best: former students and prominent close collaborators. Mostly a critical assessment of his legacy, the chapters are not technical contributions but rather offer a combination of intellectual bibliography, personal memoir, and reflection on Gould's diverse scientific achievements. The work includes the most complete bibliography of his writings to date and offers a multi-dimensional view of Gould's life-work not to be found in any other volume."--Publisher description
Rock of ages, sands of time
by
Warren D Allmon
( Book )
6 editions published in
2001
in
English
and held by 364 WorldCat member libraries worldwide
"Each one of Barbara Page's 544 contiguous painted panels represents a million years of the history of life on Earth, with fossil plants and animals depicted at the same scale and in association with each other, just as they might be found by a paleontologist in the field. A muted rainbow of background colors evokes the rocks in which the fossils were found - the Texas Red Beds, for instance, or yellow Solnhofen limestone - and keystone events are shown metaphorically, with fat rolls of paint marking major extinctions or continental drift." "To fully experience the awesome impact of an eon's worth of time spread across 500 feet of bas-relief panels, you'd have to visit the Museum of the Earth in Ithaca, New York, where Page's specially commissioned work will be installed when the museum opens in 2002. But this book is the next best thing. Not only does it contain crisp color reproductions of each painting, but it also includes an accessible essay by paleontologist Warren Allmon giving the scientific context behind the art." "For fossil lovers of all ages, and anyone interested in the merging of art and science, Rock of Ages, Sands of Time will be the find of a lifetime."--Jacket
Species and speciation in the fossil record
( Book )
7 editions published between
2016
and 2017 in
English
and held by 354 WorldCat member libraries worldwide
Introduction: Taking fossil species seriously / W.D. Allmon and M.M. Yacobucci -- The "species concept" and the beginnings of paleobiology / D. Sepkoski -- The species problem : concepts, conflicts, and patterns preserved in the fossil record / W. Miller III -- Studying species in the fossil record : a review and recommendations for a more unified approach / W.D. Allmon -- The stages of speciation : a stepwise framework for analysis of speciation in the fossil record / W.D. Allmon and S.D. Sampson -- Morphology and molecules : an integrated comparison of phenotypic and genetic rates of evolution / S.J. Hageman -- Fitting ancestral age-dependent speciation models to fossil data / L.H. Liow and T. Ergon -- Contrasting patterns of speciation in reef corals and their relationship to population connectivity / A.F. Budd and J.M. Pandolfi -- Towards a model for speciation in ammonoids / M.M. Yacobucci -- Species of Decapoda (Crustacea) in the fossil record : patterns, problems, and progress / C.E. Schweitzer and R.M. Feldmann -- Fossil species as data : a perspective from echinoderms / W.I. Ausich -- Species and the fossil record of fishes / W.E. Bemis -- The impact of invasive species on speciation : lessons from the fossil record / A.L. Stigall -- Fossil species lineages and their defining traits : taxonomic "usefulness" and evolutionary modes / M.J. Hopkins and S. Lidgard -- Geographic clines, chronoclines, and the fossil record : implications for speciation theory / D.R. Prothero, V.J. Syverson, K.R. Raymond, M. Madan, S. Molina, A. Fragomeni, S. DeSantis, A. Sutyagina, and G.L. Gage
Review of the Bullia group (Gastropoda: Nassariidae) with comments on its evolution, biogeography, and phylogeny
by
Warren D Allmon
( Book )
5 editions published in
1990
in
English
and held by 49 WorldCat member libraries worldwide
The "Bullia group", comprising those gastropods of the family Nassariidae not assignable to the subfamilies Nassariinae or Cylleninae, is a relatively small group presently confined to temperate and subtropical shallow water habitats in the South Atlantic and Indian Oceans. The group has a significant and complex fossil record, however, that indicates greater morphological diversity and wider geographic distribution in the Tertiary than today. This fossil record suggests that Nassariidae arose and diversified initially in the New World in the Late Cretaceous and Early Tertiary, spreading to Europe, Africa and beyond by Miocene times. The genus Bullia s. s. is today an important and diverse component of the South African sandy shore molluscan fauna. the current status of Bullia s.s., however, is probably a relatively recent development. Bullia apparently did not reach Africa until the late Miocene or early Pliocene, and its approximately 40 living species are of Pliocene age or younger. Consideration of the phylogenetic and biogeographic history of the entire group suggests that the ancestors of modern Bullia s.s. may have reached Africa from South America via chance dispersal across open ocean, a mode usually not seriously considered for marine prosobranchs lacking a planktonic larval stage
more
fewer
Audience Level
0

1
Kids
General
Special
Audience level: 0.16 (from 0.06 for Evolutiona ... to 0.79 for Guidelines ...)
Related Identities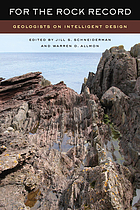 Covers
Alternative Names
Allmon, Warren

Allmon, Warren D.

Allmon, Warren Douglas

올먼, 워렌 D

Languages