Everett, Hugh
Most widely held works about Hugh Everett
more
fewer
Most widely held works by Hugh Everett
The many-worlds interpretation of quantum mechanics : a fundamental exposition
by
Hugh Everett
( )
16 editions published between
1973
and 2015 in
English
and held by 1,367 WorldCat member libraries worldwide
A novel interpretation of quantum mechanics, first proposed in brief form by Hugh Everett in 1957, forms the nucleus around which this book has developed. In his interpretation, Dr. Everett denies the existence of a separate classical realm and asserts the propriety of considering a state vector for the whole universe. Because this state vector never collapses, reality as a whole is rigorously deterministic. This reality, which is described jointly by the dynamical variables and the state vector, is not the reality customarily perceived; rather, it is a reality composed of many worlds. By virtue of the temporal development of the dynamical variables, the state vector decomposes naturally into orthogonal vectors, reflecting a continual splitting of the universe into a multitude of mutually unobservable but equally real worlds, in each of which every good measurement has yielded a definite result, and in most of which the familiar statistical quantum laws hold. The volume contains Dr. Everett's short paper from 1957, "'Relative State' Formulation of Quantum Mechanics," and a far longer exposition of his interpretation, entitled "The Theory of the Universal Wave Function," never before published. In addition, other papers by Wheeler, DeWitt, Graham, and Cooper and Van Vechten provide further discussion of the same theme. Together, they constitute virtually the entire world output of scholarly commentary on the Everett interpretation. Originally published in 1973. The Princeton Legacy Library uses the latest print-on-demand technology to again make available previously out-of-print books from the distinguished backlist of Princeton University Press. These paperback editions preserve the original texts of these important books while presenting them in durable paperback editions. The goal of the Princeton Legacy Library is to vastly increase access to the rich scholarly heritage found in the thousands of books published by Princeton University Press since its founding in 1905
Viele Welten : Hugh Everett III : ein Familiendrama zwischen Kaltem Krieg und Quantenphysik
by
Peter Byrne
( Book )
1 edition published in
2012
in
German
and held by 43 WorldCat member libraries worldwide
Peter Byrne erzÃ|#x00A4;hlt die Lebensgeschichte von Hugh Everett III (1930-1982), dessen âviele Weltenâ Theorie der multiplen Universen die Physik und Philosophie entscheidend beeinflusst hat. Anschaulich und fÃ1/4r das breite Publikum zugÃ|#x00A4;nglich entwirft Byrne ein detailliertes PortrÃ|#x00A4;t des Genies, das eine erstaunliche Methode erfand, unser komplexes Universum von Innen zu beschreiben. Byrne verwendet hierbei bisher unverÃœffentlichte Schriften von Everett (die kÃ1/4rzlich im Keller seines Sohn entdeckt wurden) und zahlreiche Interviews mit Freunden, Arbeitskollegen und noch lebenden Familienmitgliedern. Everetts mathematisches Model (âUniversal Wave Functionâ) beschreibt alle denkbaren Ereignisse als âgleichwertig realâ und folgert, dass endlose Kopien jedes Menschen und Gegenstandes in allen nur denkbaren Strukturen existieren, die sich Ã1/4ber endlose Universen erstrecken: viele Welten. Everett, gezeichnet von Depressionen und Sucht, strebte danach, eine rational Ordnung in jene Wissenschaftsbereiche zu bringen, in denen ihm historisch bedeutende Rollen zukamen. Neben seiner berÃ1/4hmten Interpretation der Quantenmechanik verfasste Everett eine klassische Arbeit zur Spieltheorie. Zudem entwickelte er Computeralgorithmen, die die Forschung im Bereich der MilitÃ|#x00A4;reinsÃ|#x00A4;tze revolutionierten, und leistete Pionierarbeit auf dem Gebiet der kÃ1/4nstlichen Intelligenz fÃ1/4r streng geheime Regierungsprojekte. Ferner schrieb Everett die Grundsoftware zur Anzielung von StÃ|#x00A4;dten in einem Nuklearkrieg und er gehÃœrte zu den ersten Wissenschaftlern, die die Gefahr des nuklearen Winters erkannten. Als Kalter Krieger entwickelte er logische Systeme, die die ârationalenâ Verhaltensweisen von Mensch und Maschine darstellten, und war sich dennoch weitestgehend nicht des emotionalen Schadens bewusst, den sein eigenes irrationales Verhalten seiner Familie und seinen GeschÃ|#x00A4;ftspartnern zufÃ1/4gte. Everett starb sehr frÃ1/4h, hinterlieà jedoch ein faszinierendesLebenszeugnis, einschlieÃlich des Schriftverkehrs mit solch philosophisch geprÃ|#x00A4;gten Physikern wie Niels Bohr, Norbert Wiener und John Wheeler. Diese auÃergewÃœhnlichen Briefe werfen Licht auf Everetts langwierige und oftmals schmerzliche Anstrengungen, das Messproblem im Herzen der Quantenphysik zu erklÃ|#x00A4;ren. In den letzten Jahren gewann Everetts LÃœsung fÃ1/4r dieses mysteriÃœse Problem â" die Existenz eines Universums von Universen â" beachtlichen Zuspruch in Wissenschaftskreisen, nicht als Science Fiction, aber als ErklÃ|#x00A4;rung der physikalischen RealitÃ|#x00A4;t
The Everett interpretation of quantum mechanics : collected works 1955-1980 with commentary
by
Hugh Everett
( )
6 editions published in
2012
in
English
and held by 6 WorldCat member libraries worldwide
Hugh Everett III was an American physicist best known for his many-worlds interpretation of quantum mechanics, which formed the basis of his PhD thesis at Princeton University in 1957. Although counterintuitive, Everett's revolutionary formulation of quantum mechanics offers the most direct solution to the infamous quantum measurement problem--that is, how and why the singular world of our experience emerges from the multiplicities of alternatives available in the quantum world. The many-worlds interpretation postulates the existence of multiple universes. Whenever a measurement-like interaction occurs, the universe branches into relative states, one for each possible outcome of the measurement, and the world in which we find ourselves is but one of these many, but equally real, possibilities. Everett's challenge to the orthodox interpretation of quantum mechanics was met with scorn from Niels Bohr and other leading physicists, and Everett subsequently abandoned academia to conduct military operations research. Today, however, Everett's formulation of quantum mechanics is widely recognized as one of the most controversial but promising physical theories of the last century. In this book, Jeffrey Barrett and Peter Byrne present the long and short versions of Everett's thesis along with a collection of his explanatory writings and correspondence. These primary source documents, many of them newly discovered and most unpublished until now, reveal how Everett's thinking evolved from his days as a graduate student to his untimely death in 1982. This definitive volume also features Barrett and Byrne's introductory essays, notes, and commentary that put Everett's extraordinary theory into historical and scientific perspective and discuss the puzzles that still remain
Many worlds? : Everett, quantum theory, and reality
by
Simon Saunders
( Book )
1 edition published in
2010
in
English
and held by 6 WorldCat member libraries worldwide
"What does realism about the quantum state imply? What follows when quantum theory is applied without restriction, if need be, to the whole universe? These are the questions which are debated in this book. All the chapters start from the point of realism, and based on the need, or the aspiration, for a theory that unites micro- and macroworlds, at least in principle ... Twenty chapters ... focus first on the question of ontology, the existence of worlds, second on the interpretation of probability, and third on alternatives or additions to many worlds."--Publisher description
"3. Reversibility and irreversibility," version 2, handwritten draft, circa 1955
by
Hugh Everett
( )
1 edition published in
2011
in
Undetermined
and held by 1 WorldCat member library worldwide
Among Hugh Everett's files were a number of handwritten documents related to the writing of his thesis. Many of them were drafts of material that ultimately appeared in the long thesis. This document, one of two that were entitled "3 Reversibility and irreversibility," was found loose among his papers
"I. Introduction," handwritten draft, circa 1955
by
Hugh Everett
( )
1 edition published in
2011
in
Undetermined
and held by 1 WorldCat member library worldwide
This document was found in the basement of Mark Everett in 2007 by Mark Everett and Peter Byrne, in a file labelled "Early drafts."
Recursive Games
by
Hugh Everett
( )
1 edition published in
2011
in
Undetermined
and held by 1 WorldCat member library worldwide
The published version of Hugh Everett's paper "Recursive Games." This paper was discussed at a conference at Princeton in 1955, and then in the volume "Contributions to the Theory of Games, Volume III", C. Berg and M. Dresher eds
more
fewer
Audience Level
0

1
Kids
General
Special
Audience level: 0.17 (from 0.03 for The many w ... to 1.00 for Parallel w ...)
Related Identities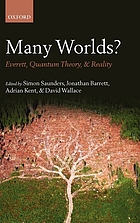 Covers
Alternative Names
Everett, H.

Everett, H. 1930-1982

Everett, H. (Hugh)

Everett, Hugh III. 1930-1982

Hjū Everets

Hugh Everett

Hugh Everett Amerikaans natuurkundige en wiskundige

Hugh Everett Amerikaans wiskundige

Hugh Everett amerikai fizikus

Hugh Everett amerikansk fysiker och matematiker

Hugh Everett fizyk amerykański

Hugh Everett III American physicist, author of the many-worlds interpretation of quantum mechanics

Hugh Everett III amerikansk fysiker og matematiker

Hugh Everett III fisico statunitense

Hugh Everett physicien américain

Hugh Everett US-amerikanischer Physiker

Hugh Everett usona fizikisto

Г'ю Еверетт Американський фізик

Хју Еверет

Эверетт, Хью

יו אברט

هيو إيفرت الثالث

هیو اورت ریاضی‌دان و فیزیک‌دان آمریکایی

ヒュー・エヴェレット3世

休·艾弗雷特三世

休·艾弗雷特三世 美国物理学家

Languages