Toobin, Jeffrey
Most widely held works about Jeffrey Toobin
Most widely held works by Jeffrey Toobin
The nine : inside the secret world of the Supreme Court
by
Jeffrey Toobin
( Book )
20 editions published between
2007
and 2010 in 4 languages and held by 3,557 WorldCat member libraries worldwide
As the Supreme Court continues to rule on important issues, it is essential to understand how it operates. Based on exclusive interviews with the justices themselves and other insiders, this is a timely "state of the union" about America's most elite legal institution. From Anthony Kennedy's self-importance, to Antonin Scalia's combativeness, to David Souter's eccentricity, and even Sandra Day O'Connor's fateful breach with President George W. Bush, this book offers a rare personal look at how the individual style of each justice affects the way in which they wield their considerable power. Toobin shows how--since Reagan--conservatives were long thwarted in their attempts to control the Court by some of the very justices they pressured Presidents to appoint. That struggle ended with the recent appointments of John Roberts and Samuel Alito, and Toobin relays the behind-the-scenes drama in detail, as well as the ensuing 2007 Court term.--From publisher description
American heiress : the wild saga of the kidnapping, crimes and trial of Patty Hearst
by
Jeffrey Toobin
( Book )
23 editions published between
2016
and 2017 in
English
and held by 2,521 WorldCat member libraries worldwide
"On February 4, 1974, Patty Hearst, a sophomore in college and heiress to the Hearst family fortune, was kidnapped by a ragtag group of self-styled revolutionaries calling itself the Symbionese Liberation Army. The weird turns that followed in this already sensational tale are truly astonishing--the Hearst family trying to secure Patty's release by feeding all the people of Oakland and San Francisco for free; bank security cameras captured 'Tania' wielding a machine gun during a robbery; the LAPD engaged in the largest police shoot-out in American history; the first breaking news event to be broadcast live on television stations across the country; and then there was Patty's circuslike trial, filled with theatrical courtroom confrontations and a dramatic last-minute reversal, after which the term 'Stockholm syndrome' entered the lexicon. Ultimately, the saga highlighted a decade in which America seemed to be suffering a collective nervous breakdown. American Heiress portrays the electrifying lunacy of the time and the toxic mix of sex, politics, and violence that swept up Patty Hearst and captivated the nation." --
The oath : the Obama White House and the Supreme Court
by
Jeffrey Toobin
( Book )
15 editions published between
2012
and 2013 in
English
and
Chinese
and held by 2,162 WorldCat member libraries worldwide
"An insider's account of the momentous ideological war between the John Roberts Supreme Court and the Obama administration. From the moment John Roberts, the Chief Justice of the United States, flubbed the Oath of Office at Barack Obama's inauguration, the relationship between the Supreme Court and the White House has been confrontational. Both men are young, brilliant, charismatic, charming, determined to change the course of the nation--and completely at odds on almost every major constitutional issue. One is radical; one essentially conservative. The surprise is that Obama is the conservative--a believer in incremental change, compromise, and pragmatism over ideology. Roberts--and his allies on the Court--seek to overturn decades of precedent: in short, to undo the victory FDR achieved in the New Deal. And now they are linked in history by Roberts's stunning vote to uphold Obamacare. As the nation prepares to vote for President in 2012, the future of the Supreme Court is also on the ballot."--Publisher description
The run of his life : the people v. O.J. Simpson
by
Jeffrey Toobin
( Book )
16 editions published between
1996
and 2015 in
English
and held by 2,038 WorldCat member libraries worldwide
"The Run of His Life will be the definitive history of the most famous criminal proceeding of the century. Here is the whole story of the events of June 12, 1994, and their aftermath, as it has never been told - rich in character, driven by the nonstop plot of a legal thriller, and nuanced by the foibles, vanities, and idiosyncracies of its participants. This news-breaking, behind-the-scenes book will transform what you thought you knew." "Jeffrey Toobin's stunning coverage of the trial of O.J. Simpson for The New Yorker magazine was the first to focus on the reality that no one wanted to address directly but that pervaded every moment of the trial and perhaps even the crime itself - that race was at the heart of everything. Toobin's explosive article in July 1994, "An Incendiary Defense," laid out the defense lawyers' strategy, fingered Mark Fuhrman as their chief villain, and made the "race card" the euphemism of choice." "In The Run of His Life, Toobin's great reporting, based on his unprecedented access to sources on all sides, lets us see, in a fresh light, the prosecutors, defense attorneys, private eyes, waiters, dog walkers, cops, ex-football stars, TV personalities, forensic experts, and so many others who, if they were not already, have become household names. The plaintive wail, the bloody glove, the "n-word," the Dream Team, and the Bronco chase are images so much a part of our collective unconscious that they need no further introduction. But Toobin provides a new understanding of these modern totems as well as an insightful examination of the larger questions raised by the case - including the importance of celebrity, race (and the way it's manipulated in the politically correct media), California as both a state and a state of mind, domestic violence, American jurisprudence, and the efficacy of the jury system."--Jacket
A vast conspiracy : the real story of the sex scandal that nearly brought down a president
by
Jeffrey Toobin
( Book )
13 editions published between
1999
and 2000 in
English
and held by 1,880 WorldCat member libraries worldwide
In A Vast Conspiracy, the best-selling author of The Run of His Life casts an insightful, unbiased eye over the most extraordinary public saga of our time -- the Clinton sex scandals. A superlative journalist known for the skillfulness of his investigating and the power of his writing, Jeffrey Toobin tells the unlikely story of the events that began over doughnuts in a Little Rock hotel and ended on the floor of the United States Senate, with only the second vote on Presidential removal in American history. This is an entirely fresh look at the scandal that very nearly brought down a president. Packed with news-making disclosures and secret documents published here for the first time, Toobin unravels the three strands of a national scandal - those leading from Paula Jones, Kenneth Starr, and Monica Lewinsky - that created a legal, personal, and political disaster for Bill Clinton. A Vast Conspiracy is written with the narrative drive of a sensational (if improbable) legal thriller, and Toobin brilliantly explores the high principle and low comedy that were the hallmarks of the story. From Tripp to Goldberg, Isikoff to Hyde, the complex and tangled motivations behind the scandal are laid bare. While misguided, outlandish behavior was played out at the very highest level, Toobin analyzes the facts and the key figures with a level of dignity and insight that this story has not yet received. The Clinton scandals will shape forever how we think about the signature issues of our day -- sex and sexual harassment, privacy and perjury, civil rights, and, yes, cigars. Toobin's book will shape forever how we think about the Clinton scandals. -- Jacket
Too close to call : the thirty-six-day battle to decide the 2000 election
by
Jeffrey Toobin
( Book )
11 editions published between
2001
and 2002 in
English
and held by 1,337 WorldCat member libraries worldwide
"Political analyst Jeffrey Toobin presents an evenhanded, nonpartisan account of the controversy surrounding the 2000 presidential election and its aftermath."
O.J. : made in America
( Visual )
4 editions published in
2016
in
English
and held by 704 WorldCat member libraries worldwide
Part V: OJ is acquitted of the murders, but soon many of those close to him begin to doubt his innocence. In the years that follow, he loses his fortune following a civil trial and is arrested and sentenced in a unrelated robbery attempt -- summary from imdb.com
American heiress : the wild saga of the kidnapping, crimes and trial of Patty Hearst
by
Jeffrey Toobin
( Recording )
16 editions published in
2016
in
English
and held by 669 WorldCat member libraries worldwide
On February 4, 1974, Patty Hearst, a senior in college and heiress to the Hearst family fortune, was kidnapped by a ragtag group of self-styled revolutionaries calling itself the Symbionese Liberation Army. The already sensational story took the first of many incredible twists on April 3, when the group released a tape of Patty saying she had joined the SLA and had adopted the nom de guerre "Tania."
The nine : inside the secret world of the Supreme Court
by
Jeffrey Toobin
( Recording )
13 editions published in
2007
in
English
and held by 654 WorldCat member libraries worldwide
Bestselling author Jeffrey Toobin takes you into the chambers of the Supreme Court and reveals the complex dynamic among the nine people who decide the law of the land. Just in time for the 2008 presidential election-- where the future of the Court will be at stake-- Toobin reveals an institution at a moment of transition, when decades of conservative disgust with the Court have finally produced a conservative majority, with major changes in store on such issues as abortion, civil rights, presidential power, and church-state relations. Based on exclusive interviews with the justices themselves, The Nine tells the story of the Court through personalities-- from Anthony Kennedy's overwhelming sense of self-importance to Clarence Thomas's well-tended grievances against his critics to David Souter's odd nineteenth-century lifestyle. There is also, for the first time, the full behind-the-scenes story of Bush v. Gore-- and Sandra Day O'Connor's fateful breach with George W. Bush, the president she helped place in office."
more
fewer
Audience Level
0

1
Kids
General
Special
Audience level: 0.18 (from 0.13 for The nine : ... to 0.87 for Qui gouver ...)
Associated Subjects
Books
Books and reading
Bush, George W.--(George Walker),
California--Los Angeles
California--Los Angeles County
Clinton, Bill,
Conservatism
Constitutional history
Contested elections
Crime and the press
Criminal justice, Administration of
Discrimination in criminal justice administration
Electronic publishing
Florida
Football players
Goldman, Ronald Lyle,
Gore, Al,
Hearst, Patricia,
Impeachments
Iran-Contra Affair (1985-1990)
Judicial review
Kidnapping victims
Law--Political aspects
Nineteen seventies
North, Oliver
Obama, Barack
Police-community relations
Political corruption
Political questions and judicial power
Politics and government
Presidents--Election
Prosecution--Decision making
Publishers and publishing
Race discrimination
Race relations
Racial profiling in law enforcement
Relations with women
Roberts, John G.,
Sex
Simpson, Nicole Brown,
Simpson, O. J.,
Stockholm syndrome
Symbionese Liberation Army
Trials (Conspiracy)
Trials (Murder)
Trials (Robbery)
United States
United States.--Supreme Court
Washington (D.C.)
Wife abuse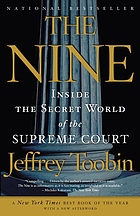 Covers
Alternative Names
Jeffrey Toobin Amerikaans commentator

Toobin, Jeffrey Ross

ஜெப்ரி டூபின்

투빈, 제프리

ジェフリー・トゥービン

トゥービン, ジェフリー

傑弗瑞·圖賓

Languages