Faludi, Susan
Most widely held works about Susan Faludi
more
fewer
Most widely held works by Susan Faludi
Backlash : the undeclared war against American women
by
Susan Faludi
( Book )
65 editions published between
1991
and 2010 in
English
and
Undetermined
and held by 4,283 WorldCat member libraries worldwide
Includes material on George Gilder, Allan Bloom, Michael Levin, Margarita Levin, Warren Farrell, Robert Bly, Sylvia Ann Hewlett, Betty Friedan, and Carol Gilligan
Stiffed : the betrayal of the American man
by
Susan Faludi
( Book )
24 editions published between
1999
and 2014 in
English
and held by 2,067 WorldCat member libraries worldwide
"If, as men are so often told, they are the dominant sex, why do so many of them feel dominated, done in by the world? Anyone who reads a magazine, watches a TV talk show, or listens to a radio call-in program has heard the evidence: America is having a masculinity crisis. Angry White Males have become a voting bloc. Dads are deadbeat. Boys are on the rampage. And with each schoolyard shooting and presidential peccadillo, with each corporate sexual harassment lawsuit and laid-off worker gone berserk, the media offer up the stock pronouncements: Men are out of control, overcontrolling, dangerous, violent, and even, it has been written, obsolete. Their troubles are said to be internal, the result of testosterone poisoning, Y chromosomes, attention deficit disorder, a warlike nature. Furthermore, it's charged, men have only themselves to blame, for aren't they the ones in control of the culture? Or are they? In Stiffed, Susan Faludi, the acclaimed author of Backlash, the convention-smashing manifesto on women's embattled status, turns her impressive powers of reporting and analysis to the problems of men and comes up with a revolutionary diagnosis. Men's problems aren't the product of biology, or of such trumped-up enemies as feminism and affirmative action, but of a modern social tragedy. By listening to men's stories in their own voices, by taking them on their own terms, Faludi uncovers a buried history- the untold story of how America made a glittering set of promises to the men of the baby-boom generation ... and proceeded to break every one of them. The betrayal of the American man has been perpetrated on many fronts, from the boardroom to the football stadium, from the army recruitment center to the suburban living room. Stiffed takes us on a journey through a contemporary masculine landscape littered with broken promises and into the lives of individual men whose accounts reveal the heart of the male dilemma. With an empathetic vision that breaks down the familiar lines of gender battle, Faludi travels deep into the meaning of male anguish. She intimately chronicles the struggles of industrial workers, sports fans, combat veterans, evangelical husbands, media executives, movie stars, porn actors, militiamen, astronauts, and "bad" boys--whose sense that they've lost their skills, jobs, civic roles, wives, teams, and secure futures is only one symptom of a larger and more profound collapse. Faludi pinpoints men's greatest antagonist and discovers that it is not what conventional wisdom would have us believe. What keeps men from revolting against their circumstances? Faludi's explanation for that mystery opens up the possibility that men's coming rebellion could emancipate both sexes from their true and mutual enemy, a cultural force that constrains us all. Stiffed is a major reassessment of what it is to be a man in modern America. The national discussion it will surely provoke could shatter the old paradigm of men versus women and lay the groundwork for a culture that affirms the needs of everyone."--Dust jacket flaps
The terror dream : fear and fantasy in post-9/11 America
by
Susan Faludi
( Book )
12 editions published between
2007
and 2013 in
English
and held by 1,519 WorldCat member libraries worldwide
In this original examination of America's post-9/11 culture, journalist Faludi shines a light on the country's psychological response to the attacks of that terrible day. Turning her observational powers on the media, popular culture, and political life, Faludi unearths a barely acknowledged societal drama shot through with baffling contradictions. Why, she asks, did our culture respond to an assault against American global dominance with a frenzied summons to restore "traditional" manhood, marriage, and maternity? Why did we react as if the hijackers had targeted not a commercial and military edifice but the family home and nursery? The answer, she finds, lies in a historical anomaly unique to the American experience: the nation was forged in traumatizing assaults by nonwhite "barbarians" on town and village. That humiliation lies concealed under a myth of cowboy bluster and feminine frailty, which is reanimated whenever threat and shame looms.--From publisher description
The women's room
by
Marilyn French
( Book )
9 editions published between
1988
and 2009 in
English
and held by 181 WorldCat member libraries worldwide
Relates a woman's experiences and changing attitudes from her marriage in the 1950's to her increasing independence in the 1970's
Fan cuo : shei yu nu ren wei di?
by
Susan Faludi
( Book )
32 editions published between
1991
and 2017 in 11 languages and held by 139 WorldCat member libraries worldwide
Undeclared war against American womwn
Stiffed : the betrayal of the modern man
by
Susan Faludi
( Book )
9 editions published in
1999
in
English
and held by 126 WorldCat member libraries worldwide
Stiffed picks up where the controversial Backlash left off. It seeks to understand male behaviour in order to close the chasm between the sexes, and asks why men are so fearful and aggressive in the face of women's independence
The terror dream : fear and fantasy in post-9/11 America
by
Susan Faludi
( Recording )
11 editions published between
2007
and 2013 in
English
and held by 113 WorldCat member libraries worldwide
Examines the psychological response to the September 11, 2001 terrorist attacks in the United States and the author's explanation for an American trend toward restoring "traditional" manhood, marriage, and maternity following the attacks. Includes an interview with the author
Backlash : La guerre froide contre les femmes
by
Susan Faludi
( Book )
5 editions published between
1993
and 2005 in
French
and held by 91 WorldCat member libraries worldwide
Extrait de l'introduction : "Etre femme en Amérique, à l'approche du XXIe siècle, quelle chance extraordinaire! C'est ce qu'on nous dit en tout cas. Les barrières sont tombées, affirment les politiques. Les femmes "y sont arrivées", jubilent les publicitaires de Madison Avenue. Le combat des femmes pour le droit à l'égalité "est largement gagné" titre le magazine Time. N'hésitez pas, inscrivez-vous dans n'importe quelle université, postulez dans n'importe quel cabinet d'avocats, demandez un crédit dans n'importe quelle banque. Les femmes sont désormais si bien loties, disent les chefs d'entreprise, que la lutte pour l'égalité des chances n'est plus une priorité. Les femmes sont devenues à tel point "égales", constate le législateur, que l'amendement pour l'égalité des droits est devenu inutile. Les femmes ont déjà "tellement", explique l'ex-président Ronald Reagan, que la Maison Blanche n'a plus aucune raison de les nommer à des postes de responsabilité. Même les publicités d'American Express font l'apologie de l'indépendance des femmes, pas de façon totalement désinteressée il est vrai. Les femmes sont enfin considérées comme des citoyens à part entière. Et pourtant ... Derrière cette victoire des Américaines célébrée à grand bruit, derrière cette reconnaissance unanime et sans cesse réaffirmée du droit des femmes à disposer d'elles-mêmes, un autre message se fait jour. Et il dit ceci aux femmes : vous avez enfin conquis la liberté et l'égalité, mais pour votre plus grand malheur."
more
fewer
Audience Level
0

1
Kids
General
Special
Audience level: 0.25 (from 0.17 for Stiffed : ... to 0.94 for Männer - ...)
Associated Subjects
Anderson, Marian,
Anti-feminism
Arendt, Hannah,
Bourke-White, Margaret,
Bryant, Louise,
Civilization
Drama--Therapeutic use
Europe
Faludi, Susan
Families
Fathers and daughters
Fear--Social aspects
Feminism
Feminism--Public opinion
Feminists
Hayes, Helen,
Hepburn, Katharine,
Holiday, Billie,
Hungary
Identity (Psychology)
Influence (Literary, artistic, etc.)
Male-to-female transsexuals
Married people
Masculinity
Mass media--Social aspects
Mead, Margaret,
Men--Psychology
Men--Social conditions
Middle-aged women
National characteristics, American
Norway
Norwegian drama
Photography of women
Plath, Sylvia
Political culture
Politics and government
Popular culture
Psychological aspects
Public opinion
Roosevelt, Eleanor,
September 11 Terrorist Attacks (2001)
Sex change
Social conditions
Theater
United States
Women
Women journalists
Women--Portraits
Women--Psychology
Women--Social conditions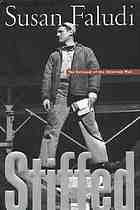 Covers
Alternative Names
Faludi, Susan C.

Faludi, Susan C. 1959-

Susan Faludi Amerikaans journaliste

Susan Faludi escritora y periodista feminista estadounidense

Susan Faludi feminista estadounidense

Susan Faludi US-amerikanische Journalistin und Autorin

סוזן פלודי

סוזן פלודי פמיניסטית אמריקאית

ファルーディ, スーザン

蘇珊·法露迪

Languages