Duneier, Mitchell
Most widely held works by Mitchell Duneier
Slim's table : race, respectability, and masculinity
by
Mitchell Duneier
( Book )
15 editions published between
1992
and 1994 in
English
and held by 1,325 WorldCat member libraries worldwide
The author examines the lives and values of working class inner-city Black men who gather at a Chicago cafeteria exploding distorted media stereotypes in the process
Ghetto : the invention of a place, the history of an idea
by
Mitchell Duneier
( Book )
14 editions published between
2015
and 2017 in
English
and held by 1,321 WorldCat member libraries worldwide
"On March 29, 1516, the city council of Venice issued a decree forcing Jews to live in il geto--a closed quarter named for the copper foundry that once occupied the area. The term stuck. In this sweeping and original interpretation, Mitchell Duneier traces the idea of the ghetto from its beginnings in the sixteenth century and its revival by the Nazis to the present. As Duneier shows, we cannot understand the entanglements of race, poverty, and place in America today without recalling the history of the ghetto in Europe, as well as later efforts to understand the problems of the American city. This is the story of the scholars and activists who tried to achieve that understanding. Their efforts to wrestle with race and poverty in their times cannot be divorced from their individual biographies, which often included direct encounters with prejudice and discrimination in the academy and elsewhere. Using new and forgotten sources, Duneier introduces us to Horace Cayton and St. Clair Drake, graduate students whose conception of the South Side of Chicago established a new paradigm for thinking about Northern racism and poverty in the 1940s. We learn how the psychologist Kenneth Clark subsequently linked Harlem's slum conditions with the persistence of black powerlessness in the civil rights era, and we follow the controversy over Daniel Patrick Moynihan's report on the black family. We see how the sociologist William Julius Wilson redefined the debate about urban America as middle-class African Americans increasingly escaped the ghetto and the country retreated from racially specific remedies. And we trace the education reformer Geoffrey Canada's efforts to transform the lives of inner-city children with ambitious interventions, even as other reformers sought to help families escape their neighborhoods altogether. Ghetto offers a clear-eyed assessment of the thinkers and doers who have shaped American ideas about urban poverty--and the ghetto. The result is a valuable new understanding of an age-old concept."--Publisher's description. (Also appears in part on the back cover of the paperback)
Sidewalk
by
Mitchell Duneier
( Book )
21 editions published between
1999
and 2013 in
English
and held by 1,029 WorldCat member libraries worldwide
Presents the lives of poor African-American men who make their subsistence wages by selling used goods on the streets of Greenwich Village in New York; and discusses how they interact with passing pedestrians, police officers, and each other
Introduction to sociology
by
Anthony Giddens
( Book )
32 editions published between
2000
and 2016 in
English
and held by 605 WorldCat member libraries worldwide
An introduction to the study of sociology that includes information on different sociological theories, the founding fathers of sociology, the ways sociology is studied and practiced around the world, and other related topics
The urban ethnography reader
by
Mitchell Duneier
( Book )
14 editions published between
2013
and 2014 in
English
and held by 213 WorldCat member libraries worldwide
This book assembles the very best of American ethnographic writing, from classic works to contemporary research, and aims to present ethnography as social science, social history, and literature alongside its traditional place as methodology. In addition to an original introduction that highlights the importance and development of the field, Kasinitz, Duneier, and Murphy also provide introductions to each section of the book. The section introductions will cover the period's historical events and how they influenced the study of the city, the major themes and preoccupations of ethnography, what was happening in the social sciences as a whole, and how the excerpts chosen fit into the larger work in which they were originally published. A valuable companion to a wide range of courses on cities across the social sciences, this book captures the diversity, the historical development, and the continuing importance of the ethnographic approach to understanding American communities
Essentials of sociology
by
Anthony Giddens
( Book )
9 editions published between
2005
and 2017 in
English
and held by 89 WorldCat member libraries worldwide
"Essentials of Sociology moves students beyond their individual experiences by highlighting the macro social forces at work in our everyday lives. Innovative pedagogy, including end-of-chapter concept maps and a new goal-focused organization, helps students master the core concepts"--Back cover
Truth be told
( Visual )
3 editions published between
2005
and 2012 in
English
and held by 51 WorldCat member libraries worldwide
"Sociological research and methodology is often the subject of debate among sociologists. The pursuit of objectivity in sociological research, critical sociology, and the idea of sociology as a science ... each has transformed the way sociologists approach sociological research. This lesson also includes discussion of quantitative and qualitative methodologies, and features a segment on sociologist Mitchell Duneier and his research on New York City homeless populations."
Ghetto : the invention of a place, the history of an idea
by
Mitchell Duneier
( Recording )
4 editions published in
2016
in
English
and held by 40 WorldCat member libraries worldwide
On March 29, 1516, the city council of Venice issued a decree forcing Jews to live in il geto--a closed quarter named for the copper foundry that once occupied the area. The term stuck. In this sweeping and original interpretation, Mitchell Duneier traces the idea of the ghetto from its beginnings in the sixteenth century and its revival by the Nazis to the present. As Duneier shows, we cannot understand the entanglements of race, poverty, and place in America today without recalling the history of the ghetto in Europe, as well as later efforts to understand the problems of the American city. This is the story of the scholars and activists who tried to achieve that understanding. Their efforts to wrestle with race and poverty in their times cannot be divorced from their individual biographies, which often included direct encounters with prejudice and discrimination in the academy and elsewhere. Using new and forgotten sources, Duneier introduces us to Horace Cayton and St. Clair Drake, graduate students whose conception of the South Side of Chicago established a new paradigm for thinking about Northern racism and poverty in the 1940s. We learn how the psychologist Kenneth Clark subsequently linked Harlem's slum conditions with the persistence of black powerlessness in the civil-rights era, and we follow the controversy over Daniel Patrick Moynihan's report on the black family. We see how the sociologist William Julius Wilson redefined the debate about urban America as middle-class African Americans increasingly escaped the ghetto and the country retreated from racially specific remedies. And we trace the education reformer Geoffrey Canada's efforts to transform the lives of inner-city children with ambitious interventions, even as other reformers sought to help families escape their neighborhoods altogether. Ghetto offers a clear-eyed assessment of the thinkers and doers who have shaped American ideas about urban poverty and the ghetto. The result is a valuable new understanding of an age-old concept
Sidewalk
by
Chick Corea
( Visual )
2 editions published in
2007
in
English
and held by 11 WorldCat member libraries worldwide
It has been a decade and a half since a streetcorner book vendor and intellectual named Hakim Hasan introduced Mitchell Duneier to the people he came to write about in the book Sidewalk (1999). Now Duneier has collaborated with director Barry Alexander Brown and photographer Ovie Carter to provide a visual presentation that begins where the book ended. It updates the stories of Ron, Mudrick, Ishmael, Butteroll, and other unhoused vendors on Sixth Avenue in Greenwich Village, showing what happened as they struggled in the wake of new economic and political realities, including those associated with September 11, 2001. It also contains footage from an interview Duneier did with Jane Jacobs, her last before she died in 2006. The DVD also contains a panel discussion about the film with Cornel West and Kim Hopper at the American Sociological Association's annual meeting; and Duneier's introductory lecture on ethnographic method, in which two sidewalk vendors visit his Princeton class
more
fewer
Audience Level
0

1
Kids
General
Special
Audience level: 0.31 (from 0.07 for Black immi ... to 0.85 for Introducti ...)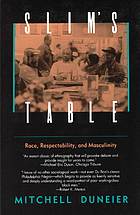 Alternative Names
Duneier, M.

Mitchell Duneier American sociologist

Languages
Covers