Carter, Stephen L. 1954-
Most widely held works about Stephen L Carter
more
fewer
Most widely held works by Stephen L Carter
The emperor of Ocean Park
by
Stephen L Carter
( Book )
98 editions published between
2002
and 2013 in 14 languages and held by 3,885 WorldCat member libraries worldwide
The complex story of family with links to crime. The novel is set amongst the African American society of the eastern seaboard and the inner circle of an Ivy League law school
The culture of disbelief : how American law and politics trivialize religious devotion
by
Stephen L Carter
( Book )
26 editions published between
1976
and 1994 in
English
and held by 2,715 WorldCat member libraries worldwide
America, it is often noted, is the most religious nation in the Western world. At the same time, many political leaders and opinionmakers have come to view any religious element in public discourse as a tool of the radical right for reshaping American society. In our sensible zeal to keep religion from dominating our politics, Stephen L. Carter argues, we have constructed political and legal cultures that force the religiously devout to act as if their faith doesn't really matter. This book explains how we can preserve the vital separation of church and state while embracing rather than trivializing the faith of millions of citizens or treating religious believers with disdain. What makes Carter's work so intriguing is that he uses liberal means to arrive at what are often considered conservative ends. Carter explains how preserving a special role for religious communities can strengthen our democracy. The book recovers the long tradition of liberal religious witness (for example, the antislavery, antisegregation, and Vietnam-era antiwar movements), and argues that the problem with the 1992 Republican convention was not the fact of open religious advocacy but the political positions being advocated. A vast array of issues appear in a new light: everything from religion in schools to the Reverend Sun Myung Moon's mass weddings, from abortion to the Branch Davidians
New England white
by
Stephen L Carter
( Book )
25 editions published between
2006
and 2012 in
English
and held by 2,065 WorldCat member libraries worldwide
Until the murder in the New England town of Elm Harbor, the perfectly constructed veneer had hidden the racial complications of the town's past, the secrets of a prominent family, and the most hidden bastions of African-American political influence. At the center is Lemaster Carlyle, the university president, and his wife, Julia, a dean of the divinity school, who are living 'in the heart of whiteness.' The murder victim was Julia's lover years earlier. What Julia would discover in her investigation would be a politically earth-shattering motive
Palace council
by
Stephen L Carter
( Book )
38 editions published between
2008
and 2013 in 7 languages and held by 1,886 WorldCat member libraries worldwide
In the summer of 1952, twenty prominent men gather at a secret meeting on Martha's Vineyard and devise a plot to manipulate the President of the United States. Soon after, the body of one of these men is found by Eddie Wesley, Harlem's rising literary star. When Eddie's younger sister mysteriously disappears, Eddie and the woman he loves, Aurelia Treene, are pulled into what becomes a twenty-year search for the truth
Integrity
by
Stephen L Carter
( Book )
15 editions published between
1996
and 1997 in
English
and
Undetermined
and held by 1,649 WorldCat member libraries worldwide
In this thoughtful book, Stephen Carter, whose 1993 book The Culture of Disbelief changed the way we talk about the role of religion in American life, turns his critical eye to the mystery of why the virtue of integrity holds such sway over the American political imagination. Why do we care more about winning than about playing by the rules? What are our rules about following the rules? What are our rules about breaking them? He explains why integrity is first in importance among the elements of good character, as well as why it is so hard to attain. By weaving together insights from philosophy, theology, history, and law, along with examples drawn from current events and a dose of personal experience, Carter offers a vision of integrity that has implications for everything from marriage and politics to professional football. He discusses the difficulties involved in trying to legislate integrity as well as the possibilities for teaching it. The first in a trilogy of books on the most important elements of the character of the good citizen, Integrity presents a frank examination of the national mood and concludes that unless we find ways to place integrity at the center of both our private and public lives, the American idea may crumble and the greatness of our democracy along with it
God's name in vain : the wrongs and rights of religion in politics
by
Stephen L Carter
( Book )
8 editions published in
2000
in
English
and held by 1,469 WorldCat member libraries worldwide
"Was George W. Bush doing something un-American in 1999 when, asked by a reporter what philosopher had influenced him most, he named Jesus? Was Bill Clinton doing something irreligious when, just about a year earlier, he stood before the National Prayer Breakfast and a television audience and sought forgiveness? What about the activist preachers who fight to remake the nation in the image they think God prefers and who, every time an election rolls around, recommend to their congregations how they ought to cast their ballots?"
The impeachment of Abraham Lincoln
by
Stephen L Carter
( Book )
13 editions published between
2012
and 2013 in
English
and held by 1,425 WorldCat member libraries worldwide
In an alternate history novel, Lincoln escapes assassination by John Wilkes Booth only to face impeachment, and Abigail Canner, a young black woman involved in his defense, helps investigate the murder of the president's counsel
Jericho's fall
by
Stephen L Carter
( Book )
14 editions published between
2009
and 2010 in
English
and
German
and held by 1,374 WorldCat member libraries worldwide
In an imposing house in the Colorado Rockies, Jericho Ainsley, former head of the Central Intelligence Agency and a Wall Street titan, lies dying. He summons to his bedside Beck DeForde, the younger woman for whom he threw away his career years ago, miring them both in scandal. Beck believes she is visiting to say farewell. Instead, she is drawn into a battle over an explosive secret that foreign governments and powerful corporations alike want to wrest from Jericho before he dies
Civility: manners, morals, and the etiquette of democracy
by
Stephen L Carter
( Book )
3 editions published in
1998
in
English
and held by 1,329 WorldCat member libraries worldwide
Basic good manners have become a casualty of our postmodern culture. Yale law professor and social critic Stephen L. Carter argues that civility is disintegrating because we have forgotten the obligations we owe to each other, and are awash instead in a sea of self-indulgence. Neither liberals nor conservatives can help us much, Carter explains, because each political movement, in a different way, exemplifies what has become the principal value of modern America: that what matters most is not the needs or hopes of others, but simply getting what we want. Taking inspiration from the Abolitionist sermons of the nineteenth century, Carter proposes to rebuild our public and private lives around the fundamental rule that we must love our neighbors, a tenet of all the world's great religions. Writing with his familiar combination of erudition and wit, Carter examines the ways in which an ethic of neighbor-love would alter everything from our political campaigns to our fast food outlets to the information superhighway, from the way we behave in the workplace to the way we drive our cars to the way we argue about constitutional rights. He investigates many of the fundamental institutions of society - including the family, the churches, and the schoolsand illustrates how each one must do more to promote the virtue of civility
The dissent of the governed : a meditation on law, religion, and loyalty
by
Stephen L Carter
( Book )
17 editions published between
1998
and 1999 in
English
and
Undetermined
and held by 1,073 WorldCat member libraries worldwide
The Dissent of the Governed is a diagnosis of what ails the body politic - the unwillingness of people in power to hear disagreement unless forced to - and a prescription for a new process of response. Carter examines the divided American political character on dissent, with special reference to religion, identifying it in unexpected places, with an eye toward amending it before it destroys our democracy. At the heart of this work is a rereading of the Declaration of Independence that puts dissent, not consent, at the center of the question of the legitimacy of democratic government. Carter warns that our liberal constitutional ethos - the tendency to assume that the nation must everywhere be morally the same - pressures citizens to be other than themselves when being themselves would lead to disobedience. This tendency, he argues, is particularly hard on religious citizens whose notion of community may be quite different from that of the sovereign majority of citizens. With reference to a number of cases, Carter shows that disobedience is sometimes necessary to the heartbeat of our democracy - and that the distinction between challenging accepted norms and challenging the sovereign itself, a distinction crucial to the Declaration of Independence, must be kept alive if we are to progress and prosper as a nation
more
fewer
Audience Level
0

1
Kids
General
Special
Audience level: 0.20 (from 0.09 for The dissen ... to 1.00 for Book lust ...)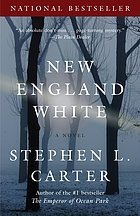 Alternative Names
Shields, A. L., 1954-
Carter, Stephen

Carter Stephen 1954-....

Stephen L. Carter Amerikaans romanschrijver

Stephen L. Carter écrivain américain

Stephen L. Carter US-amerikanischer Schriftsteller

Στέφεν Λ. Κάρτερ

استیون ال. کارتر نویسنده آمریکایی

カーター, スティーヴン・L

スティーヴン・L・カーター

史蒂夫·卡特

Languages
Covers