Hearn, Chester G.
Most widely held works by Chester G Hearn
The capture of New Orleans 1862
by
Chester G Hearn
( )
12 editions published between
1995
and 1996 in
English
and held by 2,202 WorldCat member libraries worldwide
On April 24, 1862, Federal gunboats made their way past two Confederate forts to ascend the Mississippi, and the Union navy captured the city of New Orleans. How did the South lose its most important city? In this exhaustively researched, authoritative, well-argued study, Chester Hearn examines the decisions, actions, individuals, and events that brought about the capture of New Orleans - and forever weakened the Confederate war machine. Hearn directs his inquiry to the heart of government, both Union and Confederate, and takes a hard look at the selection of military and naval leaders, the use of natural and financial resources, and the performances of all personnel involved. The decisions of Jefferson Davis, Stephen R. Mallory, and three Confederate secretaries of war, he holds, were as much to blame for the fall of New Orleans as David Farragut's warships. Hearn also scrutinizes the role of Major General Mansfield Lovell and evaluates the investigation that ended his career. Hearn's explorations bring us into a flourishing New Orleans and introduce Louisiana leaders Thomas O. Moore and the debilitated old men sent to prepare the state for war: Major General David E. Twiggs and Commodore Lawrence Rousseau. We follow their trifling efforts to defend the lower Mississippi and General Lovell's frustrations in attempting to arm forts and obtain cooperation from the navy, and we come to understand the dismay of such leaders as P.G.T. Beauregard and Braxton Bragg as they witnessed this bungling. Hearn traces the building of the ironclads Manassas, Louisiana, and Mississippi, and investigates the reason for their failure to defend New Orleans
Six years of hell : Harpers Ferry during the Civil War
by
Chester G Hearn
( )
6 editions published between
1996
and 1999 in
English
and held by 2,154 WorldCat member libraries worldwide
Most written accounts of Harpers Ferry, Virginia, during the Civil War era begin and end with John Brown's raid in 1859 and his subsequent hanging. In Six Years of Hell, Chester G. Hearn tells in colorful style the harrowing story of the war years from Brown's arrival in July, 1859, through the early months of Reconstruction in the summer of 1865. Hearn vividly recounts the catastrophic effects of the war on Harpers Ferry. It was invaded by General Kenton Harper once and Stonewall Jackson twice, and it survived two attacks by Jubal Early and one each by Generals Joseph B. Kershaw and Lafayette McLaws. With Jackson's assistance, Joseph E. Johnston destroyed the town's industry, bridges, and canal in the spring of 1861. Thereafter it endured continual harassment from Virginia cavalry and independent partisan bands. Often left without protection from either side, the town at times became a no man's land vulnerable to looters and armed bushwhackers. Relying heavily on records left by the townsfolk who weathered the war and the soldiers who garrisoned the town, Hearn treats the civilian experience as fully as he does military activities. He makes continual reference to the people who attempted to stay in their homes, protect their possessions, and get along with the soldiers during the conflict. As Hearn clearly demonstrates, for those stouthearted individuals, the Civil War was truly six years of hell
Lincoln, the cabinet, and the generals
by
Chester G Hearn
( )
8 editions published in
2010
in
English
and held by 1,949 WorldCat member libraries worldwide
While numerous accounts exist of President Abraham Lincoln's often-troubled dealings with either his cabinet or his generals, Chester G. Hearn's illuminating history provides the first broad synthesis of Lincoln's complex relationship with both groups. As such, it casts new light on much of the behind-the-scenes interplay, intrigue, and sparring between the president and his advisors and military commanders during the most precarious years of the Civil War. Hearn next demonstrates convincingly that even with these difficulties, Lincoln manipulated his cabinet far more adroitly than he did his generals. Many of Lincoln's top military commanders had political aspirations or agendas of their own, while others were close friends of his intransigent cabinet members. Having assumed the role as de facto army chief, Lincoln took responsibility for the mishandling of battles fought by his generals, some of whom were incompetent and unmanageable politicians. Hearn examines the often-disastrous generalship and its impact on Lincoln and the cabinet, as well as the public, the press, and Congress
Sorties into hell : the hidden war on Chichi Jima
by
Chester G Hearn
( )
10 editions published between
2003
and 2005 in
English
and held by 1,569 WorldCat member libraries worldwide
"In October 1946, Colonel Presley Rixey arrived by destroyer at Chichi Jima to repatriate 22,000 Japanese who had been bypassed during the war in the Pacific. While waiting for a Marine battalion to arrive, the colonel met daily with a Japanese commission assigned to assist him. When asked what had happened to American prisoners on the island, the Japanese hatched a story to hide the atrocities that they had committed. In truth, the downed flyers had been captured, executed, and eaten by certain senior Japanese officers. This is the story of the investigation, the cover-up, and the last hours of those Americans who disappeared into war's wilderness and whose remains were distributed to the cooking galleys of Chichi Jima." "Rixey's suspicion of a cover-up was later substantiated by a group of Americans returning from Japan who had lived on Chichi Jima for generations. It would take five months of gathering testimony to uncover all the details. Thirty war criminals were eventually tried at Guam in 1947, five of whom met their fate on the gallows."--Jacket
Lincoln and McClellan at war
by
Chester G Hearn
( )
10 editions published between
2012
and 2013 in
English
and held by 1,295 WorldCat member libraries worldwide
At the beginning of the Civil War, President Abraham Lincoln and his highest-ranking general, George B. McClellan, agreed that the United States must preserve the Union. Their differing strategies for accomplishing that goal, however, created constant conflict. In Lincoln and McClellan at War, Chester G. Hearn explores this troubled relationship, revealing its complexity and showing clearly why the two men -- both inexperienced with war -- eventually parted ways. A staunch Democrat who never lost his acrimony toward Republicans -- including the president -- McClellan first observed Lincoln as an attorney representing the Illinois Central Railroad and immediately disliked him. This underlying bias followed thirty-five-year-old McClellan into his role as general--in-chief of the Union army. Lincoln, a man without military training, promoted McClellan on the advice of cabinet members and counted on '"Little Mac'" to whip the army into shape and end the war quickly. McClellan comported himself with great confidence and won Lincoln's faith by brilliantly organizing the Army of the Potomac. Later, however, he lost Lincoln's trust by refusing to send what he called 'the best army on the planet' into battle. The more frustrated Lincoln grew with McClellan's inaction, the more Lincoln studied authoritative works on military strategy and offered strategic combat advice to the general. McClellan resented the president's suggestions and habitually deflected them. Ultimately, Lincoln removed McClellan for what the president termed 'the slows.' According to Hearn, McClellan's intransigence stemmed largely from his reluctance to fight offensively. Thoroughly schooled in European defensive tactics, McClellan preferred that approach to fighting the war. His commander-in-chief, on the other hand, had a preference for using offensive tactics. This compelling study of two important and diverse figures reveals how personality and politics prolonged the Civil War
Circuits in the sea : the men, the ships, and the Atlantic cable
by
Chester G Hearn
( )
8 editions published in
2004
in
English
and held by 1,105 WorldCat member libraries worldwide
Message time would be cut from more than four weeks to about two minutes. Such a feat would not have been possible without the massive ship the Great Eastern, designed by Isambard Kingdom Brunel, Britain's foremost engineer, or the financial backing of Thomas Brassey, the era's greatest builder of railroads."
Carriers in combat : the air war at sea
by
Chester G Hearn
( )
10 editions published between
2005
and 2007 in
English
and held by 1,096 WorldCat member libraries worldwide
"From the first improvised wooden platforms to today's nuclear powered supercarriers, Hearn explores how combat experience of key individuals drove the development technology and tactics of carriers in the world's navies."--Jacket
The impeachment of Andrew Johnson
by
Chester G Hearn
( Book )
6 editions published between
2000
and 2007 in
English
and held by 498 WorldCat member libraries worldwide
"While it is commonly known that Andrew Johnson was the first president to be impeached, less well known are the circumstances that led to the unsuccessful campaign to remove him from office. This full account of Johnson's political life in Washington (and, briefly, his early career in Tennessee) focuses on his conflict with the Radical Republicans, and clearly illustrates the danger when one branch of government tries to dominate the others."--Jacket
Ellet's Brigade : the strangest outfit of all
by
Chester G Hearn
( Book )
5 editions published in
2000
in
English
and held by 395 WorldCat member libraries worldwide
"The army lost or destroyed many of the brigade's records upon its dissolution, but through painstaking research Hearn has constructed its colorful history, Filling a void in the annals of operations along the Mississippi, Tennessee, and Red Rivers, Ellet's Brigade will be welcomed by scholars and buffs alike as a rare glimpse into one of the few remaining unexplored facets of the Civil War."--Jacket
more
fewer
Audience Level
0

1
Kids
General
Special
Audience level: 0.10 (from 0.01 for Carriers i ... to 0.47 for George Was ...)
Associated Subjects
Admirals
Alabama
Alabama--Mobile
American Civil War (1861-1865)
American Revolution (1775-1783)
Atrocities
Brunel, Isambard Kingdom,
Cabinet officers
Capture of New Orleans (Louisiana : 1862)
Command of troops
Confederate States of America.--Navy
Ellet, Charles,
Farragut, David Glasgow,
Field, Cyrus W.--(Cyrus West),
Generals
Great Eastern (Steamship)
Impeachments
Japan
Japan--Chichi Island
Johnson, Andrew,
Lincoln, Abraham,
Louisiana--New Orleans
Maury, Matthew Fontaine,
McClellan, George B.--(George Brinton),
Military campaigns
Military operations, Naval
Mississippi River Valley
Mobile Bay, Battle of (Alabama : 1864)
Oceanographers
Oceanography
Political leadership
Politics and government
Politics and government--Decision making
Porter, David D.--(David Dixon),
Prisoners of war
Regimental histories
Relations with cabinet officers
Relations with generals
Riverine operations
Schooners
Stanton, Edwin M.--(Edwin McMasters),
Transatlantic cables
United States
United States.--Army
United States.--Army.--Mississippi Marine Brigade
United States.--Marine Corps
United States.--Navy
West Virginia
West Virginia--Harpers Ferry
World War (1939-1945)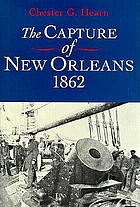 Covers
Alternative Names
Hearn, Chet G.

Hearn, Chet G., 1932-

Languages