National Defense Research Institute (U.S.)
Most widely held works about National Defense Research Institute (U.S.)
more
fewer
Most widely held works by National Defense Research Institute (U.S.)
Arms trafficking and Colombia
by
Kim Cragin
( Book )
5 editions published in
2003
in
English
and held by 255 WorldCat member libraries worldwide
Colombia has experienced significant political instability and violence over the past century due to a number of factors, including the proliferation of small-arms trafficking. The authors identify the sources and routes used by arms traffickers to acquire, buy, sell, receive, transfer, and ship weapons. They also examine the various groups and individuals who purchase and use these munitions. The authors examine Colombia?s political conflict through the lens of small-arms trafficking and conclude with policy implications for the United States
The European Security and Defense Policy : NATO's companion - or competitor?
by
Robert Edwards Hunter
( Book )
7 editions published in
2002
in
English
and held by 254 WorldCat member libraries worldwide
The emergence of the European Security and Defense Policy (ESDP) in the last two-thirds of the 1990s and continuing into the new century, has been a complex process intertwining politics, economics, national cultures, and numerous institutions. This book provides an essential background for understanding how security issues as between NATO and the European Union are being posed for the early part of the 21st century, including the new circumstances following the terrorist attacks in New York and Washington on September 11, 2001. This study should be of interest to those interested in the evolution of U.S.-European relations, especially in, but not limited to, the security field; the development of institutional relationships; and key choices that lie ahead in regard to these critical arrangements
Space : emerging options for national power
by
Dana J Johnson
( Book )
2 editions published in
1998
in
English
and held by 230 WorldCat member libraries worldwide
This report presents the results of a study that examined the extent to which both military and economic spacepower will influence national security strategy and the conduct of future military operations. It attempts to articulate the key military space policy issues facing the United States and place them in the larger context of a changing strategic environment to define new options for the exercise of spacepower in the pursuit of national interests. The proliferation of military space forces from the Cold War to the present can be seen in the increasing capabilities of these forces and the expanding roles they are expected to play in future missions. Space forces will be expected to perform an array of space-related functions, including early warning and integrated tactical warning and attack assessment, weather/environmental monitoring, satellite communications, surveillance and reconnaissance, navigation and positioning, space control, and, possibly, ballistic missile defense and force application
The emergence of noopolitik : toward an American information strategy
by
John Arquilla
( Book )
2 editions published in
1999
in
English
and held by 227 WorldCat member libraries worldwide
Weapons, concepts of proportional response, and the need to maintain the immunity of noncombatants. Ultimately, the authors call for an innovative turn of mind as policymakers and strategists rethink how best to adapt to the epochal transformations being wrought by the information revolution
On "other war" : lessons from five decades of RAND counterinsurgency research
by
Austin G Long
( Book )
6 editions published in
2006
in
English
and held by 213 WorldCat member libraries worldwide
The challenges posed by insurgency and instability have proved difficult to surmount. This difficulty may embolden future opponents to embrace insurgency in combating the United States. Both the current and future conduct of the war on terror demand that the United States improve its ability to conduct counterinsurgency (COIN) operations. This study makes recommendations for improving COIN based on RAND's decades-long study of it. First, organization for COIN must be improved. The Provincial Reconstruction Team model that has been implemented in parts of Iraq and Afghanistan is a good start, but does not go far enough. This model, which unites U.S. civilian and military personnel with local government, should be expanded and made the basis for current and future COIN efforts. Second, amnesty and reward programs should be implemented or expanded. These programs push insurgents out of the movement without having to fight them literally to the last person. A new study of insurgent motivation and morale should also be undertaken. Third, given the cross-border elements of insurgency in Iraq and Afghanistan, border security systems should be studied for both conflicts. Finally, pacification efforts should be focused on the lowest political echelons and combined with census-taking and national identification cards
Past revolutions, future transformations : what can the history of revolutions in military affairs tell us about transforming the U.S. military?
by
Richard O Hundley
( Book )
2 editions published in
1999
in
English
and held by 210 WorldCat member libraries worldwide
Advances in technology can bring about dramatic changes in military operations, often termed "revolutions in military affairs" or RMAs. Such technology-driven changes in military operations are not merely a recent phenomenon: they have been occurring since the dawn of history, they will continue to occur in the future, and they will continue to bestow a military advantage on the first nation to develop and use them. Accordingly, it is important to the continued vitality and robustness of the U.S. defense posture for the DoD R & D community to be aware of technology developments that could revolutionize military operations in the future, and for the U.S. military services to be on the lookout for revolutionary ways in which to employ those technologies in warfare. This report examines the history of past RMAs, to see what can be learned from them regarding the challenge confronting the DoD today, when it has set out on a concerted effort to bring about a technology-driven transformation of the U.S. military to achieve the operational goals outlined in Joint Vision 2010. Among its many findings are three of particular note: RMAs are rarely brought about by dominant players (such as the U.S. military is today). For a dominant player to bring about an RMA requires a receptive organizational climate, fostering a continually refined vision of how war may change in the future and encouraging vigorous debate regarding the future of the organization; senior officers with traditional credentials willing to sponsor new ways of doing things and able to establish new promotion pathways for junior officers practicing a new way of war; mechanisms for experimentation, to discover, learn, test and demonstrate new ideas; and ways of responding positively to the results of successful experiments, in terms of doctrinal changes, acquisition programs, and force structure modifications. The DoD has some of these elements today, but is missing others. The report makes specific suggestions regarding ways of filling in the missing elements. Doing these things will facilitate DoD's force transformation activities and help ensure that the next RMA is brought about by the United States. and not some other nation
The rise of political Islam in Turkey
by
Angel Rabasa
( Book )
3 editions published in
2008
in
English
and held by 203 WorldCat member libraries worldwide
"As a Muslim-majority country that is also a secular democratic state, a member of NATO, a candidate for membership in the European Union, a long-standing U.S. ally, and the host of Incirlik Air Base (a key hub for logistical support missions in Afghanistan and Iraq), Turkey is pivotal to U.S. and Western security interests in a critical area of the world. It also provides an example of the coexistence of Islam with secular democracy, globalization, and modernity. However, having a ruling party with Islamic roots--the Justice and Development Party (AKP)--within a framework of strict secularism has generated controversy over the boundaries between secularity and religion in the public sphere, leading to parliamentary elections, along with a new mandate for the party, in July 2007. This monograph describes the politico-religious landscape in Turkey and the relationship between the state and religion, and it evaluates how the balance between secular and religious forces--and between the Kemalist elites and new emerging social groups--has changed over the past decade. The study also assesses the new challenges and opportunities for U.S. policy in the changed Turkish political environment and identifies specific actions the United States may take to advance the U.S. interest in a stable, democratic, and friendly Turkey and, more broadly, in the worldwide dissemination of liberal and pluralistic interpretations of Islam"--Provided by publisher
Command concepts : a theory derived from the practice of command and control
by
Carl H Builder
( Book )
3 editions published in
1999
in
English
and held by 202 WorldCat member libraries worldwide
The qualities of commanders and their ideas are more important to a general theory of command and control than are the technical and architectural qualities of their computers and communications systems. This theory separates the art of command and control (C2) from the hardware and software systems that support C2. It centers on the idea of a command concept, a commander's vision of a military operation that informs the making of command decisions during that operation. The theory suggests that the essential communications up and down the chain of command can (and should) be limited to disseminating, verifying, or modifying command concepts. The theory also suggests, as an extreme case, that an ideal command concept is one that is so prescient, sound, and fully conveyed to subordinates that it would allow the commander to leave the battlefield before the battle commences, with no adverse effect upon the out-come. This report advances a theory about military command and control. Then, through six historical case studies of modern battles, it explores the implications of the theory both for the professional development of commanders and for the design and evaluation of command and control architectures. The report should be of interest to members of the Joint Staff and the services involved in developing command and control doctrine for the U.S. military, and to all of those interested in the military art and science of command and control
Married to the military : the employment and earnings of military wives compared with those of civilian wives
by
James R Hosek
( Book )
3 editions published in
2002
in
English
and held by 200 WorldCat member libraries worldwide
Today's military is a military of families; many service members are married, and many of their spouses work and contribute to family income. But military wives earn less than civilian wives, and this study seeks to understand why. The authors find that military wives, knowing they are likely to move frequently, are willing to accept jobs that offer a lower wage rather than to use more of their remaining time at a location to find a higher-wage job. Compared with civilian wives, military wives tend to work somewhat less if they have young children but somewhat more if their children are older
Recent recruiting trends and their implications for models of enlistment supply
by
Michael P Murray
( Book )
3 editions published between
1997
and 1999 in
English
and held by 164 WorldCat member libraries worldwide
The authors estimate an econometric model of high-quality enlistment supply using geographically disaggregated data from two periods, FY83-87 and FY90-93. They find that econometric models based on data from the earlier period do not predict the recruiting difficulties reported by the military in the 1990s. This conforms to a preliminary assessment provided by Asch and Orvis (MR-549-A/OSD, 1994). The authors also find that econometric models estimated with the 1990s data give altered counsel about the effects of at least some policy variables, most notably the number of recruiters
more
fewer
Audience Level
0

1
Kids
General
Special
Audience level: 0.03 (from 0.01 for Pyridostig ... to 1.00 for National D ...)
Related Identities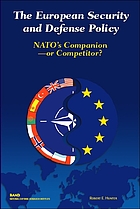 Alternative Names
tats-Unis National defense research institute

N.D.R.I.

NDRI

Rand Corporation. National Defence Research Institute

Rand Corporation. National Defense Research Institute

Rand Corporation. National Research Defense Institute

Rand Corporation. National Security Research Division. National Defense Research Institute

Languages
Covers