Steinberg, James
Most widely held works by James Steinberg
Difficult transitions : foreign policy troubles at the outset of presidential power
by
Kurt M Campbell
( Book )
9 editions published in
2008
in
English
and held by 402 WorldCat member libraries worldwide
"Gives an overview of presidential transitions in foreign policy including case studies of prominent episodes. Pinpoints causes of fiascos--writing off previous administrations' policies and failing to appreciate differences between campaign promises and policy realities. Provides a road map to help new administrations steer clear of the land mines ahead"--Provided by publisher
Urban America : policy choices for Los Angeles and the nation
by Santa Monica, CA Rand Corp.
( Book )
9 editions published in
1992
in
English
and held by 339 WorldCat member libraries worldwide
This volume presents 13 essays on urban problems in the United States, particularly in Los Angeles (California) following the 1992 riots, and policy options for the future. Part 1 addresses policies of the past three decades; Part 2 looks at children, youth, and families; Part 3 discusses crime and criminal justice; and Part 4 examines public services and social welfare. Chapters are as follows: (1) "Public Policy and the Inner City across Three Decades" (Robert A. Levine and Barbara R. Williams); (2) "The Widening Income and Wage Gap between Rich and Poor: Trends, Causes, and Policy Options" (Lynn A. Karoly); (3) "Families, Children, Poverty, Policy" (Julie DaVanzo); (4) "Helping Urban Teenagers Avoid High-Risk Behavior: What We've Learned from Prevention Research" (Phyllis L. Ellickson); (5) "Urban Education" (Paul T. Hill); (6) "Military Service: A Closing Door of Opportunity for Youth" (James R. Hosek and Jacob Alex Klerman); (7) "Crime and Punishment in California: Full Cells, Empty Pockets, and Questionable Benefits" (Joan Petersilia); (8) "Reforming California's Approach to Delinquent and High-Risk Youth" (Peter W. Greenwood); (9) "Street Drug Markets in Inner-City Neighborhoods: Matching Policy to Reality" (Peter H. Reuter and Robert J. MacCoun); (10) "Financing Public Services in Los Angeles" (Preston Niblack and Peter J. E. Stan); (11) "Needed: A Federal Role in Helping Communities Cope with Immigration" (Georges Vernez); (12) "Providing Health Care for the Uninsured and Underinsured in Los Angeles County" (Robert E. Tranquada and Peter A. Glassman); and (13) "Getting Nowhere: Homeless People, Aimless Policy" (Paul Koegel and Audrey Burnam). Information on the contributors is included. (Contains 52 references.) (JB)
Strategic reassurance and resolve : U.S - China relations in the twenty-first century
by
James Steinberg
( Book )
6 editions published in
2014
in
English
and held by 300 WorldCat member libraries worldwide
"After forty years of largely cooperative Sino-U.S. relations, policymakers, politicians, and pundits on both sides of the Pacific see growing tensions between the United States and China. Some go so far as to predict a future of conflict, driven by the inevitable rivalry between an established and a rising power, and urge their leaders to prepare now for a future showdown. Others argue that the deep economic interdependence between the two countries and the many areas of shared interests will lead to more collaborative relations in the coming decades.In this book, James Steinberg and Michael O'Hanlon stake out a third, less deterministic position. They argue that there are powerful domestic and international factors, especially in the military and security realms, that could well push the bilateral relationship toward an arms race and confrontation, even though both sides will be far worse off if such a future comes to pass. They contend that this pessimistic scenario can be confidently avoided only if China and the United States adopt deliberate policies designed to address the security dilemma that besets the relationship between a rising and an established power. The authors propose a set of policy proposals to achieve a sustainable, relatively cooperative relationship between the two nations, based on the concept of providing mutual strategic reassurance in such key areas as nuclear weapons and missile defense, space and cyber operations, and military basing and deployments, while also demonstrating strategic resolve to protect vital national interests, including, in the case of the United States, its commitments to regional allies"--
European defense and the future of transatlantic cooperation
by
Scott Allen Harris
( Book )
7 editions published in
1993
in
English
and held by 187 WorldCat member libraries worldwide
This study examines the evolution of the European Defense "Identity" (EDI) in the context of the changing security environment of the post-Cold War period. It discusses competing approaches to constructing the EDI, as well as key U.S. goals that bear on U.S. policy toward the EDI. These goals include retaining NATO's primacy as the forum for security discussions among the Allies and as the exclusive means for organizing the defense of NATO territory, while strengthening the ability of the European Allies to act outside NATO, either as a U.S. partner or independently if the U.S. chooses not to act. The authors recommend a two-pronged strategy: foster NATO's evolution to maintain its relevance and effectiveness, while seeking to shape the emerging EDI in ways compatible with U.S. interests and objectives. One aspect of this strategy is to accept that the EDI can become the defense arm of the European Community (EC). This would not necessarily harm U.S. interests, so long as the EC does not neglect the security needs of Central and Eastern European countries. As the emerging democracies in Central and Eastern Europe develop links with the EDI, the U.S. should support extending NATO ties as well, including NATO membership to preserve the congruence of the EC and NATO security guarantees
"An ever closer union" : European integration and its implications for the future of U.S.--European relations
by
James Steinberg
( Book )
5 editions published in
1993
in
English
and held by 156 WorldCat member libraries worldwide
This report examines the process of European integration and assesses its implications for U.S. policy. The study finds that changes in the European Community (EC) will be evolutionary, with the economic and financial dimension moving more quickly and the foreign policy and defense dimension moving more slowly. It also concludes that U.S. influence over European policy will diminish as Europeans become more preoccupied with developing intra-EC consensus, that conflicts in the economic realm will continue and could worsen if the United States and the EC move away from an open trading and financial system to a bloc economic approach, and that NATO will play a diminished role in transatlantic policy consultation and coordination, but will remain an important element of the European security structure. The document recommends that the United States adopt a policy of supporting the general thrust of the integrative process, develop more extensive bilateral working relationships with EC institutions on both economic and security policy, support NATO reform to enhance the complementarity of the EC and NATO, and advocate broadening the EC to include Central European and East European countries
The transformation of the European defense industry : emerging trends and prospects for future U.S.--European competition and collaboration
by
James Steinberg
( Book )
3 editions published in
1992
in
English
and held by 139 WorldCat member libraries worldwide
Over the past five years, the European defense industry has undergone a dramatic restructuring. Economic forces and government policies have led to substantial industrial consolidation and the development of extensive transnational ties. Although there have been a number of efforts to promote transatlantic collaboration, most of the consolidation has taken place within and among European defense firms. Despite some efforts by national governments and such organizations as the Independent European Program Group and NATO to promote competition, there is a distinct trend toward national and transnational monopolies. Shrinking defense budgets have accentuated concerns about preserving defense industrial base, increasing the pressure for protectionism. Achieving the economic and political benefits of transatlantic collaboration and a competitive market will require more sustained U.S. and European government efforts to promote open access, eliminate trade barriers, and encourage industry-initiated transatlantic teaming
Civil-military relations and national security thinking in Czechoslovakia : a conference report
by
Thomas S Szayna
( Book )
4 editions published in
1992
in
English
and held by 130 WorldCat member libraries worldwide
This report summarizes the results of a workshop entitled "Civil-Military Relations and the Development of National Security Policy in the United States and Czech and Slovak Federal Republic," held in Prague on May 5-7, 1991. The central conclusion from the workshop is that the Czechoslovak military has evolved greatly toward a genuine state institution since the political changes in late 1989. However, Czechoslovak officials look to the United States (as well as other Western countries) for help in training personnel, both uniformed military and civilian security experts. Such help would ensure the continued successful transformation of the Czechoslovak military. The workshop occurred before the August 1991 coup that marked the end of Communist dictatorship in the former USSR. As a result, the sense of unease about instability and potential spillover of ethnic strife from the Ukraine into Slovakia has probably increased. The disintegration of Yugoslavia and the potential for the spread of the conflict have also emerged as real threats to stability in the region. These developments are bound to motivate Czechoslovak officials to continue to further institutionalize the Conference on Security and Cooperation in Europe (CSCE) and to attain security guarantees through membership in Western security organizations
The role of European institutions in security after the Cold War : some lessons from Yugoslavia
by
James Steinberg
( Book )
4 editions published in
1992
in
English
and held by 114 WorldCat member libraries worldwide
The collapse of communism in Eastern Europe and the drawing down of the Cold War have raised the profile of long-suppressed sources of instability in Central and Eastern Europe, renewing interest in the role of European security institutions in addressing non-East-West conflicts. This Note examines the experience of European institutions, the European Community (EC), Conference on Security and Cooperation in Europe, Western European Union, and NATO, in the Yugoslavia crisis. It also considers the relationship between these organizations and the United Nations, which began to play a more significant role in the crisis in the autumn of 1991. The author reviews the evolution of the principal elements of Europe's new security architecture, and describes the actions of the various institutions in responding to the Yugoslavia conflict from the declarations of independence by Slovenia and Croatia on June 25, 1991, until January 1, 1992. The author derives five lessons about future European crises: (1) outside military force plays a limited role, (2) economic leverage is important, (3) institutions for collective decisionmaking are valuable and there are limits to consensus, (4) intervention must take place early, and (5) multiple institutions with overlapping responsibilities present both opportunities and risks
Five models for European security : implications for the United States
by
Nanette C Gantz
( Book )
6 editions published in
1992
in
English
and held by 105 WorldCat member libraries worldwide
This Note assesses five alternative security models that could emerge in the next 5-10 years in terms of how well they meet the U.S. objective of transnational stability in Europe. The Note finds that of the five models proposed, the overlapping security institutions model does best, because it preserves a political and military role for the United States, creates alternative links for U.S. involvement in Europe beyond NATO, demonstrates U.S. willingness to adapt to a stronger European role in security arrangements, and maintains flexibility to move to a number of different security models. The Note recommends that the United States develop a credible rationale for maintaining an integrated military command like NATO, encourage the expansion of the Western European Union's role as a bridge between NATO and the European Community, support the process of European economic and political integration, and encourage the use of the Conference on Security and Cooperation in Europe as a pan-European forum for addressing the security concerns of the newly emerging democracies in the East
The evolution of the European economy : implications for transatlantic relations
by
Charles A Cooper
( Book )
2 editions published in
1992
in
English
and held by 102 WorldCat member libraries worldwide
Ever since the creation of NATO and the launching of the Marshall Plan after World War II, the United States has been the dominant voice in the transatlantic community. Recently, however, both the security and economic dimensions of U.S. leadership have begun to erode. This erosion, coupled with a more integrated and stronger European economy, has led to a realignment of the transatlantic relationship. The prospects for U.S. growth in the next decade are uncertain, while the outlook on the other side of the Atlantic is for a relatively more prosperous Europe with several more countries at or near U.S. levels of per capita income. Economic disparities within Europe will decrease, and political and economic integration both within the European Community (EC) and between EC and non-EC countries in Europe will increase substantially. Europe will play a more assertive role in economic issues. Unilateral U.S. leadership in international economic and financial matters cannot be sustained, and continued U.S. leadership in the liberalization of global trade is unlikely. The political and economic changes in Europe will also force a change in the U.S.-European security relationship. The integration of the European defense industry will also affect transatlantic relations. The authors suggest that U.S. acceptance of a more balanced partnership with Europe, in return for Europe's willingness to overcome parochial preoccupations in economic affairs, would lay the basis for a new partnership in the transatlantic community
more
fewer
Audience Level
0

1
Kids
General
Special
Audience level: 0.46 (from 0.08 for Difficult ... to 0.96 for An electiv ...)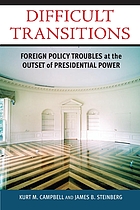 Alternative Names
James Steinberg amerikansk diplomat

James Steinberg US-amerikanischer Politiker, Vizeauenminister

Steinberg, J. B.

Steinberg, James

Steinberg, James B.

Steinberg, James B. (James Braidy)

ג'יימס סטיינברג

ジェイムズ・スタインバーグ アメリカ合衆国の政治学者

スタインバーグ, ジェームズ

Languages
Covers